I Give My Marriage a Year, by Holly Wainwright
22 October 2021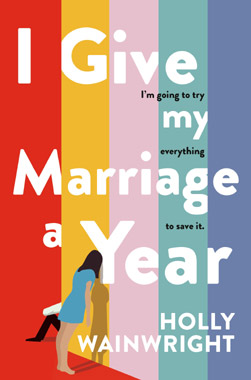 If there were an award for book cover of the year (actually there's the Australian Book Designers Association, and the Academy of British Cover Design, for quick starters), then I'd nominate I Give My Marriage a Year (published by Pan Macmillan, August 2020), by Australian content producer and writer, Holly Wainwright. I'd do likewise if there were also an award for book title of the year.
But I Give My Marriage a Year is more than eye-catching cover design, and a pithy title, it's like having seats centre stage while you watch two sports teams you know nothing about, go head to head. Sydneysiders Lou and Josh have been married for fourteen years. They have two children, and live in the city's inner western suburbs. But their marriage has lulled into a void.
Lou decides it's time to take action. Or more to the point, to make a plan to take action. For twelve months she will subject her relationship with Josh, who works as a carpenter, but would rather be in a band, to a number of stress tests. At the end of the year, she will assess the outcomes and make a final decision, does she leave Josh, or does she stay?
That leaves the reader to decide who they'll back. And the choice may not be all that simple. Both players will break rules and land low blows. But the best in both Lou and Josh will also come to the fore. Will there be only one winner, or can the spoils of victory be shared? And without any further delay I shall add I Give My Marriage a Year to my to-be-read list.
RELATED CONTENT