24 March 2023
Changes are coming to the voting process used to select the winner of the Packing Room Prize, traditionally the first award made in the annual Archibald Prize for Australian portraiture.
In short, Art Gallery of NSW (AGNSW) packers unbox and install the works for the Archibald Prize exhibition, then decide on the portrait they liked the most. However the past head packers, Steve Peters and Brett Cuthbertson, both of whom have recently retired, held the deciding vote.
A new voting process will see a panel of three people, each with an equal vote, determine a winner:
The new Packing Room Pickers are Timothy Dale, Monica Rudhar and Alexis Wildman, three professional art handlers with 19 years of hands-on Archibald Prize experience between them. "In line with the discussions around how the prize was actually judged we felt that a more collaborative decision would be more appropriate," Dale says.
I've always seen the Packing Room Prize as a light aside to the main competition, suspecting the winning choice was always subjective, which was fine by me. If I were selecting a winner, I'd choose the painting that personally appealed to me the most.
The changes could well suit participating artists though, who have long considered the Packing Room Prize to be the "kiss of death", as, to date, no winner has gone on to win the main Archibald Prize.
RELATED CONTENT
Archibald Prize, art, Australian art
23 March 2023
Tasmania based Australian author Robbie Arnott's 2022 novel, Limberlost, has been named on the shortlist of the 2023 Dylan Thomas Prize.
Limberlost joins five other titles on this year's shortlist:
Seven Steeples by Sara Baume
God's Children Are Little Broken Things by Arinze Ifeakandu
I'm a Fan by Sheena Patel
Send Nudes by Saba Sams
Bless the Daughter Raised by a Voice in Her Head by Warsan Shire
The prize is named in honour of Welsh poet and writer Dylan Thomas, who died in 1953, and is awarded for the best published literary work in the English language, written by an author aged thirty-nine, or under. The winner will be announced on Thursday 11 May 2023.
RELATED CONTENT
Dylan Thomas, literary awards, literature, Robbie Arnott
23 March 2023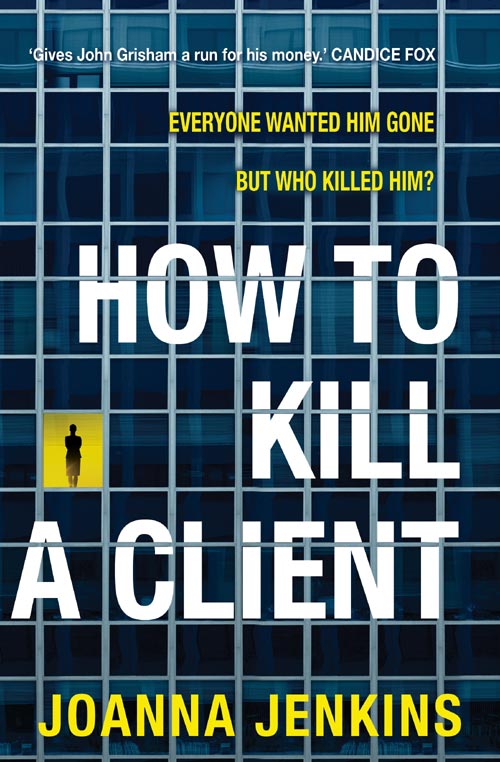 Gavin Jones is the in-house counsel at a large mining company, headquartered in Brisbane, the capital of the Australian state of Queensland. In his role, Jones awards legal contracts worth millions of dollars each year. As such, legal firms in Brisbane, and across Australia, are at his beck and call.
Among these law companies is Howard Green, one of Brisbane's best known legal practitioners, who are frequently awarded lucrative work thanks to their relationship with Jones. There is nothing they wouldn't do for fear of losing his favour. With his influence, Jones is feted wherever he goes.
Or at least that used to be the case. But at age thirty-nine, Jones is found dead. The victim of murder. Who though could possibly want someone who was the life-blood of so many businesses in mining and legal circles, dead? As the police investigation commences though, a side of Jones, not so well known to those outside of industry circles, begins to emerge.
He was demanding. Manipulative. Aggressive. Abusive. Narcissistic. And a misogynist. He treated women appallingly. Any women partners of Howard Green whom Jones took a disliking to were quickly swept aside. He treated his wife no differently. But his horrific conduct was not limited to women, and many others were also subjected to Jones' wrath.
Indeed as the police probe continues, instead of eliminating suspects, the list of people with a grudge against Jones only grows. Far from being lauded by his business associates, just about no one actually liked him. This is the premise of How to Kill a Client, published by Allen & Unwin, January 2023, the debut novel of Brisbane based Australian author, and former lawyer, Joanna Jenkins.
Readers of How to Kill a Client have described Jenkins' whodunit as captivating, compelling, razor sharp, and riveting. Numerous readers were unable to discern the identity of Jones' killer until the final reveal, which speaks mountains for Jenkins' skilful writing… despite the number of suspects.
RELATED CONTENT
Australian literature, fiction, Joanna Jenkins, novels
22 March 2023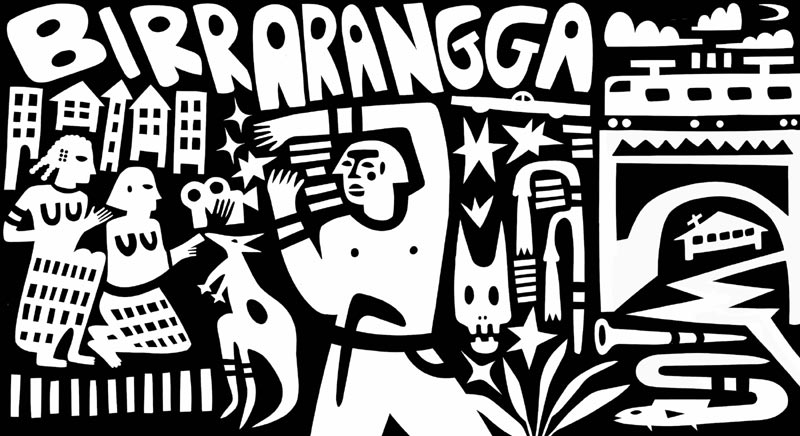 Artwork by Aretha Brown.
The biennial Birrarangga Film Festival runs from Thursday 23 March, through to Tuesday 28 March 2023, in Melbourne:
BIRRARANGGA Film Festival celebrates Global Indigenous Films that explore the curatorial themes of 'strength, resilience and the environment'. First Nations relationships to the image as a form of expression, particularly in Australia, is connected to thousands of years of cultural practices. This festival honours that history and acknowledges the contemporary currency of the moving image, of film, as an expression of the human experience in relation to our natural surroundings.
The festival opens with a screening of Bones of Crows, directed by Canadian screenwriter and filmmaker Marie Clements.
RELATED CONTENT
Australia, events, film, Indigenous film
22 March 2023
Jinghua Qian, writing for ArtsHub, about working as a sensitivity reader:
I might notice that the portrayal of a cultural activity is off: Australians talk about going 'to the footy' but not 'to the ball game'.
The article I link to was published about three and a half years ago. Sensitivity readers aren't exactly new, it's just we've been hearing a lot about their work recently.
RELATED CONTENT
literature, publishing, writing
22 March 2023
Twenty-one years after he made Amélie, full title The Fabulous Destiny of Amélie Poulain, starring Audrey Tautou, the film's director Jean-Pierre Jeunet has revealed Amélie was actually a KGB spy. He makes the startling admission in a short film, Amelie: the Real Story, which uses scenes from the original 2001 made feature. A master of cunning, our Amélie, but we all knew that.
Did no one ever wonder how a young waitress afforded such sophisticated decoration for a flat in Montmartre, one of Paris' most expensive districts?
You know, I did wonder, because I wanted to live in apartment exactly like Amélie's.
RELATED CONTENT
film, humour, Jean-Pierre Jeunet, video
22 March 2023
It Lasts Forever and Then It's Over, by American interdisciplinary artist and writer Anne de Marcken, and Tell, by British author and teacher Jonathan Buckley, have been named joint winners of the 2022 Novel Prize.
The Novel Prize is a biennial award for a book-length work of literary fiction written in English by published and unpublished writers around the world. It offers $10,000 to the winner and simultaneous publication in North America by New Directions, in the UK and Ireland by the London-based Fitzcarraldo Editions, and in Australia and New Zealand by the Sydney-based publisher Giramondo.
Both novels will be published simultaneously in 2024 by the three participating prize publishers. Australian author Jessica Au was the inaugural winner of the 2020 Novel Prize, with her book, Cold Enough for Snow.
RELATED CONTENT
Anne de Marcken, Jessica Au, Jonathan Buckley, literary awards, literary fiction, literature
20 March 2023
Craig Silvey has taken out both the Indie Book of the Year award, and the Children's book gong, in the 2023 Indie Book Awards.
The Indie Book of the Year award: Runt by Craig Silvey
Fiction: Horse by Geraldine Brooks
Non-fiction: The Book Of Roads And Kingdoms by Richard Fidler
Debut fiction: All That's Left Unsaid by Tracey Lien (which I wrote about here)
Illustrated non-fiction: First Nations Food Companion by Damien Coulthard and Rebecca Sullivan
Children's: Runt by Craig Silvey
Young Adult: The Brink by Holden Sheppard
RELATED CONTENT
Australian literature, literary awards, literature
19 March 2023
Generation Z, being people born between 1997 and 2015, prefer to read paper books rather than electronic ones, according to World Economic Forum data. A break from eye-straining smartphone screens, a desire to support local bricks and mortar book stores, and the smell of newly published paper books, are among reasons they cite for the preference.
Book sales in the US and the UK have boomed in the past two years, the management consultancy McKinsey found. Sales in the US hit a record of more than 843 million units in 2021, while last year had the second-highest number sales, at almost 789 million. This increasing popularity was partly because of Gen Z and its social-media trends, including the hashtag #BookTok on TikTok, McKinsey said.
RELATED CONTENT
19 March 2023
Fleur Morrison, writing at Readability:
I have a love/hate relationship with politics. I love that we have a stable form of politics in Australia, even though sometimes it can get a little heated and it certainly isn't without its problems. But I hate that it has taken over writers festivals to the degree that it is hard to find a session that isn't overtly political. These festivals have moved from being celebrations of books to become fixated on politics and ideology.
If you argue everything that happens in the world is political to some degree, then keeping politics out of writers' festivals isn't going to be easy. Personally though, I'd rather see more talk focus on books, and fiction, at festivals.
RELATED CONTENT
19 March 2023
Ashley Kalagian Blunt discusses her new novel Dark Mode, with Dani Vee on the Words and Nerds podcast. Plenty of talk about the dark web, which features prominently in the novel.
RELATED CONTENT
Ashley Kalagian Blunt, Australian literature, novels, podcasts
18 March 2023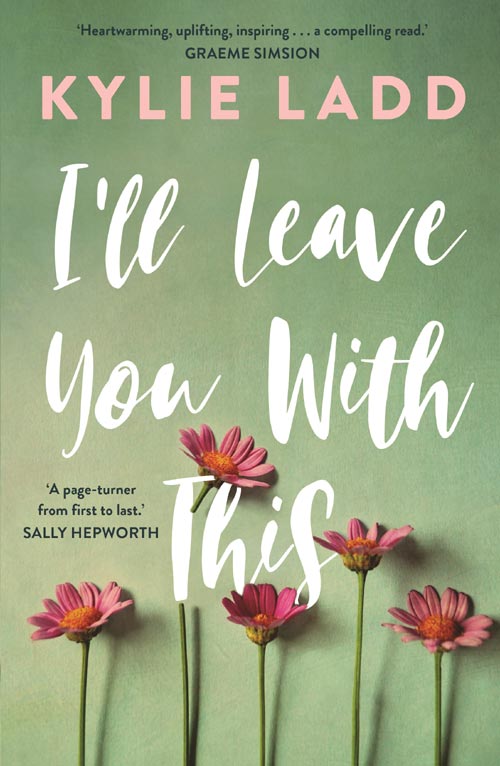 Deciding to donate our bodily organs, perhaps in the event of our unexpected demise, is a decision we make, then largely forget about. After all, when the time comes, we won't be around to think about it, nor appreciate the difference doing so might make to the lives of others. For instance, what opportunities, what new hopes, might such a donation create for the recipient, and their loved ones?
This is one of the themes running through I'll Leave You With This, published by Penguin Random House Australia, January 2023, the seventh book by Melbourne based Australian author and psychologist, Kylie Ladd. Every year, the four O'Shea sisters, each troubled in their own way, gather on the anniversary of the death of their brother, Daniel. He was the victim of a shooting, and had requested that his organs be donated should he die suddenly.
Allison, the eldest of the sisters, who works at a Sydney hospital, is married with two children. Bridie, once a promising film director, finds her career languishing. Clare, also a medical professional, has struggled to conceive a child, which has resulted in the breakdown of her marriage. Emma — far younger than her elder sisters — is a musician, plagued by loneliness, who turned to religion in a bid to find meaning in her life.
Daniel's loss is keenly felt. He was more than an only brother to the four sisters, and while alive bound the family together. Since he died, the sisters, occupied with their own lives, have slowly drifted apart. But on the third anniversary of Daniel's death, Clare tells her sisters about an idea she has. Why don't they try and locate the people who received Daniel's organs, and learn how they have helped those who received them?
Finding each recipient — for all the difficulties entailed in the process — and hearing their stories, might give the sisters a collaborative goal to work towards, and perhaps be a source of hope for them. I'll Leave You With This is a layered family drama, following four people leading sometimes rich, and definitely complex, complicated, lives. The sisters' quest takes them to unexpected places, and forces them to evaluate their lives, and relationships with each other, in the cold light of day.
Spanning a number of years in its telling, I'll Leave You With This is another example of compelling Australian literature. With a story such as this, I have the feeling it will not be told solely through the pages of a book. This is a story I could see as possibly a film, or a TV series, one day. Let's sit back and see what happens.
RELATED CONTENT
Australian literature, fiction, Kylie Ladd, novels
18 March 2023
Australian literary podcaster Claudine Tinellis talks with Sydney based author Dianne Yarwood on her show, Talking Aussie Books. Much of the discussion is about Yarwood's debut novel, The Wakes, which I also wrote about the other week.
RELATED CONTENT
Australian literature, Dianne Yarwood, novels, podcasts
18 March 2023
Fear of litigation is prompting some Australian publishers to reject manuscripts for titles they think may be contentious, particularly books about controversial public figures.
Melbourne based writer and editor Hilary McPhee, says poorer quality books are the result, if public interest stories end up being suppressed:
"We have fewer and fewer publishers and we have poorer and poorer books as a result. There's a lot of cautiousness and nervousness. And the larger the company, the more nervous they are." Larger companies were publishing fewer but more lucrative authors. A few smaller companies such as Upswell were taking risks, "but the big ones don't seem to me to be brave. It's terribly bad for authors."
RELATED CONTENT
18 March 2023
There's a few tech origin-story films around that the moment. The Playlist is about the founding of music streaming service Spotify, while BlackBerry backgrounds the invention of one of the first smartphones, being, obviously, the BlackBerry.
But here's the one we've been waiting for… Tetris, trailer, the story behind the still popular video game's creation, directed by Scottish filmmaker Jon S. Baird. Nikita Efremov portrays Alexey Pajitnov, the Soviet-born American computer engineer who devised Tetris in 1984, with Taron Egerton as Dutch entrepreneur Henk Rogers, who sought a distribution deal for the game.
It's all high drama, these start-up stories. So much for plodding away quietly in a suburban garage, bringing the next big thing into being.
RELATED CONTENT
film, Jon S. Baird, trailer, video
16 March 2023
Jeannie Kidera, writing for Big Think:
The capacity for empathy — to first identify and then understand and share in someone else's feelings — is largely held as a virtue these days. Yet, philosophically speaking, there is a bit of a knowledge problem that makes being naturally empathetic a struggle. Why? As poet John Keats put it, "Nothing ever becomes real until it is experienced."

So how can someone else's perspective and emotions ever become real enough for us to develop empathy? Reading fiction may provide an answer. Research suggests that fictional books may effectively be empathy-building tools, offering us the closest we can get to first-hand knowledge of someone else's experience.
To read a chapter out of someone's life story is to truly walk a mile in their shoes.
RELATED CONTENT
fiction, novels, psychology, reading
16 March 2023
London based writer and reviewer Susie Mesure, writing for The Guardian:
Elizabeth Strout, the Booker-shortlisted author of Olive Kitteridge and the Lucy Barton books, is also taking books at a more tranquil pace. "I was never a fast reader [but] I think I read more slowly than I used to. This is partly to savour every word. The way a sentence sounds to my ear is so important to me in the whole reading experience, and I always want to get it all – like when you read poetry."
On one hand, I am an impatient reader, on the other though… it can take a while to read a title.
RELATED CONTENT
16 March 2023
The Sydney Writers Festival 2023 program was published this evening, and features a star studded line-up of Australian and international speakers. Among them are former Australian Prime Minister Julia Gillard, Sydney author Tracey Lien, Tasmasian writer Robbie Arnott, and Fiona McFarlane.
Overseas speakers include Sri Lankan writer Shehan Karunatilaka, winner of the 2022 Booker Prize, and British author Bernardine Evaristo, who will be one of the opening night address speakers. Australian author Richard Flanagan meanwhile will deliver the closing night address.
The festival — which runs from Monday 22 May, to Sunday 28 May 2023 — will take place at a number of locations around Sydney, including Carriageworks, the State Library of NSW, Penrith City Library, Sydney Town Hall, and PHIVE, Parramatta, to name a handful.
RELATED CONTENT
Australian literature, events, Sydney
15 March 2023
The 2023 International Booker Prize longlist was unveiled yesterday, and features eleven novels published internationally, which have been translated into English.
The 2023 judges are looking for the best work of international fiction translated into English, selected from entries published in the UK or Ireland between May 1, 2022 and April 30, 2023. The books, authors and translators the prize celebrates offer readers a window onto the world and the opportunity to experience the lives of people from different cultures.
French author Maryse Condé, at age 89, becomes the oldest person to be named on the Booker International longlist, with her novel The Gospel According to the New World.
Works by a film director, four poets, two former security guards, and a writer who had declared himself "dead" (curious), are also included. The shortlist will be announced on Tuesday 18 April 2023.
RELATED CONTENT
Booker Prize, literary awards, literature, writing
15 March 2023
Filippo Bernardini, also known as the Spine Collector, was arrested in early 2022, after stealing the manuscripts of numerous high profile authors. Bernardini managed to convince his victims — who included Sally Rooney and Margaret Atwood — to send the manuscripts of their latest novels to him, instead of their publisher.
Through recently filed court papers however, Bernardini has apologised for his actions, and says he merely wished to "cherish" the works of the authors he swindled, before their novels were published:
Former Simon & Schuster staffer Filippo Bernardini has said stole more than 1,000 unpublished manuscripts because he wanted to read books before they hit stores. In court papers published on Friday (March 10th), Bernardini apologised for his crime but claimed he did it so he could dive into the stories before they were available to the general public. "I never leaked these manuscripts. I wanted to keep them closely to my chest and be one of the fewest to cherish them before anyone else, before they ended up in bookshops," he wrote.
RELATED CONTENT