Showing all posts tagged:
writing
29 June 2022
Australian book aficionado Stella Glorie spoke to two thousand plagiarists (cripes, I hope they weren't all Australian…) and asked why they appropriated the work of others. Here, she presents the top ten reasons, presumably meaning there were who knows how many excuses in total.
What's the big deal? No one complains every Sunday when my priest plagiarises his sermons from the bible.
This is enlightening research, no?
Share on Twitter | Share on Facebook
RELATED CONTENT
29 June 2022
The recent John Hughes plagiarism fracas is but one of numerous scandals in Australian literature, some more audacious than others, writes Melbourne based Australian journalist and author Thuy On.
In 1990, Mutant Message Down Under by Marlo Morgan was released, purportedly about the journey of a middle-aged, white American woman and her interactions with a group of Indigenous peoples in Australia. Morgan stated the book was inspired by actual experience, however research in central and Western Australia failed to uncover any evidence of her presence in the area or the existence of the tribe in question.
Share on Twitter | Share on Facebook
RELATED CONTENT
Australian literature, writing
29 June 2022
Applications for the 2022 ASA/Varuna Ray Koppe Young Writers Residency are open until Friday 29 July 2022. The residency was established in memory of the late Ray Koppe, by her family. Koppe worked for many years assisting with the administration of the Australian Society of Authors.
Each year, the Australian Society of Authors awards a two-week residential fellowship to a writer under the age of 35 who is as yet unpublished.
Danielle Binks and Hannah Bent, are among past winners.
Share on Twitter | Share on Facebook
RELATED CONTENT
Australian literature, literature, writing
29 June 2022
The program for the 2022 Melbourne Writers Festival — which runs from 8 to 11 September 2022 — will be unveiled on Wednesday 27 July.
In the meantime festival organisers have announced American actor, comedian, and author Jenny Slate, Scottish actor Brian Cox, British Pakistani novelist Mohsin Hamid, and British musician, and former Pulp front-man Jarvis Cocker, will be part of the show.
These four incredible artists are just the beginning of an extraordinary line-up that we can't wait to bring to Melbourne audiences this year after the pandemic kept us away for so long.
Share on Twitter | Share on Facebook
RELATED CONTENT
28 June 2022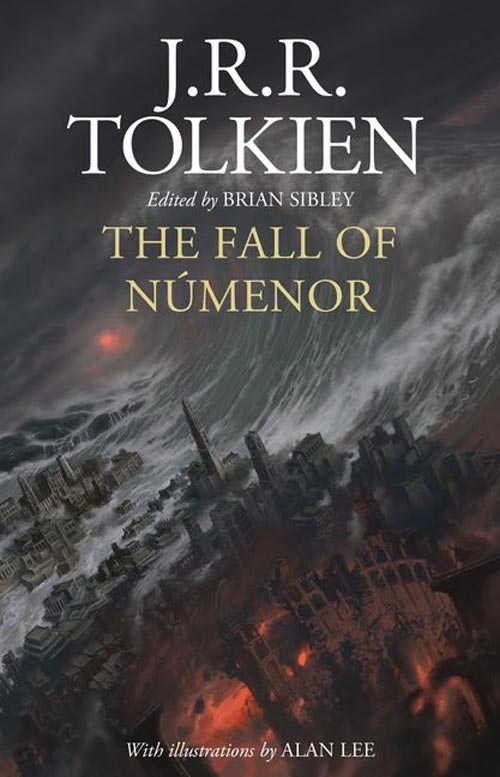 The Fall of Númenor (published by HarperCollins on 10 November 2022), edited by English writer Brian Sibley, explores the Second Age of Middle-earth, based on what J.R.R. Tolkien — author of the The Lord of the Rings, which, incidentally, is set in the Third Age — wrote of the era.
It was not until Christopher Tolkien published The Silmarillion after his father's death that a fuller story could be told. Although much of the book's content concerned the First Age of Middle-earth, there were at its close two key works that revealed the tumultuous events concerning the rise and fall of the island of Númenor. Raised out of the Great Sea and gifted to the Men of Middle-earth as a reward for aiding the angelic Valar and the Elves in the defeat and capture of the Dark Lord Morgoth, the kingdom became a seat of influence and wealth; but as the Númenóreans' power increased, the seed of their downfall would inevitably be sown, culminating in the Last Alliance of Elves and Men.
Share on Twitter | Share on Facebook
RELATED CONTENT
J. R. R. Tolkien, literature, writing
20 June 2022
Australian born London based author Kathy Lette co-wrote her first book, Puberty Blues, a proto-feminist, coming of age novel in 1979, with Gabrielle Carey.
The book sent shockwaves through Australian society at the time, with, among other things, gritty depictions of adolescent sex. Puberty Blues was adapted to film by Australian filmmaker Bruce Beresford in 1981, and later in 2012, made into a TV series.
Lette has authored twelve books since Puberty Blues, and in a recent piece for the Sydney Morning Herald, wrote about the joys of putting pen to paper:
So, wannabe authors, if you have a story to tell, pick up your pen and get scribbling. It's worth it for the poetic justice alone: impaling enemies on the end of your pen is so satisfying. Best of all, most people only get to have the last word on their epitaph. But writers get to have the final say with every novel: The End.
Share on Twitter | Share on Facebook
RELATED CONTENT
Australian literature, Kathy Lette, writing
18 June 2022
A statement from Terri-ann White of Upswell, publisher of Australian author John Hughes novel The Dogs, made in the wake of additional allegations of plagiarism by Guardian Australia:
I have published many writers who use collage and bricolage and other approaches to weaving in other voices and materials to their own work. All of them have acknowledged their sources within the book, usually in a listing of precisely where these borrowings come from. I should have pushed John Hughes harder on his lack of the standard mode of book acknowledgements where any credits to other writers (with permissions or otherwise), and the thanks to those nearest and dearest, are held. I regret that now, as you might expect.
I think the sympathy of most people lies with Upswell. As White points out, the relationship between writer and publisher is one of trust. A publisher cannot be expected to check every last sentence in a manuscript to ensure there are no duplications between it and another work. It is the author's obligation to declare such borrowings, and is something just about all do.
On the other hand, it is also unrealistic to expect works to be completely devoid of references to other titles. For example, I could understand how a sentence — perhaps read in a book years ago — might linger in the mind of a writer to the point they come to think of it as theirs. And while I'm not sure many people would expect to see upwards of sixty instances of such borrowings in a single book, authors referencing each other's work is, and always has been, intrinsic to writing.
Share on Twitter | Share on Facebook
RELATED CONTENT
Australian literature, John Hughes, writing
14 June 2022
Writing contests are a great way for an emerging writer to get their work in front of a wider audience, possibly take home a modest cash prize, and maybe even pick up a publishing deal.
But carefully reading the terms and conditions each time you submit your work to one is essential, as you may end up signing away far more than you realise, when ticking the "I have read and understood the terms and conditions of entry."
For example, some competitions place restrictions on your ability to submit your entry to other competitions, some require the first option to publish the entries of the winners and runners-up, and some unscrupulous players may even require you to assign your copyright to them.
Share on Twitter | Share on Facebook
RELATED CONTENT
1 June 2022
Men don't seem to read too many books written by women. Why this should be, who knows. But if I were to take a guess at it, I'd say men are more likely to be given recommendations for books authored by men, from their male friends. Then there's also the point that it may not occur to men to read titles written by women in the first place, which is unfortunate.
Some of my recent reads include novels by Sally Rooney, Sophie Hardcastle, Susanna Clarke, Jane Caro, Holly Wainwright, Katherine Brabon, and Madeleine Watts.
British author and journalist Mary Ann Sieghart, writing for The Guardian, notes "studies show men avoid female authors," while "women read roughly 50:50 books by male and female authors; for men the ratio is 80:20."
To redress the imbalance, Sieghart spoke to male writers including Ian McEwan (who I've read), Salman Rushdie, Richard Curtis, and Lee Child among others, asking them to name their favourite women authors. There's some solid reading ideas here.
Share on Twitter | Share on Facebook
RELATED CONTENT
18 May 2022
"Artists in this country are used to living one paycheque away from poverty." With those words, Evelyn Araluen, winner of this year's Stella Prize, had everyone's attention. The proceeds from the literary prize mean Araluen will be able to pay down some debt, and work two jobs instead of three.
But that's not the reality for many other writers — even those who are published — in Australia, if working two jobs, while still focussing on their art, is meant to constitute reality.
Most writers are forced to take other work, because the rewards for writing all those books we like to read are virtually non-existent. It's a state of affairs, warns Melbourne based literary agent and author Danielle Binks, that will force young and emerging authors to consider other lines of work all together:
"Kids are already hung up on how much money you can make and whether you can do this for a living … I tell them the reason I write – the reason we all engage in books, art, theatre, anything – is that art changes people and people change the world. But I'm convinced there's a whole generation of artists, and writers in particular, who will not choose this path."
Share on Twitter | Share on Facebook
RELATED CONTENT
Australian literature, Evelyn Araluen, writing
19 April 2022
If you're a writer with a deadline you simply cannot afford to miss, then the Manuscript Writing Cafe, in Koenji, a district in the Japanese capital Tokyo, is the place for you. Upon arrival writers inform management of their writing goal for the day, be it a five-thousand word article, a couple of chapters of a novel, or a few blog posts.
Everyone in the cafe is working on a manuscript with an imminent deadline. This unique sense of tension like studying for an exam in a library will really stimulate your creative work!
Every hour a staff member will come along and check on your progress, and gently prod you if necessary. But here's the thing, you will not be allowed to leave the cafe until you've finished what you set out to do. I'm not sure exactly how strictly that dictate is enforced, but not being able to go home might be pretty good motivation to meet your deadline.
Share on Twitter | Share on Facebook
RELATED CONTENT
7 April 2022
While there may not be a whole lot of Australian government support for authors in this part of the world, as book readers there are things we can do. Jake Uniacke posted a few #IndieApril suggestions on Twitter, but these are ideas that can be acted upon at anytime of the year.
Review their work. Goodreads, Amazon, and Google are good places to start.
Share their work. Spread the word on your social media channels, Twitter, Facebook, Booktok, and Bookstagram.
Buy their books. Through the author's website if possible, or an indie bookshop, any bookshop really.
Interact with their content. Instagram stories, Twitter polls, and Q&A sessions, are a few suggestions.
Joe Walters, writing for Independent Book Review, also offers a number of suggestions.
Share on Twitter | Share on Facebook
RELATED CONTENT
7 April 2022
The Australian federal budget was handed down last week, but there was little in it for writers. Funding for the arts sector is being reduced by almost twenty-percent, with the RISE Fund, which was established to support the sector during the pandemic, scheduled to be phased out.
Unlike the performing arts, which benefit from a dedicated funding stream inside the Australia Council, literature has enjoys very little federal support. In 2020-21, the Australia Council gave out just $4.7 million in grant funding to literature – 2.4% of the total funding pool last year. In contrast, the major performing arts organisations received $120 million.
The funding situation serves to draw attention to just how little writers earn. Sydney based author Charlotte Wood, speaking at a recent parliamentary hearing, set things out in pretty blunt terms:
Wood told a House of Representatives inquiry into Australia's cultural sector that "writers themselves are in absolutely dire economic difficulty". She cited figures that literary writers' annual income from their books was just $4,000 a year.
Four thousand dollars a year? What is anyone meant to conclude from that? Writing is indeed poorly looked upon in Australia.
Share on Twitter | Share on Facebook
RELATED CONTENT
Australian literature, writing
4 April 2022
Some meal time reading for sure… twelve of the most unforgettable descriptions of food in literature, curated by Adrienne LaFrance, executive editor of The Atlantic. The writing of Haruki Murakami, Nora Ephron, Marcel Proust, and late American writer and illustrator Louise Fitzhugh, among others, is featured.
Share on Twitter | Share on Facebook
RELATED CONTENT
28 March 2022
The Melbourne Writers Festival runs this year from Thursday 8 to Sunday 11 September 2022. This represents a change in format for the festival which has in the past run for at least ten days. The 2021 event for instance ran from Friday 3 September to Wednesday 15 September 2021.
This year's event will see "a concentrated program that would feature about 250 Australian and international writers in 120 events", says artistic director Michaela McGuire.
Share on Twitter | Share on Facebook
RELATED CONTENT
26 March 2022
The program for the 2022 Sydney Writers' Festival was unveiled on Thursday, and refreshingly for the lockdown-fatigued is choke full of face-to-face, in person events. Spread across venues including Sydney Town Hall, City Recital Hall, and Carriageworks, the festival opens on Monday 16 May, and concludes on Sunday 22 May 2022.
In addition, numerous other "neighbourhood" events, will be held in other areas, both in and out of Sydney, hosted at places including the State Library of NSW, WestWords Parramatta, Ashfield Town Hall, Chatswood Library on The Concourse, Penrith City Library, and Wollongong Art Gallery. Top up your Opal card, you could be covering a bit of ground.
The opening night address takes place at Sydney Town Hall on the evening of Tuesday 17 May, and features Ali Cobby Eckermann, Jackie Huggins, and Nardi Simpson.
Nearly four hundred Australian and international authors and writers, along with actors, sports people, academics, and many others, are scheduled to participate in proceedings, including Emily Bitto, winner of the 2015 Stella Prize, Michael Mohammed Ahmad, Maxine Beneba Clarke, Mick Elliott, former Australian footballer Adam Goodes, Muireann Irish, Bri Lee, Charlotte McConaghy, J.P. Pomare, Teela Reid, Yumi Stynes, and Murong Xuecun, also known as Hao Qun.
The theme of this year's festival, explains artistic director Michael Williams is change my mind. How perfectly apt, because what is writing, if not transformative?
Change my mind with a stanza or a couplet, a jarring dissonance, a beautiful echo or a rhyme. Change it with a flight of fancy, an intricate, imagined world, a compelling character I'll never meet but never forget. Turn it upside down with searing rhetoric, impeccable research, the knock-out argument that has me questioning everything I know and all that I believe.
Share on Twitter | Share on Facebook
RELATED CONTENT
23 March 2022
The Tolkien Estate looks to be the ultimate resource of the work and life of British author, poet, and academic J. R. R. Tolkien, writer of The Lord of the Rings, and other works. It's incredible to think — given the depth and scope of his writing output — that Tolkien worked mainly as a teacher at Oxford University, instead of a full time author.
Share on Twitter | Share on Facebook
RELATED CONTENT
J. R. R. Tolkien, literature, writing
21 March 2022
The Australian Society of Authors (ASA) is hosting several virtual literary speed dating events this year for its members. Prospective authors will be given three minutes to pitch their completed manuscript to local literary agents and publishers, at online events in May, and then again a few months later.
Canberra based Australian author Shelley Burr is a literary speed dating success story, having found a publisher for her debut novel Wake, at an event in December 2020. Here's speed dating that's worth participating in.
Share on Twitter | Share on Facebook
RELATED CONTENT
18 March 2022
Especially for those who enjoy judging books by their covers, the 2022 Australian Book Design Awards longlist has been announced. There are over one hundred and sixty titles vying for recognition across twenty categories, plus the Deb Brash Emerging Designer of the Year award.
Fiction titles are essentially separated into four groups, children's, young adult, commercial, and literary. The Other Side of Beautiful, by South Australian author Kim Lock, The Younger Wife, by Melbourne novelist Sally Hepworth, are among candidates in the commercial fiction category, while In Moonland, by Miles Allinson, is one of the nominations in the literary fiction segment.
Over four-hundred-and-ninety titles were considered in this year's award, before the longlist was unveiled. The shortlist will be made public in early April, with the winners in each category being named on Friday 3 June 2022, in Melbourne.
Share on Twitter | Share on Facebook
RELATED CONTENT
18 March 2022
After two years as artistic director of the Sydney Writers' Festival, Michael Williams has decided to step down. Williams who is Melbourne based, and has a young family residing there, always saw his tenure in the role as temporary, something occasioned by COVID, and the challenges the pandemic posed to events such as the festival.
"I was brought on, to quote The Godfather, as a wartime consigliere, to see the festival through the COVID period, and it was only ever a kind of interim posting. It was going to be the one year. Then, quite apart from anything else, last year's was so much fun, it was such a wonderful job and wonderful organisation that I couldn't resist doing a matched pair."
Share on Twitter | Share on Facebook
RELATED CONTENT