Showing all posts tagged:
writing
19 September 2023
Baltimore based American teacher and poet Edgar Kunz writes about the hardships of making a living as a poet, while also wondering how long his poetry will stay with his readers:
I've been using my writing to hustle a life: a place to live, a salary, some measure of stability. But poetry resists those interests. It's not about hustling. It's not about productivity. It's not even, in the end, about making anything. Most of us will have little to show for the hours we spend at the desk. Hardly any of our poems will be read in twenty or thirty years.
RELATED CONTENT
18 September 2023
Australian author Alexis Wright, a past winner of both the Miles Franklin Literary Award, and the Stella Prize, has been awarded the 2023 Creative Australia (formerly the Australia Council) Award for Lifetime Achievement in Literature:
Alexis is an author of ground-breaking works across a number of literary genres. She is a highly decorated and awarded author who writes extraordinarily important work that sits in your consciousness. Her novels interpret the past, present, and future tense and challenge the readers' comprehension. She has changed how we think about the meaning of storytelling and time.
Creative Australia awards were also presented for music, dance, emerging and experimental arts, visual arts, theatre, and community arts and cultural development.
RELATED CONTENT
Alexis Wright, Australian literature, writing
21 August 2023
Entries for the 2024 Victorian Premier's Literary Awards (VPLA) are open until Sunday 10 September 2023. The VPLA is one of Australia's most valuable literary awards, and the shortlists — which will likely be announced sometime in December — are always filled packed with quality titles.
RELATED CONTENT
Australian literature, books, literary awards, writing
8 August 2023
The book publisher is said to have been bought for US$1.62 billion, reports The Guardian. This in the wake of the failed 2020 takeover attempt by Penguin Random House, which was blocked in late 2022, by a US court.
Late in 2020, Paramount had announced the sale of Simon & Schuster to Penguin Random House for $2.2bn, a deal that would have made the new company by far the biggest in the US. But the Department of Justice, which under the Biden administration has taken a tougher stance on mergers compared to other recent presidencies, sued to block the sale in 2021.
I don't know a whole lot about the book publishing business, but US$1.62 billion seems like quite a bargain to me.
RELATED CONTENT
24 July 2023
Last month the winners of the Lyttle Lytton Contest were announced. The Lyttle Lytton is a literary prize, but not of the usual variety. Instead of celebrating the good or excellent, Lyttle Lytton honours the worst of the worst. In this case bad, or terrible, would-be opening sentences from novels that will likewise turn out to be awful. The lines are not taken from actual published works though, instead they are devised by contest participants vying to write the best bad sentence they can think of.
RELATED CONTENT
humour, literary awards, literature, writing
16 June 2023
On the subject of self-publishing, retired Australian horticulturist journalist and foreign aid researcher Helen Moody recently published her own book, South Coast Islands NSW. While Moody's title is selling well, six-hundred copies from a print run of seven-hundred have sold, Moody was surprised at the difficultly entailed by self-publishing:
However, Moody says if she'd known how difficult it was to self-publish, she would have never started. "I've had to be author, administrator, finance officer, event organiser, delivery driver, marketing and promotion officer," she said.
RELATED CONTENT
books, publishing, self publishing, writing
16 June 2023
A fascinating overview of the book publishing industry in Australia, and probably globally, by Dave Gow, who recently went through the process of self-publishing a book:
Traditional book publishers are essentially operating like startup investors or venture capitalists. They make a string of bets on authors and hope that one or two out of ten pays off big. This way, they make enough to cover the losses on others and come out with a reasonable profit.
From what I can gather, Gow enjoyed some success by taking the self-publishing route.
RELATED CONTENT
books, publishing, self publishing, writing
13 June 2023
Bad waitress, an essay by American writer Becca Schuh. Juggling the day job with writing ambitions, we've all been there, or maybe, are still there. This is reading for writers in either situation.
Waitressing funded my rent and bills and food and clothes so I could spend the time that was leftover figuring out how to be a writer.
RELATED CONTENT
8 June 2023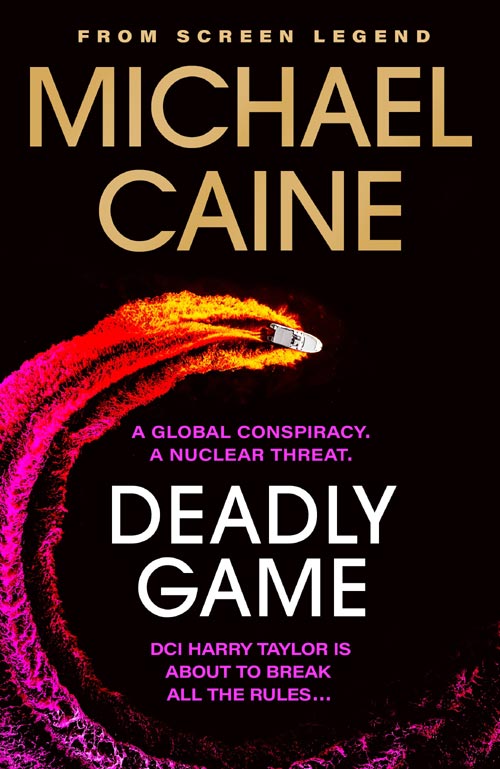 Book cover of Deadly Game, written by Michael Caine.
At the age of ninety, British actor Michael Caine has turned his hand to novel writing. His debut title, Deadly Game — set to be published in Australia by Hachette on Tuesday 28 November 2023 — quite possibly draws a certain amount of inspiration from some of Caine's acting roles:
DCI Harry Taylor has no respect for red tape or political reputations — but he's great at catching criminals. And all his unorthodox skills will be needed as an extraordinary situation unfolds on his doorstep: a metal box of radioactive material is found at a dump in Stepney, East London, but before the police can arrive it is stolen in a violent raid.

With security agencies across the world on red alert, it's Harry and his unconventional team from the Met who must hit the streets in search of a lead. They soon have two wildly different suspects, aristocratic art dealer Julian Smythe in London and oligarch Vladimir Voldrev in Barbados. But the pressure is on. How much time does Harry have, and how many more players will join the action, before the missing uranium is lighting up the sky?
Copy on the Hachette page describes Deadly Game as hero Harry Taylor's "first adventure"… does this mean more thrillers written by Caine are in the works?
RELATED CONTENT
books, fiction, Michael Caine, writing
7 June 2023
Montreal based Canadian software developer, and blogger, Julia Evans, dispels some of the blogging myths she believes are putting off people who are considering starting their own blogs. For instance, the myth that more material is always better — in other words, blog posts must be a minimum of, say, three thousand words in length — is a good one:
I appreciate the work that goes into extremely deep dive blog posts, but honestly they're not really my thing. I'd rather read something short, learn a couple of new things, and move on. So that's how I approach writing as well. I'll share a couple of interesting things and then leave anything extra for another post. For me this works well because short posts take less time to write.
Some (so-called) blogging experts seem to believe a certain search engine is on a mission to homogenise the web. They do so by spruiking the suggestion blogs, and the posts published therein, must conform to certain, specific, specifications. Failure to adhere to said stipulations will result in bans, blockings, and blacklistings, or some other equally awful fate.
These sorts of antics are also deterring more people from taking up blogging, or self-publishing, as I still prefer to call it. But pay no attention, I say, and do your own thing.
RELATED CONTENT