Australian books to adapt to film instead of Lord of the Rings
7 March 2023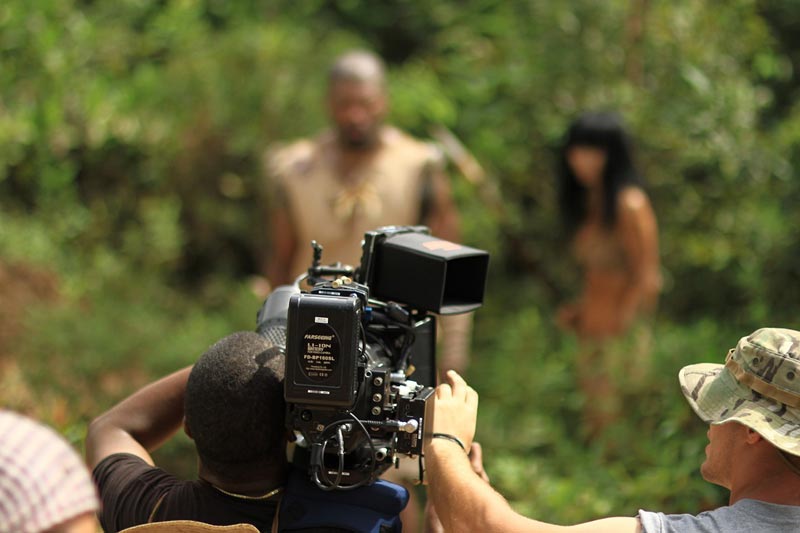 Image courtesy of David Condrey.
A few weeks ago film production company Warner Brothers announced plans to make a raft of new movies based on the Lord of the Rings volumes, written by J.R.R. Tolkien. Many of these new movies will be set several hundred years before events depicted in the films Peter Jackson made between 2001 and 2003.
The news is no doubt exciting for fans of the books written by Tolkien, and the movies made by Jackson. But do we really need another slate of Lord of the Rings films? Have we not seen enough of fire breathing dragons, giant spiders, and enormous armies that threaten to crush the heroes?
There are plenty of other stories that could be adapted to film, and many of them are Australian novels. On top of that, there's a stack to choose from. So here we go, my list of five Australian books to adapt to film instead of Lord of the Rings stories.
The Shut Ins by Katherine Brabon
The Melbourne based author wrote her second novel, The Shut Ins in 2021. Set in Japan, Brabon explores hikikomori, a phenomenon where mostly young Japanese men completely withdraw from society. Some of them might spend years confined only to a room in their parent's house, barely even seeing their family.
The Shut Ins centres on Hikaru Sato, a man in his late twenties, who has locked himself in his room. One day by chance, his mother Hiromi, meets Mai, an old high school friend of Hikaru. Hiromi implores Mai to help lure her son out his room. But Mai has her own troubles. She has recently married, and both her husband, J, and family, expect to her give up her career and have children.
Another character, Sadako, meanwhile, works as a hostess, and entertains J during his regular business trips to Tokyo. It is doubtful Mai is aware of their liaisons. In a separate timeline several years later, an Australian writer, researching the hikikomori phenomenon, travels around Japan. As she moves from place to place, she corresponds by email with a Japanese man, a former hikikomori.
Although he now lives in America, he has returned to Japan for a holiday. The split timelines, and the uncertainty as whether anyone in the latter timeline is connected to those of several years earlier, would make The Shut Ins a compelling film.
Loveland by Robert Lukins
Robert Lukins is another Melbourne based author, whose second novel, Loveland, was partially inspired by the cover of Bruce Springsteen's 1982 album, Nebraska.
May, an Australian woman, has travelled to Loveland, in the US state of Nebraska, following the death of her grandmother, Casey, whom May barely knew. May is also escaping an abusive husband, who wants her to sell Casey's property as soon as possible.
As May readies the house for sale, she learns Casey likewise sought to escape her old life by coming to Loveland. In fact she has more in common with her late grandmother than she realises, and like Casey, May comes to realise Loveland might be able to offer her a new beginning.
Loveland is slow burning, though suspenseful drama, delivering an outcome certain to leave filmgoers guessing right up to the final frame.
Every Version of You by Grace Chan
Climate change and poverty have rendered the real world unbearable by the latter part of the twenty-first century. Many people have taken to residing virtually, in a digital domain known as Gaia. Their bodies never leave their apartments, but in Gaia, their digital avatars roam free, carrying on what passes for a normal life.
This how a young woman Tao-Yi, and her boyfriend, Navin, largely exist. When a new technology emerges allowing people to permanently upload their minds to Gaia, and live forever as a digital avatar, a choice must be made. To live in an increasingly inhospitable environment, or escape into the digital utopia that is Gaia.
Navin thinks being permanently fused to Gaia is a great idea. Tao-Yi is far from certain. Her mother meanwhile, wants no part of the virtual realm, and prefers to remain in the almost abandoned real world, with her memories of living in Malaysia. Every Version of You would be a treat for fans of science-fiction and speculative fiction films.
Picnic at Mount Disappointment by Melissa Bruce
Sydney based Victorian born author Melissa Bruce's 2017 debut will sate the appetite of people looking for a coming of age story, and those who still feel an affinity with the eighties. Fifteen year old Lucy is uprooted from her comfortable inner-city life in Melbourne, to move to a small town in rural Victoria.
Adjusting to living on a horse farm, at the foot of Mount Disappointment, is not easy. Lucy has to contend with a step-mother she hardly knows, a situation not helped by her father who is often away, travelling for work. She also must get used to a new high school, where she has no place on the pecking order, while looking out for her younger brother, who is also struggling to adapt.
But Lucy soon learns to ride horses, make new friends, and finds a boyfriend. And as her growing confidence turns to bravado, Lucy is quickly confronted by new challenges and threats. Bruce's novel is written in alien to the eighties tweet styled stanzas, which would add zest to any screenplay for Picnic at Mount Disappointment.
The Wife and the Widow by Christian White
I'm not sure The Wife and the Widow, the second novel by Victoria based Australian author Christian White, could be adapted for the screen. To go into why would give away one of the most spectacular twists seen recently in fiction. In short though, this is the story of two women, a wife, Abby, and a widow, Kate.
Kate has travelled to an island off the coast of Victoria, following the murder of her husband, who was possibly leading a double life. The killing has shocked the island's small, tight knit, community. Abby, meanwhile, is beginning to suspect her oddly behaving husband may be a murderer.
But it is only as Kate and Abby slowly draw towards each other, that the truth about their husbands come to light. I have no doubt an adept screenwriter could bring The Wife and the Widow to cinemas. It would be worth the effort if it worked, because the twist, when revealed, will leave audiences dumbfounded.
No more Lord of the Rings, please…
My list of Australian novels that could be adapted to film is by no means exhaustive. It could easily have been far longer, but I think the point is clear: there are plenty of new, original stories, written here in Australia, that would make great movies.
RELATED CONTENT
Australian literature, entertainment, film, screen adaptations