Showing all posts tagged:
entertainment
16 March 2023
London based writer and reviewer Susie Mesure, writing for The Guardian:
Elizabeth Strout, the Booker-shortlisted author of Olive Kitteridge and the Lucy Barton books, is also taking books at a more tranquil pace. "I was never a fast reader [but] I think I read more slowly than I used to. This is partly to savour every word. The way a sentence sounds to my ear is so important to me in the whole reading experience, and I always want to get it all – like when you read poetry."
On one hand, I am an impatient reader, on the other though… it can take a while to read a title.
RELATED CONTENT
11 March 2023
A ten year high school reunion goes horribly awry, after a tidal wave transforms the venue into an island, leaving old students of an all-girls school stranded. Will the former school-mates co-operate, or will tensions and rivalries from their school days resurface and overwhelm them?
Emily Browning and Caitlin Stasey, star in the Amazon Prime produced Australian TV series, Class of '07, trailer, created and directed by Kacie Anning, which goes to air on Friday 17 March 2023.
RELATED CONTENT
entertainment, Kacie Anning, television, trailer, video
7 March 2023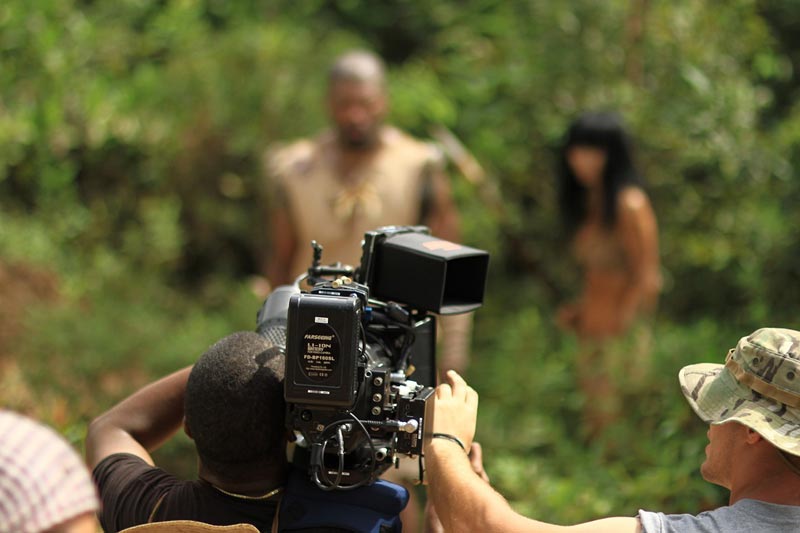 Image courtesy of David Condrey.
A few weeks ago film production company Warner Brothers announced plans to make a raft of new movies based on the Lord of the Rings volumes, written by J.R.R. Tolkien. Many of these new movies will be set several hundred years before events depicted in the films Peter Jackson made between 2001 and 2003.
The news is no doubt exciting for fans of the books written by Tolkien, and the movies made by Jackson. But do we really need another slate of Lord of the Rings films? Have we not seen enough of fire breathing dragons, giant spiders, and enormous armies that threaten to crush the heroes?
There are plenty of other stories that could be adapted to film, and many of them are Australian novels. On top of that, there's a stack to choose from. So here we go, my list of five Australian books to adapt to film instead of Lord of the Rings stories.
The Shut Ins by Katherine Brabon
The Melbourne based author wrote her second novel, The Shut Ins in 2021. Set in Japan, Brabon explores hikikomori, a phenomenon where mostly young Japanese men completely withdraw from society. Some of them might spend years confined only to a room in their parent's house, barely even seeing their family.
The Shut Ins centres on Hikaru Sato, a man in his late twenties, who has locked himself in his room. One day by chance, his mother Hiromi, meets Mai, an old high school friend of Hikaru. Hiromi implores Mai to help lure her son out his room. But Mai has her own troubles. She has recently married, and both her husband, J, and family, expect to her give up her career and have children.
Another character, Sadako, meanwhile, works as a hostess, and entertains J during his regular business trips to Tokyo. It is doubtful Mai is aware of their liaisons. In a separate timeline several years later, an Australian writer, researching the hikikomori phenomenon, travels around Japan. As she moves from place to place, she corresponds by email with a Japanese man, a former hikikomori.
Although he now lives in America, he has returned to Japan for a holiday. The split timelines, and the uncertainty as whether anyone in the latter timeline is connected to those of several years earlier, would make The Shut Ins a compelling film.
Loveland by Robert Lukins
Robert Lukins is another Melbourne based author, whose second novel, Loveland, was partially inspired by the cover of Bruce Springsteen's 1982 album, Nebraska.
May, an Australian woman, has travelled to Loveland, in the US state of Nebraska, following the death of her grandmother, Casey, whom May barely knew. May is also escaping an abusive husband, who wants her to sell Casey's property as soon as possible.
As May readies the house for sale, she learns Casey likewise sought to escape her old life by coming to Loveland. In fact she has more in common with her late grandmother than she realises, and like Casey, May comes to realise Loveland might be able to offer her a new beginning.
Loveland is slow burning, though suspenseful drama, delivering an outcome certain to leave filmgoers guessing right up to the final frame.
Every Version of You by Grace Chan
Climate change and poverty have rendered the real world unbearable by the latter part of the twenty-first century. Many people have taken to residing virtually, in a digital domain known as Gaia. Their bodies never leave their apartments, but in Gaia, their digital avatars roam free, carrying on what passes for a normal life.
This how a young woman Tao-Yi, and her boyfriend, Navin, largely exist. When a new technology emerges allowing people to permanently upload their minds to Gaia, and live forever as a digital avatar, a choice must be made. To live in an increasingly inhospitable environment, or escape into the digital utopia that is Gaia.
Navin thinks being permanently fused to Gaia is a great idea. Tao-Yi is far from certain. Her mother meanwhile, wants no part of the virtual realm, and prefers to remain in the almost abandoned real world, with her memories of living in Malaysia. Every Version of You would be a treat for fans of science-fiction and speculative fiction films.
Picnic at Mount Disappointment by Melissa Bruce
Sydney based Victorian born author Melissa Bruce's 2017 debut will sate the appetite of people looking for a coming of age story, and those who still feel an affinity with the eighties. Fifteen year old Lucy is uprooted from her comfortable inner-city life in Melbourne, to move to a small town in rural Victoria.
Adjusting to living on a horse farm, at the foot of Mount Disappointment, is not easy. Lucy has to contend with a step-mother she hardly knows, a situation not helped by her father who is often away, travelling for work. She also must get used to a new high school, where she has no place on the pecking order, while looking out for her younger brother, who is also struggling to adapt.
But Lucy soon learns to ride horses, make new friends, and finds a boyfriend. And as her growing confidence turns to bravado, Lucy is quickly confronted by new challenges and threats. Bruce's novel is written in alien to the eighties tweet styled stanzas, which would add zest to any screenplay for Picnic at Mount Disappointment.
The Wife and the Widow by Christian White
I'm not sure The Wife and the Widow, the second novel by Victoria based Australian author Christian White, could be adapted for the screen. To go into why would give away one of the most spectacular twists seen recently in fiction. In short though, this is the story of two women, a wife, Abby, and a widow, Kate.
Kate has travelled to an island off the coast of Victoria, following the murder of her husband, who was possibly leading a double life. The killing has shocked the island's small, tight knit, community. Abby, meanwhile, is beginning to suspect her oddly behaving husband may be a murderer.
But it is only as Kate and Abby slowly draw towards each other, that the truth about their husbands come to light. I have no doubt an adept screenwriter could bring The Wife and the Widow to cinemas. It would be worth the effort if it worked, because the twist, when revealed, will leave audiences dumbfounded.
No more Lord of the Rings, please…
My list of Australian novels that could be adapted to film is by no means exhaustive. It could easily have been far longer, but I think the point is clear: there are plenty of new, original stories, written here in Australia, that would make great movies.
RELATED CONTENT
Australian literature, entertainment, film, screen adaptations
5 March 2023
Food blogger Liv Healy (Celeste Barber), takes to Sydney's Bondi Beach on a fitness bender, to ready herself for a role as a judge on a prestigious American cooking show, in Wellmania, trailer.
The eight part Netflix produced TV series is based on Wellmania: Misadventures in the Search for Wellness, a novel written by Australian journalist and speech writer Brigid Delaney, who co-wrote the screenplay with Sydney based author and broadcaster Benjamin Law.
Wellmania goes to air on Wednesday 29 March 2023.
RELATED CONTENT
Benjamin Law, Brigid Delaney, Celeste Barber, entertainment, television, trailer, video
27 February 2023
There's all sorts of reasons, but a lack of time to seek out new compositions, and not simply a love of "old music", is one:
One explanation for the age-based reduction in music consumption simply posits that responsibility-laden adults may have less discretionary time to explore their musical interests than younger people.
This is where good old radio can help. Switch to station that plays newer, less familiar, music, while you're working or driving. Since radio playlists are generally repetitive, new favourites will gradually worm their way into your ear.
RELATED CONTENT
7 February 2023
An analysis of songs in Triple J's Hottest 100 countdown for 2022, which was aired on 28 January 2023, reveals them to among the worst to dance to in almost a decade, say Mark Doman, Katia Shatoba, and Thomas Brettell, writing for ABC News.
The same research shows 1995 to be the worst on record for Hottest 100 danceability, though a steady rise follows thereafter. This can likely be attributed to the greater presence of electronica and dance music in countdowns from the late nineties onwards, as those genres began to flourish.
The winning track — Flume's Say Nothing, featuring MAY-A — was also the least-dancey track to win the countdown since Muse's six-minute, prog rock epic Knights of Cydonia in 2007. Data also shows that the average tempo of the 2022 Hottest 100 was the second-fastest on record since counting began back in 1993.
At this stage the drop in Hottest 100 song danceability looks more like a blip. The long term trend shows a rise, even if 2022 danceability is markedly lower than the peak recorded in 2019.
RELATED CONTENT
Australian music, entertainment, music, radio
30 January 2023
Sydney DJ and electronic musician Flume topped the 2022 Triple J Hottest 100, with his track Say Nothing, a collaboration with Australian singer-songwriter MAY-A. It's the second time a Flume track has reached number one in the Hottest 100, a feat matched only by defunct Brisbane rock band Powderfinger, over twenty years ago.
Meanwhile veteran Adelaide hop hop act Hilltop Hoods, made countdown history by notching their twenty-third entry in the music poll, with Show Business, which charted at number seventy-one. Previously Powderfinger, and American rockers Foo Fighters, had shared the record for the most Hottest 100 entries, with twenty-two tracks each.
RELATED CONTENT
Australian music, entertainment, music, radio
27 January 2023
The countdown of Triple J's Hottest 100 songs of 2022 kicks off at midday tomorrow, Saturday 28 January 2023, AEDT. To ramp up anticipation, the powers that be at the Jays have offered a few tantalising clues as to what can be expected this year:
Twenty-three acts will be making their Hottest 100 debut
Fifty-seven songs are by Australian artists
Six songs were posted to Triple J Unearthed this year
AND, at least two massive Hottest 100 records will be broken
There's nothing like a few surprises to round out a Hottest 100 countdown.
RELATED CONTENT
26 January 2023
The countdown of the Hottest 100, a poll of Australian radio station Triple J's listeners, goes to air from midday (AEDT) on Saturday 28 January 2023. Billie Eder and Lachlan Abbott, writing for the Sydney Morning Herald, analysed past winners of the countdown, and worked out what it takes to get to the top. In short being male — either as a solo act, or in a group — and being based in either Sydney or Melbourne, makes a big difference:
Firstly, you'll want to be either a solo male artist or in an all-male band – this will significantly increase your chance of winning. In the countdown's three-decade long history, there has only ever been one solo female winner: Billie Eilish. Eilish took out the number one spot for her song Bad Guy in 2019. The win also made Eilish the youngest ever winner of the award, at just 18 years old.
I've been listening to the Hottest 100 for some time now, but reading that American musician Billie Eilish is the only solo female act to be voted number one, in the whole history of the countdown, came as quite the surprise. I'm not sure why this would be. The Triple J playlist is diverse and varied, so it's not as if the music of female artists isn't presented to listeners. This is a puzzle.
RELATED CONTENT
11 January 2023
The 2023 Golden Globes awards were presented today. Best actor winners include Cate Blanchett and Austin Butler, while The Banshees of Inisherin, and Steven Spielberg's The Fabelmans — which edged out Top Gun: Maverick, and Avatar: The Way of Water — took out the best picture awards in their respective categories. A full list of this year's winner is here.
RELATED CONTENT
Cate Blanchett, entertainment, film, Steven Spielberg
10 January 2023
The Netflix produced adaptation of Italian author's Elena Ferrante's 2019 coming-of-age novel The Lying Life of Adults, about a teenage girl named Giovanna, living in Naples, is now streaming.
Giovanna's pretty face is changing, turning ugly, at least so her father thinks. Giovanna, he says, looks more like her Aunt Vittoria every day. But can it be true? Is she really changing? Is she turning into her Aunt Vittoria, a woman she hardly knows but whom her mother and father clearly despise? Surely there is a mirror somewhere in which she can see herself as she truly is.

Giovanna is searching for her reflection in two kindred cities that fear and detest one another: Naples of the heights, which assumes a mask of refinement, and Naples of the depths, a place of excess and vulgarity. She moves from one to the other in search of the truth, but neither city seems to offer answers or escape.
Somehow the adaptation, based on the trailer at least, is different to how I saw the story when I read it, while a teaser, released in March 2022, only briefly outlined the TV series to follow.
But yeah, so what.
RELATED CONTENT
books, Elena Ferrante, entertainment, television, trailer, video
21 December 2022
To see the pace at which the English language is evolving, though I'm not sure evolving would be everyone's verb of choice — change, or even devolution, might better fit the bill — look no further than the latest batch of words that can now be used in popular word game Scrabble.
Some five hundred words have been added to latest edition of The Official Scrabble Players Dictionary, says David Astle, writing for The Brisbane Times. Among them are adorbs, convo, dox, inspo, jedi, stan, sitch, and thingie.
Despite the fanfare, however, you may stand in oppo (another intake) to such skeezy (repulsive) additions, yelling ixnay (slang term for veto) at this whole thingie (yep, that's in too). Pushed to shove, you may even succumb to grawlix (the sweary symbols of cartoons), yet 500 new words represent less a bleak day for English than a chance to embiggen your Scrabble ammo, amirite? And your score.
RELATED CONTENT
entertainment, games, language, trends
12 November 2022
The Dictionary of Lost Words, the debut novel of Adelaide Hills, South Australia, based author Pip Williams, which I happen to be reading at the moment, is to be the subject of not one, but two separate adaptations.
A stage production, directed by Jessica Arthur, a collaboration between the State Theatre Company of South Australia and the Sydney Theatre Company, is set to open in September 2023, in Adelaide. The show then moves to Sydney, where it opens in late October 2023.
And then this week Australian television producers Lisa Scott and Rebecca Summerton announced they had acquired the TV rights to the book, and were planning a six to eight part series. At this stage it remains unknown when the show will go to air.
Set with the publishing of the first Oxford Dictionary as a backdrop, The Dictionary of Lost Words, published in March 2020 by Affirm Press, recounts the story of Esme, the daughter of one of the lexicographers working on production of the dictionary:
Esme's place is beneath the sorting table, unseen and unheard. One day, she sees a slip containing the word bondmaid flutter to the floor unclaimed. Esme seizes the word and hides it in an old wooden trunk that belongs to her friend, Lizzie, a young servant in the big house. Esme begins to collect other words from the Scriptorium that are misplaced, discarded or have been neglected by the dictionary men. They help her make sense of the world.

Over time, Esme realises that some words are considered more important than others, and that words and meanings relating to women's experiences often go unrecorded. She begins to collect words for another dictionary: The Dictionary of Lost Words.
RELATED CONTENT
Australian literature, books, entertainment, Pip Williams, television
31 October 2022
I miss afternoons spent whiling away more time than I should have, perusing the aisles of the long closed local video hire shop. Somewhere among the cram packed shelves there was bound to be a title I wanted to see, but had missed at the movies. Time consuming the process may have been, but it was somehow cathartic, transcendental even.
Despite a barrage of closures over the last decade, near to five-hundred video hire shops remain open in Australia. Some even experienced a shortlived uptick in business during the COVID enforced lockdowns, as people searched for ways to amuse themselves while housebound.
Those looking to relive the old days of the video hire shop might then enjoy the aptly name TV show Blockbuster, trailer, a Netflix produced comedy set in the last Blockbuster shop in America. Timmy Yoon, the hapless store owner, is not only hopeful of keeping the business afloat, but also, it seems, catching the eye of his favourite employee, Eliza.
Timmy Yoon is an analog dreamer living in a 5G world. And after learning he is operating the last Blockbuster Video in America, Timmy and his staff employees (including his long time crush, Eliza) fight to stay relevant. The only way to succeed is to remind their community that they provide something big corporations can't: human connection.
RELATED CONTENT
entertainment, television, trailer, video
3 October 2022
While I usually feature long and shortlists from some of the literary awards, why not change things up a bit? Recently the World's 50 Best Bars 2022 longlist was announced. Not that you'll catch me in a bar too often, but it's worth noting two Australian bars made the cut.
One is Caretaker's Cottage in Melbourne, as is Re Bar, located in the Sydney suburb of Eveleigh, which I find myself in, or near, on occasion. I'll have to look out for Re Bar next time I'm nearby.
It also turns out Re owner Matt Whiley is passionate about tackling the scourge of food waste. If you think food waste is a trivial matter, watch the trailer for Never Wasted, an in production documentary on the efforts being made by Whiley, and others, to reduce food waste.
RELATED CONTENT
Australia, entertainment, Sydney
30 September 2022
The 2022 reboot of Australian high-school drama show Heartbreak High has not only been one of the most watched TV shows in Australia recently, it was also among the top-ten viewed Netflix programs in over forty countries across the world.
Featured in the top 10 most watched shows in 43 countries around the world on Netflix, in every corner of the globe from the US and Europe, to Africa, Asia and, Australia, where it's been sitting pretty in the top 10 since its release on service on September 14.
RELATED CONTENT
26 August 2022
Last time I wrote about listener survey ratings for local and alternative music Australian radio station, Triple J, the news was not good for the broadcaster. Results of survey four for 2022, conducted between Sunday 22 May and Saturday 25 June, and released on Tuesday 5 July, showed a sharp fall in the number of people tuning in.
The findings of survey five though, where radio listeners were polled between Sunday 10 July and Saturday 13 August, revealed a jump in audience numbers, among Sydneysiders aged 18 to 24.
Australia's national youth broadcaster Triple J has seen a noticeable bump in its key 18-24 demographic in the fifth radio survey of the year, after struggling with its core audience in Sydney for most of 2022. The latest survey has seen the broadcaster more than double its 18-24 audience share, leaping from 4.4 per cent to 9.6 per cent of all listeners in that age group.
Despite the overall increase of listeners in the 18-24 demographic, Triple J's breakfast and morning shows saw a decrease in audience numbers.
RELATED CONTENT
12 August 2022
Written by American actor John Malkovich, who also stars with Marko Zaror and Shuya Chang, and directed by Robert Rodriguez, 100 Years, teaser/trailer, is a film made in 2015 that will not be released — all things remaining equal — until 2115.
The only physical copy of the movie was placed in a time controlled safe at the Cannes Film Festival in 2016, which apparently will not open until Monday 18 November 2115. While details of the plot remain sketchy, it seems a certain brand of cognac features prominently.
RELATED CONTENT
entertainment, film, John Malkovich, Robert Rodriguez, trailer, video
12 August 2022
Talking of Triple J… Emerging Melbourne based Australian soul and pop singer Jacoténe has won the radio station's Unearthed High for 2022, with her demo single I Need Therapy. Those vocals though…
RELATED CONTENT
12 August 2022
Government funded, alternative music Australian radio station, Triple J has been losing listeners for sometime among their target demographic of 18 to 24 year olds, but recent surveys show the decline has picked up pace, as Tim Burrows at Unmade writes:
However, the fall for average listening to Triple J is much worse. Now, a much bigger proportion of that young listening audience is choosing commercial radio. In 2014, there were an average of 22,000 members of Triple J's target audience listening at any given time. In the most recent survey in 2022, that had fallen to 10,000 – a fall of 55%.
What puzzles me is the migration to commercial radio though. Listeners haven't gone to TikTok to discover and listen to music — at least not all of them — instead they're tuning into commercial radio stations. Surely the ads that choke commercial radio broadcasts don't have some sort of hitherto unrealised appeal to Generation Z?
I'm somewhat outside Triple J's target audience, but one reason I still tune in (stream in) is precisely because there are no cheesy commercial jingles. There are ads of sorts on Triple J, but usually for other shows, and music related events and happenings. Certainly not the kind you encounter on commercial channels though.
And surely 18 to 24 year olds aren't being turned off by Triple J's focus on new Australian music? Interestingly, radio listenership in general is down some seventeen percent among those aged 18 to 24, so while the jays are losing audience share, they're not the only ones.
RELATED CONTENT