Showing all posts tagged:
film
22 June 2022
Here's the book to screen adaptation we've been waiting for. The film rights for Sydney based Australian author Charlotte Wood's highly acclaimed 2019 novel The Weekend, have been bought by Brouhaha Entertainment, a production company with offices in London and Sydney.
The 2019 book, published by Allen & Unwin, follows three friends for one last, life-changing long weekend, during a subtropical Sydney Christmas. As they declutter the beach home belonging to the fourth member of their quartet, who died the previous year, there is an escalating sense of tension as frustrations and secrets bubble to the surface.
And to the obvious question, who are they going to cast?
Share on Twitter | Share on Facebook
RELATED CONTENT
Australian literature, Charlotte Wood, film, screen adaptations
21 June 2022
Belgian film director and screenwriter Lukas Dhont's 2022 feature Close was named winner of the 2022 Sydney Film Prize, on the closing night of this year's Sydney Film Festival.
Thirteen-year-olds Leo and Remi are best friends. We meet them running happily through vast fields of flowers. They dream of unimaginable wealth, of being stars on YouTube. Remi is an aspiring musician, and Leo is his greatest fan. Theirs is a loving and genuine friendship. And then they start high school. For the very first time, their closeness comes into question as they are teased and taunted by their schoolmates. Gradually a rift develops between the friends, with tragic consequences.
So far I can't find any information about a theatrical season in Australia, so at the moment it looks like streaming or the film festival circuit are your best bets. No actual trailer that I can find either, but there is this short clip from the film here.
Share on Twitter | Share on Facebook
RELATED CONTENT
film, Lukas Dhont, Sydney Film Festival
21 June 2022
Making a film is easy, especially when just about all you need on the production side is a good smartphone. Making a good film though? That's another story. Still, I'm willing to bet the standard will be pretty high in this year's SmartFone Flick Fest, which is accepting entries across five categories until Thursday 1 September 2022. I'm curious to see what difference technologies such as the iPhone's cinematic mode will make to submissions this year.
Share on Twitter | Share on Facebook
RELATED CONTENT
20 June 2022
Beneath Clouds, trailer, Ivan Sen's 2002 feature debut, seen twenty-years later, takes viewers into an Australia that is at once familiar, yet quite different. Racism, indigenous displacement, violence to women, police brutality, S-set trains, Sydney Tower in the distant skyline, mentions of NRL football teams, and even one or two Holdens, it's all there.
Sixteen year old Lena (Dannielle Hall), born to an Aboriginal mother and Irish father, sees no future in her small country hometown. Putting together what money she can rustle up, the savvy Lena sets off for Sydney in search of her father, who left the family years ago.
Along the way she meets Vaughn (Damian Pitt), a troubled teenager, who has escaped from a youth correctional facility, and is being pursued by the police. Neither is happy to make each other's acquaintance at first, but gradually a reluctant cooperation begins to spawn a closer bond.
Beneath Clouds is a movie worth seeking out. It won a slew of awards, including Best Direction, and Best Cinematography, from the Australian Film Institute. The Berlin International Film Festival also recognised Sen's title, where it won First Movie Award, while Dannielle Hall scooped the New Talent Award.
Despite the accolades the film received, and the outstanding performances of the two leads, Hall and Pitt, disappointingly neither actor has found film work since. In a Sydney Morning Herald article written in April 2005, Hall said aside from being sent one script to look at, she had not been offered any further acting roles.
At the time she was working as a bookkeeper in the NSW town of Quirindi. Pitt, who was living in Coffs Harbour, said the same thing. Both actors showed talent and promise, and it is unfortunate they weren't able to build upon their work in Beneath Clouds.
Share on Twitter | Share on Facebook
RELATED CONTENT
Damian Pitt, Dannielle Hall, film, Ivan Sen, trailer
20 June 2022
Made in 2021, A Blaster in the Right Hands, a fan made Star Wars film, is a treat for admirers of bounty hunters in the long running film series. A Blaster in the Right Hands is the work of Australian filmmakers Lunacraft Productions, and was filmed, I believe, near the NSW town of Picton.
Share on Twitter | Share on Facebook
RELATED CONTENT
film, science fiction, Star Wars
16 June 2022
A sequel to American filmmaker Todd Phillips' 2019 feature Joker, trailer, is on the way. We've seen the photos of the cover of the script, and, although he's yet to confirm his participation, Joaquin Phoenix reading it. We've been told the working title is Joker: Folie à deux. It has also been reported that Lady Gaga may co-star, portraying Harley Quinn. So far, so good.
But then someone goes and says the sequel is going to be a musical. I'm not sure what to make of this. On one hand it seems quite apt. The Joker is a theatrical character. I can see how that would work. But for a story imbued with the darkness that permeates the world's favourite villain? I'm not sure about that. This will be something to see…
Share on Twitter | Share on Facebook
RELATED CONTENT
film, Joaquin Phoenix, Todd Phillips, trailer
14 June 2022
The soundtrack for the Star Wars series of films, by American composer John Williams, has been voted the number one favourite by listeners of Australia's ABC Classic, in their recent Classic 100 poll.
Despite spanning forty-odd years, Williams's Star Wars scores are a coherent, singular musical project. ABC Classic's Screen Sounds presenter Dan Golding described the music's timeless appeal: "John Williams's music emphasises what is emotionally familiar about this young boy who dreams of saving the galaxy. It is much more myth than metaphor, more Camelot than Brave New World."
In addition to the Star Wars soundtrack, other works by Williams also featured in the top ten of the poll, including Schindler's List, the Harry Potter films, and Jurassic Park.
While there's only one hundred entries though, looking through the full list seems to reveal the presence of just about every known film or TV series. How can that be?
Share on Twitter | Share on Facebook
RELATED CONTENT
10 June 2022
According to Empire, American actor Julia Garner has been offered the lead role in the upcoming Madonna biopic. I always say you know you're doing something right when a biopic is being made of your life, but the difference here is Madonna herself is behind the production.
Biopics are often subject to greater critic scrutiny than other features, because of the way they deal with their subject matter. Filmmakers have the difficult task of selecting which part of a subject's life to include, and what not to, and can also be chastised for appearing to show bias of any sort.
In many cases the subject of a biopic has died, which can result in further complications. Not this time though. But the story of Madonna, by Madonna? That will be something to see.
Share on Twitter | Share on Facebook
RELATED CONTENT
7 June 2022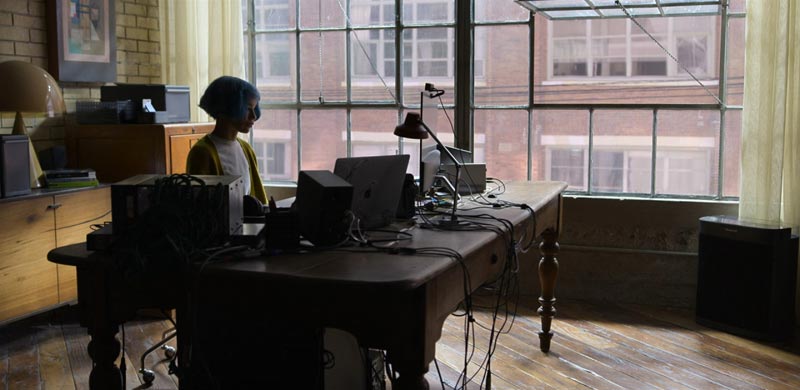 Still from Kimi, courtesy of Warner Brothers.
Angela (Zoe Kravitz) is a housebound voice stream interpreter who spends her days correcting errors a virtual assistant named Kimi makes. Typically Angela is required to familiarise Kimi with slang terms and clarify user instructions the virtual assistant doesn't understand.
But when Angela hears what sounds like a violent assault on a recording that's been flagged for review, she urges her managers to inform the authorities. But the would-be crime is an inconvenience CEO Bradley Hasling (Derek DelGaudio) has no time for.
The company is about to float on the sharemarket, and Hasling is more focussed on the payout due to him. He wants Angela to drop the matter, insisting the recording is some sort of glitch. When Angela refuses to relent, she finds herself pursued by people who will stop at nothing to protect their interests.
Kimi, trailer, directed by American filmmaker Steven Soderbergh, is choke full of references to Alfred Hitchcock's 1954 classic Rear Window. Soderbergh still delivers us the neighbours peering into each other's windows, but adds COVID, face masks, and smartphones to the mix. The storyline may be on the straightforward side, but the brisk runtime means there's seldom a dull moment.
Share on Twitter | Share on Facebook
RELATED CONTENT
Derek DelGaudio, film, Steven Soderbergh, Zoe Kravitz
7 June 2022
Still from Juniper, courtesy of Transmission Films.
Juniper, trailer, is the debut feature of South African born New Zealand filmmaker Matthew J. Saville. Set in rural New Zealand, the story brings together two headstrong characters, Ruth (Charlotte Rampling), an alcoholic, and Sam (George Ferrier), her troubled grandson, who find themselves forced into each other's company.
Sam (17) has been on a self-destructive spiral that could lead to his death. He returns home from boarding school to find his wheelchair-bound English grandmother, Ruth has moved in. Ruth is an ex-war photographer with a lust for life and a love of the bottle. Sam soon finds himself profoundly confronted by her alcoholic wit and chutzpah. Their first meeting is awkward; their second violent. Things get worse when Sam finds himself stranded alone with her and her nurse Sarah for the school holidays. Both strong-willed characters, a battle of supremacy ensues, enabling Sam to embrace life again and for Ruth to face her mortality.
Share on Twitter | Share on Facebook
RELATED CONTENT
Charlotte Rampling, film, George Ferrier, Matthew J. Saville, trailer
6 June 2022
PRIDE on SCREEN is a celebration of Pride Month, taking place at Melbourne's Cinema Nova, from Friday 10 June 2022, until Wednesday 15 June.
Cinema Nova celebrates Pride Month with a curated selection of premiere screenings, new releases and big-screen classics exploring stories from across the LGBTIQ+ experience, screening from Friday June 10.
After Blue, trailer, a science-fiction feature made by French director Bertrand Mandico in 2021, is one of the films showing at the festival. Set on a planet where only women can survive, After Blue tells the story of a hairdresser and her daughter, as they hunt for a notorious killer, named — curiously — Kate Bush.
Share on Twitter | Share on Facebook
RELATED CONTENT
Bertrand Mandico, events, film, trailer
1 June 2022
To accompany his latest album, Never Future, Australian musician Daniel Johns, formerly of Silverchair, will be releasing a short film (trailer), set in 1994, based on his experiences as a fifteen year old fronting Silverchair, which will feature orchestral reinterpretations of the band's hits.
In a press release, Johns described What If The Future Never Happened? as "a grunge, sci-fi short adventure inspired by the pop culture I was immersed in before a curious case of child stardom". It follows a hypothetical timeline wherein Johns' trajectory was interrupted by "a mysterious figure from the future", presumably stopping him from making the leap to stardom.
Johns, who will be portrayed by Australian actor Rasmus King, in addition to making a cameo appearance himself, describes the film as "at once the most honest and most fantastical thing I've ever done".
Share on Twitter | Share on Facebook
RELATED CONTENT
Daniel Johns, film, music, science fiction, trailer
31 May 2022
I know nothing about baseball, let alone who the legends of the game are, or were, but after seeing Field of Dreams, I learned of one, Shoeless Joe Jackson, an American Major League Baseball (MLB) player one hundred years ago.
Shoeless Joe, depicted by late American actor Ray Liotta in the film, is the first player to appear in the baseball pitch Iowa farmer Ray Kinsella (Kevin Costner) cleared part of his cornfield to create. Following news of Liotta's death last week, Costner posted a scene of Kinsella pitching to Shoeless Joe, which includes a moment that was not scripted, but ultimately included in the final cut.
Some of the best moments are unscripted.
Share on Twitter | Share on Facebook
RELATED CONTENT
film, Kevin Costner, Ray Liotta
24 May 2022
Now in its fourth year, the 2022 Virtual Indigenous Film Festival is an event held exclusively online, showcasing Indigenous Australian film. This year's event takes place from Thursday 26 May 2022, until Monday 30 May.
My Name is Gulpilil by Molly Reynolds, Off Country by John Harvey and Rhian Skirving, and Wash My Soul in the River's Flow by Philippa Bateman (trailer featured above), are among titles being livestreamed during this year's festival.
Share on Twitter | Share on Facebook
RELATED CONTENT
Australian film, film, Indigenous film, trailer
23 May 2022
Whina, trailer, directed by James Napier Robertson, and Paula Whetu Jones, is the story of Dame Whina Cooper, a twentieth century Māori activist and leader, who fought for Māori rights in New Zealand. Whina will screen at the 2022 Sydney Film Festival.
The daughter of a Māori chief, Josephine ('Whina' for short), was born in Hokianga in 1895. For nearly a century, Whina (Miriama McDowell, as younger Whina, and Rena Owen, Once Were Warriors) never stopped asserting the rights of her people and striving for unity between Māori and Pākehā. In 1975, Whina, frail but still determined, led a sacred hīkoi over 600kms, from the top of New Zealand to Parliament House in Wellington.
Share on Twitter | Share on Facebook
RELATED CONTENT
film, James Napier Robertson, Paula Whetu Jones, trailer
21 May 2022
Made up of thirty-seven short films, The Impact, trailer, counts down the final two hours on Earth before a catastrophic meteor strike. Grim storyline aside, The Impact is a feat of filmmaking, with fifty directors and fifty writers collaborating to produce the feature. I'm not sure if we'll see it on Australian film screens, but The Impact premieres in London on Tuesday 31 May 2022.
Share on Twitter | Share on Facebook
RELATED CONTENT
19 May 2022
French actor Adèle Haenel, who won best actress prizes in the César Awards and the European Film Awards, for her role as Héloïse, in Céline Sciamma's 2019 film Portrait of a Lady on Fire, has walked away from film making, she said in a recent interview:
"I don't make films anymore," Haenel said. "Because of political reasons. Because the film industry is absolutely reactionary, racist, and patriarchal."
Share on Twitter | Share on Facebook
RELATED CONTENT
18 May 2022
Before, Now & Then, trailer, by Indonesian filmmaker Kamila Andini, is one of twelve films in competition for the Sydney Film Prize, at the 2022 Sydney Film Festival:
Kamila Andini tells a very personal story set against the backdrop of tumultuous political times in Indonesia in this beguiling period drama. Nana (a luminous Happy Salma) loses her family, including her husband, in the war in West Java. Years later, now in the 1960s, we meet her again. Her poverty now a thing of the past, she has remarried a significantly older man, Mr Darga, who is wealthy and a philanderer. Though her life is comfortable, Nana's dreams are still occupied by the past.

A chance discovery of a carelessly forgotten item of clothing leads Nana to discover that Darga is having an affair with an even younger local woman, Ino. What follows is unexpected. Rather than a confrontation, Nana and Ino become friends, and take comfort in each other, jointly imagining a path to freedom. Meanwhile, through talk in the town of secret communists, and on radio broadcasts, the political tensions that will alter the future of Indonesia are made clear.
Before, Now & Then, also known as Nana, is competing against eleven other films for the Sydney Film Prize, the winner of which will be announced on Sunday 19 June 2022.
It looks like a tight contest to me.
Share on Twitter | Share on Facebook
RELATED CONTENT
film, Kamila Andini, Sydney Film Festival, trailer
16 May 2022
I don't know what someone else would say, but if I had to describe the work of French filmmaker François Ozon in two words or less, I'd go for thought provoking. Look at Potiche, In the House, and The New Girlfriend, and tell me you disagree.
End of life plans, living wills, and euthanasia, are matters featuring prominently in Everything Went Fine (Tout s'est bien passé), trailer, the latest movie from Ozon:
When André, 85, has a stroke, Emmanuelle hurries to her father's bedside. Sick and half-paralysed in his hospital bed, he asks Emmanuelle to help him end his life. But how can you honour such a request when it's your own father?
Everything Went Fine opens in Australian cinemas on Thursday 19 May 2022.
Share on Twitter | Share on Facebook
RELATED CONTENT
16 May 2022
Stanley Kubrick and Arthur C. Clarke, who co-wrote the screenplay for 2001: A Space Odyssey were at loggerheads for years as to how to portray the highly advanced aliens who created the mysterious black monolith seen throughout the film.
Kubrick had been considering depicting the extra-terrestrials as human-like, until American cosmologist and author Carl Sagan suggested not showing them at all. Best idea ever. The approach created so much more intrigue.
Share on Twitter | Share on Facebook
RELATED CONTENT
2001: A Space Odyssey, Arthur C Clarke, Carl Sagan, film, science fiction, Stanley Kubrick