Showing all posts tagged:
film
22 March 2023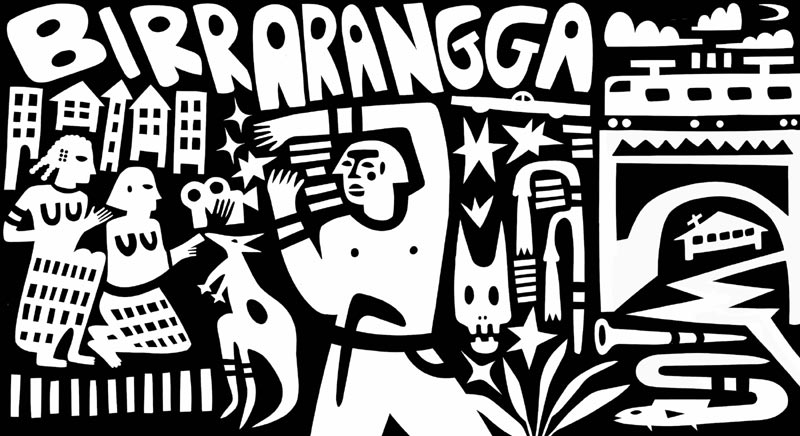 Artwork by Aretha Brown.
The biennial Birrarangga Film Festival runs from Thursday 23 March, through to Tuesday 28 March 2023, in Melbourne:
BIRRARANGGA Film Festival celebrates Global Indigenous Films that explore the curatorial themes of 'strength, resilience and the environment'. First Nations relationships to the image as a form of expression, particularly in Australia, is connected to thousands of years of cultural practices. This festival honours that history and acknowledges the contemporary currency of the moving image, of film, as an expression of the human experience in relation to our natural surroundings.
The festival opens with a screening of Bones of Crows, directed by Canadian screenwriter and filmmaker Marie Clements.
RELATED CONTENT
Australia, events, film, Indigenous film
22 March 2023
Twenty-one years after he made Amélie, full title The Fabulous Destiny of Amélie Poulain, starring Audrey Tautou, the film's director Jean-Pierre Jeunet has revealed Amélie was actually a KGB spy. He makes the startling admission in a short film, Amelie: the Real Story, which uses scenes from the original 2001 made feature. A master of cunning, our Amélie, but we all knew that.
Did no one ever wonder how a young waitress afforded such sophisticated decoration for a flat in Montmartre, one of Paris' most expensive districts?
You know, I did wonder, because I wanted to live in apartment exactly like Amélie's.
RELATED CONTENT
film, humour, Jean-Pierre Jeunet, video
18 March 2023
There's a few tech origin-story films around that the moment. The Playlist is about the founding of music streaming service Spotify, while BlackBerry backgrounds the invention of one of the first smartphones, being, obviously, the BlackBerry.
But here's the one we've been waiting for… Tetris, trailer, the story behind the still popular video game's creation, directed by Scottish filmmaker Jon S. Baird. Nikita Efremov portrays Alexey Pajitnov, the Soviet-born American computer engineer who devised Tetris in 1984, with Taron Egerton as Dutch entrepreneur Henk Rogers, who sought a distribution deal for the game.
It's all high drama, these start-up stories. So much for plodding away quietly in a suburban garage, bringing the next big thing into being.
RELATED CONTENT
film, Jon S. Baird, trailer, video
7 March 2023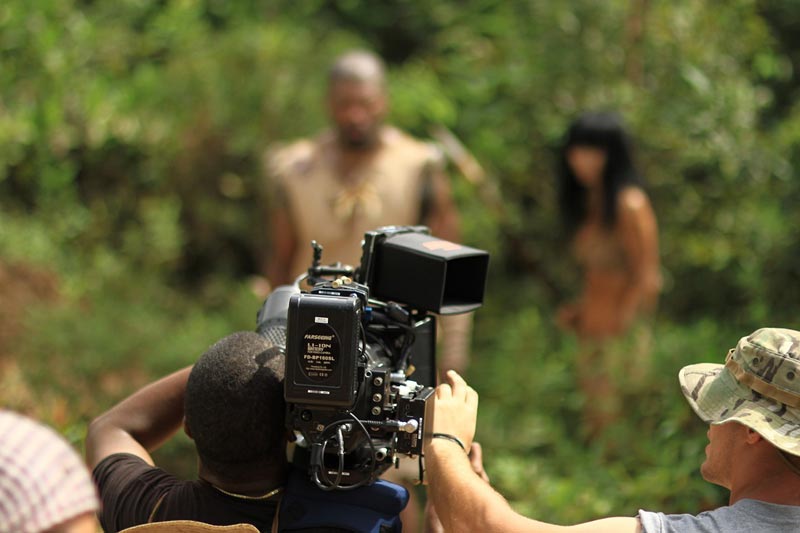 Image courtesy of David Condrey.
A few weeks ago film production company Warner Brothers announced plans to make a raft of new movies based on the Lord of the Rings volumes, written by J.R.R. Tolkien. Many of these new movies will be set several hundred years before events depicted in the films Peter Jackson made between 2001 and 2003.
The news is no doubt exciting for fans of the books written by Tolkien, and the movies made by Jackson. But do we really need another slate of Lord of the Rings films? Have we not seen enough of fire breathing dragons, giant spiders, and enormous armies that threaten to crush the heroes?
There are plenty of other stories that could be adapted to film, and many of them are Australian novels. On top of that, there's a stack to choose from. So here we go, my list of five Australian books to adapt to film instead of Lord of the Rings stories.
The Shut Ins by Katherine Brabon
The Melbourne based author wrote her second novel, The Shut Ins in 2021. Set in Japan, Brabon explores hikikomori, a phenomenon where mostly young Japanese men completely withdraw from society. Some of them might spend years confined only to a room in their parent's house, barely even seeing their family.
The Shut Ins centres on Hikaru Sato, a man in his late twenties, who has locked himself in his room. One day by chance, his mother Hiromi, meets Mai, an old high school friend of Hikaru. Hiromi implores Mai to help lure her son out his room. But Mai has her own troubles. She has recently married, and both her husband, J, and family, expect to her give up her career and have children.
Another character, Sadako, meanwhile, works as a hostess, and entertains J during his regular business trips to Tokyo. It is doubtful Mai is aware of their liaisons. In a separate timeline several years later, an Australian writer, researching the hikikomori phenomenon, travels around Japan. As she moves from place to place, she corresponds by email with a Japanese man, a former hikikomori.
Although he now lives in America, he has returned to Japan for a holiday. The split timelines, and the uncertainty as whether anyone in the latter timeline is connected to those of several years earlier, would make The Shut Ins a compelling film.
Loveland by Robert Lukins
Robert Lukins is another Melbourne based author, whose second novel, Loveland, was partially inspired by the cover of Bruce Springsteen's 1982 album, Nebraska.
May, an Australian woman, has travelled to Loveland, in the US state of Nebraska, following the death of her grandmother, Casey, whom May barely knew. May is also escaping an abusive husband, who wants her to sell Casey's property as soon as possible.
As May readies the house for sale, she learns Casey likewise sought to escape her old life by coming to Loveland. In fact she has more in common with her late grandmother than she realises, and like Casey, May comes to realise Loveland might be able to offer her a new beginning.
Loveland is slow burning, though suspenseful drama, delivering an outcome certain to leave filmgoers guessing right up to the final frame.
Every Version of You by Grace Chan
Climate change and poverty have rendered the real world unbearable by the latter part of the twenty-first century. Many people have taken to residing virtually, in a digital domain known as Gaia. Their bodies never leave their apartments, but in Gaia, their digital avatars roam free, carrying on what passes for a normal life.
This how a young woman Tao-Yi, and her boyfriend, Navin, largely exist. When a new technology emerges allowing people to permanently upload their minds to Gaia, and live forever as a digital avatar, a choice must be made. To live in an increasingly inhospitable environment, or escape into the digital utopia that is Gaia.
Navin thinks being permanently fused to Gaia is a great idea. Tao-Yi is far from certain. Her mother meanwhile, wants no part of the virtual realm, and prefers to remain in the almost abandoned real world, with her memories of living in Malaysia. Every Version of You would be a treat for fans of science-fiction and speculative fiction films.
Picnic at Mount Disappointment by Melissa Bruce
Sydney based Victorian born author Melissa Bruce's 2017 debut will sate the appetite of people looking for a coming of age story, and those who still feel an affinity with the eighties. Fifteen year old Lucy is uprooted from her comfortable inner-city life in Melbourne, to move to a small town in rural Victoria.
Adjusting to living on a horse farm, at the foot of Mount Disappointment, is not easy. Lucy has to contend with a step-mother she hardly knows, a situation not helped by her father who is often away, travelling for work. She also must get used to a new high school, where she has no place on the pecking order, while looking out for her younger brother, who is also struggling to adapt.
But Lucy soon learns to ride horses, make new friends, and finds a boyfriend. And as her growing confidence turns to bravado, Lucy is quickly confronted by new challenges and threats. Bruce's novel is written in alien to the eighties tweet styled stanzas, which would add zest to any screenplay for Picnic at Mount Disappointment.
The Wife and the Widow by Christian White
I'm not sure The Wife and the Widow, the second novel by Victoria based Australian author Christian White, could be adapted for the screen. To go into why would give away one of the most spectacular twists seen recently in fiction. In short though, this is the story of two women, a wife, Abby, and a widow, Kate.
Kate has travelled to an island off the coast of Victoria, following the murder of her husband, who was possibly leading a double life. The killing has shocked the island's small, tight knit, community. Abby, meanwhile, is beginning to suspect her oddly behaving husband may be a murderer.
But it is only as Kate and Abby slowly draw towards each other, that the truth about their husbands come to light. I have no doubt an adept screenwriter could bring The Wife and the Widow to cinemas. It would be worth the effort if it worked, because the twist, when revealed, will leave audiences dumbfounded.
No more Lord of the Rings, please…
My list of Australian novels that could be adapted to film is by no means exhaustive. It could easily have been far longer, but I think the point is clear: there are plenty of new, original stories, written here in Australia, that would make great movies.
RELATED CONTENT
Australian literature, entertainment, film, screen adaptations
11 February 2023
New York based pop-culture publication Vulture has established their own film award — a "mini-academy" — to recognise the work of stunt professionals:
Since the AMPAS won't properly fete achievements in stunts, we're going to do it. We've spent the past few months assembling our own mini-academy of stunt professionals: a select group of stunt people, writers, filmmakers, and other industry professionals (including cinematographers and visual-effects artists) who helped us establish our own set of relevant and distinct stunt awards in a variety of categories, honoring work in feature-length films released between January 1, 2022 and December 31, 2022.
Good work. Action movies, plus a lot more, wouldn't be there if it weren't for stunt actors. Nominations are spread across ten categories, which includes a lifetime achievement award. Winners of the inaugural stunt awards will be announced on Monday 6 March 2023.
RELATED CONTENT
4 February 2023
Stanley Kubrick's 1968 sci-fi classic 2001: A Space Odyssey is remixed with George Lucas' 1977 space opera Star Wars, by YouTuber Poakwoods, and this is the result.
Truly awesome.
Also, it seems hard to believe from the third decade of the twenty-first century that less than ten years separate 2001: A Space Odyssey and the first Star Wars film.
RELATED CONTENT
2001: A Space Odyssey, film, humour, science fiction, video
3 February 2023
Information is Beautiful looks at the different of assessing a film's success.
By worldwide box office gross takings, Avatar, made in 2010, by James Cameron, tops the list. But adjust the takings for inflation, and the picture changes. Sort of. Avatar still tops the stack, but Titanic, also directed by Cameron, comes in at number two, with 1977's Star Wars close behind.
And then, using the not so great return on investment metric — which favours productions with smaller budgets — films like My Big Fat Greek Wedding, and Australia's own ocker hit Crocodile Dundee, rate highly.
RELATED CONTENT
30 January 2023
Conductors are synonymous with classical music performances, yet at the first recital I went to, a show by the Australian Chamber Orchestra (ACO) in 2009, at the Sydney Opera House, no conductor was present. Instead, ACO artistic director, and lead violin player, Richard Tognetti, led proceedings.
To many people though, a conductor is something of a mystery. Why does there need to be someone waving a stick, called a baton, at the orchestra? Do the musicians not know what to do? Did they not practice the pieces prior to the show? The ACO manages without a conductor, why then can't anyone else? And how on earth can performers at a distance from the conductor even discern the many, swift, and seemingly all too subtle, baton gestures?
Further, why are conductors accorded a special status? Why are they treated to a separate round of applause, upon making a separate entrance to the auditorium, after the musicians have already assembled on stage? That conductors effectively only came into being about two hundred years ago, only adds to the enigma. Prior to 1820, orchestras were similar to the ACO, and directed themselves. It was only as orchestras grew in size though, did the need for a separate person to lead the musicians manifest itself.
Knowing the Score, trailer, a documentary about the life and work of Australian conductor Simone Young, may answer some of these questions. While early conductors were the subject of derision, particularly from musicians who felt they served no real purpose, Young has also encountered her share of naysayers. Despite this, Young, presently chief conductor of the Sydney Symphony Orchestra, is regarded as one of the world's leading orchestral conductors.
Knowing the Score, directed by Australian documentary maker Janine Hosking, opens in Australian cinemas on Thursday 16 February 2023. The world premiere takes place at the Ritz Cinema in Randwick, Sydney, on Sunday 5 February 2023, and features a Q&A session with Young following the screening.
RELATED CONTENT
film, Janine Hosking, music, Simone Young, trailer, video
27 January 2023
All Quiet on the Western Front, written in 1928 by Erich Maria Remarque, and Women Talking, written in 2018 by Miriam Toews, are the only two book to film adaptations to be nominated in the best picture category for the 2023 Oscars. This is a far cry from the substantial number of best picture nominations in earlier years, including 1956, 1959, 1972, 1980, 1991, and 1995, when all best picture contenders were adaptation of books.
In accounting for this dearth of nominations, Eliza Smith, writing for Literary Hub, suggests more books are being made into TV shows, film producers chose the wrong books to adapt, and — perhaps unsurprisingly — many of the book to film productions were plain bad:
…and then there were the bad adaptations. See: Spiderhead, The Gray Man, Three Thousand Years of Longing, Persuasion, White Noise (reviews are mixed on this one — I'm firmly a thumbs down), Firestarter (which got a whopping 10% on Rotten Tomatoes), Death on the Nile, and Deep Water (though my colleague Dan insists this one is so bad it's good). To be fair, some were good and just not Oscars material (see: Bodies Bodies Bodies, Bullet Train, and Confess Fletch).
RELATED CONTENT
18 January 2023
The finer production details of a film are usually something I don't pay much attention to. I'm primarily interested in the story, and the way it is told. Having said that, I don't mind filmmakers talking about, say, visual effects, if it's being discussed incidentally. Otherwise, that sort of thing is what film awards are for. But when a filmmaker talks about nothing other than production techniques, and little of the story, it makes me wonder. Do they really have nothing else to say about their work?
So far though, I cannot say I've heard a single word about the filming of The Whale, trailer, by American director Darren Aronofsky (Requiem for a Dream, Black Swan). What has caught my eye though, are the stills of Charlie, the morbidly obese protagonist, a British teacher, portrayed by Canadian-American actor Brendan Fraser. At first I thought his appearance was the product of the post production unit, and the efforts of a skilled visual effects team.
But I was wrong. Fraser's look is quite real, or somewhat so. For the role of Charlie, who weighs over two hundred and seventy kilograms, Fraser was required to put on a considerable amount of weight. This surely cannot be as easy as it might sound. Ten to twenty kilograms maybe, depending on an actor's stature, but more has to be a challenge, and possibly even a health risk. Never let it be said that acting is an occupation merely requiring a practitioner to feign certain emotions.
In the end, Fraser did not gain sufficient weight, and was required to wear a fat suit, an under garment often used by actors — sometimes controversially — to alter the appearance of their weight. But the suit worn by Fraser was itself heavy. By adding dried beans and marbles to the outfit, its weight was said to have been over one hundred and thirty kilograms. The idea here, I imagine, was to make Fraser feel as heavy as he looked, for the sake of authenticity.
While his appearance, and efforts to put on weight, have attracted some criticism, early reviews of Fraser's portrayal of Charlie have been generally positive to date. The Whale opens in Australian cinemas on Thursday, 2 February 2023, with the Australian premiere taking place at the Westpac OpenAir cinema, located at Mrs Macquaries Point, in Sydney's Royal Botanic Garden, on the evening of Sunday, 22 January 2023.
RELATED CONTENT
Darren Aronofsky, film, trailer, video
16 January 2023
You may not have heard of Indigenous Australian artist and activist Richard Bell, but he has been at the forefront of political activism for over fifty years. Describing himself as an activist masquerading as an artist, Bell has spent fifty years fighting for Aboriginal rights and self determination, through his art and protest.
One of his best known works, an installation titled Embassy, was inspired by the Aboriginal Tent Embassy protest, which was first established on the lawns outside Australia's parliament building in 1972. Bell's installation has been presented in Australia, and cities across the world, including Jakarta, New York, Moscow, and Jerusalem.
Bell's life and work is now the subject of a documentary, You Can Go Now, trailer, directed by Australian academic, Indigenous advocate, and author, Larissa Behrendt. Behrendt's most recent novel, After Story, published in 2021, was longlisted in the 2022 Miles Franklin literary award.
You Can Go Now opens in Australian cinemas on Thursday 26 January 2023. Bell and Behrendt will also be participating in Q&A preview screenings at the Museum of Contemporary Art, and Dendy Cinema, Newtown, on Tuesday 24 January, and the National Film and Sound Archive, in Canberra, on Wednesday 25 January.
RELATED CONTENT
art, film, Larissa Behrendt, literature, Richard Bell, trailer, video
11 January 2023
The 2023 Golden Globes awards were presented today. Best actor winners include Cate Blanchett and Austin Butler, while The Banshees of Inisherin, and Steven Spielberg's The Fabelmans — which edged out Top Gun: Maverick, and Avatar: The Way of Water — took out the best picture awards in their respective categories. A full list of this year's winner is here.
RELATED CONTENT
Cate Blanchett, entertainment, film, Steven Spielberg
10 January 2023
Although regarded as one of the greatest English language books, Wuthering Heights, the haunting 1847 novel of British writer Emily Brontë, was met with a mixed reception when published under Brontë's non de plume, Ellis Bell. Critics hailed Brontë's story of star crossed lovers Heathcliff and Catherine Earnshaw — her only published novel — as original, imaginative, and intriguing, but were shocked by the book's depictions of violence, domestic abuse, sexual passion, and its host of narcissistic characters.
Brontë's novel later went on to spawn numerous film, stage, and television adaptations, along with British musician Kate Bush's 1978 single of the same name, which it could be argued is perhaps the most memorable interpretation of the Gothic fiction classic.
Despite Brontë's literary prominence, little is known about her personal life. She was said to be reserved and shy, possibly explaining the lack of detailed writing about her. This dearth of knowledge was one of the challenges facing British born Australian actor and writer, turned filmmaker Frances O'Connor, during the production of her debut feature, Emily, trailer, leaving O'Connor to speculate about the finer details of Brontë's life.
While Emily explores Brontë's relationship with her famous sisters Charlotte, and Anne, and the writing of Wuthering Heights, it also portrays an apparent, doomed, love affair between Brontë and William Weightman, a local member of the clergy. While there is no evidence of any romance between Brontë and Weightman in reality, O'Connor makes the tantalising suggestion the supposed affair inspired the characters of Heathcliff and Catherine, and possibly Wuthering Heights itself.
Emily opens in Australian cinemas on Thursday 12 January 2023, though if you are in Sydney, and move quickly, you may be able to score tickets to a preview screening at the Westpac OpenAir cinema, on the shore of Sydney harbour tomorrow evening, Wednesday 11 January 2023.
RELATED CONTENT
Emily Bronte, film, Frances O'Connor, trailer, video
8 January 2023
Tár (trailer), starring Cate Blanchett, The Banshees of Inisherin (trailer), directed by Martin McDonagh, and Aftersun, written and directed by Charlotte Wells, have featured prominently in the 2022 awards of the National Society of Film Critics. Based on their trailers, they all look like winners to me.
RELATED CONTENT
Cate Blanchett, Charlotte Wells, film, Martin McDonagh, trailer, video
28 December 2022
American filmmaker Rian Johnson, who directed the 2017 Star Wars film The Last Jedi, the second instalment of the sequel trilogy, has defended his use of humour in the film, something fans of the long running space opera, have berated him for.
Humour, and a spattering of comedic scenes, says Johnson, are part and parcel of the Star Wars experience, considering the intent of the series was not serious:
"For me, everything in the movie is 'Star Wars,' and everything in the movie I can trace back to deeply, in a deep way, what 'Star Wars' is for me," Johnson told GQ. "Everyone has a different take. I know there are 'Star Wars' fans who somehow think that 'Star Wars' was a serious thing, like the Batman movies or something. I was so young that when I watched 'Empire Strikes Back,' it had this deep, profound impact on me, because it was terrifying, because I was just young enough to not experience it as watching a 'Star Wars' movie, but to have it feel like too real.
If The Empire Strikes Back was anyone's introduction to the franchise, I doubt they'd walk away from the film saying it wasn't serious. Sure, the whole construct is science-fiction and fantasy, but Empire Strikes Back struck me as being nothing but serious. A New Hope, on the other hand, seemed like a more balanced film, even though a number of dark themes were present.
It was really Return of the Jedi, the concluding episode of the original trilogy, that introduced (at times) a less serious intent to the sci-fi saga. Ewoks, anyone?
Personally, of the sequel series movies, Last Jedi was the one I liked the most. The best of what was really a bad batch of films, to be precise. Even the prequel series, which had plenty of naysayers, held more allure.
Interestingly the Metascores — being an aggregate of ratings accorded, in this case, by film reviewers — give Last Jedi a score of 84. The first title in the sequel series, The Force Awakens received a rating of 80, while the truly awful (sorry) Rise of Skywalker scored a paltry 53.
In comparison, Empire Strikes Back — which many people consider to be the best of the Star Wars films — has a Metascore of 82. If we use Metascore as our go to metric to assess the Star Wars franchise, then Last Jedi outranks Empire Strikes Back. What's happening there, then?
I know not everyone sees eye to eye with film critics, but if Last Jedi was as bad as people make it out to be, surely the title's Metascore would have been far lower than that of Empire Strikes Back. And for anyone who's curious, A New Hope — the first Star Wars movie screened in 1977 — scores a 90. Exactly right, if I may say so.
RELATED CONTENT
film, Rian Johnson, science fiction, Star Wars
27 December 2022
Four young women spend a day on a secluded Mediterranean beach with a dog. The friends swim, sing, and talk about film, particularly the work of Steven Spielberg, and Woody Allen.
They also ponder a solitary house on the hill — Alfred Hitchcock anyone? — above the bay, and speculate throughout the day as to who the occupant, or occupants, are.
A couple sitting in a likewise solitary car, parked nearby, also pique their curiosity. The four may not have a plan, their antics and conversation are spontaneous, but the visit to the beach has purpose.
Made in 2019, Winona, trailer, is the fifth feature of Greek filmmaker and musician Alexander Voulgaris, who's also known as The Boy. I saw this on film streaming platform Kanopy the other day.
If you're looking for mainly independently produced films, then Kanopy is the place for you. There's a veritable mixed bag of titles on offer, including one or two blockbusters, but there's some great stuff to be found lurking in the Kanopy catalogue.
RELATED CONTENT
Alexander Voulgaris, film, trailer, video
23 December 2022
An American judge has ruled producers of the Danny Boyle directed Yesterday deceived potential viewers of the movie. Two fans of Cuban and Spanish actor Ana de Armas had hired a copy of the 2019 rom-com, after a trailer they saw suggested de Armas had a prominent role in the story.
After discovering this was not the case, they filed a lawsuit against the film producers. While de Armas was involved in filming, none of her scenes were included in the final cut.
Film production company Universal Pictures had contended film trailers are an "artistic, expressive work", presumably meaning any content — within reason I imagine — can feature in a trailer, but the court rejected the argument:
But according to a ruling from U.S. District Judge Steven Wilson, obtained by Deadline Hollywood, "Universal is correct that trailers involve some creativity and editorial discretion, but this creativity does not outweigh the commercial nature of a trailer. At its core, a trailer is an advertisement designed to sell a movie by providing consumers with a preview of the movie."
Plenty of film trailers include scenes that are not seen the later theatrical release, and this often happens for good reason. Some scenes may spoil vital plot points, while other "extra" snippets may play a part in building up pre-release anticipation. I'm not entirely against the practise, these sorts of trailers are better than the ones that are essentially a short version of the feature itself.
But suggesting a certain actor will feature, when they don't, is another matter. Particularly for people who see films solely because of the (advertised) presence of a specific actor. It will be interesting to see what the final outcome will be in this case.
RELATED CONTENT
Ana de Armas, Danny Boyle, film, trailers
23 December 2022
Triangle of Sadness, trailer, the latest feature from Swedish filmmaker Ruben Őstlund, he of Force Majeure fame, looks like a lot of fun. Sort of.
A group of rich and powerful people set sail on a yacht under the command of the captain (Woody Harrelson). It's all plain sailing until a storm hits, and then things get messy, really messy. Passengers vomit en masse, toilets block and overflow, and then some of those aboard end up marooned on a desert island. A kind of Gilligan's Island, but on steroids maybe.
Late South African actor Charlbi Dean stars as Yaya, an Instagram influencer, who has been given free passage in exchange for promoting the vessel. She's accompanied by her boyfriend Carl (Harris Dickinson), a fashion model. For those who can stomach tossing seas, Triangle of Sadness can be seen in Australian cinemas from Monday 26 December 2022.
RELATED CONTENT
Charlbi Dean, film, Ruben Ostlund, trailers, video
22 December 2022
Ahead of nominations being announced on Tuesday 24 January 2023, the Academy of Motion Picture Arts and Sciences has unveiled the shortlists for the ninety-fifth Oscar Awards.
While there's the usual suspects, the various sequels, prequels, and remakes, Avatar: The Way of Water, The Batman, Fantastic Beasts: The Secrets of Dumbledore, Jurassic World Dominion, and Top Gun: Maverick, among them, it's pleasing to see other titles making the cut.
Included here are The Quiet Girl, Return to Seoul, Joyland, and The Blue Caftan, which feature in the International Feature Film category. This is always a focus for me, as we often see films that go against the grain, and tell stories that are not so familiar.
The Oscars ceremony will take place on Sunday 11 March 2023, though it'll be Monday 12 March sometime, in this part of the world.
RELATED CONTENT
18 December 2022
What prompts you to see a movie? An interest in the story? Because you liked the book and are hoping against hope the film adaptation is going to be ok? Maybe you're a fan of the director, or one of the lead actors? But what about the trailer? Would viewing a trailer — in isolation, without knowing anything about the film — be enough to inspire you to watch a given title?
The teaser/trailer for Barbie, the latest feature from American filmmaker Greta Gerwig, starring Margot Robbie and Ryan Gosling, might just the trailer that does it for me…
RELATED CONTENT