Showing all posts tagged:
film
25 September 2023
The recent, post pandemic lockdown, sometimes poor behaviour of film-goers has been the subject of some discussion recently. Many of the problems frustrated cinema patrons have reported stem largely from the gratuitous use of smartphones during screenings. It's enough to make you want to stay at home and stream movies instead.
But bad, inconsiderate, audience conduct is not restricted to cinemas. The attitudes of live music fans likewise leaves much to be desired. Not only are gig-goers refusing to keep their smartphones in their pockets, they've also taken to throwing objects at the performers on stage. Both Taylor Swift and Harry Styles have been the target of audience-hurled projectiles, at recent shows.
But being a music show jerk is "on-trend", says music critic Simon Price, writing for The Guardian:
I've been a music journalist since the mid-1980s, and one thing I can say with confidence is that people's behaviour at gigs has become objectively and observably worse over time. These things used to be self-policing and there was an unwritten code. So, for example, if there's a moshpit and someone falls, you stop and help them back up. If someone's shorter than you and you're blocking their view, you get out of their way. If you absolutely must get nearer to the stage, go round the side instead of barging through the middle. Most of these conventions simply fall under the catch-all rubric of Don't Be a Selfish Idiot.
RELATED CONTENT
film, music, smartphones, trends
19 September 2023
Sydney based Australian filmmaker and editor Kerrod Cooper has been named winner of the inaugural LUMIX seventy-two hour filmmaking challenge, with a short film titled Big Chef, Little Chef. Cooper's production is a glimpse into the life of a troubled TV chef, portrayed by Sydney based actor Danny Kim, as he films one of his shows.
In Big Chef, Little Chef, a charismatic children's show presenter — in an empathetic performance by Danny Kim — whisks young viewers into a culinary adventure filled with laughter and learning. But behind the cheerful facade, he must grapple with a simmering internal struggle as the hustle of the kitchen mirrors the intensity of his emotional past.
After opening for entries earlier this year, ten contenders were invited in July to make a short film of three to six minutes duration, within seventy-two hours. They also had to work to the theme of broken, and incorporate an egg into their work, surely no small ask on a tight time frame, but something Big Chef, Little Chef achieves without blinking it seems.
The works of all ten shortlisted filmmakers can be seen here.
RELATED CONTENT
Australian film, film, filmmaking
16 September 2023
The Star Wars origin stories keep a coming. Lando Calrissian, one timer owner of the Millennium Falcon, apparent scoundrel, administrator of Cloud City, and later a general in the Rebel Alliance, is set to feature in his own big screen production.
A Calrissian backstory has been on the cards for some time, but was originally to be the subject of a TV series. Last Thursday however, news broke that series producers, Disney+, had decided to opt for a movie instead. Donald Glover, who portrayed a younger Calrissian in the 2016 Star Wars film Solo: A Star Wars Story, will reprise his role in the proposed feature length origin story, which at this stage appears to be simply titled Lando.
But if producers feel a Calrissian origin story is necessary, let's hope they get it right. Solo, starring Alden Ehrenreich in the titular role, was underwhelming. To say the least. Han Solo is a character who works best as a happy-go-lucky, fly-by-the-seat-of-his-pants enigma, of a, well, scoundrel, one of whom we knew little about, a point reiterated by Ben Sherlock, writing for Game Rant, in 2021:
Han's introduction in the shadiest corner booth of Mos Eisley Cantina in the original 1977 Star Wars movie already tells us everything we need to know about the character. He's an intergalactic pirate and smuggler who's only interested in money; his best friend (and, seemingly, only acquaintance in the galaxy) is a Wookiee named Chewbacca; and he's the captain of the Millennium Falcon, the ship that made the Kessel Run in less than twelve parsecs.
There's a sea of characters in the Star Wars universe, many of whom are more deserving of origin stories. Take Wuher, owner of the infamous Mos Eisley Cantina, where we of course first met Solo. Wuher's no ordinary guy working a bar though. His is a story that needs exploring, as I've said before.
RELATED CONTENT
film, science fiction, Star Wars
14 September 2023
It's been twenty years since American filmmaker Sofia Coppola's second full length feature, Lost in Translation, was released. Pretty much all anyone could talk about at the time was the whisper scene at the end of the film, when Bill Murray's character, Bob, uttered a comment into the ear of Scarlett Johansson's character, Charlotte.
Murray's words were inaudible to viewers of the film, precipitating a flurry of speculation as to what he said. You name it, people have probably argued in support of it.
I still have Lost in Translation in my aging DVD collection, and maybe every year or so, we bring it out for a spin. But the more I see the so-called whisper scene, the more pointless it becomes. Bob clearly says something uplifting to Charlotte. Great. So why keep it hushed up?
As a way of getting people to talk about Lost in Translation? But that seems like overkill, a stunt even. The movie already has numerous talking points. The pairing of Bill Murray and Scarlett Johansson. Their character's respective marriage problems. Why Charlotte's husband left her languishing in a Tokyo hotel room, while he went gallivanting around Japan, apparently for work.
But Tom Nicholson, writing for Empire Online, suggests that the karaoke scene is perhaps Lost in Translation's most poignant:
The karaoke sequence is a much better embodiment of what the movie's about — a beautiful bit of intimation and suggestion and just enough irony to stop anyone taking what's said entirely seriously. Every karaoke song choice is a chance to tell your fellow singers something about yourself using other people's words.
The songs sung in the karaoke scene were Brass in Pocket, originally recorded by The Pretenders, and More Than This, by Roxy Music. Using other people's words then could make figuring out what Bob whispered to Charlotte a little easier, if you still want to.
RELATED CONTENT
Bill Murray, film, music, Scarlett Johansson, Sofia Coppola
11 September 2023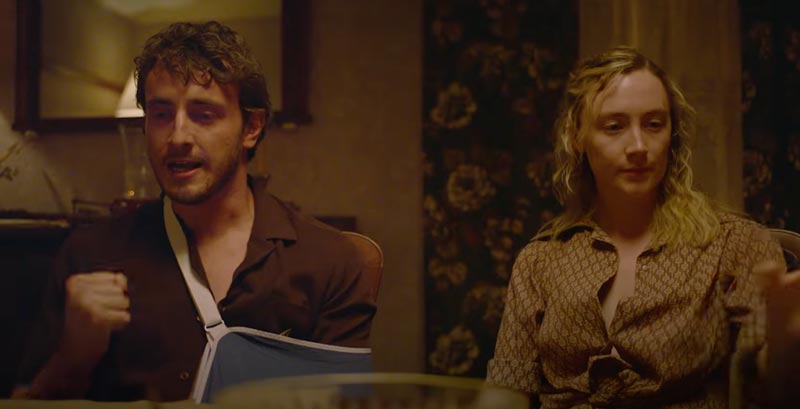 Still from Foe, a film by Garth Davis.
Foe, trailer, a science fiction psychological thriller, is the third feature of Australian filmmaker Garth Davis. Based on the 2018 novel of the same name, by Canadian author Iain Reid, and set in 2065, Foe tells the story of a married couple Hen (Saoirse Ronan), and Junior (Paul Mescal), who work on a secluded farm. Their lives, and happy marriage, are thrown into turmoil though when a stranger, Terrance (Aaron Pierre), arrives unannounced one day and informs them that Junior is to be sent to a space station for a year.
Hen however will not be left alone, a robot will be sent to keep her company during Junior's absence. Terrance's proposal, and the prospect of a human-like robot living with Hen for a year, quickly places a strain on the couple's relationship. Foe, which opens in Australian cinemas on Thursday 2 November 2023, is certainly an intriguing conceit. What is behind Terrance turning up at the farm in the first place, and why is Junior required to spend a year living in space?
Ronan's work speaks for itself, while Mescal's recent performances include starring in Aftersun, and Normal People, a TV mini-series adaptation of Sally Rooney's novel of the same name.
Update: Transmission Films advises that Foe opens in Australian cinemas on Thursday 2 November 2023.
RELATED CONTENT
film, Garth Davis, Iain Reid, Paul Mescal, Saoirse Ronan
8 September 2023
When it comes to quickly gauging whether a movie is worth watching (since life is too short for bad films), I glance at its Metascore, a rating of a film which is calculated by Metacritic. This score is based on, as their FAQ page explains, a weighted average of reviews from top critics and publications.
Take note of that definition, its significance will become apparent shortly. In terms of Metascores though, I find ratings of sixty-five or more usually means a feature is worth watching, and in most cases — though there are exceptions — the higher the score, the better film will be. Particularly films with scores going up into the eighties and nineties. And no doubt, it is every filmmaker's dream to attain the perfect score of one hundred.
The other major player in the film rating business is Rotten Tomatoes. Despite probably being a more recognised brand than Metacritic, I've never really bothered much with the Rotten Tomatoes scores.
This stems partly from my initial misunderstanding of how Rotten Tomatoes worked, and the way I used to (mis)read a Rotten Tomatoes score, combined with the site's name. To my then warped way of thinking, a score of, say, one hundred, suggested to me, until I eventually saw the error of my ways, that the title was one hundred percent rotten.
Yeah, right, whatever. But there's always been something about the Rotten Tomatoes metric that has never quite felt right to me. For instance, only moments, it seemed, after being released in March 2022, Tom Gormican's 2022 feature The Unbearable Weight of Massive Talent, had attained a Rotten Tomatoes score of one hundred. I remember thinking to myself, how could that be? Surely a film needed to be widely acclaimed, by numerous critics, and audiences — something that would take time — to earn such an accolade.
That early score of one hundred was likely an incongruity, based on a low number of positive reviews. Today the title has a slightly more modest Rotten Tomatoes score of eighty seven, while Metacritic rates it a sixty eight. I haven't yet seen The Unbearable Weight of Massive Talent but a score of sixty eight sounds to me like it's closer to the mark.
But the one hundred score garnered, albeit temporarily, by The Unbearable Weight of Massive Talent says a lot about the weaknesses of the Rotten Tomatoes scoring system, and in particular, how the ratings can be exploited, as Lane Brown and Luke Winkie, writing for Vulture, point out:
But despite Rotten Tomatoes' reputed importance, it's worth a reminder: Its math stinks. Scores are calculated by classifying each review as either positive or negative and then dividing the number of positives by the total. That's the whole formula. Every review carries the same weight whether it runs in a major newspaper or a Substack with a dozen subscribers.
In the course of their investigation into Rotten Tomatoes, Brown and Winkie discovered evidence that some publicity companies were paying little known film critics, who were often bloggers, to write, for an incentive, a positive review of a film that had not been faring well at the hands of other critics. To reverse a poor Rotten Tomatoes score, it is, or was, merely a matter of publishing a sufficient number of positive reviews — regardless of the integrity of the publication — to offset the negative write-ups.
Trying to manipulate a Metascore in the same way, would be somewhat more difficult — though doubtless not wholly impossible — given Metacritic draws only on the reviews of established film critics and publications. This is an unfortunate outcome for film-goers, who felt they could rely on the accuracy of a film's Rotten Tomatoes score, when deciding what to pay to see.
And to be clear, I have no problem with little known bloggers writing about film. I do so myself. But I think an assessment model more akin to Metacritic — where only the reviews of writers and publications with a certain reputation are considered — needs to be adopted by Rotten Tomatoes.
RELATED CONTENT
film, film production, filmmaking
7 September 2023
The Boy and the Heron, trailer, is the latest animated feature by Japanese filmmaker and manga artist, Hayao Miyazaki. Released in Japan under the name Kimitachi wa Do Ikiruka, Miyazaki's latest film is said to be partly autobiographical:
Through encounters with his friends and uncle, The Boy and the Heron follows a teenage boy's psychological development. He enters a magical world with a talking grey heron after finding an abandoned tower in his new town.
Miyazaki's previous titles include Spirited Away, Howl's Moving Castle, and The Wind Rises. There's no word yet of an Australian cinematic run, but The Boy and the Heron is scheduled for release in the United States this December, so perhaps it will come our way then.
RELATED CONTENT
animation, film, Hayao Miyazaki, trailer, video
6 September 2023
Shayda, trailer, the debut feature of Iranian born, Melbourne based, Australian writer and filmmaker Noora Niasari, has been selected by Screen Australia as Australia's entry in the Best International Feature category of the 2024 Oscars.
Based in part on Niasari's own experiences, Shayda recounts the story of an Iranian woman who is forced to seek refuge in a women's shelter with her young daughter, for two weeks during Nowruz, the Iranian New Year.
Shayda has already won a number of awards, the World Cinema Audience Award among them, after its world premiere at this year's Sundance Film Festival. While the feature had its Australian premiere at the Melbourne International Film Festival in August, Shayda commences a theatrical season in Australian cinemas on Thursday 5 October 2023.
RELATED CONTENT
film, Noora Niasari, trailer, video
16 August 2023
While Barbie, Greta Gerwig's latest feature, has some way to go to become the highest grossing movie of all time — it's currently ranked twenty-six — it is now the highest grossing movie of all time at Australian film-house chain, Palace Cinemas. Previously, The King's Speech, made in 2010, by British filmmaker Tom Hooper, had been the biggest selling title at Palace.
RELATED CONTENT
film, Greta Gerwig, Tom Hooper
14 August 2023
Book cover of The Tetris Effect, written by Dan Ackerman.
Dan Ackerman, editor-in-chief of design and technology publication Gizmodo, claims in a recent court filing that Apple TV+, producers of the 2023 film Tetris, directed by Jon S. Baird, copied the storyline from his 2016 book, The Tetris Effect. Ackerman further alleges he sent a pre-publication edition of the book to Maya Rogers, CEO of the Tetris Company, and soon after received a cease and letter warning him not to adapt the story for film or television:
Ackerman accused Rogers of working with screenwriter Noah Pink to develop a screenplay using content taken from his book without his knowledge or consent. Apparently, numerous producers showed interest in adapting his book, but the Tetris Company refused to license its IP for the project. "This was done at the direction and behest of Ms. Rogers so that she and the Tetris Company could pursue their own project and opportunities based on Mr. Ackerman's book without compensating him," the lawsuit reads.
I wrote about the film last March, but still haven't had a chance to see it. According to the film's IMDb page, the screenplay was written by Noah Pink. No mention, at least that I can see, is made of Ackerman, nor The Tetris Effect, there.
RELATED CONTENT