Great Circle, by Maggie Shipstead
25 September 2021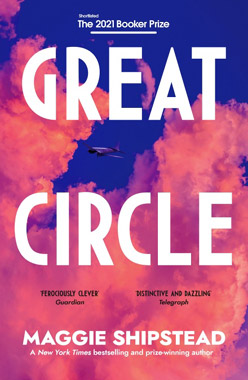 Great Circle is an aviation term, and in the context of Los Angeles based American author Maggie Shipstead's novel of the same name (published by Penguin Random House, 4 May 2021), refers to flying around the world, from say the North Pole to the South, and then back. This is what Marion Graves, the pilot at the heart of Shipstead's third novel is attempting.
However Marion never makes it home during the 1950 flight. Sixty years later a filmmaker is adapting the story of Marion's life and ill-fated flight to the big screen, and casts Hadley Baxter to portray Marion. Fearing she has become typecast by her part in a recent film franchise, Hadley is keen to take on a role that will cast her in a different light.
But as filming progresses, Hadley becomes drawn into Marion's rich and varied life, and develops a fascination with her final flight. In learning what she can about Marion, it seems Hadley may have stumbled upon a clue as to the lost pilot's ultimate fate. Weighing at six hundred pages though, you may want to clear a few other books from your to-be-read list, before beginning Great Circle.
RELATED CONTENT