Showing all posts tagged:
Booker Prize
15 March 2023
The 2023 International Booker Prize longlist was unveiled yesterday, and features eleven novels published internationally, which have been translated into English.
The 2023 judges are looking for the best work of international fiction translated into English, selected from entries published in the UK or Ireland between May 1, 2022 and April 30, 2023. The books, authors and translators the prize celebrates offer readers a window onto the world and the opportunity to experience the lives of people from different cultures.
French author Maryse Condé, at age 89, becomes the oldest person to be named on the Booker International longlist, with her novel The Gospel According to the New World.
Works by a film director, four poets, two former security guards, and a writer who had declared himself "dead" (curious), are also included. The shortlist will be announced on Tuesday 18 April 2023.
RELATED CONTENT
Booker Prize, literary awards, literature, writing
14 February 2023
The Booker Prize has been on the lookout for a name for the statuette that is presented to winners of the British literary award. After combing through suggestions, a shortlist of six potential names has been published, and everyone is invited to vote for their favourite:
Beryl – after the late Beryl Bainbridge, a Booker Prize legend, who was shortlisted for the award five times, though never won
Iris – after 1978 Booker winner Iris Murdoch, who was nominated for the prize seven times. Iris was also the Greek messenger of the gods
Minerva – after the Roman goddess of poetry, wisdom and the arts
Calliope – after the Greek muse who presided over eloquence and poetry
Bernie – after Bernice Rubens, the first woman to win the Booker (1970) and Bernardine Evaristo, the first Black woman to win the prize (2019)
Janina – primarily a Polish name meaning 'God is gracious', and the female form of Jan, after Jan Pienkowski, the Polish-born designer of the trophy
I kind of like Minerva, but Calliope was the most popular as of the last time I looked at the trophy name post on the Booker Prize Instagram page.
Voting closes next Monday, 20 February, with the winner being named on Monday 27 February 2023.
RELATED CONTENT
Booker Prize, literary awards, literature
21 January 2023
Booker Prize organisers are looking for a name for the statuette they present to recipients of the annual literary award, which was originally designed by late Polish-born British author and artist Jan Pieńkowski. The statuette was presented to inaugural Booker Prize winner P.H. Newby in 1969, but by the mid-1970's winners were receiving a leather bound copy of their book.
In more recent years, recipients have been presented a perplex trophy. Following Pieńkowski's death in 2022, organisers resumed using the statuette he designed, when Shehan Karunatilaka was named 2022 winner. Entries for suggested names for the statuette close on Friday 27 January 2023.
RELATED CONTENT
Booker Prize, literary awards, literature
15 December 2022
Seeing G, a short documentary produced by the Booker Prize organisation, and British writer Jo Hamya, explores a fascinating chapter in literary award history. In 1972, British author and poet John Berger, was named the Booker winner for his novel G, also written in 1972.
During his acceptance speech though Berger caused — or is said to have caused — controversy, by pledging to give half of the £5,000 prize money to the London chapter of the British Black Panther Movement. But was the gesture truly controversial, or was that the way the media portrayed it?
'I have to turn this prize against itself,' he went on. 'The half I give away, will change the half I keep.' In a move made notorious by press, Berger donated half of his prize money to the London-based British Black Panther Movement. 'I badly need more money for my project about the migrant workers of Europe,' he explained, '[And] the Black Panther Movement badly needs more money for their newspaper and for their other activities… the sharing of the prize signifies that our aims are the same.'
Needless to say, there's more to the story than meets the eye.
RELATED CONTENT
Booker Prize, John Berger, literary awards, literature
4 December 2022
If football/soccer isn't your thing, but you love the thrill of elimination contests involving novels, you could always take a look at the Booker Prize World Cup:
We've selected, entirely arbitrarily, 16 winning books from the Booker Prize's 53-year history, with each author representing a different footballing nation. In each case, the author is playing for their country of birth (which is more than you can say for the Qatar football team), and not necessarily the country with which they are best associated or where they live. We have drawn books against one another at random and in each 'match' — which will be posted on our Instagram and Twitter channels each day — we would like you to vote for the best book via a poll. The winning book will then progress to the next round. After the first round, there'll be a quarter-final, semi-final and grand final.
The provision of each author playing for their country of birth is important, given South African born writer J.M. Coetzee, for example, has been an Australian citizen since 2006. Otherwise Peter Carey, with his 1988 novel Oscar and Lucinda, was Australia's opening round representative.
While it could have been argued Australia was in with two chances, unfortunately as of the quarter final phase of the Booker Prize World Cup, both Carey and Coetzee had been eliminated. Such is life. Still, I'm waiting to see who wins. To take part, and support your favourite book, cast your vote via the Booker Prize Twitter or Instagram pages.
RELATED CONTENT
Booker Prize, books, literary awards, sport
19 October 2022
It's been six years since the work of an Australian author was nominated for the Booker Prize. Tasmanian writer Richard Flanagan was the last recipient in 2014, with his book The Narrow Road to the Deep North.
Since then only South African born Australian author J.M. Coetzee has made the cut, being named on the longlist for the 2016 Prize with The Schooldays of Jesus.
But 2014 was also the year changes were made to the Prize's eligibility requirements, allowing any English language title to be nominated, essentially opening up the award to American writers. Since then it seems Australian books have struggled to gain traction.
The Booker was once confined to authors from the Commonwealth, Ireland and Zimbabwe — an empire rule that looked increasingly silly, leading to a change in 2014 to allow all novels written in English, so long as they were published by UK and Irish publishing houses. Much fuss was made about the decision to let Americans in (including by Carey), but it is undeniable that since then, they have made up roughly a quarter of every longlist and won three times; at this year's prize, which was won by Sri Lankan author Shehan Karunatilaka on Monday, six of the 13 nominees were American. These authors are most often living, working and published in the US — seemingly an easier path into the UK than the long road from Australia.
RELATED CONTENT
Australian literature, Booker Prize, literary awards
18 October 2022
After much speculation as who would win the 2022 Booker Prize, and whether there was even any point in speculating in the first place, Sri Lankan author Shehan Karunatilaka has been named winner of the 2022 Booker Prize, for The Seven Moons of Maali Almeid.
Of the winning title, the Booker judges said:
Any one of the six shortlisted books would have been a worthy winner. What the judges particularly admired and enjoyed in The Seven Moons of Maali Almeida was the ambition of its scope, and the hilarious audacity of its narrative techniques. This is a metaphysical thriller, an afterlife noir that dissolves the boundaries not just of different genres, but of life and death, body and spirit, east and west. It is an entirely serious philosophical romp that takes the reader to 'the world's dark heart' — the murderous horrors of civil war Sri Lanka. And once there, the reader also discovers the tenderness and beauty, the love and loyalty, and the pursuit of an ideal that justify every human life.
RELATED CONTENT
Booker Prize, literary awards, literature, Shehan Karunatilaka, writing
7 September 2022
The Booker Prize 2022 shortlist has been unveiled:
Featured above is the cover of Shehan Karunatilaka's shortlisted title The Seven Moons of Maali Almeid. It would win the disassociated prize for best book cover on the Booker Prize shortlist, if there were such a thing.
The winner will be announced on Monday 17 October 2022.
RELATED CONTENT
Booker Prize, books, literary awards
27 July 2022
The 2022 Booker Prize longlist was announced overnight, Australian time. Thirteen authors including Case Study by Graeme Macrae Burnet, and Oh William! by Elizabeth Strout, are among those included.
It includes the youngest and oldest authors ever to be nominated, as well as the shortest book, three debuts and two new publishers receiving their first ever nominations. Chair of the judges Neil MacGregor said 'The list offers story, fable and parable, fantasy, mystery, meditation and thriller'.
The shortlist for the Booker Prize, which celebrates English language novels published in Ireland and the UK each year, will be unveiled on Tuesday 6 September 2022.
RELATED CONTENT
Booker Prize, books, Elizabeth Strout, Graeme Macrae Burnet, literary awards
11 March 2022
Thirteen titles have been named on the 2022 International Booker Prize longlist. Awarded in its present format since 2016, the International Booker celebrates works translated into English, with the £50,000 prize split equally between the author and translator.
Among the titles translated from eleven languages into English, is Tomb of Sand, by New Delhi based Indian author Geetanjali Shree, and translated by American writer and painter Daisy Rockwell. Shree's work is the first book written in Hindi to be included on the International Booker Prize longlist.
Just about all of these titles are new to me — the books I read, when time permits, tend to be contemporary Australian, but not always — so it's good to see something new and not so familiar, that I can add to my to-be-read list.
RELATED CONTENT
Booker Prize, literature, writing
4 November 2021
South African author Damon Galgut has been named the winner of this year's Booker Prize, with his book The Promise. After the shortlist was announced in mid-September it was clear the judges had their work cut out in selecting a winner. Maya Jasanoff, chair of the judging panel, described how they made their choice:
We arrived at a decision after a lot of discussion and arrived at a consensus around a book that is a real master of form and pushes the form in new ways, that has an incredible originality and fluidity of voice, and a book that's really dense with historical and metaphorical significance.
RELATED CONTENT
Booker Prize, Damon Galgut, literature, writing
25 September 2021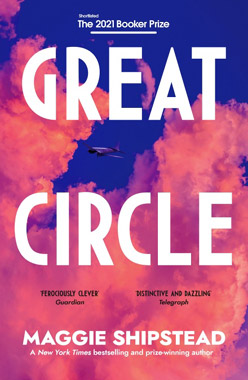 Great Circle is an aviation term, and in the context of Los Angeles based American author Maggie Shipstead's novel of the same name (published by Penguin Random House, 4 May 2021), refers to flying around the world, from say the North Pole to the South, and then back. This is what Marion Graves, the pilot at the heart of Shipstead's third novel is attempting.
However Marion never makes it home during the 1950 flight. Sixty years later a filmmaker is adapting the story of Marion's life and ill-fated flight to the big screen, and casts Hadley Baxter to portray Marion. Fearing she has become typecast by her part in a recent film franchise, Hadley is keen to take on a role that will cast her in a different light.
But as filming progresses, Hadley becomes drawn into Marion's rich and varied life, and develops a fascination with her final flight. In learning what she can about Marion, it seems Hadley may have stumbled upon a clue as to the lost pilot's ultimate fate. Weighing at six hundred pages though, you may want to clear a few other books from your to-be-read list, before beginning Great Circle.
RELATED CONTENT
Booker Prize, fiction, Maggie Shipstead, TBR list, writing
24 September 2021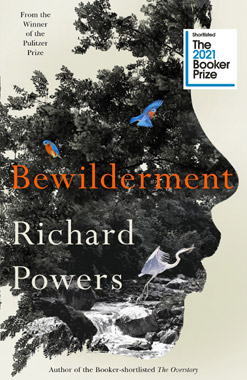 Bewilderment (published by Hutchinson Heinemann/Penguin Random House, 21 September 2021), is the thirteenth novel by American author Richard Powers, and his second work to be shortlisted for the Booker Prize. It tells the story of the recently widowed Theo, an astrobiologist, and his nine-year-old son, Robin.
They live in a chaotic world, confronting climate change and animal extinction, in a country once on the brink of civil war. The administration of a populist president wants to cut scientific research budgets, something that could bring an end to Theo's work, searching for extra-terrestrial life on other planets.
While Robin is intelligent and creative, he is also deeply troubled, and prone to aggressive outbursts. His school is threatening to expel him unless he is given medication to control his moods, but Theo is against the idea. He would prefer to try an experimental neurofeedback treatment, based on the recorded brain patterns of Robin's late mother.
RELATED CONTENT
Booker Prize, fiction, Richard Powers, TBR list, writing
22 September 2021
Quite possibly you're connected to, on, or in the portal, as you read these words. The simplest definition of the portal would be the internet, though most likely there's a world of difference between the two. The portal could perhaps be regarded as a hard core social media experience, one that all but consumes those who enter its purview. Does this somehow sound familiar?
No One Is Talking About This (published by Bloomsbury Circus, 16 February 2021), is the debut novel of American poet and author Patricia Lockwood. It tells the story of an unnamed social media influencer who is so caught up in the seemingly inescapable domain of the portal, she appears to have lost sight of what is meant to be the real world. This abruptly changes though when she receives word of a family emergency, and is forced to bring herself back to the here and now.
No One Is Talking About This, which has been named on the shortlist of the 2021 Booker Prize, places the protagonist in two starkly different realms, to the point the novel feels like two novels. In doing so, might the suggestion be the portal and real life can, in some way, co-exist? I don't know; does a choice even exist?
RELATED CONTENT
Booker Prize, fiction, Patricia Lockwood, TBR list, writing
21 September 2021
A Passage North, (published by Granta Books, 15 July 2021), is the second novel of Colombo, Sri Lanka, born novelist Anuk Arudpragasam, and was included on the Booker Prize shortlist last week. Set in the wake of the thirty year long civil war that devastated much of northern and eastern Sri Lanka, the story follows Krishan, a young Tamil man, as he makes his way from Colombo to the war ravaged north.
The death of Rana, his late grandmother's former carer precipitates the long train journey. While travelling to Kilinochchi, Krishan contemplates an email from Anjum, his ex-girlfriend whom he met while living in Delhi, India. This message is the first contact with her in four years, after she ended the relationship to prioritise her activist interests.
Arudpragasam's work is influenced by late Austrian writer Thomas Bernhard, and this manifests itself in the long sentences and paragraphs that are replete throughout the novel. Dialogue is non-existent, as is a focus on story and setting, and it is this less than standard approach to writing that sets A Passage North apart from other works of literature.
RELATED CONTENT
Anuk Arudpragasam, Booker Prize, fiction, TBR list, writing
20 September 2021
An unfulfilled, decades old promise divides an already dysfunctional South African family of five, in The Promise (published by Chatto & Windus/Penguin Random House, 17 June 2021), the ninth book by Cape Town based playwright and novelist Damon Galgut.
In her final days, family matriarch Rachel extracts an undertaking from her husband, Manie, to provide Salome, the well-off family's long serving housekeeper, her own house on a block of land. Amor, a daughter of the Pretoria based farming family, overhears the conversation, and is determined the commitment be honoured. Her frustration grows though as the years pass, and the family fails to deliver.
The Promise, the third of Galgut's books to be shortlisted for the Booker Prize, switches its storytelling perspective between the troubled family members. The pledge to take care of Salome is an analogy of sorts for a hopeful South Africa emerging from the apartheid years, and the challenges confronting the country in moving away from its past.
RELATED CONTENT
Booker Prize, Damon Galgut, fiction, TBR list, writing
17 September 2021
The Fortune Men (published by Viking/Penguin Random House, May 2021) is the third novel by London based author Nadifa Mohamed. The year is 1952, and Mahmood Mattan is a Somali sailor living in Tiger Bay, the docklands area of Cardiff, Wales. Married to Laura, with three children, he is something of a larrikin character and a small time criminal.
When a local shop owner is murdered one evening, and Mattan is named as a suspect, he isn't too worried at first. He had no part in the atrocity, and is certain he would be cleared by the justice system should charges ever be laid. But when a customer present at the store at the time of the murder changes their statement, Mattan is convicted of the crime.
While later found to be a gross miscarriage of justice, from which he was posthumously exonerated, The Fortune Men is a fictionalised account of Matten's trial and conviction. In being included in the short list of this year's Booker Prize, Nadifa Mohamed becomes the first British Somali novelist to achieve the distinction.
RELATED CONTENT
Booker Prize, fiction, Nadifa Mohamed, TBR list, writing