Rock Paper Scissors, by Alice Feeney
3 November 2021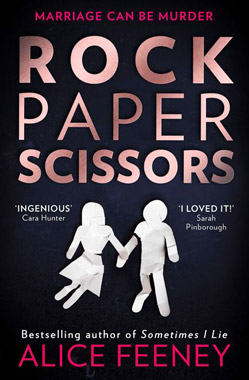 Amelia and Adam have been married ten years. Each year, on their anniversary, they exchange gifts in accordance with the occasion. Paper, leather, sugar, what have you. But there's one gift Amelia has made for each anniversary that she never gives to Adam. Every year she writes him a letter, describing her feelings about him, and their marriage. Without giving too much away, Adam is a workaholic, more devoted to his screenwriting job, than his marriage to Amelia.
On the occasion of their tenth anniversary, being tin, Amelia wins a holiday to a remote village in the Scottish Highlands, in a workplace raffle. By this point, both partners recognise the marriage is struggling, and both see the holiday away from the distractions of home and work as an opportunity to revive their flagging relationship. But something doesn't quite feel right. Might it be their accommodation, a chapel of all places? Or might it be the power failure just as they arrive?
And why have their phones suddenly stopped working? On top of that, a snowstorm traps them in the old chapel. And then there's the minor detail about the holiday itself. Winning it seems not to be as random as it looked… Rock Paper Scissors (published by Harper Collins Australia, August 2021) is the latest novel from English author Alice Feeney, and if you're a fan of domestic thrillers, with what seems like a touch of things going bump in the night, this might be the book for you.
RELATED CONTENT