Showing all posts tagged:
games
12 February 2022
Gender has an influence on vocabulary comprehension, and some words are more familiar to one gender than others it seems. For instance, peplum, tulle, bandeau, and taffeta are words likely to be better known to women, while milliamp, boson, parsec, and shemale (who would have thought), are generally more familiar to men.
There's a few words on the chart put together by Yuri Vishnevsky I've not seen until now, but I've made a note of the five-letter words in case they pop-up on Wordle one day.
RELATED CONTENT
4 February 2022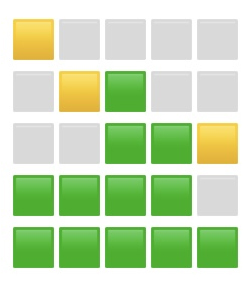 Fans of riotously popular word game Wordle need not fret — for now at least — about the daily challenge running out of five letter words. According to WordFinderX, there are over 158,000 five-letter English language words, depending which dictionary you refer to. That's several centuries of daily puzzles.
On the other extreme, we are told there are a mere 5,350 words only available to word games. Even so, that makes for fourteen and a half year's worth of units of language. Plenty of time to worry about what to do next. Let the fun continue.
RELATED CONTENT
2 February 2022
Word game Wordle, created by Josh Wardle, and hugely popular with — among others — the book-reading posse, plus one or two game developers looking for a piece of the word-game-gone-viral action, has been bought by the New York Times.
Created by a Reddit engineer and launched in October, Wordle gives players just six guesses to determine a five-letter word that changes every day. The soothing daily puzzle has become a hit since its launch, quickly attracting hundreds of thousands, then millions, of players. Social media posts about its game of the day have become ubiquitous, along with screenshots of the game's distinctive grid.
Update: on the topic of Wordle "copies", instructions for installing the official real version of the game, rather than an imitation.
RELATED CONTENT