Showing all posts tagged:
T. R. Napper
4 June 2023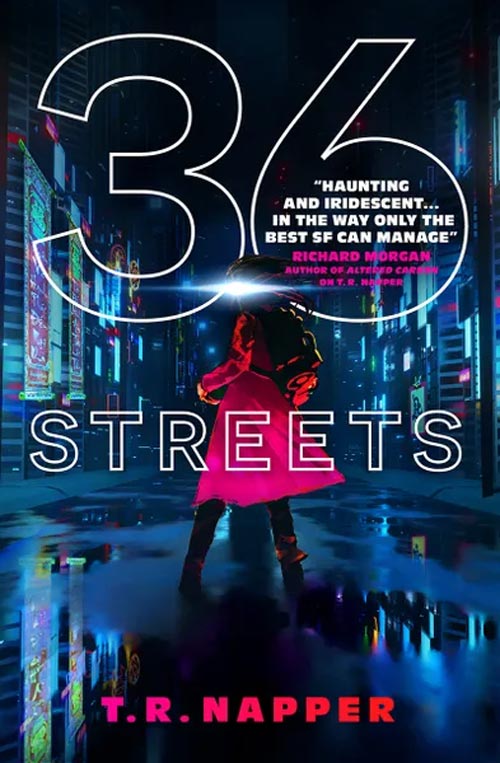 Book cover of 36 Streets, written by T R Napper.
Australian science fiction writer T. R. Napper was named winner of the Best Science Fiction Novel award, with 36 Streets, in the 2022 Aurealis Awards, at a ceremony in Canberra, last night.
The novel, Napper's debut, is set in a futuristic version of Hanoi, the capital of Vietnam. In 36 Streets, the city is occupied by China, but residents seem to be preoccupied by a highly addictive stimulation of the American-Vietnamese war of the mid-twentieth century:
Lin 'The Silent One' Vu is a gangster in Chinese-occupied Hanoi, living in the steaming, paranoid alleyways of the 36 Streets. Born in Vietnam, raised in Australia, everywhere she is an outsider. Through grit and courage, Lin has carved a place for herself in the Hanoi underworld under the tutelage of Bao Nguyen, who is training her to fight and survive. Because on the streets there are no second chances.

Meanwhile the people of Hanoi are succumbing to Fat Victory, an addictive immersive simulation of the US-Vietnam war. When an Englishman — one of the game's developers — comes to Hanoi on the trail of his friend's murderer, Lin is drawn into the grand conspiracies of the neon gods: the mega-corporations backed by powerful regimes that seek to control her city.

Lin must confront the immutable moral calculus of unjust wars. She must choose: family, country, or gang. Blood, truth, or redemption. No choice is easy on the 36 Streets.
Established in 1995, the Aurealis Awards honour works of original speculative fiction written by Australian authors, which are published in the preceding calendar year. A full list of winners in the 2022 awards can be seen here.
RELATED CONTENT
Aurealis Awards, literary awards, science fiction, T. R. Napper