Showing all posts tagged:
literary awards
8 September 2023
Book cover of Looking After Country With Fire, by Victor Steffensen.
Looking After Country With Fire, published by Hardie Grant in 2022, written by Indigenous Australian writer and filmmaker Victor Steffensen, and illustrated by Far North Queensland based visual arts teacher Sandra Steffensen, has won the 2023 Karajira Award for Children's Literature.
Presented by the Wilderness Society, the Karajira Award celebrates excellence in children's literature by Aboriginal or Torres Strait Island authors and/or illustrators, who honour connection to Country and tell stories exploring land, community, culture, and language.
Looking After Country With Fire explores methods and systems of fire management used by Indigenous Australians, over thousands of years, to manage, and regenerate the land:
Mother Nature has a language. If we listen, and read the signs in the land, we can understand it. For thousands of years, First Nations people have listened and responded to the land and made friends with fire, using this knowledge to encourage plants and seeds to flourish, and creating beautiful places for both animals and people to live.
RELATED CONTENT
Australian literature, Indigenous literature, literary awards, Sandra Steffensen, Victor Steffensen
7 September 2023
The shortlist for the 2023 Banjo Prize, for unpublished Australian fiction, was announced on Tuesday 5 September 2023, and includes the manuscripts of five writers:
Lou and I, by Anna Fursland
Islands of Secrets, by Stefanie Koens
The Shores Between, by A'Mhara McKey
The Sister Tree, by Natasha Neary
Katherine Papadakis is Figuring Things Out, by Christina Pontos
The winner of the prize, which is presented annually by HarperCollins Australia, will have the opportunity to see their work published. The winner will be named on Tuesday 26 September 2023.
RELATED CONTENT
Australian literature, Banjo Prize, books, literary awards
5 September 2023
The 2023 Mark and Evette Moran Nib Literary Award shortlist was announced yesterday, Monday 4 September 2023, and consists of the following six titles:
First presented in 2002, and also referred to as the Nib Award, the prize honours excellence in literary research, be they works fiction or non-fiction. Past recipients include Helen Garner and Andrew Tink. The 2023 winner, along with this year's people choice award, will be announced in just over two months time, on Thursday 9 November 2023.
RELATED CONTENT
Australian literature, books, literary awards
5 September 2023
The winners of the annual Davitt Awards for crime and mystery writing were announced in Melbourne on Saturday 2 September 2023.
All That's Left Unsaid, the debut novel of Sydney based author Tracey Lien, won the Best Adult Novel award. Seven Days by Fleur Ferris won the Best Young Adult Novel prize, while The Sugarcane Kids and the Red-bottomed Boat by Charlie Archbold, won the Best Children's Novel Award.
In other categories, Dirt Town by Hayley Scrivenor won the Debut award, and Out of the Ashes by Megan Norris won the Best Non-Fiction Book. Meanwhile The Unbelieved by Vikki Petraitis, was chosen as the People's Choice winner for 2023.
RELATED CONTENT
Australian literature, literary awards
1 September 2023
Book cover of Exiles, written by Jane Harper.
Exiles by Melbourne based Australian author Jane Harper, published by Pan Macmillan Australia, has been named winner in the best crime fiction category of the 2023 Ned Kelly Awards for Australian crime writing. Written in 2022, Exiles tells the story of an investigation into the disappearance of a woman from a small community in South Australia:
At a busy festival site on a warm spring night, a baby lies alone in her pram, her mother having vanished into the crowds.

A year on, Kim Gillespie's absence casts a long shadow as her friends and loved ones gather deep in the heart of South Australian wine country to welcome a new addition to the family.

Aaron Falk, federal investigator, is joining the celebrations. But as he soaks up life in the lush valley, he begins to suspect this tight-knit group may be more fractured than it seems. As hidden truths slowly emerge, Falk faces the darkest of questions.
In other award categories Wake, by Shelley Burr won in the Best Debut crime fiction, Betrayed, by Sandi Logan won in Best True Crime, while The Lemon Man, by Dublin based Irish writer Keith Bruton, won the Best International Crime prize.
Named for one of Australia's best known outlaws, the 2023 Ned Kelly Awards attracted over one hundred and sixty entries, an increase over last year.
Karina Kilmore, chair of the Australian Crime Writers Association which presents the awards, stressed the importance of the role of literary prizes in supporting authors, particularly in light of the threat artificial intelligence technologies (AI) pose. Kilmore said as things stand, AI will do away with the human elements of creativity in all forms of story-telling.
RELATED CONTENT
Australian literature, literary awards, Ned Kelly
26 August 2023
It seems like only last week the winner of the 2023 Stella Prize — Sarah Holland-Batt with her poetry collection The Jaquar — was announced, when in fact that happened four months ago.
The year is marching on.
Entries are now open for the 2024 prize, but only for about the next month and a half. There are a few cut-off dates for submissions, but Friday 13 October 2023 is the final day an entry can be made.
RELATED CONTENT
Australian literature, books, literary awards, Stella Prize
24 August 2023
The 2023 Readings Young Adult Prize shortlist was announced earlier today. Six titles are in contention for this year's award:
Presented annually since 2014 by Readings, an independent Melbourne based bookseller, the Readings Young Adult Prize is awarded to the best contribution to Australian youth literature, by emerging Australian writers. The winner will named at a ceremony in late October this year.
RELATED CONTENT
Australian literature, books, literary awards
21 August 2023
Entries for the 2024 Victorian Premier's Literary Awards (VPLA) are open until Sunday 10 September 2023. The VPLA is one of Australia's most valuable literary awards, and the shortlists — which will likely be announced sometime in December — are always filled packed with quality titles.
RELATED CONTENT
Australian literature, books, literary awards, writing
21 August 2023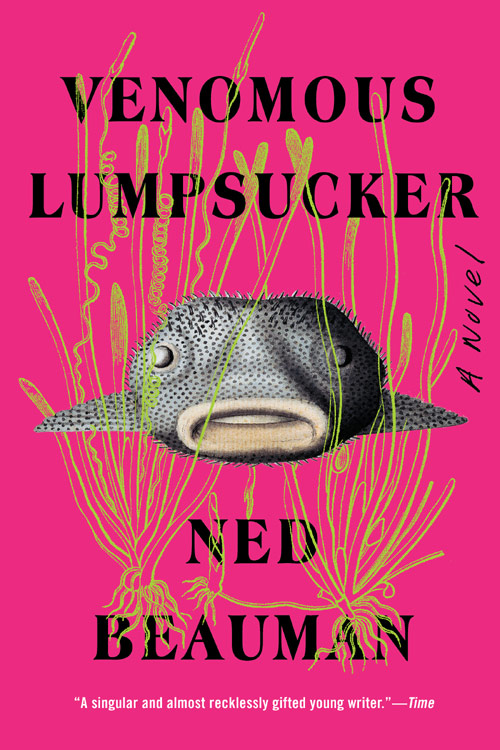 Book cover of Venomous Lumpsucker, written by Ned Beauman.
British novelist and screenwriter Ned Beauman has been named winner of the 2023 Arthur C. Clarke Award science fiction book of the year, with his fifth novel, Venomous Lumpsucker, which was published by Penguin Random House.
Going by the publisher's outline, Venomous Lumpsucker has the lot. A cli-fi, sci-fi dystopian chiller-thriller set in the near future, in a world possibly irreparably damaged by climate change:
The near future. Tens of thousands of species are going extinct every year. And a whole industry has sprung up around their extinctions, to help us preserve the remnants, or perhaps just assuage our guilt. For instance, the biobanks: secure archives of DNA samples, from which lost organisms might someday be resurrected . . . But then, one day, it's all gone. A mysterious cyber-attack hits every biobank simultaneously, wiping out the last traces of the perished species. Now we're never getting them back.

Karin Resaint and Mark Halyard are concerned with one species in particular: the venomous lumpsucker, a small, ugly bottom-feeder that happens to be the most intelligent fish on the planet. Resaint is an animal cognition scientist consumed with existential grief over what humans have done to nature. Halyard is an exec from the extinction industry, complicit in the mining operation that destroyed the lumpsucker's last-known habitat.

Across the dystopian landscapes of the 2030s — a nature reserve full of toxic waste; a floating city on the ocean; the hinterlands of a totalitarian state — Resaint and Halyard hunt for a surviving lumpsucker. And the further they go, the deeper they're drawn into the mystery of the attack on the biobanks. Who was really behind it? And why would anyone do such a thing?
The prize, awarded since 1987, is presented annually to the best science fiction novel first published in the United Kingdom in the previous calendar year, and is named after British author and futurist, Arthur C. Clarke, who died in 2008.
RELATED CONTENT
Arthur C Clarke, climate fiction, literary awards, Ned Beauman, science fiction
18 August 2023
Melbourne based Australian author Rowan Heath was named winner of the 2023 ABR Elizabeth Jolley Short Story Prize at an online ceremony held last night, with a fiction work titled The Mannequin. The prize was created in 2010 to honour the memory of late British born Australian writer Elizabeth Jolley, and is presented annually by the Australian Book Review (ABR).
RELATED CONTENT