Venomous Lumpsucker wins 2023 Arthur C. Clarke book award
21 August 2023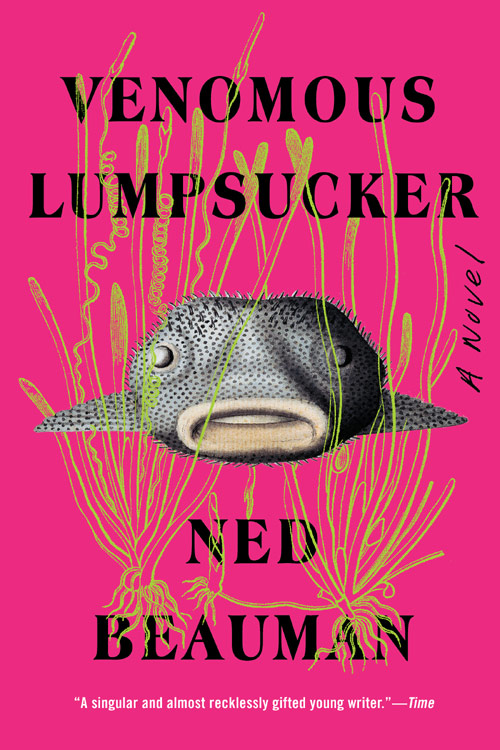 Book cover of Venomous Lumpsucker, written by Ned Beauman.
British novelist and screenwriter Ned Beauman has been named winner of the 2023 Arthur C. Clarke Award science fiction book of the year, with his fifth novel, Venomous Lumpsucker, which was published by Penguin Random House.
Going by the publisher's outline, Venomous Lumpsucker has the lot. A cli-fi, sci-fi dystopian chiller-thriller set in the near future, in a world possibly irreparably damaged by climate change:
The near future. Tens of thousands of species are going extinct every year. And a whole industry has sprung up around their extinctions, to help us preserve the remnants, or perhaps just assuage our guilt. For instance, the biobanks: secure archives of DNA samples, from which lost organisms might someday be resurrected . . . But then, one day, it's all gone. A mysterious cyber-attack hits every biobank simultaneously, wiping out the last traces of the perished species. Now we're never getting them back.

Karin Resaint and Mark Halyard are concerned with one species in particular: the venomous lumpsucker, a small, ugly bottom-feeder that happens to be the most intelligent fish on the planet. Resaint is an animal cognition scientist consumed with existential grief over what humans have done to nature. Halyard is an exec from the extinction industry, complicit in the mining operation that destroyed the lumpsucker's last-known habitat.

Across the dystopian landscapes of the 2030s — a nature reserve full of toxic waste; a floating city on the ocean; the hinterlands of a totalitarian state — Resaint and Halyard hunt for a surviving lumpsucker. And the further they go, the deeper they're drawn into the mystery of the attack on the biobanks. Who was really behind it? And why would anyone do such a thing?
The prize, awarded since 1987, is presented annually to the best science fiction novel first published in the United Kingdom in the previous calendar year, and is named after British author and futurist, Arthur C. Clarke, who died in 2008.
RELATED CONTENT
Arthur C Clarke, climate fiction, literary awards, Ned Beauman, science fiction