Showing all posts tagged:
Arthur C Clarke
21 August 2023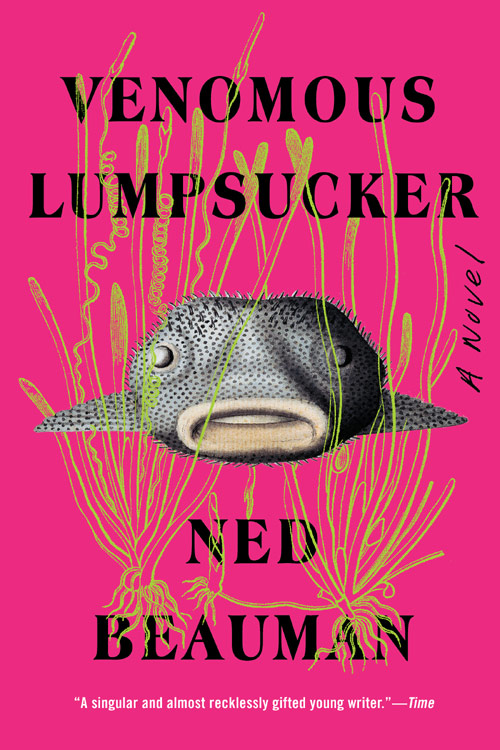 Book cover of Venomous Lumpsucker, written by Ned Beauman.
British novelist and screenwriter Ned Beauman has been named winner of the 2023 Arthur C. Clarke Award science fiction book of the year, with his fifth novel, Venomous Lumpsucker, which was published by Penguin Random House.
Going by the publisher's outline, Venomous Lumpsucker has the lot. A cli-fi, sci-fi dystopian chiller-thriller set in the near future, in a world possibly irreparably damaged by climate change:
The near future. Tens of thousands of species are going extinct every year. And a whole industry has sprung up around their extinctions, to help us preserve the remnants, or perhaps just assuage our guilt. For instance, the biobanks: secure archives of DNA samples, from which lost organisms might someday be resurrected . . . But then, one day, it's all gone. A mysterious cyber-attack hits every biobank simultaneously, wiping out the last traces of the perished species. Now we're never getting them back.

Karin Resaint and Mark Halyard are concerned with one species in particular: the venomous lumpsucker, a small, ugly bottom-feeder that happens to be the most intelligent fish on the planet. Resaint is an animal cognition scientist consumed with existential grief over what humans have done to nature. Halyard is an exec from the extinction industry, complicit in the mining operation that destroyed the lumpsucker's last-known habitat.

Across the dystopian landscapes of the 2030s — a nature reserve full of toxic waste; a floating city on the ocean; the hinterlands of a totalitarian state — Resaint and Halyard hunt for a surviving lumpsucker. And the further they go, the deeper they're drawn into the mystery of the attack on the biobanks. Who was really behind it? And why would anyone do such a thing?
The prize, awarded since 1987, is presented annually to the best science fiction novel first published in the United Kingdom in the previous calendar year, and is named after British author and futurist, Arthur C. Clarke, who died in 2008.
RELATED CONTENT
Arthur C Clarke, climate fiction, literary awards, Ned Beauman, science fiction
16 May 2022
Stanley Kubrick and Arthur C. Clarke, who co-wrote the screenplay for 2001: A Space Odyssey were at loggerheads for years as to how to portray the highly advanced aliens who created the mysterious black monolith seen throughout the film.
Kubrick had been considering depicting the extra-terrestrials as human-like, until American cosmologist and author Carl Sagan suggested not showing them at all. Best idea ever. The approach created so much more intrigue.
RELATED CONTENT
2001: A Space Odyssey, Arthur C Clarke, Carl Sagan, film, science fiction, Stanley Kubrick
1 October 2021
New Zealand based Australian author Laura Jean McKay has been named the winner of the 2021 Arthur C Clarke award for science fiction writing, with her 2020 novel The Animals in That Country. Very much a novel for our times.
RELATED CONTENT
Arthur C Clarke, Laura Jean McKay, science fiction
30 May 2008
Author and futurist Arthur C Clarke is credited with predicting the emergence of a number of technologies, including a tablet-like device called a "Newspad", which could serve the latest news stories from electronic versions of newspapers.
So far more has been said about comparing the Newspad to PDAs or Tablet PCs, but the Newpad also worked in a very similar way to today's news aggregators, or RSS feed readers.
In the novelised version of 2001: A Space Odyssey, (chapter title "Moon Shuttle", pg 66-67) Dr Heywood Floyd, chairman of the US National Council of Astronautics, spends time reading on his Newspad, while traveling to the Moon.
Floyd sometimes wondered if the Newspad, and the fantastic technology behind it, was the last word in man's quest for perfect communications. Here he was, far out in space, speeding away from Earth at thousands of miles an hour, yet in a few milliseconds he could see the headlines of any newspaper he pleased. (That very word "newspaper," of course, was an anachronistic hangover into the age of electronics.) The text was updated automatically on every hour; even if one read only the English versions, one could spend an entire lifetime doing nothing but absorbing the ever-changing flow of information from the news satellites.
Not only did Arthur C. Clarke predict PDAs and Tablet PCs, he also foresaw the emergence of news aggregators, and RSS technology.
Originally published Friday 30 May 2008.
RELATED CONTENT
2001: A Space Odyssey, Arthur C Clarke, film, legacy, science fiction, technology