Madukka The River Serpent, crime fiction by Julie Janson
29 March 2023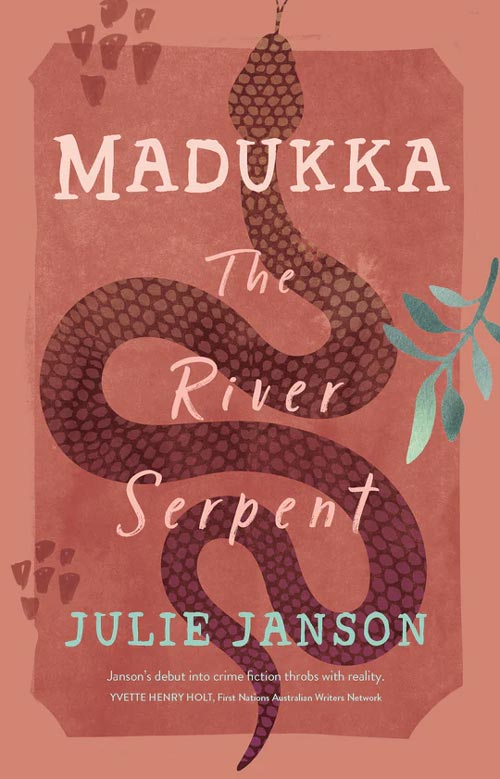 It takes ten-thousand hours to become an expert. Or so some people claim. Malcolm Gladwell made the assertion in his 2008 book, Outliers. Broken down, if ten-thousand hours are required to become proficient at something, it will take about five years to achieve expert status. Assuming you put in about forty-hours per week.
Aunty June, a private investigator, and owner of Yanakirri Investigative Services, on the other hand, reckons thirty-hours is enough. That's thirty-hours all up. That's how long it took her to complete a certificate course in investigative services, at a nearby vocational education school.
And with the ink on her business cards barely dry, Aunty June has landed — sort of — her first case. Investigating the whereabouts of her missing nephew, Thommo. The thing is, Aunty June's investigative services weren't exactly asked for. Fed up at the lack of progress local police were making in the wake of Thommo's disappearance, she decided to get involved, whether anyone else liked it or not.
Aunty June is the protagonist in Madukka The River Serpent, published by UWA Publishing, December 2022, written by New South Wales based Australian playwright, poet, and Darug Burruberongal woman, Julie Janson. But as Aunty June delves into the mystery surrounding her nephew's disappearance, it quickly becomes apparent this is far more than a missing person's case.
She runs up against racism, corruption, and lies. Bikie gang members and cotton farmers are also in the mix. And with water levels in the Darling River, one of Australia's longest rivers, in decline, water theft may also be on the cards. Along with murder. Aunty June soon comes to see why police want to give the case a wide berth.
Madukka The River Serpent is Janson's first foray into crime fiction, and is one of only a few such works by Indigenous writers. Australian author Jock Serong has described Janson's novel as "raw, visceral, rude and tough, [and a] new perspective on Australian noir that we've been waiting for." Perhaps then Madukka The River Serpent will be the beginning of something.
RELATED CONTENT