Showing all posts tagged:
novels
18 May 2023
Klara and the Sun, the 2021 novel by British author Kazuo Ishiguro, is being brought to the big screen by New Zealand filmmaker Taika Waititi. While all parties are yet to sign on the dotted line, it's looking pretty certain, according to Justin Kroll, writing for Deadline:
Sources tell Deadline that the Jojo Rabbit Oscar winner is in negotiations to direct Klara and the Sun, based on Kazuo Ishiguro's New York Times bestselling novel, for Sony's 3000 Pictures. The project is in development, with Dahvi Waller penning the original draft of the screenplay.
I loved the novel. I believe Waititi could bring forth a faithful adaptation of Klara without dispensing with too many of his trademark cinematic flourishes.
RELATED CONTENT
film, Kazuo Ishiguro, novels, screen adaptations, Taika Waititi
6 May 2023
Australian author Gabrielle Carey, who co-wrote the controversial though iconic novel Puberty Blues, with Kathy Lette, died this week in Sydney.
Set in the southern suburbs of Sydney, Puberty Blues polarised readers with its no holds barred depictions of the antics, and sexuality, of Australian adolescents. Although published in 1979, Carey and Lette began writing the novel some years earlier as teenagers. The book spawned a film adaptation in 1981, and a two-series television run in 2012.
Carey went on to write a number of other books, both fiction and non-fiction, and also worked as a freelance journalist and university lecturer.
RELATED CONTENT
Australian literature, books, Gabrielle Carey, novels
6 May 2023
Still from The Eight Mountains, directed by Felix van Groeningen and Charlotte Vandermeersch.
The Eight Mountains, trailer, is one movie I'm looking forward to seeing, since I couldn't get enough of Italian author Paolo Cognetti's 2016 novel of the same name, when I read it. The story traces the lives of two boys, Pietro, and Bruno, from the time they first meet in the Aosta Valley, in the north of Italy, and the decades that follow.
Pietro is a lonely boy living in Milan. With his parents becoming more distant each day, the only thing the family shares is their love for the mountains that surround Italy. While on vacation at the foot of the Aosta Valley, Pietro meets Bruno, an adventurous, spirited local boy. Together they spend many summers exploring the mountains' meadows and peaks and discover the similarities and differences in their lives, their backgrounds, and their futures. The two boys come to find the true meaning of friendship and camaraderie, even as their divergent paths in life — Bruno's in the mountains, Pietro's across the world — test the strength and meaning of their connection.
Made in 2021, filming locations included the Italian Alps, Turin, and Nepal, mostly preserving the authenticity of the story. While the film has a run time of almost two and a half hours, Elissa Suh, writing for Literary Hub, says the adaptation, co-directed by Felix van Groeningen, and Charlotte Vandermeersch, "adheres strictly to both the book's tone and the author's intent."
If you haven't read the novel, take the time to do so. The Eight Mountains is a whole different world, one where scaling mountains, and wandering through Alpine forests, comes as second nature to those residing within its realm.
RELATED CONTENT
Charlotte Vandermeersch, Felix van Groeningen, films, novels, Paolo Cognetti
3 May 2023
The Wife and the Widow by Christian White, and The Dictionary of Lost Words by Pip Williams, are among Australian titles I've read that make the 2023 Better Reading Top 100 list.
Other books by authors outside of Australia I've finished, include Normal People by Sally Rooney, and The Seven Husbands of Evelyn Hugo by Taylor Jenkins Reid.
A full list of all one hundred titles in PDF format can be found here. For those not in the know, Better Reading is a Sydney based Australian community of engaged book readers. Just the sort we like…
RELATED CONTENT
books, Christian White, literature, novels, Pip Williams, Sally Rooney, Taylor Jenkins Reid
26 April 2023
The American Library Association (ALA) has published a list of the top ten books subject to some sort of challenge, based on their content, or subject matter, in the last twelve months. While the majority of challenges related to books written by, or about, people of colour, and LGBTQIA+ community members, the ALA also noted a sharp overall increase in objections over the last year:
Libraries in every state faced another year of unprecedented attempts to ban books. In 2022, ALA tracked the highest number of censorship reports since the association began compiling data about library censorship more than 20 years ago. ALA's Office for Intellectual Freedom tracked 2,571 unique titles targeted for censorship, a 38% increase from the 1,858 unique titles targeted in 2021. Most of the targeted books were written by or about members of the LGBTQIA+ community and people of color.
RELATED CONTENT
11 April 2023
It's been a while since I wrote about recent fiction releases by Australian authors, so here's a quick round up of a few titles that have arrived on bookshop shelves in the last little while.
The Last Love Note, by Emma Grey, an author living near Canberra, is the story of a woman, Kate Whittaker, looking for love following her husband's death. Based in part on Grey's own experiences after her husband died, her protagonist struggles to get on with life.
Kate has a son to raise, while holding down a demanding job, and contending with a domineering mother, along with her best friend who is trying to find her a match. Then Kate learns that her boss knows a secret about her past…
The Bell of the World is the sixth novel from Victorian author, poet, and musician Gregory Day, and is set during early to mid-twentieth century in a rural coastal town called Ngangahook. Sarah Hutchinson, a troubled young woman, returns to Australia after a stint at an English boarding school, to live with her uncle Ferny.
Sarah and Ferny bond over music, poetry, and reading. But their way of life is threatened when local town's people propose building a bell tower, the chimes of which would surely disrupt the harmonies created by nature.
Resistance is the latest novel by Melbourne based author Jacinta Halloran, a former doctor and board member of Australian literary award, the Stella Prize. Nina is a family therapist with a reputation for listening to everything her clients tell her.
But her latest case may be her most challenging. A couple who stole a car and drove into the outback have been ordered to be counselled by her. But something's not quite right about this couple who are reluctant to see her, and before long Nina begins to fear for the safety of their two children.
We Only Want What's Best, is the debut novel of Sydney based writer and stand-up comedian Carolyn Swindell, and is set on a flight between Australia and Los Angeles. Bridget is taking her daughter Becky to Disneyland to perform in a dance recital. Accompanying them is Simone and her daughter, Zahra.
Bridget, who isn't completely comfortable making the long flight, becomes further unsettled when she finds potentially exploitative photos of Zahra, and other dance troupe girls, on Simone's phone. The two women struggle to contain the rising tension between them, lest it overwhelms them before the flight lands.
Things She Would Have Said Herself, is new fiction from Australian author Catherine Therese, and tells the story of Leslie Bird, the quick tempered matriarch of her family. And while Leslie loves being a wife and mother, there's a problem: she can't stand her husband or children.
Despite the difficulty of her role, Leslie does her best to conceal the pain she feels, and the losses she has suffered. But the pressure of organising and hosting Christmas lunch for her extended family, may cause everything to unravel in spectacular fashion.
RELATED CONTENT
Australian literature, Carolyn Swindell, Catherine Therese, Emma Grey, Gregory Day, Jacinta Halloran, novels
11 April 2023
The Seven Husbands of Evelyn Hugo, by American author Taylor Jenkins Reid, has taken out the number one spot in the 2023 Dymocks Top 101 book poll.
Another title I've also read, The Dictionary of Lost Words, by South Australian based writer Pip Williams, was voted into the number two slot.
RELATED CONTENT
books, literature, novels, Pip Williams, Taylor Jenkins Reid
30 March 2023
Melbourne based Australian musician and author Edwina Preston took her manuscript for Bad Art Mother, which was today shortlisted for the 2023 Stella Prize, to twenty-six book publishers before finding one who accepted it:
Thankfully her agent, Jenny Darling, was sending out the book. "I was a bit shielded in that sense, I don't know if I would have sent it out 25 times off my own bat. But having that support behind me, I can't tell you how important that was. It felt very lonely, and I felt very much like I was a bit deluded about myself and my work, but she believed in it."
It's kind of surprising, though maybe it isn't, but Preston already had two books to her name, The Inheritance of Ivorie Hammer, a novel published in 2012, and Not Just a Suburban Boy, a biography of late Australian artist Howard Arkley, published by Duffy & Snellgrove, in 2002.
Unpublished authors are not the only ones who struggle to get their work into print.
RELATED CONTENT
Australian literature, Edwina Preston, literary awards, novels, Stella Prize
29 March 2023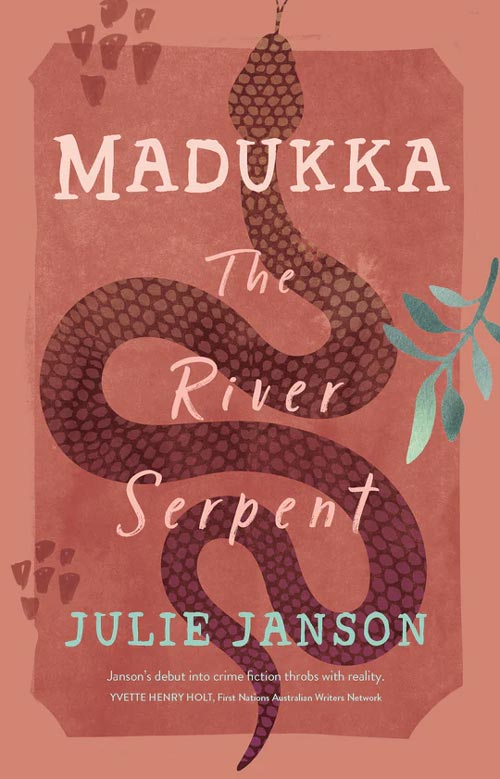 It takes ten-thousand hours to become an expert. Or so some people claim. Malcolm Gladwell made the assertion in his 2008 book, Outliers. Broken down, if ten-thousand hours are required to become proficient at something, it will take about five years to achieve expert status. Assuming you put in about forty-hours per week.
Aunty June, a private investigator, and owner of Yanakirri Investigative Services, on the other hand, reckons thirty-hours is enough. That's thirty-hours all up. That's how long it took her to complete a certificate course in investigative services, at a nearby vocational education school.
And with the ink on her business cards barely dry, Aunty June has landed — sort of — her first case. Investigating the whereabouts of her missing nephew, Thommo. The thing is, Aunty June's investigative services weren't exactly asked for. Fed up at the lack of progress local police were making in the wake of Thommo's disappearance, she decided to get involved, whether anyone else liked it or not.
Aunty June is the protagonist in Madukka The River Serpent, published by UWA Publishing, December 2022, written by New South Wales based Australian playwright, poet, and Darug Burruberongal woman, Julie Janson. But as Aunty June delves into the mystery surrounding her nephew's disappearance, it quickly becomes apparent this is far more than a missing person's case.
She runs up against racism, corruption, and lies. Bikie gang members and cotton farmers are also in the mix. And with water levels in the Darling River, one of Australia's longest rivers, in decline, water theft may also be on the cards. Along with murder. Aunty June soon comes to see why police want to give the case a wide berth.
Madukka The River Serpent is Janson's first foray into crime fiction, and is one of only a few such works by Indigenous writers. Australian author Jock Serong has described Janson's novel as "raw, visceral, rude and tough, [and a] new perspective on Australian noir that we've been waiting for." Perhaps then Madukka The River Serpent will be the beginning of something.
RELATED CONTENT
Australian literature, fiction, Julie Janson, novels
28 March 2023
Ayat as not seen, nor spoken to, her mother, Khadija, and sister, Laila, who live in Canberra, for six years. Ayat hurriedly moved away to Melbourne after her mother and sister learned she was dating Harry, a Catholic. Ayat made clear her boyfriend would not convert to Islam, the religion of her Indian family, in the event they decided to marry.
Ayat also took exception to Laila agreeing to marry a man of the family's choosing, in accordance with tradition. Arranged marriages may have been appropriate in another time and place, but Ayat sees no place for the institution in today's world. After six years though in the Victorian capital, she has made a new life for herself with Harry.
But Khadija is unwell. She has only a short time to live. Laila contacts Ayat, and asks her to come home and see her ailing mother, while there is still time. But on arriving in Canberra, Ayat is asked to travel far further afield. Khadija would like to make a final trip to India, with her daughters, before she dies.
But the prospect of visiting India is daunting for Ayat. For one thing, it will bring her face to face with her extended family, and their expectations. But Khadija hopes the trip will help Ayat understand her values, and desire to uphold tradition, in Once a Stranger, published by Hachette Australia, March 2023, the debut novel of Canberra based journalist and author, Zoya Patel.
Based in part on Patel's own experiences, which she also explores in her 2018 memoir, No Country Woman, Once A Stranger treads a path that will be familiar to many first generation Australians.
People who sometimes feel they are neither here nor there, as they walk a line between the traditions their families adhere to, and embrace the culture of another country. And where acceptance and alienation comes from compatriots and locals alike, in attempting to navigate the difficult middle ground.
RELATED CONTENT