Showing all posts tagged:
novels
30 May 2022
With books being banned or burned, or both, in some parts, Toronto based Canadian poet and author Margaret Atwood has published a fireproof limited edition of her 1998 novel The Handmaiden's Tale, which is, surprise, surprise, among titles banned in some jurisdictions. Coated with a fire retardant material, the book is able to withstand the fiery force of a flamethrower.
Share on Twitter | Share on Facebook
RELATED CONTENT
books, Margaret Atwood, novels
27 May 2022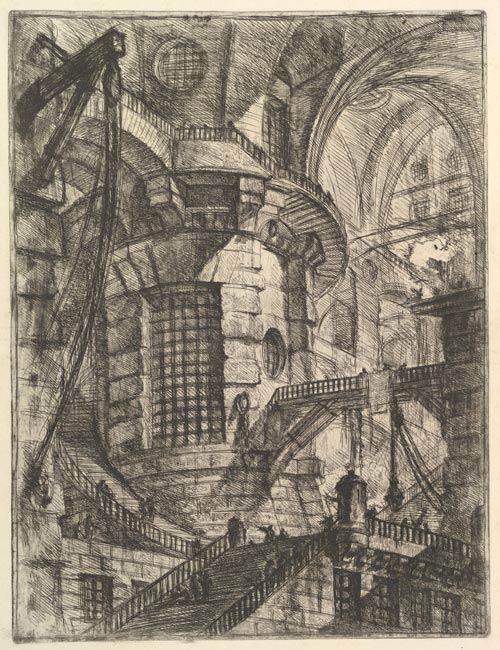 Detail from Imaginary Prisons, by Giovanni Battista Piranesi, courtesy of The Metropolitan Museum of Art.
Warning, spoilers follow. Return to this article once you've finished reading the book.
Imagine you live in a sprawling multi-storied house. The lower levels are flooded by an ocean, while the upper floors are shrouded in mist and clouds. The seemingly endless labyrinth like hallways are adorned with classical style marble statues, and for whatever reason, sea birds have taken to nesting among some of these figures. But it's not really a house you're in, it's more like a complex with the dimensions of a city, and one none too small at that.
This is the world, Piranesi, the titular character in the second novel of British author Susanna Clarke (published by Bloomsbury Publishing, August 2021), finds himself in. Piranesi knows little about how the house came to be, or when he arrived there, although he has vague recollections of living elsewhere before. Come to that, Piranesi knows hardly anything about himself. He's perhaps aged in his mid-thirties, and if pressed, couldn't even be sure his name was Piranesi.
Despite these peculiar circumstances, Piranesi otherwise seems content, and goes about his day to day life as if nothing were amiss. But how would you feel were it you in Piranesi's place? Wouldn't you wonder how you ended up in this predicament, and whether there was a way leave, and return to the real world? Wouldn't you miss family and friends, and wonder if they felt the same way? Wouldn't you crave the company of others at least some of the time?
But Piranesi doesn't appear to be the least bit perturbed. Why though? Does he have some sort of problem? Does he loathe all people, and is thankful for the sanctuary the house offers, a place devoid of humans? Or is he perhaps an introvert, who's found his happy place? Yet Piranesi isn't completely alone in the house. Once or twice a week, he goes to a certain area of the complex, where he briefly meets a middle-aged man, whom Piranesi refers to as The Other.
If Piranesi knows little about himself, he knows even less about The Other. He has no idea who this gentleman really is — although he believes him to be some sort of academic — nor does he know where The Other resides in the house. The Other meanwhile frequently questions Piranesi, and even sets him tasks, some relatively arduous. One such request required Piranesi to walk to a distant point in the house, on a journey lasting two days return.
To make a comparison, and better understand the scale of the house, I looked up the walking time and distance from Sydney's CBD to the western suburb of Penrith on Google, and was advised the trek is approximately fifty-six kilometres in length, and the non-stop walk would take almost twelve hours.
Of course the question of exactly what sort of place Piranesi finds himself in came up repeatedly as I read the novel, particularly as he never encountered anyone else — at least not at first — in the sprawling complex. While plenty of Clarke's readers (myself included) have ideas as to the nature of the house, and what it really is, I found myself wondering how Piranesi could remain oblivious to his acute isolation, and not miss the company of other people.
After all, surely not even the most extreme of introverts would continuously crave the deep solitude of the apparently empty house. But there were indications Piranesi was lonely. He regarded the sea birds nesting in the statues in some of the hallways as friends, and would often have conversations — albeit one-sided — with them. But when it becomes obvious another person is lurking, out of sight, in the house, Piranesi is keen to find out who they are.
In trying to understand Piranesi's apparently people averse personality, I would describe him as an introvert. But no ordinary — if there is such a thing — introvert. To live alone for years in a vast complex, spending perhaps an hour at most, once a week, with one other person could not be anyone's ideal. While it can argued something else is going on, that he is unaware of, Piranesi's outright acceptance of his plight remains compelling. Piranesi is certainly an introvert, but he's more, he's an introvert on steroids.
Share on Twitter | Share on Facebook
RELATED CONTENT
fiction, introversion, novels, psychology, Susanna Clarke
23 May 2022
A novel that is a contemporary re-telling of the story of nineteenth century Australian bushranger and outlaw Ned Kelly? Ok, you have my attention. Such is the premise of Red (published by HarperCollins, 18 May 2022), the second novel by Sydney based Australian writer and journalist, Felicity McLean.
But McLean isn't flippantly bandying about references to Ned Kelly merely to, you know, attract attention, she has partly based her protagonist Ruby "Red" McCoy, on the contents of Kelly's 1879 Jerilderie letter.
It's the early 1990s and Ruby 'Red' McCoy dreams about one day leaving her weatherboard house on the Central Coast of New South Wales, where her best friend, Stevie, is loose with the truth, and her dad, Sid, is always on the wrong side of the law. But wild, whip-smart Red can't stay out of trouble to save her life, and Sid's latest hustle is more harebrained than usual. Meanwhile, Sergeant Trevor Healy seems to have a vendetta against every generation of the McCoys.
So far only a few reviews of Red have been published, but Australian author John Purcell holds McLean's writing in high regard:
But the novel's greatest strength is the voice of narrator Red. I know it is loosely based on Ned Kelly's voice from the famous [Jerilderie] letter, but it goes well beyond that. Red speaks to us as a fully formed living entity with her own ticks and wisdom. So much so that I started to believe McLean must have suffered from some kind of unholy possession throughout the writing of the book. Red's narration overflows with colourful anecdotes, cheek and bravado. McLean's use of language is ceaselessly inventive, coming up with the goods time and time again.
Share on Twitter | Share on Facebook
RELATED CONTENT
Australian literature, books, Felicity McLean, novels
21 May 2022
That appears to be the case for the Irish author's 2018 book Conversations with Friends, writes Robert Moran for Stuff:
All the forensic psychological nuance that Rooney feeds us through Frances – her neurotic overthinking, her spiky self-loathing, her overworked efforts to affect nonchalant charm – those chaotic moments that lend Frances her skewed humanity, are dulled, if not lost, on screen. What you're left with is lingering shots of Frances staring out a rain-streaked window, presumably deep in existential thought, but who knows?
Disappointing. I know I just about always look forward the screen adaptation of the novels I like, despite an innate weariness to the book to film thing…
Share on Twitter | Share on Facebook
RELATED CONTENT
novels, Sally Rooney, screen adaptations
20 April 2022
Groundskeeping (published by Allen & Unwin/Faber Fiction, March 2022) is the debut novel of New York City based American author Lee Cole, is the story of a perhaps forbidden, and likely mismatched love, set on the campus of a university in the American state of Kentucky.
Eager to clean up his act after his troubled early twenties, Owen has returned to Kentucky to take a job as a groundskeeper at a small college in the Appalachian foothills, one which allows him to enrol on their writing course. It's there that he meets Alma, a Writer-in-Residence, who seems to have everything Owen doesn't – a prestigious position, an Ivy League education, and published success as a writer. They begin a secret relationship, and as they grow closer, Alma, from a supportive, liberal family of Bosnian immigrants, struggles to understand Owen's fraught relationship with his own family and home.
Share on Twitter | Share on Facebook
RELATED CONTENT
14 April 2022
Goodnight, Vivienne, Goodnight (published by HarperCollins, March 2022), by Melbourne base Australian novelist Steven Carroll, re-imagines a different, perhaps happier, life for Vivienne Haigh-Wood, the troubled first wife of English author and poet, T. S. Eliot.
London, June 1940. With help from friends, Vivienne Haigh-Wood, the wife of celebrated poet TS Eliot, is about to effect a daring escape from Northumberland House, the private insane asylum where she has been held for the past four years. Her family, and most particularly her husband, think she's insane – and maybe she has been, in the past, Vivienne thinks, mad with love, that is, but she is starting to finally feel like herself again.

There is an old law, Vivienne has been told, that if a person can break out of an asylum and stay free for thirty days, proving they can look after themselves, they can't make you go back. But closing in on Vivienne is the young Detective Sergeant Stephen Minter, a man with a hidden past of his own, who has orders to track her down…
Eliot is often referred to, though he does not feature as a character, while the presence of the police officer, Stephen Minter, at times lends Goodnight, Vivienne, Goodnight, the final instalment of The Eliot Quartet, with the feel of a police procedural, says Dennis Haskell, writing for The Sydney Morning Herald:
The novel is in part a detective story, but not your usual crime caper. Vivienne's crime is not really a crime at all; Minter is the opposite of any hard-boiled cop; and Goodnight is not plot-driven. Carroll's interest is always in character, and his novels are more thoughtful and meditative than dramatic.
Share on Twitter | Share on Facebook
RELATED CONTENT
Australian writing, novels, Steven Carroll
12 April 2022
In the period 1 July 2021 to 31 March 2022, some 1,145 book titles were banned in American schools, according to PEN America, an authors, and free speech advocacy, group.
In total, for the nine-month period represented, the Index lists 1,586 instances of individual books being banned, affecting 1,145 unique book titles. This encompasses different types of bans, including removals of books from school libraries, prohibitions in classrooms, or both, as well as books banned from circulation during investigations resulting from challenges from parents, educators, administrators, board members, or responses to laws passed by legislatures.
Titles featuring LGBTQ+ characters, and people of colour, are among many of the books that have become the subject of bans. PEN America notes that while challenges or objections to books made available to school students are within the rights of parents, the number of titles that have been challenged "expanded rapidly" during the nine month reporting period.
Share on Twitter | Share on Facebook
RELATED CONTENT
11 April 2022
Those Who Perish (published by Allen & Unwin, March 2022) is the new novel from Melbourne based Australian author Emma Viskic, and is the fourth, and concluding, title in the Caleb Zelic series of novels.
Deaf PI Caleb Zelic has always been an outsider, estranged from family and friends. But when he receives a message that his brother, Anton, is in danger, Caleb sees it as a chance at redemption. He tracks Anton down to a small, wind-punished island, where secrets run deep and resentments deeper. When a sniper starts terrorising the isolated community, the brothers must rely on each other like never before. But trust comes at a deadly price…
For devotees of mystery and crime writing, Viskic will be speaking about Those Who Perish this evening, Monday 11 April 2022, at Brisbane's Avid Reader Bookshop.
Share on Twitter | Share on Facebook
RELATED CONTENT
5 April 2022
Where the Crawdads Sing, by American novelist Delia Owens, has emerged as the winner of the Dymocks Top 101 books 2022 poll. A film adaptation, directed by Olivia Newman, will show in Australian cinemas from Thursday 14 July 2022, by the looks of things.
Also among the top ten titles voted for in the Australian bookshop's poll, are The Seven Husbands of Evelyn Hugo by Taylor Jenkins Reid, The Dictionary of Lost Words by Pip Williams, and The Happiest Man on Earth, by Eddie Jaku.
Share on Twitter | Share on Facebook
RELATED CONTENT
5 April 2022
Everyone In My Family Has Killed Someone, the new novel from Australian stand-up comedian and author Benjamin Stevenson, has a synopsis to match its eye-catching title, a veritable contender for novel title of the year award if there were such a thing:
I was dreading the Cunningham family reunion even before the first murder. Before the storm stranded us at the mountain resort, snow and bodies piling up. The thing is, us Cunninghams don't really get along. We've only got one thing in common — we've all killed someone. My brother. My step-sister. My wife. My father. My mother. My sister-in-law. My uncle. My stepfather. My aunt. Me.
The quirkiness doesn't end with the premise and name though, even Stevenson's way of story-telling deviates slightly from the norm, he tells us how the novel ends on the first page, as he explains to Australian critic Beejay Silcox, writing for The Guardian:
Benjamin Stevenson has a cinephile buddy who seeks out spoilers. Once an ending is good and ruined, he can focus on the film. Stevenson's new novel was inspired by this back-to-front tactic. "I thought: 'what if I spoiled the entire book on the first page," the author explained in a recent interview, "can I build a crime novel out of it?"'.
Maybe there's something in taking such an approach… Everyone In My Family Has Killed Someone has been optioned for a limited series adaptation by Home Box Office (HBO).
Share on Twitter | Share on Facebook
RELATED CONTENT
29 March 2022
On the subject of books being adapted to film, The Seven Husbands of Evelyn Hugo by Los Angeles based author Taylor Jenkins Reid, is set to be made into a movie, produced by Netflix.
The book, which has recently spent 54 weeks on the New York Times Bestseller Paperback list, four years after publishing, and has turned into a TikTok book phenomenon, follows reclusive Hollywood legend Evelyn Hugo, who chooses an unknown reporter, Monique Grant, to tell her life story. Evelyn recounts her time in the Golden Age of Hollywood, her rise to fame, and her seven marriages — revealing stunning secrets and lies. But through it all one question remains: Why has she chosen Monique for her final confession?
The Seven Husbands of Evelyn Hugo is on my sprawling TBR list, here's hoping I'm able to finish reading it before the film arrives.
Share on Twitter | Share on Facebook
RELATED CONTENT
film, novels, Taylor Jenkins Reid
29 March 2022
It must be the dream of every author: to have their book made into a film. But with so many novels and manuscripts in circulation, what are the chances of this happening? Remote, to say the least, I would think. Not that long odds dissuade some writers, particularly first time, or aspiring authors.
I've heard literary agents say some budding novelists, when submitting a manuscript, have gone so far as to append a list of actors they'd like to see play the characters in their story, when their novel is inevitably — you understand — adapted for the big screen. This before the manuscript has even found a publisher, let alone anything else.
The exuberant hopes of first time authors aside though, even a genuine, bona fida, movie option on a novel is still no guarantee an author will one day be proudly striding the red carpet at the premiere of their book turned film. In fact, according to American steampunk fiction author Gail Carriger, there's a mere one percent chance any optioned book will become a film.
Sobering or what? Only one in one hundred novels that have been optioned will end up as a big screen production. One way of looking at an option is to see it as a film producer taking a temporary hold on the film rights of a novel, while they try to find interest, and funding, for a potential movie. In the end — and the process may be protracted — they might not succeed.
While their novel may languish in development hell, there is one small consolation, the author will receive an option payment of some sort, hopefully one that's relatively generous.
Share on Twitter | Share on Facebook
RELATED CONTENT
24 March 2022
From a Reddit post I stumbled upon this week, written in October 2018, by Scott Alexander. Read this, your eyes will water:
I don't know how that author identified the most prolific reviewer at the time but I found one reviewer with 20.8k reviews since 2011. That's just under 3,000 reviews per year, which comes out to around 8 per day. This man has written an average of 8 reviews on Amazon per day, all of the ones I see about books, every day for seven years. I thought it might be some bot account writing fake reviews in exchange for money, but if it is then it's a really good bot because Grady Harp is a real person whose job matches that account's description. And my skimming of some reviews looked like they were all relevant to the book, and he has the "verified purchase" tag on all of them, which also means he's probably actually reading them.
I like to think I'm a somewhat avid book reader, but I could not — in a million years — come close to matching this sort of… output. Grady Harp, the subject of Alexander's post, must read in a week what I do in a year. But we're talking about reading and reviewing eight books daily. I know of some fast readers who can tackle a novel in a day, but this feat is truly incredible.
Share on Twitter | Share on Facebook
RELATED CONTENT
17 March 2022
Here's a blast from the past, from back in the days when tweets were limited to 140 characters: "novels" restricted to said limit, written by best-selling authors including Jilly Cooper, Ian Rankin, Jeffrey Archer, and Anne Enright, in October 2012.
If there were an award for the best Twitter fiction "novel", and I were the judge, I'd name British novelist Helen Fielding, she who gave the world Bridget Jones's Diary in 1999, the winner:
OK. Should not have logged on to your email but suggest if going on marriedaffair.com don't use our children's names as password.
This may, or may not be, Fielding's Twitter page.
Share on Twitter | Share on Facebook
RELATED CONTENT
Helen Fielding, novels, writing
16 March 2022
American writer Peter C. Baker on being fooled into handing over a draft of his novel to a manuscript thief. The culprit, known as the Spine Collector, who was finally arrested earlier this year, had tricked numerous other authors, including many who were still unpublished, into sending him copies of their work.
It was the first book I'd ever tried writing, and, during the previous near-decade, it had become an overburdened locus of my ambitions, hopes, doubts, and fears. Many times, I'd looked at the manuscript and wondered if I was fooling myself. Getting fooled into handing it over made me feel sick.
Share on Twitter | Share on Facebook
RELATED CONTENT
12 March 2022
After a sixteen year hiatus, American author Cormac McCarthy, whose last book, The Road, was written in 2006, will publish two new novels later this year. Both stories are connected, and will be released a month apart. The first title, The Passenger, arrives in bookshops on 25 October 2022:
1980, Pass Christian, Mississippi: It is three in the morning when Bobby Western zips the jacket of his wetsuit and plunges from the boat deck into darkness. His divelight illuminates the sunken jet, nine bodies still buckled in their seats, hair floating, eyes devoid of speculation. Missing from the crash site are the pilot's flightbag, the plane's black box, and the tenth passenger. But how? A collateral witness to machinations that can only bring him harm, Western is shadowed in body and spirit – by men with badges; by the ghost of his father, inventor of the bomb that melted glass and flesh in Hiroshima; and by his sister, the love and ruin of his soul.
The second book, Stella Maris, set eight years earlier, is based on the treatment transcripts of Bobby's sister Alicia, who is a patient at a psychiatric hospital, and will be released on 22 November 2022:
1972, Black River Falls, Wisconsin: Alicia Western, twenty years old, with forty thousand dollars in a plastic bag, admits herself to the hospital. A doctoral candidate in mathematics at the University of Chicago, Alicia has been diagnosed with paranoid schizophrenia, and she does not want to talk about her brother, Bobby. Instead, she contemplates the nature of madness, the human insistence on one common experience of the world; she recalls a childhood where, by the age of seven, her own grandmother feared for her; she surveys the intersection of physics and philosophy; and she introduces her cohorts, her chimeras, the hallucinations that only she can see. All the while, she grieves for Bobby, not quite dead, not quite hers.
While I haven't yet read The Road, I did see John Hillcoat's harrowing 2009 film adaptation, starring Viggo Mortensen, Charlize Theron, and a then young Kodi Smit-McPhee.
Share on Twitter | Share on Facebook
RELATED CONTENT
10 March 2022
The longlist for the 2022 Women's Prize for Fiction was announced on Tuesday. Just under ten percent of the original one hundred-and-seventy-five submissions were among the sixteen titles selected. A few familiar titles leapt out at me: Great Circle by Maggie Shipstead, Sorrow and Bliss by Meg Mason, The Paper Palace by Miranda Cowley Hellerand, and The Sentence by Louise Erdrich. The shortlist, consisting of six titles, will be announced on Wednesday 27 April.
Share on Twitter | Share on Facebook
RELATED CONTENT
2 March 2022
Alarming news for members of book cataloguing website Goodreads, of which I am one. Be sure to regularly backup your account data, as it may be irretrievably lost in the event of a website glitch, as was the case recently for Nelson Minar.
Goodreads lost my entire account last week. Nine years as a user, some 600 books and 250 carefully written reviews all deleted and unrecoverable. Their support has not been helpful. In 35 years of being online I've never encountered a company with such callous disregard for their users' data.
Share on Twitter | Share on Facebook
RELATED CONTENT
25 February 2022
Telling an author you read their book is the greatest compliment they can receive, according to American poet Lee Ballentine. Anyone taking five to six hours out of their time to read a book cover-to-cover must have — in most cases — thought highly of it. The title evaded the did not finish pile: that's saying a lot.
As an additional compliment, you could tell the author you'll read their novel again. But with so many books in the world, who has the time to repeat read a title? Instead it might be better to say their book should be made into a film. It's a way of saying your novel is so good, more people need to experience it, so let's get it into cinemas. For most authors that's probably an affirmation; it's my guess many quietly hope their work will result in a movie.
It's more than a commendation though. It's an endorsement that discharges a reader from the obligation to pick up the book again. But it also makes for a useful metric in assessing a novel. If a book is worthy of being adapted for the big screen, it's probably a good story. It's something that should be put before a wider audience. And if not, perhaps you could settle for telling the author you read their book, and leave it at that.
Share on Twitter | Share on Facebook
RELATED CONTENT
19 February 2022
Global Grey, the project of London based book aficionado Julie, is a repository of novels in electronic format, with about three thousand titles currently on the catalogue.
Share on Twitter | Share on Facebook
RELATED CONTENT