Showing all posts tagged:
novels
27 January 2023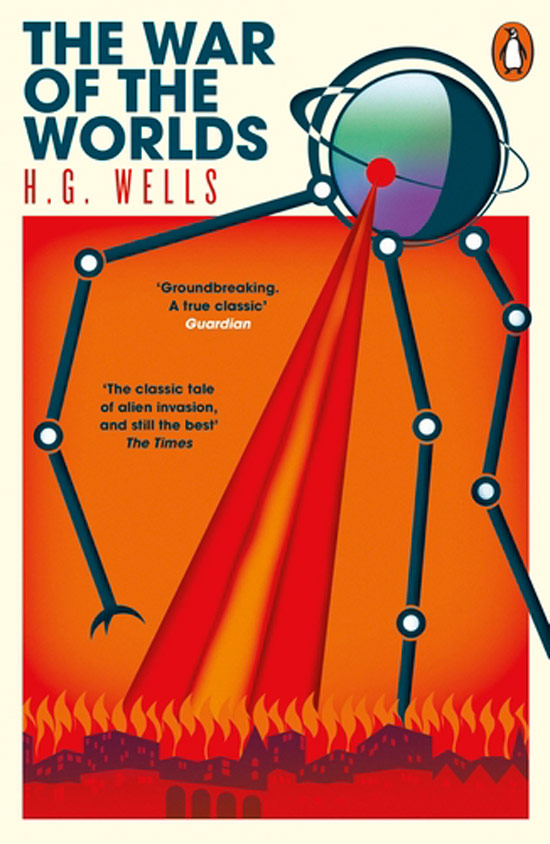 When people think of The War of the Worlds, the novel written by late British author H. G. Wells, and published by William Heinemann in 1898, after being serialised in 1897, they think of science fiction.
Yet the story of the inhabitants of Mars crossing the interplanetary void to invade Earth — incidentally one of the earliest examples of alien invasion in English literature — isn't only sci-fi and/or fantasy, The War of the Worlds is also an instance of invasion literature. Also known as invasion novels, invasion literature was common from the later decades of the nineteenth century — following the publication of The Battle of Dorking, written by George Tomkyns Chesney in 1871 — through until the First World War.
Despite being set in England though, Wells drew inspiration for The War of the Worlds from another hemisphere all together, Tasmania, Australia:
Wells later noted that an inspiration for the plot was the catastrophic effect of European colonisation on the Aboriginal Tasmanians; some historians have argued that Wells wrote the book in part to encourage his readership to question the morality of imperialism.
Invasion literature played a part in influencing public opinion in Britain, and other then imperialistic European nations, through their unsettling premises. Stories such as The War of the Worlds, depicting a ruthless invasion of England by a technologically superior enemy, hopefully helped bring home the horrors of colonisation that were being inflicted upon other cultures.
RELATED CONTENT
books, H G Wells, literature, novels, science fiction
26 January 2023
Usually a novel's success hangs in a solid storyline, great characterisation, tension, originality, the list goes on. But as Australian writer and editor Fleur Morrison points out, novels in audiobook format face an additional hurdle when it comes to doing well: their narrator.
In other words, if a reader/listener doesn't like the delivery or style of the narrator, that will affect their experience of the book. Comments about the audiobook narrator often feature in book reviews I see on Goodreads, and while most thoughts I've read have been positive, there's undoubtedly one or two titles that have scored poorly on account of the narration.
Selecting an audiobook narrator certainly isn't a matter to be treated lightly.
RELATED CONTENT
audiobooks, books, literature, novels
13 January 2023
The Great Gatsby, To Kill a Mockingbird, Lord of the Flies, Catcher in the Rye, and Vanity Fair, are among books commonly studied in high school. Despite their undoubted literary merit, many of these titles were published decades — and in some cases — centuries, ago. But things are changing, and now books written in the nineteen-nineties are beginning to make an appearance.
In the U.S. at least, according to research by The Pudding. The Things They Carried, written by Tim O'Brien in 1990, Woman Hollering Creek, by Sandra Cisneros from 1991, and Harry Potter and the Sorcerer's Stone (also known as Harry Potter and the Philosopher's Stone), by J.K. Rowling, and published in 1997, are among relatively recent additions to some school reading lists.
Despite the presence of Harry Potter books though, not all inclusions were particularly popular commercially. Jhumpa Lahiri's Interpreter of Maladies, a collection of short stories published in 1999, did not chart on the New York Times Best Seller list, and barely makes the top ten-thousand frequently read books list on Goodreads. Lahiri's work did however win a number of literary awards, including the Pulitzer Prize for Fiction in 2000.
RELATED CONTENT
books, education, literature, novels
13 January 2023
Voting is open for Australian book retailer Dymocks annual Top 101 books poll. Eligible titles span seven categories being bestsellers, fiction, fantasy and science-fiction, crime, romance, non-fiction, and young adult, and voters have the unenviable task of selecting just ten books for inclusion.
Good luck, and get voting.
RELATED CONTENT
13 January 2023
Reading Kazuo Ishiguro's 1988 novel, The Remains of the Day, twenty-years ago, changed the way British freelance writer Max Liu saw England. When Liu re-read the novel last year, he changed the way he saw the central protagonist James Stevens, the stoic butler of Darlington Hall, where much of the story is set.
It was one of the most profound reading experiences of my life. Partly, this was down to geography and timing. I grew up in Cornwall and, living hundreds of miles from home for the first time, I was ready to think about England and its meanings. This quietly subversive novel showed how the English obsession with class colours our emotions, speech and interactions. It changed the way I saw the country I thought I knew.
If you haven't had the chance yet, check out the brilliant 1993 Merchant Ivory produced screen adaptation of the novel, starring Anthony Hopkins and Emma Thompson.
Seriously though, what of Ishiguro's work isn't thought provoking, or somehow transformative?
RELATED CONTENT
books, Kazuo Ishiguro, literature, novels
9 January 2023
Italian manuscript thief Filippo Bernardini, who was alleged to have stolen more than one thousand book drafts, has pleaded guilty, a year after his arrest.
Filippo Bernardini impersonated figures from the publishing industry to trick people into handing over their works. He used his inside industry knowledge, having been employed by the publishing giant Simon & Schuster in London. Bernardini, 30, pleaded guilty in New York to wire fraud, but his motive has never been clear.
Bernardini's targets included Irish novelist Sally Rooney, Canadian writer Margaret Atwood, and British author and screenwriter Ian McEwan.
RELATED CONTENT
8 January 2023
Fans of Taylor Jenkins Reid's 2018 novel, The Seven Husbands of Evelyn Hugo, would like to see American actor Jessica Chastain cast in the role of Celia St. James, in the upcoming Netflix screen adaptation of the book. I couldn't agree more with such a choice. Chastain often came to mind as I read Seven Husbands, and not solely because both Chastain and St. James are redheads. In fact, I can't help wondering whether Reid drew a certain degree of inspiration for St. James from Chastain.
While I believe the role of St. James officially remains to be cast, Chastain has expressed interest. "Send me a script", she said, when asked recently about the possibility, by American TV show host Andy Cohen.
RELATED CONTENT
books, Jessica Chastain, novels, screen adaptations, Taylor Jenkins Reid
9 December 2022
Los Angeles based American author Gabrielle Zevin has won the Best Fiction award in the 2022 Goodreads Choice Awards, with her latest novel Tomorrow, and Tomorrow, and Tomorrow, which was published by Penguin Random House earlier this year:
On a bitter-cold day, in the December of his junior year at Harvard, Sam Masur exits a subway car and sees, amid the hordes of people waiting on the platform, Sadie Green. He calls her name. For a moment, she pretends she hasn't heard him, but then, she turns, and a game begins: a legendary collaboration that will launch them to stardom. These friends, intimates since childhood, borrow money, beg favors, and, before even graduating college, they have created their first blockbuster, Ichigo. Overnight, the world is theirs. Not even twenty-five years old, Sam and Sadie are brilliant, successful, and rich, but these qualities won't protect them from their own creative ambitions or the betrayals of their hearts.
One of the games created by the characters in the novel, EmilyBlaster, has since become an actual game. Zevin's book is on my TBR list, hopefully I get to it over the summer break.
Other titles to collect awards this year include The Maid by Nita Prose, which won in the Mystery and Thriller category, while Sea of Tranquility, by Emily St. John Mandel, won the Science Fiction award.
Goodreads members cast near on six million votes, in seventeen categories, for their favourite titles in the annual poll of books published in the last year.
RELATED CONTENT
books, Gabrielle Zevin, literary award, literature, novels
21 November 2022
You've probably read more of the work of London based copywriter Louise Willder than you realise. Although her writings can be found in bookshops across the world, Willder has only ever written one book, which was published in October 2022.
Certainly Willder may not be in the same league as Elena Ferrante, Sally Rooney, or Kazuo Ishiguro, but her work may well have adorned one of their novels. Willder is a book blurb writer, and in a twenty-five year career at Penguin Books, estimates she has penned some five-thousand of these attention grabbing pitches, intended to entice someone to buy the book in their hands, having read the blurb printed on the dust jacket.
And in Blurb Your Enthusiasm (published by Simon & Schuster), Willder shares all she has learned about the craft of blurb writing:
We love the words in books — but what about the words on them? How do they work their magic? Here is a book about the ways books entice us to read them: their titles, quotes, covers and, above all, blurbs — via authors from Jane Austen to Zadie Smith, writing tricks, classic literature, bonkbusters, plot spoilers and publishing secrets. It's nothing less than the inside story of the outside of books.
For my part, blurbs are something I take or leave. If a novel has a good enough recommendation — for instance it has been shortlisted for a literary prize — I'll probably only settle for reading a mere outline of the story. And if I notice an endorsing blurb written by another (high profile) author, I'll just about always ignore it. While I can't be sure, I often get the feeling such "endorsements" have been given over sight unseen so to speak.
RELATED CONTENT
books, Louise Willder, novels, publishing
22 October 2022
If you're an Australian author, don't bother submitting manuscripts for anything other than literary fiction to local publishers. Nothing else will be accepted. That seems to be the message from a number of prominent Australian writers, including Stephanie Laurens and Shelley Parker-Chan, who say they had to find overseas publishers for their works of genre fiction.
The local publishing landscape is dominated by trade houses that concentrate on contemporary or literary fiction: books that are often character-driven, serious and contemplative. But these novels are not the most popular. A 2021 survey of Australian readers found crime and mystery was their favourite genre, followed by science fiction and fantasy, then contemporary and literary fiction.
But according to Jo MacKay, the head of local publishing at HQ Books, a division of HarperCollins, the Australian book market is saturated by the likes of fantasy fiction. It may be popular, but no one is buying it, if that makes any sense. And while Australian authors undoubtedly greatly benefit from exposure to markets such as those in America, there are strings attached.
For instance, Laurens reported having to be content with a cover design her publisher thought would be conducive to sales, rather than an option she would have preferred.
RELATED CONTENT
Australian literature, books, fiction, novels
13 October 2022
Australians would rather watch TV, spend time on the internet, or play sport, exercise, or go outside, ahead of reading a book, according to data from the 2021 census.
Most Australians enjoyed an average of four hours and twenty-three minutes of recreation and leisure activities daily (are we not the lucky country), and of that time twenty-two percent of people spent nearly ninety minutes reading.
Ninety minutes reading a day isn't too bad though. Someone reading for just ten minutes a day could read about twelve average size novels in a year. Ninety minutes daily adds to a lot more books.
RELATED CONTENT
8 October 2022
Today is Love Your Bookshop day.
Love Your Bookshop Day 2022 is an annual celebration of everything local bookshops do from fostering expert staff and curating fabulous ranges to creating events programs to celebrate authors, readers, and the books they cherish.
Bricks and mortar bookshops may not be so abundant anymore, but they are an integral part of the writing and publishing industry. In addition to being a source of work for their staff, and a haven for book lovers, bookshops are also vital in helping new authors develop some profile.
RELATED CONTENT
books, literature, novels, writing
1 October 2022
American actor Tom Hanks has recently finished writing his debut novel The Making of Another Major Motion Picture Masterpiece. Unsurprisingly the story is film related. And why not, writing about topics you're familiar with is a great way to launch your literary career, is it not?
The story centers around the opening of a movie that is a "colossal, star-studded, multimillion-dollar superhero action film" and involves a timeline from the 1940s to the present day. According to the publisher, "Part One of this story takes place in 1947. A troubled soldier, returning from the war, meets his talented five-year-old nephew, leaves an indelible impression, and then disappears for twenty-three years."
Seems to me like the novel blends a bit of Saving Private Ryan (for the soldier) with some Cloud Atlas (for the time travel), both being movies Hanks starred in.
Undoubtedly his debut novel will do well. Even if it turns out not to be all that good. After all, with the profile Hanks enjoys, what could possibly go wrong, at least in terms of sales? And think about all those A-List reviews the title will garner, giving sales another nudge. This is fanfare other, likely unknown, aspiring authors, would give their right arms to bask in.
But when it comes to profile, either you have it, or you don't. A stack of debutant authors have had nothing like the prominence Hanks has, but have gone on to be successful writers. But unknown authors looking for some profile, be it by hook or crook, could ironically take a leaf from Hank's role as Dermot Hoggins, in the aforementioned Cloud Atlas.
Here Hanks portrays the resentful writer of a book called Knuckle Sandwich, which was the subject of a poor review, written by a critic named Felix Finch. So bitter is Hoggins (beware spoilers follow) he throws Finch over the side of a tall building, at a literary event. Finch is killed instantly when he hits the ground.
Sales of Knuckle Sandwich subsequently surge, but by this stage Hoggins is behind bars. In another cruel twist of fate, Hoggins had signed over all royalties from the novel to his publisher, so in the end doesn't see a penny. Perhaps he hoped to profit from the sales of a follow up title he wrote while incarcerated.
For the rest of us though, I suggest slow and steady, with no one getting hurt, wins the race when it comes to making it as an unknown author.
RELATED CONTENT
books, novels, Tom Hanks, writing
12 September 2022
Can dystopian stories bring about positive change, or do they dull readers into accepting the grim inevitable? Climate change will destroy the world. Governments will soon control our every thought. And so on. British novelist and critic Olivia Laing suggests stories that are more positive, may bring about — you know — positive outcomes.
We become accustomed to what we once found shocking. The bad future lives inside people's heads, gathering its own momentum. It seems to me we've put too much faith in the inoculatory power of terrifying simulations, rather than realising that for certain viewers they might suggest appetising possibilities, while for others they confirm dread, magnifying the emotions that contribute to paralysis and foreclosing on any more liberating or enlivening alternatives.
This doesn't mean the world needs more stories with conflict-free plots, rather outcomes that might inspire readers instead of disheartening them.
RELATED CONTENT
12 September 2022
ManyBooks is an online book resource offering free access to over fifty-thousand titles. That should keep you occupied for a while.
ManyBooks was established in 2004 with the vision to provide an extensive library of books in digital format for free on the Internet. Many of the early eBooks are from the Project Gutenberg archives, which means you will be able to find a lot of classics on the site.
RELATED CONTENT
26 August 2022
Finding a traditional publisher for a novel is becoming ever more difficult. For one thing, aspiring — being unpublished — authors, are up against who knows how many other hopeful novelists. They also have to contend with a shrinking pool of publishing houses, as the industry appears to be going through a consolidation, which is seeing many smaller and independent publishers absorbed by larger players.
Even authors with several published works to their name, are reporting waits of up to a year to hear back about a pitch. But adding to the woes of many authors, emerging and established, are so-called morality clauses some publishers are including in their agreements.
In short, if a writer fails to meet a certain standard of behaviour, they may lose any advances or royalties they've received. The problem author advocates — such as the Authors Guild — have with morality clauses are the sometimes vague definitions of inappropriate or wrong conduct.
These contract provisions allow publishers to terminate a book contract, and in many cases even require the author to repay portions of the advance already received, if the author is accused of immoral, illegal, or publicly condemned behavior. Publishers insist they need the clauses to protect themselves in the event an author's reputation becomes so tarnished after the book contract is signed that it will hurt sales. But most of these clauses are too broad and allow a publisher to terminate based on individual accusations or the vague notion of "public condemnation" — which can occur all too easily in these days of viral social media.
People should be held accountable for wrong-doing, but everyone is entitled to proper due-process. The concern is morality clauses, particularly where the definition of inappropriate or wrong behaviour is poorly defined, could be used unfairly against some authors.
RELATED CONTENT
25 August 2022
American author Ted Gioia intends to publish his next book on Substack, an online publishing platform. This really is worth a read for anyone considering self-publishing a novel.
The Internet may be a curse in many regards, but it has given me direct contact with my readers. I cherish that. Things that once took a year now happen instantaneously. Instead of getting feedback from one editor, I learn from thousands of people, many of them very smart with useful things to say. The whole process is energized, streamlined, and turbocharged.
RELATED CONTENT
novels, publishing, Ted Gioia, writing
18 August 2022
To mark the one-hundredth anniversary of the publication of Irish novelist James Joyce's 1922 novel Ulysses, British newspaper The Times has ranked the fifty best books of the twenty-first century, according to the nominations of contemporary authors and literary critics.
Between them they have read thousands of books, and their choices reflect this: the oldest book was published in 1924, the most recent in 2009. The list includes writers from Britain, Ireland, the US, Nigeria, India and South Africa, with subject matter just as diverse. You will find scalp-hunting outlaws, organ-donating clones and Wall Street traders.
To the Lighthouse by Virginia Woolf, The Prime of Miss Jean Brodie by Muriel Spark, and Giovanni's Room by James Baldwin, are among inclusions. When it comes to Joyce's work, I've read A Portrait of the Artist as a Young Man, but am yet to take on Ulysses, but I will, but I will…
RELATED CONTENT
books, James Joyce, literature, novels
13 August 2022
The world is full of writers and the stories they'd like to write. American author Joseph Epstein, writing for the New York Times, quotes research suggesting eighty-one percent of Americans think they "have a book in them". That's a lot. Unfortunately, aspiring writers vastly outnumber book publishers, meaning many manuscripts stand to go unnoticed and unpublished.
It might not seem like much help, but Strange Horizons — a magazine publishing speculative fiction — once put together a list of the types of sci-fi stories that they've seen submitted too often, and subsequently did not feature. I suspect they're not the only publishers seeing such ideas either. Knowing what might be rejected then, might help you write something that won't be.
RELATED CONTENT
books, novels, science fiction, writing
11 August 2022
Out of Breath by Anna Snoekstra, The House of Fortune by Jessie Burton, and Random Acts of Unkindness by Anna Mandoki, are among reading suggestions for August, put together by Lucy Sussex and Steven Carroll.
RELATED CONTENT