Showing all posts tagged:
novels
12 September 2022
Can dystopian stories bring about positive change, or do they dull readers into accepting the grim inevitable? Climate change will destroy the world. Governments will soon control our every thought. And so on. British novelist and critic Olivia Laing suggests stories that are more positive, may bring about — you know — positive outcomes.
We become accustomed to what we once found shocking. The bad future lives inside people's heads, gathering its own momentum. It seems to me we've put too much faith in the inoculatory power of terrifying simulations, rather than realising that for certain viewers they might suggest appetising possibilities, while for others they confirm dread, magnifying the emotions that contribute to paralysis and foreclosing on any more liberating or enlivening alternatives.
This doesn't mean the world needs more stories with conflict-free plots, rather outcomes that might inspire readers instead of disheartening them.
THINGS TO DO
Share to Twitter ★ Share to Facebook ★ Buy me a coffee ☕
RELATED CONTENT
12 September 2022
ManyBooks is an online book resource offering free access to over fifty-thousand titles. That should keep you occupied for a while.
ManyBooks was established in 2004 with the vision to provide an extensive library of books in digital format for free on the Internet. Many of the early eBooks are from the Project Gutenberg archives, which means you will be able to find a lot of classics on the site.
THINGS TO DO
Share to Twitter ★ Share to Facebook ★ Buy me a coffee ☕
RELATED CONTENT
26 August 2022
Finding a traditional publisher for a novel is becoming ever more difficult. For one thing, aspiring — being unpublished — authors, are up against who knows how many other hopeful novelists. They also have to contend with a shrinking pool of publishing houses, as the industry appears to be going through a consolidation, which is seeing many smaller and independent publishers absorbed by larger players.
Even authors with several published works to their name, are reporting waits of up to a year to hear back about a pitch. But adding to the woes of many authors, emerging and established, are so-called morality clauses some publishers are including in their agreements.
In short, if a writer fails to meet a certain standard of behaviour, they may lose any advances or royalties they've received. The problem author advocates — such as the Authors Guild — have with morality clauses are the sometimes vague definitions of inappropriate or wrong conduct.
These contract provisions allow publishers to terminate a book contract, and in many cases even require the author to repay portions of the advance already received, if the author is accused of immoral, illegal, or publicly condemned behavior. Publishers insist they need the clauses to protect themselves in the event an author's reputation becomes so tarnished after the book contract is signed that it will hurt sales. But most of these clauses are too broad and allow a publisher to terminate based on individual accusations or the vague notion of "public condemnation" — which can occur all too easily in these days of viral social media.
People should be held accountable for wrong-doing, but everyone is entitled to proper due-process. The concern is morality clauses, particularly where the definition of inappropriate or wrong behaviour is poorly defined, could be used unfairly against some authors.
THINGS TO DO
Share to Twitter ★ Share to Facebook ★ Buy me a coffee ☕
RELATED CONTENT
25 August 2022
American author Ted Gioia intends to publish his next book on Substack, an online publishing platform. This really is worth a read for anyone considering self-publishing a novel.
The Internet may be a curse in many regards, but it has given me direct contact with my readers. I cherish that. Things that once took a year now happen instantaneously. Instead of getting feedback from one editor, I learn from thousands of people, many of them very smart with useful things to say. The whole process is energized, streamlined, and turbocharged.
THINGS TO DO
Share to Twitter ★ Share to Facebook ★ Buy me a coffee ☕
RELATED CONTENT
novels, publishing, Ted Gioia, writing
18 August 2022
To mark the one-hundredth anniversary of the publication of Irish novelist James Joyce's 1922 novel Ulysses, British newspaper The Times has ranked the fifty best books of the twenty-first century, according to the nominations of contemporary authors and literary critics.
Between them they have read thousands of books, and their choices reflect this: the oldest book was published in 1924, the most recent in 2009. The list includes writers from Britain, Ireland, the US, Nigeria, India and South Africa, with subject matter just as diverse. You will find scalp-hunting outlaws, organ-donating clones and Wall Street traders.
To the Lighthouse by Virginia Woolf, The Prime of Miss Jean Brodie by Muriel Spark, and Giovanni's Room by James Baldwin, are among inclusions. When it comes to Joyce's work, I've read A Portrait of the Artist as a Young Man, but am yet to take on Ulysses, but I will, but I will…
THINGS TO DO
Share to Twitter ★ Share to Facebook ★ Buy me a coffee ☕
RELATED CONTENT
books, James Joyce, literature, novels
13 August 2022
The world is full of writers and the stories they'd like to write. American author Joseph Epstein, writing for the New York Times, quotes research suggesting eighty-one percent of Americans think they "have a book in them". That's a lot. Unfortunately, aspiring writers vastly outnumber book publishers, meaning many manuscripts stand to go unnoticed and unpublished.
It might not seem like much help, but Strange Horizons — a magazine publishing speculative fiction — once put together a list of the types of sci-fi stories that they've seen submitted too often, and subsequently did not feature. I suspect they're not the only publishers seeing such ideas either. Knowing what might be rejected then, might help you write something that won't be.
THINGS TO DO
Share to Twitter ★ Share to Facebook ★ Buy me a coffee ☕
RELATED CONTENT
books, novels, science fiction, writing
11 August 2022
Out of Breath by Anna Snoekstra, The House of Fortune by Jessie Burton, and Random Acts of Unkindness by Anna Mandoki, are among reading suggestions for August, put together by Lucy Sussex and Steven Carroll.
THINGS TO DO
Share to Twitter ★ Share to Facebook ★ Buy me a coffee ☕
RELATED CONTENT
8 August 2022
Everything Feels Like the End of the World (published by Allen & Unwin, 2 August 2022), by Mornington Peninsula based Australian writer Else Fitzgerald, seems like a book title for the times some days.
Winner of the 2019 Richell Prize for emerging writers, Fitzgerald written a collection of short stories, exploring a number of chilling dystopian futures for Australia, set both in the near and distant future:
Each story is anchored, at its heart, in what it means to be human: grief, loss, pain and love. A young woman is faced with a difficult choice about her pregnancy in a community ravaged by doubt. An engineer working on a solar shield protecting the Earth shares memories of their lover with an AI companion. Two archivists must decide what is worth saving when the world is flooded by rising sea levels. In a heavily policed state that preferences the human and punishes the different, a mother gives herself up to save her transgenic child.
Nanci Nott, writing for Artshub, describes Everything Feels Like the End of the World as an engaging collection of speculative short fictions:
Each tale is intensely personal, vibrant with specificity, and written with precision. Characters don't just exist within their settings; entire worlds inhabit these characters. A master of minutiae and memory, Fitzgerald creates an intricate universe of befores-and-afters, sacrifices and consequences, mundane joys and darkest days.
THINGS TO DO
Share to Twitter ★ Share to Facebook ★ Buy me a coffee ☕
RELATED CONTENT
Australian literature, books, Else Fitzgerald, novels, science fiction
21 July 2022
Image courtesy of wal_172619.
Bodies of Light by Jennifer Down, was named winner of the 2022 Miles Franklin literary award yesterday. As I've said before, the long and short lists of literary awards are great places to find reading inspiration. But, if, unlike me, you're a fast, prolific reader, you might run out of ideas quickly. There's always Goodreads or StoryGraph (which isn't half bad), but they're not the only options for finding something new to read.
Shepherd, founded by Boulder, Colorado, based American entrepreneur Ben Fox, offers reading suggestions based on the recommendations of authors. Fox thinks searching for a book should be fun, an element he believes many online bookshops, and social cataloguing websites, lack.
As a reader, I am incredibly frustrated with the bleak wasteland that is online book discovery. The big bookstores sell books the same way they sell toothpaste, without passion. And, Goodreads makes finding new books about as much fun as browsing a spreadsheet. How you find a book is important. That search is the start of a journey and it should be fun.
In creating Shepherd, Fox hopes to bring the IRL bookstore experience online, and imbue some of the in-store spontaneity to the book discovery process.
What Should I Read Next (WSIRN) works a little differently. Rather than offering author recommendations as Shepherd does, WSIRN will make new reading suggestions based on titles you've read previously that you liked.
Enter a book you like and the site will analyse our huge database of real readers' favourite books to provide book recommendations and suggestions for what to read next.
And it's not just three or four titles either. For example, typing in Conversations with Friends by Sally Rooney, returns an extensive list of suggestions.
THINGS TO DO
Share to Twitter ★ Share to Facebook ★ Buy me a coffee ☕
RELATED CONTENT
6 July 2022
When late British author Mal Peet died in March 2015, his final novel, Beck, remained unfinished.
In a phone call Peet made to friend and American born, London based writer, Meg Rosoff, shortly before his death, he expressed a desire to finish writing Beck, but didn't think he'd be able to. At that point Rosoff offered to step in.
At the time of their conversation, Rosoff knew nothing about the novel, or how much progress Peet had made. But this posthumous collaboration paid off. Beck was well received. In August 2016, the Sunday Times named Beck their Book of the Week, describing it as "powerful, shocking, uplifting, funny and beautifully written."
But this is not the first time one person's novel has been finished by another, because of death or incapacitation. Realising illness would prevent him finishing works in The Wheel of Time series of fantasy books, late American author Robert Jordan, prepared extensive notes, allowing Brandon Sanderson to conclude the fifteen book series.
British writer Siobhan Dowd died in 2007, before A Monster Calls, which she was working on at the time of her death, was finished, a task that Patrick Ness took on.
In some cases though the quantity of notes written by a deceased author have been enough for another to create books from scratch. The works of British author J. R. R. Tolkien are a case in point. After Tolkien's death in 1973, his son Christopher wrote a number of Tolkien novels including, The Silmarillion and The Fall of Númenor.
Despite the success some have enjoyed, taking over another author's part-finished manuscript remains a process fraught with difficulty. How exactly can one writer step into the shoes of another? How do the creative visions of two artistic people align? And perhaps, most crucially, how does one author assume the voice of another?
It was a question Rosoff grappled with, when picking up Beck where Peet left off. But the solution soon came to her: "the answer, I discovered, is not to." It seems then, if an author is sufficiently in synch with the person whose work they are continuing, a book finished posthumously by another author can do well.
THINGS TO DO
Share to Twitter ★ Share to Facebook ★ Buy me a coffee ☕
RELATED CONTENT
books, Mal Peet, Meg Rosoff, novels, writing
5 July 2022
Goodreads has published a list of members top book choices so far, for 2022, across six genres. To Paradise by Hanya Yanagihara, The Maid by Nita Prose, Sea of Tranquility by Emily St. John Mandel, and The Nineties by Chuck Klosterman, are among titles at, or near, the top of their category.
THINGS TO DO
Share to Twitter ★ Share to Facebook ★ Buy me a coffee ☕
RELATED CONTENT
30 May 2022
With books being banned or burned, or both, in some parts, Toronto based Canadian poet and author Margaret Atwood has published a fireproof limited edition of her 1998 novel The Handmaiden's Tale, which is, surprise, surprise, among titles banned in some jurisdictions. Coated with a fire retardant material, the book is able to withstand the fiery force of a flamethrower.
THINGS TO DO
Share to Twitter ★ Share to Facebook ★ Buy me a coffee ☕
RELATED CONTENT
books, Margaret Atwood, novels
27 May 2022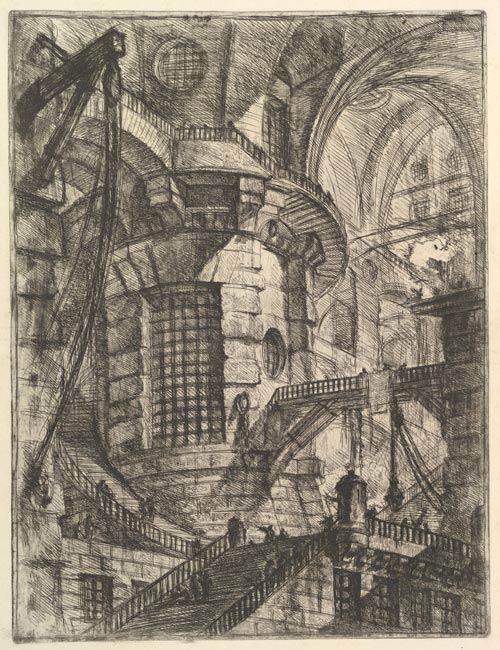 Detail from Imaginary Prisons, by Giovanni Battista Piranesi, courtesy of The Metropolitan Museum of Art.
Warning, spoilers follow. Return to this article once you've finished reading the book.
Imagine you live in a sprawling multi-storied house. The lower levels are flooded by an ocean, while the upper floors are shrouded in mist and clouds. The seemingly endless labyrinth like hallways are adorned with classical style marble statues, and for whatever reason, sea birds have taken to nesting among some of these figures. But it's not really a house you're in, it's more like a complex with the dimensions of a city, and one none too small at that.
This is the world, Piranesi, the titular character in the second novel of British author Susanna Clarke (published by Bloomsbury Publishing, August 2021), finds himself in. Piranesi knows little about how the house came to be, or when he arrived there, although he has vague recollections of living elsewhere before. Come to that, Piranesi knows hardly anything about himself. He's perhaps aged in his mid-thirties, and if pressed, couldn't even be sure his name was Piranesi.
Despite these peculiar circumstances, Piranesi otherwise seems content, and goes about his day to day life as if nothing were amiss. But how would you feel were it you in Piranesi's place? Wouldn't you wonder how you ended up in this predicament, and whether there was a way leave, and return to the real world? Wouldn't you miss family and friends, and wonder if they felt the same way? Wouldn't you crave the company of others at least some of the time?
But Piranesi doesn't appear to be the least bit perturbed. Why though? Does he have some sort of problem? Does he loathe all people, and is thankful for the sanctuary the house offers, a place devoid of humans? Or is he perhaps an introvert, who's found his happy place? Yet Piranesi isn't completely alone in the house. Once or twice a week, he goes to a certain area of the complex, where he briefly meets a middle-aged man, whom Piranesi refers to as The Other.
If Piranesi knows little about himself, he knows even less about The Other. He has no idea who this gentleman really is — although he believes him to be some sort of academic — nor does he know where The Other resides in the house. The Other meanwhile frequently questions Piranesi, and even sets him tasks, some relatively arduous. One such request required Piranesi to walk to a distant point in the house, on a journey lasting two days return.
To make a comparison, and better understand the scale of the house, I looked up the walking time and distance from Sydney's CBD to the western suburb of Penrith on Google, and was advised the trek is approximately fifty-six kilometres in length, and the non-stop walk would take almost twelve hours.
Of course the question of exactly what sort of place Piranesi finds himself in came up repeatedly as I read the novel, particularly as he never encountered anyone else — at least not at first — in the sprawling complex. While plenty of Clarke's readers (myself included) have ideas as to the nature of the house, and what it really is, I found myself wondering how Piranesi could remain oblivious to his acute isolation, and not miss the company of other people.
After all, surely not even the most extreme of introverts would continuously crave the deep solitude of the apparently empty house. But there were indications Piranesi was lonely. He regarded the sea birds nesting in the statues in some of the hallways as friends, and would often have conversations — albeit one-sided — with them. But when it becomes obvious another person is lurking, out of sight, in the house, Piranesi is keen to find out who they are.
In trying to understand Piranesi's apparently people averse personality, I would describe him as an introvert. But no ordinary — if there is such a thing — introvert. To live alone for years in a vast complex, spending perhaps an hour at most, once a week, with one other person could not be anyone's ideal. While it can argued something else is going on, that he is unaware of, Piranesi's outright acceptance of his plight remains compelling. Piranesi is certainly an introvert, but he's more, he's an introvert on steroids.
THINGS TO DO
Share to Twitter ★ Share to Facebook ★ Buy me a coffee ☕
RELATED CONTENT
fiction, introversion, novels, psychology, Susanna Clarke
23 May 2022
A novel that is a contemporary re-telling of the story of nineteenth century Australian bushranger and outlaw Ned Kelly? Ok, you have my attention. Such is the premise of Red (published by HarperCollins, 18 May 2022), the second novel by Sydney based Australian writer and journalist, Felicity McLean.
But McLean isn't flippantly bandying about references to Ned Kelly merely to, you know, attract attention, she has partly based her protagonist Ruby "Red" McCoy, on the contents of Kelly's 1879 Jerilderie letter.
It's the early 1990s and Ruby 'Red' McCoy dreams about one day leaving her weatherboard house on the Central Coast of New South Wales, where her best friend, Stevie, is loose with the truth, and her dad, Sid, is always on the wrong side of the law. But wild, whip-smart Red can't stay out of trouble to save her life, and Sid's latest hustle is more harebrained than usual. Meanwhile, Sergeant Trevor Healy seems to have a vendetta against every generation of the McCoys.
So far only a few reviews of Red have been published, but Australian author John Purcell holds McLean's writing in high regard:
But the novel's greatest strength is the voice of narrator Red. I know it is loosely based on Ned Kelly's voice from the famous [Jerilderie] letter, but it goes well beyond that. Red speaks to us as a fully formed living entity with her own ticks and wisdom. So much so that I started to believe McLean must have suffered from some kind of unholy possession throughout the writing of the book. Red's narration overflows with colourful anecdotes, cheek and bravado. McLean's use of language is ceaselessly inventive, coming up with the goods time and time again.
THINGS TO DO
Share to Twitter ★ Share to Facebook ★ Buy me a coffee ☕
RELATED CONTENT
Australian literature, books, Felicity McLean, novels
21 May 2022
That appears to be the case for the Irish author's 2018 book Conversations with Friends, writes Robert Moran for Stuff:
All the forensic psychological nuance that Rooney feeds us through Frances – her neurotic overthinking, her spiky self-loathing, her overworked efforts to affect nonchalant charm – those chaotic moments that lend Frances her skewed humanity, are dulled, if not lost, on screen. What you're left with is lingering shots of Frances staring out a rain-streaked window, presumably deep in existential thought, but who knows?
Disappointing. I know I just about always look forward the screen adaptation of the novels I like, despite an innate weariness to the book to film thing…
THINGS TO DO
Share to Twitter ★ Share to Facebook ★ Buy me a coffee ☕
RELATED CONTENT
novels, Sally Rooney, screen adaptations
20 April 2022
Groundskeeping (published by Allen & Unwin/Faber Fiction, March 2022) is the debut novel of New York City based American author Lee Cole, is the story of a perhaps forbidden, and likely mismatched love, set on the campus of a university in the American state of Kentucky.
Eager to clean up his act after his troubled early twenties, Owen has returned to Kentucky to take a job as a groundskeeper at a small college in the Appalachian foothills, one which allows him to enrol on their writing course. It's there that he meets Alma, a Writer-in-Residence, who seems to have everything Owen doesn't – a prestigious position, an Ivy League education, and published success as a writer. They begin a secret relationship, and as they grow closer, Alma, from a supportive, liberal family of Bosnian immigrants, struggles to understand Owen's fraught relationship with his own family and home.
THINGS TO DO
Share to Twitter ★ Share to Facebook ★ Buy me a coffee ☕
RELATED CONTENT
14 April 2022
Goodnight, Vivienne, Goodnight (published by HarperCollins, March 2022), by Melbourne base Australian novelist Steven Carroll, re-imagines a different, perhaps happier, life for Vivienne Haigh-Wood, the troubled first wife of English author and poet, T. S. Eliot.
London, June 1940. With help from friends, Vivienne Haigh-Wood, the wife of celebrated poet TS Eliot, is about to effect a daring escape from Northumberland House, the private insane asylum where she has been held for the past four years. Her family, and most particularly her husband, think she's insane – and maybe she has been, in the past, Vivienne thinks, mad with love, that is, but she is starting to finally feel like herself again.

There is an old law, Vivienne has been told, that if a person can break out of an asylum and stay free for thirty days, proving they can look after themselves, they can't make you go back. But closing in on Vivienne is the young Detective Sergeant Stephen Minter, a man with a hidden past of his own, who has orders to track her down…
Eliot is often referred to, though he does not feature as a character, while the presence of the police officer, Stephen Minter, at times lends Goodnight, Vivienne, Goodnight, the final instalment of The Eliot Quartet, with the feel of a police procedural, says Dennis Haskell, writing for The Sydney Morning Herald:
The novel is in part a detective story, but not your usual crime caper. Vivienne's crime is not really a crime at all; Minter is the opposite of any hard-boiled cop; and Goodnight is not plot-driven. Carroll's interest is always in character, and his novels are more thoughtful and meditative than dramatic.
THINGS TO DO
Share to Twitter ★ Share to Facebook ★ Buy me a coffee ☕
RELATED CONTENT
Australian writing, novels, Steven Carroll
12 April 2022
In the period 1 July 2021 to 31 March 2022, some 1,145 book titles were banned in American schools, according to PEN America, an authors, and free speech advocacy, group.
In total, for the nine-month period represented, the Index lists 1,586 instances of individual books being banned, affecting 1,145 unique book titles. This encompasses different types of bans, including removals of books from school libraries, prohibitions in classrooms, or both, as well as books banned from circulation during investigations resulting from challenges from parents, educators, administrators, board members, or responses to laws passed by legislatures.
Titles featuring LGBTQIA+ characters, and people of colour, are among many of the books that have become the subject of bans. PEN America notes that while challenges or objections to books made available to school students are within the rights of parents, the number of titles that have been challenged "expanded rapidly" during the nine month reporting period.
THINGS TO DO
Share to Twitter ★ Share to Facebook ★ Buy me a coffee ☕
RELATED CONTENT
11 April 2022
Those Who Perish (published by Allen & Unwin, March 2022) is the new novel from Melbourne based Australian author Emma Viskic, and is the fourth, and concluding, title in the Caleb Zelic series of novels.
Deaf PI Caleb Zelic has always been an outsider, estranged from family and friends. But when he receives a message that his brother, Anton, is in danger, Caleb sees it as a chance at redemption. He tracks Anton down to a small, wind-punished island, where secrets run deep and resentments deeper. When a sniper starts terrorising the isolated community, the brothers must rely on each other like never before. But trust comes at a deadly price…
For devotees of mystery and crime writing, Viskic will be speaking about Those Who Perish this evening, Monday 11 April 2022, at Brisbane's Avid Reader Bookshop.
THINGS TO DO
Share to Twitter ★ Share to Facebook ★ Buy me a coffee ☕
RELATED CONTENT
5 April 2022
Where the Crawdads Sing, by American novelist Delia Owens, has emerged as the winner of the Dymocks Top 101 books 2022 poll. A film adaptation, directed by Olivia Newman, will show in Australian cinemas from Thursday 14 July 2022, by the looks of things.
Also among the top ten titles voted for in the Australian bookshop's poll, are The Seven Husbands of Evelyn Hugo by Taylor Jenkins Reid, The Dictionary of Lost Words by Pip Williams, and The Happiest Man on Earth, by Eddie Jaku.
THINGS TO DO
Share to Twitter ★ Share to Facebook ★ Buy me a coffee ☕
RELATED CONTENT