Asteroid City, a film by Wes Anderson
2 April 2023
After an asteroid buzzed uncomfortably close to Earth several days ago, the trailer for American filmmaker Wes Anderson's new film, Asteroid City, landed, if you'll excuse the pun. Does this mean Anderson is psychic, or does he have a knack for — if you'll excuse another pun — hitting the mark? One thing's certain though, Anderson has a knack for getting it right with cinema-goers, and Asteroid City, billed as science fiction romantic comedy drama, his eleventh feature, looks to be no exception.
What's Asteroid City about then?
A widower (Jason Schwartzman) is driving his son Woodrow (Jake Ryan), and three daughters, across the United States to see their grandfather (Tom Hanks), during the summer of 1955. Their car breaks down in a town called Asteroid City, situated in the middle of the Arizona desert. They happen to arrive in time for a stargazers' convention, held on Asteroid Day, which commemorates the day the Arid Plains Meteorite is said to have struck the area, on 23 September 3007 BCE.
Woodrow is intrigued by the event that draws people from across the world, and wants to stay for it. With their car undergoing repairs, Woodrow's father calls his grandfather, who reluctantly agrees to come and collect his sisters. The widower and his children are not the only visitors to Asteroid City though. Midge Campbell (Scarlett Johansson), a movie star is also in town. But then strange things begin happening. Loud bangs are heard, and earthquakes rock the town.
Locals begin reporting the presence of extra-terrestrials, and the authorities decide to seal off Asteroid City, until they can figure out what's going on. Woodrow and his family, along with the other visitors in town, are forced to stay put. It may not be all bad for the reserved, awkward Woodrow though. He's met a girl, also in town for the stargazers' convention, and the two seem to feel they share a connection…
For those who in late, Wes Anderson is…
A filmmaker who hails from Houston, Texas. Although Anderson wanted to be a writer, he was always making films. Growing up, Anderson often made homemade films, with his siblings and friends. He also worked as a cinema projectionist while at university. He made his first full length feature Bottle Rocket in 1996, which was based on an earlier short film he'd made with the same name. Three of his works feature on the BBC's 100 Greatest Films of the 21st Century.
There are many ways to describe Anderson's films. Quirky. Eccentric. Whimsical. Vintage. Nostalgic. With an abundance of rich pastel colours, his stories hark back to a world where life was a little simpler, though a dark streak is often ever present. Stylistically, Asteroid City looks to be no different, but if the trailer is anything to go by, Anderson has ramped up the colour saturation, imbuing the story with a truly fairy tale like quality.
As such Asteroid City is par for the Anderson course, and is his first foray into science fiction, with the possible exception of 2018's Isle of Dogs.
A sci-fi potpourri perhaps?
While the trailer only offers a glimpse of what's to come, the references to Steven Spielberg's 1977 film Close Encounters of the Third Kind, and 1968's 2001: A Space Odyssey, by Stanley Kubrick, are pretty clear. And after all, how could any Wes Anderson movie with an outer space tack not have a nod to 2001? It remains to be seen whether there are any Star Wars and Star Trek imprints though, but I have a feeling they'll be in there somewhere.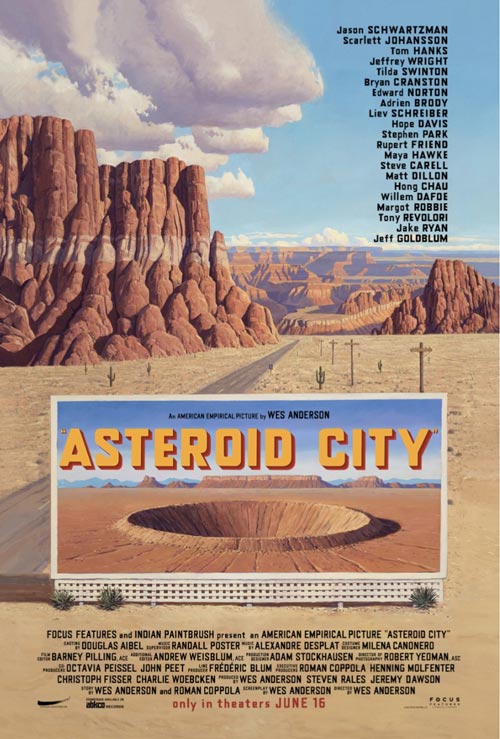 The gang's all here
On top of his distinct film and storytelling style, Anderson usually works with the same writers and actors. He often co-writes screenplays with Jason Schwartzman, who stars in Asteroid City, along with frequently collaborating with Noah Baumbach and Roman Coppola. On screen, regular Anderson standbys include Willem Dafoe, Tilda Swinton, Jeff Goldblum, Adrien Brody, Edward Norton, Liev Schreiber, and the aforementioned Scarlett Johansson.
But the large cast features more than just Anderson regulars. Hong Chau, Margot Robbie, Bryan Cranston, Jarvis Cocker, and Sonia Gascón, are also among this ensemble cast of astronomical proportions. Conspicuous by absence though is Bill Murray, who has featured in every Anderson feature except Bottle Rocket. Murray was unable to participate after being diagnosed with Covid, shortly before production commenced. Steve Carell was cast to take Murray's place instead.
Asteroid City meanwhile is the first Wes Anderson film that Tom Hanks has appeared in.
That's a wrap, almost…
Despite being set in the Arizona desert, Asteroid City was mostly filmed in Spain, in Chinchón, a town about fifty kilometres to the south east of Madrid. From what I can tell, the Arizona desert sure looks like the Arizona desert, though I'm not sure why Anderson didn't go for the real thing. Maybe Covid restrictions applying at the time ruled out other locations. Or it could be a matter of convenience, as Anderson lives not too far away in Paris.
I'm also wondering if there's any significance to the date of Asteroid Day, being 23 September. What's up with 23 September? It's probably a totally random date, but I checked for notable past events occurring on 23 September anyway. Encyclopædia Britannica reports American musician John Coltrane was born on that day in 1926, while actor, choreographer, and film director John Fosse died on 23 September, in 1987.
Austrian neurologist Sigmund Freud, who devised psychoanalysis, also died that day, in 1939. Perhaps the momentousness of Asteroid Day's date, if there is one, will come to light at a later time.
Asteroid City is set to premiere at the Cannes Film Festival in May 2023, and open in Australian cinemas on Thursday 22 June 2023.
RELATED CONTENT