Showing all posts tagged:
trailer
2 April 2023
After an asteroid buzzed uncomfortably close to Earth several days ago, the trailer for American filmmaker Wes Anderson's new film, Asteroid City, landed, if you'll excuse the pun. Does this mean Anderson is psychic, or does he have a knack for — if you'll excuse another pun — hitting the mark? One thing's certain though, Anderson has a knack for getting it right with cinema-goers, and Asteroid City, billed as science fiction romantic comedy drama, his eleventh feature, looks to be no exception.
What's Asteroid City about then?
A widower (Jason Schwartzman) is driving his son Woodrow (Jake Ryan), and three daughters, across the United States to see their grandfather (Tom Hanks), during the summer of 1955. Their car breaks down in a town called Asteroid City, situated in the middle of the Arizona desert. They happen to arrive in time for a stargazers' convention, held on Asteroid Day, which commemorates the day the Arid Plains Meteorite is said to have struck the area, on 23 September 3007 BCE.
Woodrow is intrigued by the event that draws people from across the world, and wants to stay for it. With their car undergoing repairs, Woodrow's father calls his grandfather, who reluctantly agrees to come and collect his sisters. The widower and his children are not the only visitors to Asteroid City though. Midge Campbell (Scarlett Johansson), a movie star is also in town. But then strange things begin happening. Loud bangs are heard, and earthquakes rock the town.
Locals begin reporting the presence of extra-terrestrials, and the authorities decide to seal off Asteroid City, until they can figure out what's going on. Woodrow and his family, along with the other visitors in town, are forced to stay put. It may not be all bad for the reserved, awkward Woodrow though. He's met a girl, also in town for the stargazers' convention, and the two seem to feel they share a connection…
For those who in late, Wes Anderson is…
A filmmaker who hails from Houston, Texas. Although Anderson wanted to be a writer, he was always making films. Growing up, Anderson often made homemade films, with his siblings and friends. He also worked as a cinema projectionist while at university. He made his first full length feature Bottle Rocket in 1996, which was based on an earlier short film he'd made with the same name. Three of his works feature on the BBC's 100 Greatest Films of the 21st Century.
There are many ways to describe Anderson's films. Quirky. Eccentric. Whimsical. Vintage. Nostalgic. With an abundance of rich pastel colours, his stories hark back to a world where life was a little simpler, though a dark streak is often ever present. Stylistically, Asteroid City looks to be no different, but if the trailer is anything to go by, Anderson has ramped up the colour saturation, imbuing the story with a truly fairy tale like quality.
As such Asteroid City is par for the Anderson course, and is his first foray into science fiction, with the possible exception of 2018's Isle of Dogs.
A sci-fi potpourri perhaps?
While the trailer only offers a glimpse of what's to come, the references to Steven Spielberg's 1977 film Close Encounters of the Third Kind, and 1968's 2001: A Space Odyssey, by Stanley Kubrick, are pretty clear. And after all, how could any Wes Anderson movie with an outer space tack not have a nod to 2001? It remains to be seen whether there are any Star Wars and Star Trek imprints though, but I have a feeling they'll be in there somewhere.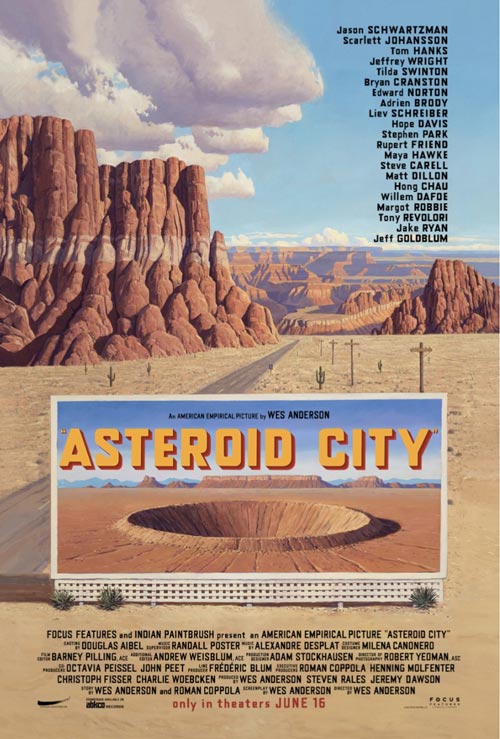 The gang's all here
On top of his distinct film and storytelling style, Anderson usually works with the same writers and actors. He often co-writes screenplays with Jason Schwartzman, who stars in Asteroid City, along with frequently collaborating with Noah Baumbach and Roman Coppola. On screen, regular Anderson standbys include Willem Dafoe, Tilda Swinton, Jeff Goldblum, Adrien Brody, Edward Norton, Liev Schreiber, and the aforementioned Scarlett Johansson.
But the large cast features more than just Anderson regulars. Hong Chau, Margot Robbie, Bryan Cranston, Jarvis Cocker, and Sonia Gascón, are also among this ensemble cast of astronomical proportions. Conspicuous by absence though is Bill Murray, who has featured in every Anderson feature except Bottle Rocket. Murray was unable to participate after being diagnosed with Covid, shortly before production commenced. Steve Carell was cast to take Murray's place instead.
Asteroid City meanwhile is the first Wes Anderson film that Tom Hanks has appeared in.
That's a wrap, almost…
Despite being set in the Arizona desert, Asteroid City was mostly filmed in Spain, in Chinchón, a town about fifty kilometres to the south east of Madrid. From what I can tell, the Arizona desert sure looks like the Arizona desert, though I'm not sure why Anderson didn't go for the real thing. Maybe Covid restrictions applying at the time ruled out other locations. Or it could be a matter of convenience, as Anderson lives not too far away in Paris.
I'm also wondering if there's any significance to the date of Asteroid Day, being 23 September. What's up with 23 September? It's probably a totally random date, but I checked for notable past events occurring on 23 September anyway. Encyclopædia Britannica reports American musician John Coltrane was born on that day in 1926, while actor, choreographer, and film director John Fosse died on 23 September, in 1987.
Austrian neurologist Sigmund Freud, who devised psychoanalysis, also died that day, in 1939. Perhaps the momentousness of Asteroid Day's date, if there is one, will come to light at a later time.
Asteroid City is set to premiere at the Cannes Film Festival in May 2023, and open in Australian cinemas on Thursday 22 June 2023.
RELATED CONTENT
film, science fiction, trailer, video, Wes Anderson
18 March 2023
There's a few tech origin-story films around that the moment. The Playlist is about the founding of music streaming service Spotify, while BlackBerry backgrounds the invention of one of the first smartphones, being, obviously, the BlackBerry.
But here's the one we've been waiting for… Tetris, trailer, the story behind the still popular video game's creation, directed by Scottish filmmaker Jon S. Baird. Nikita Efremov portrays Alexey Pajitnov, the Soviet-born American computer engineer who devised Tetris in 1984, with Taron Egerton as Dutch entrepreneur Henk Rogers, who sought a distribution deal for the game.
It's all high drama, these start-up stories. So much for plodding away quietly in a suburban garage, bringing the next big thing into being.
RELATED CONTENT
film, Jon S. Baird, trailer, video
11 March 2023
A ten year high school reunion goes horribly awry, after a tidal wave transforms the venue into an island, leaving old students of an all-girls school stranded. Will the former school-mates co-operate, or will tensions and rivalries from their school days resurface and overwhelm them?
Emily Browning and Caitlin Stasey, star in the Amazon Prime produced Australian TV series, Class of '07, trailer, created and directed by Kacie Anning, which goes to air on Friday 17 March 2023.
RELATED CONTENT
entertainment, Kacie Anning, television, trailer, video
5 March 2023
Food blogger Liv Healy (Celeste Barber), takes to Sydney's Bondi Beach on a fitness bender, to ready herself for a role as a judge on a prestigious American cooking show, in Wellmania, trailer.
The eight part Netflix produced TV series is based on Wellmania: Misadventures in the Search for Wellness, a novel written by Australian journalist and speech writer Brigid Delaney, who co-wrote the screenplay with Sydney based author and broadcaster Benjamin Law.
Wellmania goes to air on Wednesday 29 March 2023.
RELATED CONTENT
Benjamin Law, Brigid Delaney, Celeste Barber, entertainment, television, trailer, video
30 January 2023
Conductors are synonymous with classical music performances, yet at the first recital I went to, a show by the Australian Chamber Orchestra (ACO) in 2009, at the Sydney Opera House, no conductor was present. Instead, ACO artistic director, and lead violin player, Richard Tognetti, led proceedings.
To many people though, a conductor is something of a mystery. Why does there need to be someone waving a stick, called a baton, at the orchestra? Do the musicians not know what to do? Did they not practice the pieces prior to the show? The ACO manages without a conductor, why then can't anyone else? And how on earth can performers at a distance from the conductor even discern the many, swift, and seemingly all too subtle, baton gestures?
Further, why are conductors accorded a special status? Why are they treated to a separate round of applause, upon making a separate entrance to the auditorium, after the musicians have already assembled on stage? That conductors effectively only came into being about two hundred years ago, only adds to the enigma. Prior to 1820, orchestras were similar to the ACO, and directed themselves. It was only as orchestras grew in size though, did the need for a separate person to lead the musicians manifest itself.
Knowing the Score, trailer, a documentary about the life and work of Australian conductor Simone Young, may answer some of these questions. While early conductors were the subject of derision, particularly from musicians who felt they served no real purpose, Young has also encountered her share of naysayers. Despite this, Young, presently chief conductor of the Sydney Symphony Orchestra, is regarded as one of the world's leading orchestral conductors.
Knowing the Score, directed by Australian documentary maker Janine Hosking, opens in Australian cinemas on Thursday 16 February 2023. The world premiere takes place at the Ritz Cinema in Randwick, Sydney, on Sunday 5 February 2023, and features a Q&A session with Young following the screening.
RELATED CONTENT
film, Janine Hosking, music, Simone Young, trailer, video
18 January 2023
The finer production details of a film are usually something I don't pay much attention to. I'm primarily interested in the story, and the way it is told. Having said that, I don't mind filmmakers talking about, say, visual effects, if it's being discussed incidentally. Otherwise, that sort of thing is what film awards are for. But when a filmmaker talks about nothing other than production techniques, and little of the story, it makes me wonder. Do they really have nothing else to say about their work?
So far though, I cannot say I've heard a single word about the filming of The Whale, trailer, by American director Darren Aronofsky (Requiem for a Dream, Black Swan). What has caught my eye though, are the stills of Charlie, the morbidly obese protagonist, a British teacher, portrayed by Canadian-American actor Brendan Fraser. At first I thought his appearance was the product of the post production unit, and the efforts of a skilled visual effects team.
But I was wrong. Fraser's look is quite real, or somewhat so. For the role of Charlie, who weighs over two hundred and seventy kilograms, Fraser was required to put on a considerable amount of weight. This surely cannot be as easy as it might sound. Ten to twenty kilograms maybe, depending on an actor's stature, but more has to be a challenge, and possibly even a health risk. Never let it be said that acting is an occupation merely requiring a practitioner to feign certain emotions.
In the end, Fraser did not gain sufficient weight, and was required to wear a fat suit, an under garment often used by actors — sometimes controversially — to alter the appearance of their weight. But the suit worn by Fraser was itself heavy. By adding dried beans and marbles to the outfit, its weight was said to have been over one hundred and thirty kilograms. The idea here, I imagine, was to make Fraser feel as heavy as he looked, for the sake of authenticity.
While his appearance, and efforts to put on weight, have attracted some criticism, early reviews of Fraser's portrayal of Charlie have been generally positive to date. The Whale opens in Australian cinemas on Thursday, 2 February 2023, with the Australian premiere taking place at the Westpac OpenAir cinema, located at Mrs Macquaries Point, in Sydney's Royal Botanic Garden, on the evening of Sunday, 22 January 2023.
RELATED CONTENT
Darren Aronofsky, film, trailer, video
16 January 2023
You may not have heard of Indigenous Australian artist and activist Richard Bell, but he has been at the forefront of political activism for over fifty years. Describing himself as an activist masquerading as an artist, Bell has spent fifty years fighting for Aboriginal rights and self determination, through his art and protest.
One of his best known works, an installation titled Embassy, was inspired by the Aboriginal Tent Embassy protest, which was first established on the lawns outside Australia's parliament building in 1972. Bell's installation has been presented in Australia, and cities across the world, including Jakarta, New York, Moscow, and Jerusalem.
Bell's life and work is now the subject of a documentary, You Can Go Now, trailer, directed by Australian academic, Indigenous advocate, and author, Larissa Behrendt. Behrendt's most recent novel, After Story, published in 2021, was longlisted in the 2022 Miles Franklin literary award.
You Can Go Now opens in Australian cinemas on Thursday 26 January 2023. Bell and Behrendt will also be participating in Q&A preview screenings at the Museum of Contemporary Art, and Dendy Cinema, Newtown, on Tuesday 24 January, and the National Film and Sound Archive, in Canberra, on Wednesday 25 January.
RELATED CONTENT
art, film, Larissa Behrendt, literature, Richard Bell, trailer, video
10 January 2023
The Netflix produced adaptation of Italian author's Elena Ferrante's 2019 coming-of-age novel The Lying Life of Adults, about a teenage girl named Giovanna, living in Naples, is now streaming.
Giovanna's pretty face is changing, turning ugly, at least so her father thinks. Giovanna, he says, looks more like her Aunt Vittoria every day. But can it be true? Is she really changing? Is she turning into her Aunt Vittoria, a woman she hardly knows but whom her mother and father clearly despise? Surely there is a mirror somewhere in which she can see herself as she truly is.

Giovanna is searching for her reflection in two kindred cities that fear and detest one another: Naples of the heights, which assumes a mask of refinement, and Naples of the depths, a place of excess and vulgarity. She moves from one to the other in search of the truth, but neither city seems to offer answers or escape.
Somehow the adaptation, based on the trailer at least, is different to how I saw the story when I read it, while a teaser, released in March 2022, only briefly outlined the TV series to follow.
But yeah, so what.
RELATED CONTENT
books, Elena Ferrante, entertainment, television, trailer, video
10 January 2023
Although regarded as one of the greatest English language books, Wuthering Heights, the haunting 1847 novel of British writer Emily Brontë, was met with a mixed reception when published under Brontë's non de plume, Ellis Bell. Critics hailed Brontë's story of star crossed lovers Heathcliff and Catherine Earnshaw — her only published novel — as original, imaginative, and intriguing, but were shocked by the book's depictions of violence, domestic abuse, sexual passion, and its host of narcissistic characters.
Brontë's novel later went on to spawn numerous film, stage, and television adaptations, along with British musician Kate Bush's 1978 single of the same name, which it could be argued is perhaps the most memorable interpretation of the Gothic fiction classic.
Despite Brontë's literary prominence, little is known about her personal life. She was said to be reserved and shy, possibly explaining the lack of detailed writing about her. This dearth of knowledge was one of the challenges facing British born Australian actor and writer, turned filmmaker Frances O'Connor, during the production of her debut feature, Emily, trailer, leaving O'Connor to speculate about the finer details of Brontë's life.
While Emily explores Brontë's relationship with her famous sisters Charlotte, and Anne, and the writing of Wuthering Heights, it also portrays an apparent, doomed, love affair between Brontë and William Weightman, a local member of the clergy. While there is no evidence of any romance between Brontë and Weightman in reality, O'Connor makes the tantalising suggestion the supposed affair inspired the characters of Heathcliff and Catherine, and possibly Wuthering Heights itself.
Emily opens in Australian cinemas on Thursday 12 January 2023, though if you are in Sydney, and move quickly, you may be able to score tickets to a preview screening at the Westpac OpenAir cinema, on the shore of Sydney harbour tomorrow evening, Wednesday 11 January 2023.
RELATED CONTENT
Emily Bronte, film, Frances O'Connor, trailer, video
8 January 2023
Tár (trailer), starring Cate Blanchett, The Banshees of Inisherin (trailer), directed by Martin McDonagh, and Aftersun, written and directed by Charlotte Wells, have featured prominently in the 2022 awards of the National Society of Film Critics. Based on their trailers, they all look like winners to me.
RELATED CONTENT
Cate Blanchett, Charlotte Wells, film, Martin McDonagh, trailer, video
2 January 2023
The Social Network, the 2010 dramatization of the creation of Facebook, directed by American filmmaker David Fincher, was one of my favourite films of that year, even though I may not be the biggest fan of the Facebook itself. But the audacity, the arrogance, the energy, the self-belief, and the growing realisation Mark Zuckerberg (as portrayed in deadpan fashion by Jesse Eisenberg) was onto something, was infectious.
The Playlist, trailer, a Netflix produced docu-drama dramatization about the founding of music streaming service Spotify, released in October 2022, is another start-up show I'm looking forward to seeing, as the Spotify story has some similarities to Facebook.
In 2006, Spotify co-founders Daniel Ek and Martin Lorentzon, set about building the "best music player in the world". One that was both free to use, and legal. To succeed they said, "we just need to get hold of the music rights." What could be simpler? But, the rest — as they say — is history.
Led by Daniel Ek, a group of passionate young entrepreneurs come together in what seems to be the impossible task to change the music industry — and the world. They set out to create a legal streaming service for music.
RELATED CONTENT
music, technology, trailer, video
27 December 2022
Four young women spend a day on a secluded Mediterranean beach with a dog. The friends swim, sing, and talk about film, particularly the work of Steven Spielberg, and Woody Allen.
They also ponder a solitary house on the hill — Alfred Hitchcock anyone? — above the bay, and speculate throughout the day as to who the occupant, or occupants, are.
A couple sitting in a likewise solitary car, parked nearby, also pique their curiosity. The four may not have a plan, their antics and conversation are spontaneous, but the visit to the beach has purpose.
Made in 2019, Winona, trailer, is the fifth feature of Greek filmmaker and musician Alexander Voulgaris, who's also known as The Boy. I saw this on film streaming platform Kanopy the other day.
If you're looking for mainly independently produced films, then Kanopy is the place for you. There's a veritable mixed bag of titles on offer, including one or two blockbusters, but there's some great stuff to be found lurking in the Kanopy catalogue.
RELATED CONTENT
Alexander Voulgaris, film, trailer, video
18 December 2022
What prompts you to see a movie? An interest in the story? Because you liked the book and are hoping against hope the film adaptation is going to be ok? Maybe you're a fan of the director, or one of the lead actors? But what about the trailer? Would viewing a trailer — in isolation, without knowing anything about the film — be enough to inspire you to watch a given title?
The teaser/trailer for Barbie, the latest feature from American filmmaker Greta Gerwig, starring Margot Robbie and Ryan Gosling, might just the trailer that does it for me…
RELATED CONTENT
2001: A Space Odyssey, film, Greta Gerwig, trailer, video
10 December 2022
The Lost King, trailer, tells the story — in its own way — of British writer Philippa Langley, and her relentless work to find the body of English King, Richard III, who died at the Battle of Bosworth Field, in the English county of Leicestershire, in 1485.
There's some serious British talent involved here. Veteran filmmaker Stephen Frears — whose previous work includes My Beautiful Laundrette, The Queen, Tamara Drewe (where I saw him speak at a screening thereof in Sydney in 2011), and Philomena — directs.
Steve Coogan, who also co-wrote the screenplay, portrays Langley's husband, John, while Langley herself is played by Sally Hawkins. Hawkins has to be one of the most prolific actors around. Her career started in 1999 with a role as an extra in Star Wars: Episode I – The Phantom Menace, and since then she has been in Cassandra's Dream, An Education, Never Let Me Go, Made in Dagenham, Submarine, Blue Jasmine, The Shape of Water, and Spencer. To name but a few.
The Lost King opens in Australian cinemas on Monday 26 December 2022.
RELATED CONTENT
film, Sally Hawkins, Stephen Frears, trailer, video
27 November 2022
Moja Vesna is the slow-burning, deeply affecting, debut feature of Melbourne based Slovenian-Australian filmmaker Sara Kern, which premiered at the 2022 Melbourne International Film Festival. The trailer is certainly gripping.
In Melbourne's outer suburbs, reticent Moja, her well-meaning Slovenian father Miloš and her volatile older sister Vesna all struggle to cope with the impacts of a significant death. But Vesna is in denial about the demands of late-stage pregnancy and Miloš barely speaks a word of English, so Moja is forced to assume the role of stabilising presence and cultural mediator — with little chance to mourn the loss of their mother.
Moja Vesna commences a theatrical season in Australian cinemas from today.
RELATED CONTENT
film, Sara Kern, trailer, video
16 November 2022
If we really are witnessing the demise of social media, then Apples, trailer, the 2020 debut of Greek filmmaker Christos Nikou, might offer a glimpse of this brave new world. Of course some people will find the scenario familiar, but others — those who grew up with a parent's smartphone constantly in their hand — might be left feeling disorientated.
Apples is set in contemporary Athens, the capital of Greece, where the world is in the grip of a pandemic that causes instant, and in many cases, permanent amnesia.
Recently widowed Aris (Aris Servetalis) is one of the virus's victims. As he was carrying no identity documents at the time he lost his memory, Aris is taken to a hospital where he waits to be "claimed" by friends or relatives. Medical staff warn this may never happen though. His near and dear may have also succumbed to the disease, and no longer have any memory of him.
When it becomes apparent this is the case, Aris is placed on a program that gives patients a new identity and life. He is given an apartment and a living allowance, but must complete a daily task set by his doctors. Instructions are left on a cassette placed in his letterbox, which he listens to on a cassette player. He is also required to photograph his exploits, using a Polaroid camera.
Assignments variously include riding a bike, going to a horror film, and even crashing a car in a low-impact collision with a fence or a tree. The exercises are intended to help victims of the virus create new memories. While on one of his missions, Aris meets Anna (Sofia Georgovassili), herself a virus victim, and they begin to form a bond.
But nothing is quite what it seems to be in this world devoid of an internet, where people must interact in person, or call around to each other's apartments if they wish to see each other. At times though it seems quite comforting. People appear to live normally, as if the advent of social media and the internet were a passing blip in history.
Could it be that straightforward though? Simply forget the internet — and anything else for that matter — both the convenient and inconvenient it has brought to the world? I doubt it, and so to, I think, do the protagonists in Apples.
RELATED CONTENT
Christos Nikou, film, trailer, video
8 November 2022
Manna from heaven is all eleven year old Irish girl Anna O'Donnell needs to sustain herself. She eats no other food. Or so she, and her family, say. Along with the inhabitants of the nineteenth century Irish Midlands village where Anna lives.
Her situation has come to the attention of the authorities. But is it true? Is the girl able to survive without eating? Or is it a stunt? A ploy contrived to lure curious, cashed-up, tourists to the region?
To ascertain whether the phenomenon is a medical anomaly, or perhaps a sign of something more divine, Lib Wright (Florence Pugh) an English nurse, is dispatched to investigate.
Together with a nun, Wright will take turns to keep watch on Anna (Kíla Lord Cassidy), to see what is happening, in Chilean filmmaker Sebastián Lelio's adaptation, trailer, of Emma Donoghue's 2016 novel (published by Pan Macmillan) of the same name.
I read the novel in 2019, and am looking forward to seeing the story on the big screen. If the trailer is anything to go by, Lelio's film looks like a faithful adaptation of Donoghue's book.
RELATED CONTENT
books, Emma Donoghue, film, Sebastian Lelio, trailer, video
31 October 2022
I miss afternoons spent whiling away more time than I should have, perusing the aisles of the long closed local video hire shop. Somewhere among the cram packed shelves there was bound to be a title I wanted to see, but had missed at the movies. Time consuming the process may have been, but it was somehow cathartic, transcendental even.
Despite a barrage of closures over the last decade, near to five-hundred video hire shops remain open in Australia. Some even experienced a shortlived uptick in business during the COVID enforced lockdowns, as people searched for ways to amuse themselves while housebound.
Those looking to relive the old days of the video hire shop might then enjoy the aptly name TV show Blockbuster, trailer, a Netflix produced comedy set in the last Blockbuster shop in America. Timmy Yoon, the hapless store owner, is not only hopeful of keeping the business afloat, but also, it seems, catching the eye of his favourite employee, Eliza.
Timmy Yoon is an analog dreamer living in a 5G world. And after learning he is operating the last Blockbuster Video in America, Timmy and his staff employees (including his long time crush, Eliza) fight to stay relevant. The only way to succeed is to remind their community that they provide something big corporations can't: human connection.
RELATED CONTENT
entertainment, television, trailer, video
29 October 2022
The Novelist's Film, trailer, the 2022 feature from Seoul based South Korea filmmaker Hong Sang-soo, casts a spotlight on "the importance of authenticity in the dishonest world of cinema." And chance encounters.
The story might strike a chord with authors who have been fortunate enough to have a book of theirs adapted to film, though the writer here seems to be taking a slightly unorthodox approach to bringing her novel to the big screen:
A female novelist takes a long trip to visit a bookstore run by a younger colleague who has fallen out of touch. Then she goes up a tower on her own and runs into a film director and his wife. They take a walk in a park and meet an actress, after which the novelist tries to convince the actress to make a film with her. She and the actress get something to eat, then revisit the bookstore where a group of people are drinking. The actress gets drunk and falls asleep.
RELATED CONTENT
film, Hong Sang-soo, trailer, video
26 October 2022
States of decay can have a beauty to them. Depending on what's in decay, and how up close you are to the action, that is. Leaves that have fallen from trees during autumn can be a colourful spectacle as they decay and breakdown. The same could be said — in some cases at least — for rotting food.
If you can't see what possible appeal there is in watching food go off though, Wrought, trailer, a short timelapse film by Winnipeg, Canada, based producers Joel Penner and Anna Sigrithur, just might change your mind. After all, microbes spoil food, but sometimes they can enrich it:
While the very word 'rot' might give rise to revulsion — perhaps the memory of a mildewed fruit or the pungent stench of a past-its-prime cut of fish — the processes it describes often yield delicious results. Indeed, many of the world's most popular foods, from beer and bread to kimchi and cheese, are born of chemical conversions that would, in other contexts, constitute a food 'going bad'.
RELATED CONTENT