All That's Left Unsaid, debut fiction by Tracey Lien
15 February 2023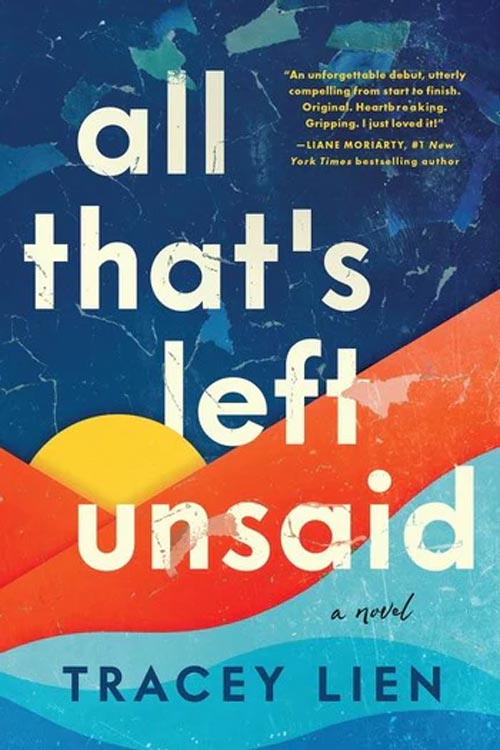 There are ways to begin a writing career, and there are ways to begin a writing career. Your first novel being the subject of a manuscript bidding contest, and then making the shortlist of a major literary award once published, would probably rate as a pretty good start in the eyes of most pundits.
This is what happened to Sydney based Australian journalist and author Tracey Lien, and her novel All That's Left Unsaid, published in September 2022 by HarperCollins Australia. So intense was enthusiasm for Lien's manuscript, it was reported no fewer than nine publishing houses slugged it out for the publishing rights.
Frantic auctions for manuscripts are not uncommon, but they're not exactly every day occurrences either. In 2021, American author Olivie Blake also found herself, and the manuscript of her book The Atlas Six — which she had already self-published — at the centre of a lucrative bidding contest that was sparked on TikTok.
But Lien's story continues. Soon after being published, All That's Left Unsaid was shortlisted in the debut fiction category of the 2023 Indie Book Awards. Needless to say, this is a novel that packs a punch. Ky Tran, a young woman is forced to return to Australia after her younger brother, Denny, is murdered in a busy restaurant, in the Sydney suburb of Cabramatta.
Despite the presence of numerous bystanders though, no one seems to know anything about how Denny died. With local police seemingly uninterested in the case, Ky sets about contacting, and talking to, each of the witnesses present when Denny was killed. But All That's Left Unsaid is more than a murder story.
Lien's novel lifts the lid on a troubled area of Sydney — also home to a large refugee population — during a difficult chapter in its history. The streets were awash with drugs and violence. Cabramatta is also where Australia's first political assassination took place, when John Newman, a New South Wales State parliamentarian was killed outside his home in 1994.
Emma Finn, of London based literary agency C&W Agency described Lien's manuscript as "electrifying and compulsive", at the time the publishing rights were acquired. One can only wonder what might be next for Lien, and All That's Left Unsaid. Blake's novel The Atlas Six is in the process of being adapted for TV, and given interest thus far in Lien's debut, a screen adaptation hardly seems like a surprise. Time will tell.
The winners of the Indie Book Awards will be announced on Monday 20 March 2023.
RELATED CONTENT
Australian literature, books, literature, novels, Tracey Lien