Showing all posts tagged:
books
1 July 2022
It sounds like a scene from Adam Brooks' 2008 film Definitely Maybe, where Ryan Reynolds' character trawls through American bookshops, searching for a particular copy of Jane Eyre. But for Launceston, Tasmania, based bookshop owner Toby Wools-Cobb, it is something the self-professed book detective does all the time.
Mr Wools-Cobb uses the investigative skills from his career as a librarian and the archaeological expertise from his studies in Egyptology to find copies of books from his shop, Quixotic Books. Special algorithms help him scan the millions of titles listed in publisher databases, but he also must understand the "life cycle of books to figure out where they may have ended up".
Some of Wools-Cobb's clients are people who sold a little-known book, perhaps at a garage sale, and are trying to locate it years later. And incredibly, he often succeeds in tracking down a copy.
"I managed to find some information that the author had partnered with a book chain to do a promotion," he said. He tracked down the shop and asked the staff if any promotional stock had been left behind in the storeroom. "They were saying, 'Oh, we don't have it in stock on our system', but sure enough, they go out and sheepishly come back and say, 'We've got a whole box of them'.
Share on Twitter | Share on Facebook
RELATED CONTENT
23 June 2022
The 2022 Miles Franklin Literary Award shortlist was unveiled this evening, with the following five novels making the cut:
Awesome to see Grimmish by Michael Winkler, on the list, now the first self-published novel to reach the Miles Franklin shortlist.
The winner will be named on Wednesday 20 July 2022.
Share on Twitter | Share on Facebook
RELATED CONTENT
Australian literature, books, literary awards, Miles Franklin
1 June 2022
Men don't seem to read too many books written by women. Why this should be, who knows. But if I were to take a guess at it, I'd say men are more likely to be given recommendations for books authored by men, from their male friends. Then there's also the point that it may not occur to men to read titles written by women in the first place, which is unfortunate.
Some of my recent reads include novels by Sally Rooney, Sophie Hardcastle, Susanna Clarke, Jane Caro, Holly Wainwright, Katherine Brabon, and Madeleine Watts.
British author and journalist Mary Ann Sieghart, writing for The Guardian, notes "studies show men avoid female authors," while "women read roughly 50:50 books by male and female authors; for men the ratio is 80:20."
To redress the imbalance, Sieghart spoke to male writers including Ian McEwan (who I've read), Salman Rushdie, Richard Curtis, and Lee Child among others, asking them to name their favourite women authors. There's some solid reading ideas here.
Share on Twitter | Share on Facebook
RELATED CONTENT
30 May 2022
The Melbourne Rare Book Fair returns in 2022 after a COVID enforced break, and takes place at the University of Melbourne, from Thursday 7 July 2022 until Sunday 9 July.
The Melbourne Rare Book Fair is the major annual book fair of ANZAAB and one of only a few rare book fairs in the Southern hemisphere. Now in its 49th edition, and 50th year, the Melbourne Rare Book Fair will again feature rare and wonderful books, manuscripts, ephemera, prints (and much more) from the best rare book and antiquarian dealers across Australia and New Zealand and overseas.
If newer and bountiful aren't your thing, then the Rare Book Fair may be the place for you.
Share on Twitter | Share on Facebook
RELATED CONTENT
30 May 2022
With books being banned or burned, or both, in some parts, Toronto based Canadian poet and author Margaret Atwood has published a fireproof limited edition of her 1998 novel The Handmaiden's Tale, which is, surprise, surprise, among titles banned in some jurisdictions. Coated with a fire retardant material, the book is able to withstand the fiery force of a flamethrower.
Share on Twitter | Share on Facebook
RELATED CONTENT
books, Margaret Atwood, novels
24 May 2022
The 2022 Miles Franklin Literary Award longlist was announced this morning. An annual award, the Miles Franklin recognises outstanding works of Australian fiction.
Some familiar titles there, some new ones, either way time to update those to-be-read lists. The shortlist will be announced on Thursday 23 June 2022.
Share on Twitter | Share on Facebook
RELATED CONTENT
Australian literature, books, literary awards, Miles Franklin
23 May 2022
The 2022 Australian Book Industry Awards (ABIAs) shortlist has been announced. Sixty-five titles are vying for recognition in thirteen award categories, including audiobook, biography, fiction, non-fiction, children, and literary fiction.
Across these categories, together with The Matt Richell Award for New Writer of the Year, shortlisted titles — in no particular order — include:
The winners will be named at a ceremony on the evening of Thursday 9 June 2022, at the ICC Sydney.
Share on Twitter | Share on Facebook
RELATED CONTENT
Australian literature, books, literary awards
23 May 2022
A novel that is a contemporary re-telling of the story of nineteenth century Australian bushranger and outlaw Ned Kelly? Ok, you have my attention. Such is the premise of Red (published by HarperCollins, 18 May 2022), the second novel by Sydney based Australian writer and journalist, Felicity McLean.
But McLean isn't flippantly bandying about references to Ned Kelly merely to, you know, attract attention, she has partly based her protagonist Ruby "Red" McCoy, on the contents of Kelly's 1879 Jerilderie letter.
It's the early 1990s and Ruby 'Red' McCoy dreams about one day leaving her weatherboard house on the Central Coast of New South Wales, where her best friend, Stevie, is loose with the truth, and her dad, Sid, is always on the wrong side of the law. But wild, whip-smart Red can't stay out of trouble to save her life, and Sid's latest hustle is more harebrained than usual. Meanwhile, Sergeant Trevor Healy seems to have a vendetta against every generation of the McCoys.
So far only a few reviews of Red have been published, but Australian author John Purcell holds McLean's writing in high regard:
But the novel's greatest strength is the voice of narrator Red. I know it is loosely based on Ned Kelly's voice from the famous [Jerilderie] letter, but it goes well beyond that. Red speaks to us as a fully formed living entity with her own ticks and wisdom. So much so that I started to believe McLean must have suffered from some kind of unholy possession throughout the writing of the book. Red's narration overflows with colourful anecdotes, cheek and bravado. McLean's use of language is ceaselessly inventive, coming up with the goods time and time again.
Share on Twitter | Share on Facebook
RELATED CONTENT
Australian literature, books, Felicity McLean, novels
17 May 2022
Time is a Mother (published by Penguin Random House, 5 April 2022), is a collection of poetry written by Northampton, Massachusetts based Vietnamese writer Ocean Vuong, following the death of his mother in 2019.
In this deeply intimate second poetry collection, Ocean Vuong searches for life among the aftershocks of his mother's death, embodying the paradox of sitting within grief while being determined to survive beyond it. Shifting through memory, and in concert with the themes of his novel On Earth We're Briefly Gorgeous, Vuong contends with personal loss, the meaning of family, and the cost of being the product of an American war in America. At once vivid, brave, and propulsive, Vuong's poems circle fragmented lives to find both restoration as well as the epicenter of the break.
Isabella Cho writing for The Harvard Crimson, says Vuong channels fear to bring forth this bold new collection of work:
The finale of Vuong's sprawling poetic vision is at once dangerous and peaceful, elegiac and triumphant. Vuong's text pulses with an attentiveness to fear. It is through this emotion that he renders such luminous meditations on his life, and of the people who have come to change it. Vuong fears, which is to say, he refuses to not love.
Share on Twitter | Share on Facebook
RELATED CONTENT
16 April 2022
The Opera House, written by Sydney based author and journalist Peter Fitzsimons, and published by Hachette Australia, takes a behind the scenes look at the design and construction of the Sydney Opera House, one of the most recognisable buildings in the world.
On a sacred site on the land of the Gadigal people, Tubowgule, a place of gathering and storytelling for over 60,000 years, now sits the Sydney Opera House. It is a breathtaking building recognised around the world as a symbol of modern Australia. Along with the Taj Mahal and other World Heritage sites, it is celebrated for its architectural grandeur and the daring and innovation of its design. But this stunning house on what is now called Bennelong Point also holds many sorrows, secrets and scandals.
Fitzsimons also asks a question that's perhaps overshadowed by statue of the building itself, and the dispute between Jørn Utzon, the Danish architect who drew up the original building plans, and the NSW state government:
How the hell did 1950s Sydney, surrounded by a white picket fence, eating meat and three veg, first sign off on, and then BUILD the exquisite Jewel for the Ages that is the Sydney Opera House?
Yes, now that you put it that way…
Share on Twitter | Share on Facebook
RELATED CONTENT
16 April 2022
Sarah Shaffi, writing for The Guardian, identifies five publishing trends to emerge from the 2022 London Bookfair, which ran from 5 to 7 April 2022.
More books written by celebrities can be expected
There will be increased interest in books relating to Ukraine
Books based on Greek Myths, with a modern re-telling, will remain popular
More novels will feature women who are threatened or in peril
A more topical range of self-help books, for a troubled world, will be published
Share on Twitter | Share on Facebook
RELATED CONTENT
16 April 2022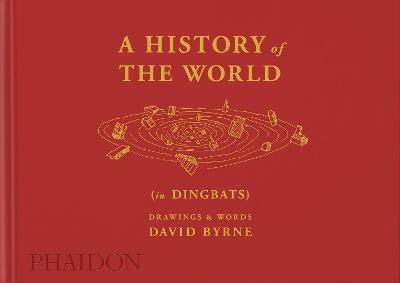 David Byrne, the Scottish-American musician, and co-founder of defunct American band Talking Heads, recently published a hardcover book, A History of the World (in Dingbats), a meditation of life during the recent pandemic imposed lockdowns.
Through striking and humorous figurative drawings, the iconic artist and musician David Byrne depicts daily life in intriguing ways. His illustrations, created while under quarantine, expand on the dingbat, a typographic ornament used to illuminate or break up blocks of text, to explore the nuances of life under lockdown and evoke the complex, global systems the pandemic cast in bright light.
Share on Twitter | Share on Facebook
RELATED CONTENT
12 April 2022
In the period 1 July 2021 to 31 March 2022, some 1,145 book titles were banned in American schools, according to PEN America, an authors, and free speech advocacy, group.
In total, for the nine-month period represented, the Index lists 1,586 instances of individual books being banned, affecting 1,145 unique book titles. This encompasses different types of bans, including removals of books from school libraries, prohibitions in classrooms, or both, as well as books banned from circulation during investigations resulting from challenges from parents, educators, administrators, board members, or responses to laws passed by legislatures.
Titles featuring LGBTQ+ characters, and people of colour, are among many of the books that have become the subject of bans. PEN America notes that while challenges or objections to books made available to school students are within the rights of parents, the number of titles that have been challenged "expanded rapidly" during the nine month reporting period.
Share on Twitter | Share on Facebook
RELATED CONTENT
5 April 2022
Where the Crawdads Sing, by American novelist Delia Owens, has emerged as the winner of the Dymocks Top 101 books 2022 poll. A film adaptation, directed by Olivia Newman, will show in Australian cinemas from Thursday 14 July 2022, by the looks of things.
Also among the top ten titles voted for in the Australian bookshop's poll, are The Seven Husbands of Evelyn Hugo by Taylor Jenkins Reid, The Dictionary of Lost Words by Pip Williams, and The Happiest Man on Earth, by Eddie Jaku.
Share on Twitter | Share on Facebook
RELATED CONTENT
5 April 2022
An excerpt from The Ukraine, written by Ukrainian author Artem Chapeye, published in The New Yorker. Chapeye is currently serving in the Ukrainian army, fighting the Russian invasion. He also spoke with Deborah Treisman, fiction editor for The New Yorker, about defending Ukraine, and expresses a sentiment that may resonate with some:
What's most amazing, I think, is that most of us didn't even expect so much resistance and solidarity from ourselves.
The Ukraine will be published in English in 2023.
Share on Twitter | Share on Facebook
RELATED CONTENT
28 March 2022
Eels are fascinating creatures, and after centuries — make that millennia — of study, they continue to puzzle scientists. In the past, they've piqued the curiosity of Greek philosopher Aristotle, over two thousand years ago, and more recently, Austrian neurologist Sigmund Freud.
Visitors to Sydney's Centennial Park, may have spotted the long-finned eels who reside in some of the park's ponds. But they are not Sydneysiders by birth, they were spawned in waters some two-thousand kilometres away, near New Caledonia. Seeking out fresh water, they make the perilous journey to the park, by way of canals, stormwater systems, and even briefly slithering over land from one waterway to another. Once in the park's ponds, they remain there for decades before returning to the ocean waters they were born in.
The European eel is the subject of Swedish arts and culture journalist Patrik Svensson's book, The Gospel of the Eels (published by Pan Macmillan, May 2020). These eels are born in the Sargasso Sea, a sprawling area of ocean within the Atlantic Ocean, approximately off the east coast of Central America. They then gradually migrate towards Europe, a journey of over six thousand kilometres, taking about two years. Like the long-finned eels of Centennial Park, the European eels also eventually return to the waters of their birth to reproduce.
Svensson recently spoke to Sarah Kanowski, host of ABC podcast series Conversations, about his book and lifelong fascination with the European eels.
Share on Twitter | Share on Facebook
RELATED CONTENT
24 March 2022
From a Reddit post I stumbled upon this week, written in October 2018, by Scott Alexander. Read this, your eyes will water:
I don't know how that author identified the most prolific reviewer at the time but I found one reviewer with 20.8k reviews since 2011. That's just under 3,000 reviews per year, which comes out to around 8 per day. This man has written an average of 8 reviews on Amazon per day, all of the ones I see about books, every day for seven years. I thought it might be some bot account writing fake reviews in exchange for money, but if it is then it's a really good bot because Grady Harp is a real person whose job matches that account's description. And my skimming of some reviews looked like they were all relevant to the book, and he has the "verified purchase" tag on all of them, which also means he's probably actually reading them.
I like to think I'm a somewhat avid book reader, but I could not — in a million years — come close to matching this sort of… output. Grady Harp, the subject of Alexander's post, must read in a week what I do in a year. But we're talking about reading and reviewing eight books daily. I know of some fast readers who can tackle a novel in a day, but this feat is truly incredible.
Share on Twitter | Share on Facebook
RELATED CONTENT
22 March 2022
Love Stories by Trent Dalton, and Once There Were Wolves by Charlotte McConaghy, are among the 2022 Indie Book Awards winners that were announced yesterday, Monday 21 March.
Share on Twitter | Share on Facebook
RELATED CONTENT
books, literary awards, literature
22 March 2022
The 2022 Australian Book Industry Awards longlist (ABIAs) was announced this afternoon.
It's a big field, with close to one hundred contenders spread across twelve categories including New Writer of the Year, Small Publishers' Children's Book, International Book, General Non-fiction Book, and my personal favourite: Literary Fiction Book of the Year.
The Australian Book Industry Awards, or ABIAs, which were established in 2006, recognises the work "of authors and publishers in bringing Australian books to readers." The shortlist will be released on Monday 23 May, with the winners being named at a ceremony on Thursday 9 June 2022 in Sydney.
Share on Twitter | Share on Facebook
RELATED CONTENT
books, literary awards, literature
21 March 2022
If you've spent any time on Bookstagram you'll know cats and books are pretty much synonymous. Enter Cats & Books, filled with images sourced from the #CatsandBooks hastag, is then the logical confluence of such an association.
This charming photo book of precious kitties with books from the popular Instagram hashtag, #CatsandBooks, is a crowd-sourced effort from various owners of both discerning cats and book taste.
Dogs & Books must be next.
Share on Twitter | Share on Facebook
RELATED CONTENT