Showing all posts tagged:
literature
8 February 2023
Entries are open for the 2023 Val Vallis Award for an unpublished poem, until Sunday 26 February 2023. Named in honour of late Queensland poet, lecturer, and opera critic Valentine Vallis, who died in 2009, the award recognises unpublished works, by Australian poets, of no more than eighty lines.
Dan Hogan, a poet based on the NSW Central Coast, won the 2022 award with a work titled Aduantas.
RELATED CONTENT
Australian literature, literary awards, literature, poetry
4 February 2023
For years now book aficionados, publishers, and literary agents, have been convening on #BookTwitter, a community similar to Instagram's #Bookstagram posse of book lovers.
Like many other Twitter groups though, #BookTwitter's future hangs in the balance, subject to the fickle whims of the social networking service's present regime, leaving members concerned they'll wake up one day and find it gone, along with Twitter itself:
The recent chaos at Twitter has left many communities on the platform wondering — what happens if we wake up tomorrow and the lights are off for good? One such community is "Book Twitter," made up of writers, editors, agents, booksellers, publishers, literary organizations, and everyone in between. Recently, notable authors like John Green and Sarah MacLean have joined other prominent voices in either deleting or indefinitely locking their accounts, leaving many fearful that a slow bleed of influential players will eventually lead to the community's demise — if Twitter's code doesn't blow up first.
RELATED CONTENT
books, literature, social media, social networks, twitter
31 January 2023
Seventy books, published in thirty-one countries, have been named on the Dublin Literary Award 2023 longlist. After Story by Sydney based author and filmmaker Larissa Behrendt, Bodies of Light by Jennifer Down, winner of the 2022 Miles Franklin award, and Cold Enough for Snow by Jessica Au, are among Australian titles to be included.
Formerly known as the International IMPAC Dublin Literary Award, before being renamed in 2015, the Dublin Literary Award was established in 1994 to celebrate excellence in world literature. Awarded annually, novels either written in, or translated into English, can be nominated by participating libraries globally. A shortlist of ten book will be announced in March 2023, with the winner being named later this year, in June.
RELATED CONTENT
books, literary awards, literature, novels
31 January 2023
Thirty-six books have been recognised by Goodreads in their unofficial best book title award, for, as the name suggests, books with unique and quirky titles. Winners, who are only accorded the honour and glory of being selected, were drawn from books published between August 2022 and January 2023. Here are a few titles to make the cut:
RELATED CONTENT
28 January 2023
Louise Adler, director of Adelaide Writers' Week, talking to Katrina Strickland, editor of Good Weekend, laments the lack of wider excitement generated by literary awards in Australia:
"We adore it when our authors win awards but, actually, often they do not translate into sales," she says, pointing to the way the UK book industry gets behind the Booker Prize longlisted and shortlisted authors. "When the longlist for the Booker is announced the books on it are heavily promoted, booksellers get behind it, publishers get behind it, and then the shortlist is promoted heavily, too. And there's lots and lots of discussion about them."
It's unfortunate Australian literary awards don't have quite the same buzz surrounding them as the Booker Prize in the UK appears to. While the shortlists, and winners of prizes such as the Stella and Miles Franklin, make headlines when announced, they soon fall out of the news cycle.
No doubt the larger population of the UK, compared to Australia, makes a difference, and Australian authors recognised by local literary awards see a spike in book sales. Still, I doubt it's anything like the "Booker boost" that writers named on the long and shortlists — and of course, the winner — of the Booker, enjoy.
RELATED CONTENT
Australian literature, literary awards, literature
27 January 2023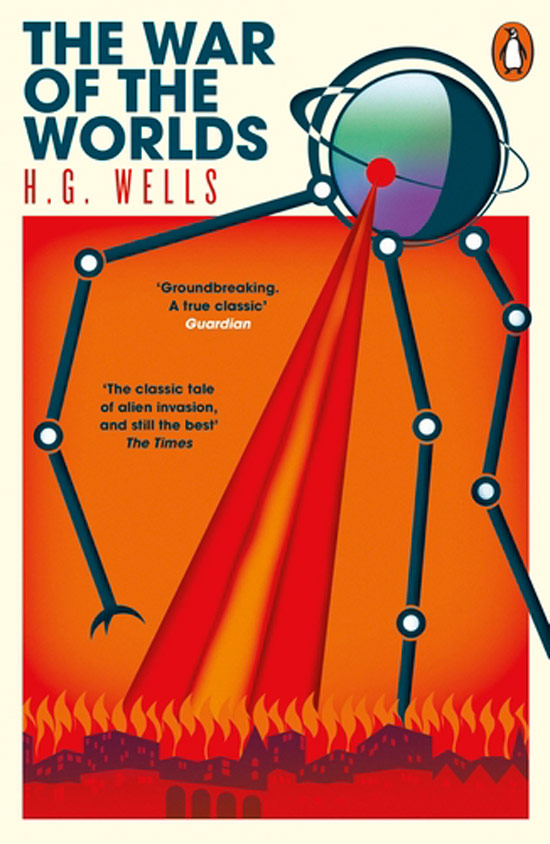 When people think of The War of the Worlds, the novel written by late British author H. G. Wells, and published by William Heinemann in 1898, after being serialised in 1897, they think of science fiction.
Yet the story of the inhabitants of Mars crossing the interplanetary void to invade Earth — incidentally one of the earliest examples of alien invasion in English literature — isn't only sci-fi and/or fantasy, The War of the Worlds is also an instance of invasion literature. Also known as invasion novels, invasion literature was common from the later decades of the nineteenth century — following the publication of The Battle of Dorking, written by George Tomkyns Chesney in 1871 — through until the First World War.
Despite being set in England though, Wells drew inspiration for The War of the Worlds from another hemisphere all together, Tasmania, Australia:
Wells later noted that an inspiration for the plot was the catastrophic effect of European colonisation on the Aboriginal Tasmanians; some historians have argued that Wells wrote the book in part to encourage his readership to question the morality of imperialism.
Invasion literature played a part in influencing public opinion in Britain, and other then imperialistic European nations, through their unsettling premises. Stories such as The War of the Worlds, depicting a ruthless invasion of England by a technologically superior enemy, hopefully helped bring home the horrors of colonisation that were being inflicted upon other cultures.
RELATED CONTENT
books, H G Wells, literature, novels, science fiction
26 January 2023
Usually a novel's success hangs in a solid storyline, great characterisation, tension, originality, the list goes on. But as Australian writer and editor Fleur Morrison points out, novels in audiobook format face an additional hurdle when it comes to doing well: their narrator.
In other words, if a reader/listener doesn't like the delivery or style of the narrator, that will affect their experience of the book. Comments about the audiobook narrator often feature in book reviews I see on Goodreads, and while most thoughts I've read have been positive, there's undoubtedly one or two titles that have scored poorly on account of the narration.
Selecting an audiobook narrator certainly isn't a matter to be treated lightly.
RELATED CONTENT
audiobooks, books, literature, novels
25 January 2023
Amazon Kindle recently quizzed just over one thousand Australians about their reading habits. Here are some of the findings that caught my eye:
Almost half those surveyed read fewer than five books in the past twelve months
Meanwhile just over five percent said they'd read fifty or more books in the same time frame. That's almost a book a week, maybe more, for some in that five percent band
Sixty-eight percent of respondents read physical books, compared to twenty-two percent who favoured electronic formats
Mystery, true crime, and romance, where among the most popular fiction genres. Sadly, poetry barely rated a mention. Literary fiction, apparently, was not assessed
About twenty-five percent of people said they read to experience escapism and alternate realities, while not quite forty percent read for relaxation
On the other hand, about one percent of respondents said they did not enjoy reading at all. Hmm, ok, I see.
RELATED CONTENT
21 January 2023
The Novel Prize is a biennial award for works of literary fiction, co-convened by three publishers, Giramondo, Fitzcarraldo Editions, and New Directions, based in Australia, Britain and Ireland, and America, respectively. Earlier this week, eight writers, some published, some not, were named on the shortlist for the 2022 prize:
Anonymity is Life, Sola Saar
Aurora Australis by Marie Doezema
Forever Valley by Darcie Dennigan
It Lasts Forever and Then It's Over by Anne de Marcken
Moon Over Bucharest by Valer Popa
Palimpsest by Florina Enache
Tell by Jonathan Buckley
The Passenger Seat by Vijay Khurana
Some seven hundred entries were received this year's award. Of the field, Florina Enache is the only Australian writer to make the cut. Australian author Jessica Au won the inaugural Novel Prize in 2020 for Cold Enough for Snow, which was published, as part of the award, in 2022. The 2022 winner will be announced next month, in February.
RELATED CONTENT
Jessica Au, literary awards, literature
21 January 2023
Booker Prize organisers are looking for a name for the statuette they present to recipients of the annual literary award, which was originally designed by late Polish-born British author and artist Jan Pieńkowski. The statuette was presented to inaugural Booker Prize winner P.H. Newby in 1969, but by the mid-1970's winners were receiving a leather bound copy of their book.
In more recent years, recipients have been presented a perplex trophy. Following Pieńkowski's death in 2022, organisers resumed using the statuette he designed, when Shehan Karunatilaka was named 2022 winner. Entries for suggested names for the statuette close on Friday 27 January 2023.
RELATED CONTENT
Booker Prize, literary awards, literature
19 January 2023
The Australian literary award season (and quite a long season it is), is underway for the year, with the announcement yesterday of the 2023 Indie Book Awards shortlist. Four titles, in six categories, are in contention this year:
Fiction:
Non-Fiction:
Debut Fiction:
Illustrated Non-Fiction:
Children's:
Young Adult:
The winners will be named on Monday 20 March 2023.
RELATED CONTENT
Australian literature, literary awards, literature
16 January 2023
You may not have heard of Indigenous Australian artist and activist Richard Bell, but he has been at the forefront of political activism for over fifty years. Describing himself as an activist masquerading as an artist, Bell has spent fifty years fighting for Aboriginal rights and self determination, through his art and protest.
One of his best known works, an installation titled Embassy, was inspired by the Aboriginal Tent Embassy protest, which was first established on the lawns outside Australia's parliament building in 1972. Bell's installation has been presented in Australia, and cities across the world, including Jakarta, New York, Moscow, and Jerusalem.
Bell's life and work is now the subject of a documentary, You Can Go Now, trailer, directed by Australian academic, Indigenous advocate, and author, Larissa Behrendt. Behrendt's most recent novel, After Story, published in 2021, was longlisted in the 2022 Miles Franklin literary award.
You Can Go Now opens in Australian cinemas on Thursday 26 January 2023. Bell and Behrendt will also be participating in Q&A preview screenings at the Museum of Contemporary Art, and Dendy Cinema, Newtown, on Tuesday 24 January, and the National Film and Sound Archive, in Canberra, on Wednesday 25 January.
RELATED CONTENT
art, film, Larissa Behrendt, literature, Richard Bell, trailer, video
13 January 2023
The Great Gatsby, To Kill a Mockingbird, Lord of the Flies, Catcher in the Rye, and Vanity Fair, are among books commonly studied in high school. Despite their undoubted literary merit, many of these titles were published decades — and in some cases — centuries, ago. But things are changing, and now books written in the nineteen-nineties are beginning to make an appearance.
In the U.S. at least, according to research by The Pudding. The Things They Carried, written by Tim O'Brien in 1990, Woman Hollering Creek, by Sandra Cisneros from 1991, and Harry Potter and the Sorcerer's Stone (also known as Harry Potter and the Philosopher's Stone), by J.K. Rowling, and published in 1997, are among relatively recent additions to some school reading lists.
Despite the presence of Harry Potter books though, not all inclusions were particularly popular commercially. Jhumpa Lahiri's Interpreter of Maladies, a collection of short stories published in 1999, did not chart on the New York Times Best Seller list, and barely makes the top ten-thousand frequently read books list on Goodreads. Lahiri's work did however win a number of literary awards, including the Pulitzer Prize for Fiction in 2000.
RELATED CONTENT
books, education, literature, novels
13 January 2023
Voting is open for Australian book retailer Dymocks annual Top 101 books poll. Eligible titles span seven categories being bestsellers, fiction, fantasy and science-fiction, crime, romance, non-fiction, and young adult, and voters have the unenviable task of selecting just ten books for inclusion.
Good luck, and get voting.
RELATED CONTENT
13 January 2023
Reading Kazuo Ishiguro's 1988 novel, The Remains of the Day, twenty-years ago, changed the way British freelance writer Max Liu saw England. When Liu re-read the novel last year, he changed the way he saw the central protagonist James Stevens, the stoic butler of Darlington Hall, where much of the story is set.
It was one of the most profound reading experiences of my life. Partly, this was down to geography and timing. I grew up in Cornwall and, living hundreds of miles from home for the first time, I was ready to think about England and its meanings. This quietly subversive novel showed how the English obsession with class colours our emotions, speech and interactions. It changed the way I saw the country I thought I knew.
If you haven't had the chance yet, check out the brilliant 1993 Merchant Ivory produced screen adaptation of the novel, starring Anthony Hopkins and Emma Thompson.
Seriously though, what of Ishiguro's work isn't thought provoking, or somehow transformative?
RELATED CONTENT
books, Kazuo Ishiguro, literature, novels
2 January 2023
In a move that must have surprised many people, American bookseller Barnes & Noble (B&N) recently announced plans to open thirty new bookshops. This in an age where bookshops are considered old hat, passé. It's an incredible turnaround for a company once on the verge of collapse, but the B&N revival is something not only other booksellers can learn from, but also a host of other media, including music, newspapers, and film, writes American author Ted Gioia:
All the cool and up-to-date technologies are in financial trouble. Tesla share price has collapsed. Crypto is in decline. Netflix stock has dropped more than 50% in the last year. Facebook is in freefall. Even TikTok might be in trouble. But Barnes & Noble is flourishing. After a long decline, the company is profitable and growing again — and last week announced plans to open 30 new stores. In some instances, they are taking over locations where Amazon tried (and failed) to operate bookstores.
This is great news for people who still like to buy print books in a shop. I don't think any B&N stores are slated to open in Australia any time soon, but nonetheless this is surely music to the ears of authors and book readers.
RELATED CONTENT
28 December 2022
American author Fran Lebowitz says she owns twelve-thousand books. Twelve-thousand. With so many books in circulation, I couldn't ever foresee the possibility of being able to re-read any book I've already read. Even the absolute favourites.
I want to finish one title and go straight to the next one, as there are more queued up behind that on my to-be-read list. But for many, it seems to be a case of read and retain, despite there being little chance of an opportunity to ever re-read.
Book lovers are known to practice semi-hoardish and anthropomorphic tendencies. They keep too many books for too long, despite dust, dirt, mold, cracked spines, torn dust jackets, warped pages, coffee stains and the daunting reality that most will never be reread. Age rarely enriches a book.
I dare say possessing a book collection would convey the impression I am well read and cultured, and even a small home library would be a conversation starter among guests, were they to site said books. But… nah. On the flip side, I can readily answer the question: what was the last novel you read. That'll do me.
RELATED CONTENT
18 December 2022
Not a literary award at all, more of an anti-literary award really, the Bulwer-Lytton Fiction Contest (BLFC), which has been running since its inception at San Jose State University in 1982. But unlike the literary awards we are more familiar with, the Bulwer-Lytton recognises terrible writing, and envisages the worst possible opening sentences to what will be awful novels.
Joe Tussey, from Daniels, in the U.S. state of West Virginia, was named winner in the 2022 adventure category, for this opener:
"Hoist the mainsail ye accursed swine" shouted the Captain over the roar of the waves as the ship was tossed like a cork dropped from a wine bottle into a jacuzzi when the faucet is wide open and the jets are running full blast and one has just settled into the water with a glass of red wine to ease the aches and pains after a day of hard labor raking leaves from the front yard.
The BLFC accepts nominations, the usual categories, including fiction, crime, and young adult, in the form of the worst paragraph you can devise, all through the year.
RELATED CONTENT
humour, literary award, literature, writing
15 December 2022
Seeing G, a short documentary produced by the Booker Prize organisation, and British writer Jo Hamya, explores a fascinating chapter in literary award history. In 1972, British author and poet John Berger, was named the Booker winner for his novel G, also written in 1972.
During his acceptance speech though Berger caused — or is said to have caused — controversy, by pledging to give half of the £5,000 prize money to the London chapter of the British Black Panther Movement. But was the gesture truly controversial, or was that the way the media portrayed it?
'I have to turn this prize against itself,' he went on. 'The half I give away, will change the half I keep.' In a move made notorious by press, Berger donated half of his prize money to the London-based British Black Panther Movement. 'I badly need more money for my project about the migrant workers of Europe,' he explained, '[And] the Black Panther Movement badly needs more money for their newspaper and for their other activities… the sharing of the prize signifies that our aims are the same.'
Needless to say, there's more to the story than meets the eye.
RELATED CONTENT
Booker Prize, John Berger, literary awards, literature
11 December 2022
Australian authors are not alone when it comes to struggling to make a living from their writing. English-French author Joanne Harris, also chair of the management committee of the British Society of Authors, writing for The Guardian, says British authors have seen their earnings go backwards in the period from 2006 to 2022:
When the ALCS first ran its survey of author incomes in 2006 it found that the median self-employed income of a full-time author was £12,330. In 2022 — a year in which multiple publishers have posted record profits while freelancers in all professions are still reeling from the impact of Covid-19, Brexit and rising living costs — the median full-time income has fallen to £7,000. That's a drop of more than 60% when accounting for inflation.
Unsurprisingly, there are British authors who are considering giving-up writing, and finding other ways to make a living.
But a quick look at those numbers. In 2006, £12,330 equated to about A$30,750. I used an exchange rate from December 2006, where one British pound equated to about two dollars and fifty cents in Australian currency. Today's rate is closer to one dollar and eighty cents, according to xe.com.
At around the same time, December 2006, the minimum wage in Australia was not quite A$27,000 per annum. So an annual salary of A$30,750 wouldn't have been too bad (well…), at least in Australian terms. But today £7,000 equates to a paltry A$12,633. That figure again: A$12,633. Then go and contrast that number with the present minimum Australian wage of about A$42,000.
Considering the lowest earning writers in Australia, being literary authors, make A$14,500 a year, describing the position the majority of British authors find themselves in, as dire, seems like an understatement to say the least.
RELATED CONTENT