Showing all posts tagged:
literature
7 October 2022
French writer Annie Ernaux has been named the Nobel Prize Literature laureate for 2022. In selecting Ernaux, judges cited "the courage and clinical acuity with which she uncovers the roots, estrangements and collective restraints of personal memory."
THINGS TO DO
Share to Twitter ★ Share to Facebook ★ Buy me a coffee ☕
RELATED CONTENT
Annie Ernaux, literary awards, literature
30 September 2022
Since 2014, The Future Library, located in the Deichman Library in Oslo, Norway, has been going about assembling a collection of one hundred manuscripts, at the rate of one work per year. When the library reaches capacity, in 2114, the collection will be made available to one thousand people who have purchased certificates allowing them, or a descendent, access to the writings.
The 'Silent Room' where the manuscripts are to be kept is built using wood from the original trees felled to make way for the trees planted for the project. Katie Paterson has been working with the architectural team to design this part of the new public library. The collected works will be on display but the manuscripts will not be available for reading.
The library, which is the brainchild of Scottish visual artist Katie Paterson, has so far invited prominent authors, including Margaret Atwood, Han Kang, and Ocean Vuong, to submit manuscripts. I like the idea, but I'm not sure about having to wait almost one hundred years to read what's in the collection, even if I knew I'd still be around by then.
THINGS TO DO
Share to Twitter ★ Share to Facebook ★ Buy me a coffee ☕
RELATED CONTENT
23 September 2022
The 2022 National Young Writers' Festival (NYWF) runs from Thursday 29 September, through to Sunday 2 October, both in Newcastle, Australia (about one hundred and sixty kilometres north of Sydney), and online.
NYWF is so-called Australia's largest gathering of young writers, with artists bringing their craft from all around (cities, regional, rural and our beloved regular cohort from Aotearoa). We showcase work in both new and traditional forms including zines, comics, blogging, screenwriting, poetry, spoken word, hip hop, music, journalism, autobiography, comedy and prose.
THINGS TO DO
Share to Twitter ★ Share to Facebook ★ Buy me a coffee ☕
RELATED CONTENT
Australia, events, literature, writing
18 August 2022
To mark the one-hundredth anniversary of the publication of Irish novelist James Joyce's 1922 novel Ulysses, British newspaper The Times has ranked the fifty best books of the twenty-first century, according to the nominations of contemporary authors and literary critics.
Between them they have read thousands of books, and their choices reflect this: the oldest book was published in 1924, the most recent in 2009. The list includes writers from Britain, Ireland, the US, Nigeria, India and South Africa, with subject matter just as diverse. You will find scalp-hunting outlaws, organ-donating clones and Wall Street traders.
To the Lighthouse by Virginia Woolf, The Prime of Miss Jean Brodie by Muriel Spark, and Giovanni's Room by James Baldwin, are among inclusions. When it comes to Joyce's work, I've read A Portrait of the Artist as a Young Man, but am yet to take on Ulysses, but I will, but I will…
THINGS TO DO
Share to Twitter ★ Share to Facebook ★ Buy me a coffee ☕
RELATED CONTENT
books, James Joyce, literature, novels
29 July 2022
The 2022 Melbourne Writers Festival program was unveiled last Tuesday by MWF artistic director Michaela McGuire. Between Thursday 8 September 2022, and Sunday 11 September, over two-hundred-and-fifty storytellers from across the world will gather in Melbourne, Australia, and after several years of COVID imposed lockdowns, this year's event is aptly themed ambition:
Reading is the ultimate act of ambition; the boundless ambition of the curious mind. Ambition to learn, to inhabit another person's life and experience the world from their point of view. To grasp the limitless possibilities that literature affords us, the solace it has given, the joy it still has to offer.
THINGS TO DO
Share to Twitter ★ Share to Facebook ★ Buy me a coffee ☕
RELATED CONTENT
events, literature, Melbourne, writing
21 July 2022
Image courtesy of wal_172619.
Bodies of Light by Jennifer Down, was named winner of the 2022 Miles Franklin literary award yesterday. As I've said before, the long and short lists of literary awards are great places to find reading inspiration. But, if, unlike me, you're a fast, prolific reader, you might run out of ideas quickly. There's always Goodreads or StoryGraph (which isn't half bad), but they're not the only options for finding something new to read.
Shepherd, founded by Boulder, Colorado, based American entrepreneur Ben Fox, offers reading suggestions based on the recommendations of authors. Fox thinks searching for a book should be fun, an element he believes many online bookshops, and social cataloguing websites, lack.
As a reader, I am incredibly frustrated with the bleak wasteland that is online book discovery. The big bookstores sell books the same way they sell toothpaste, without passion. And, Goodreads makes finding new books about as much fun as browsing a spreadsheet. How you find a book is important. That search is the start of a journey and it should be fun.
In creating Shepherd, Fox hopes to bring the IRL bookstore experience online, and imbue some of the in-store spontaneity to the book discovery process.
What Should I Read Next (WSIRN) works a little differently. Rather than offering author recommendations as Shepherd does, WSIRN will make new reading suggestions based on titles you've read previously that you liked.
Enter a book you like and the site will analyse our huge database of real readers' favourite books to provide book recommendations and suggestions for what to read next.
And it's not just three or four titles either. For example, typing in Conversations with Friends by Sally Rooney, returns an extensive list of suggestions.
THINGS TO DO
Share to Twitter ★ Share to Facebook ★ Buy me a coffee ☕
RELATED CONTENT
5 July 2022
Goodreads has published a list of members top book choices so far, for 2022, across six genres. To Paradise by Hanya Yanagihara, The Maid by Nita Prose, Sea of Tranquility by Emily St. John Mandel, and The Nineties by Chuck Klosterman, are among titles at, or near, the top of their category.
THINGS TO DO
Share to Twitter ★ Share to Facebook ★ Buy me a coffee ☕
RELATED CONTENT
4 July 2022
EmilyBlaster is a game developed by characters in Tomorrow, and Tomorrow, and Tomorrow, the latest novel by Los Angeles based American author Gabrielle Zevin, which is being published by Penguin Random House tomorrow, 5 July 2022.
This isn't something we see every day, a device, or object, featured in a work of fiction that becomes actual or tangible. The object of the game is pretty simple, all the more so if you're familiar with the work of nineteenth century American poet Emily Dickinson. To succeed a player needs to shoot words appearing on the screen in the correct order, to form one of Dickinson's poems, which is shown before the game begins.
My accuracy level was — let's say — nothing to write home about, but maybe you'll fare better. The game itself — by the sounds of things — is one of many produced by Sam Masur, and Sadie Green, who collaborate successfully while still studying at university in Tomorrow, and Tomorrow, and Tomorrow:
On a bitter-cold day, in the December of his junior year at Harvard, Sam Masur exits a subway car and sees, amid the hordes of people waiting on the platform, Sadie Green. He calls her name. For a moment, she pretends she hasn't heard him, but then, she turns, and a game begins: a legendary collaboration that will launch them to stardom. These friends, intimates since childhood, borrow money, beg favors, and, before even graduating college, they have created their first blockbuster, Ichigo. Overnight, the world is theirs. Not even twenty-five years old, Sam and Sadie are brilliant, successful, and rich, but these qualities won't protect them from their own creative ambitions or the betrayals of their hearts.
Zevin says EmilyBlaster is one of the first games she devised in the novel, which she intended be simple yet effective:
It's the simplest game in the book, and I needed it to be convincingly something a clever college student might be able to make on limited resources and time in the 1990s. The game was inspired by the poetry of Emily Dickinson and by edutainment games of the 1980s, like Math Blaster!
THINGS TO DO
Share to Twitter ★ Share to Facebook ★ Buy me a coffee ☕
RELATED CONTENT
Emily Dickinson, Gabrielle Zevin, games, literature, poetry
2 July 2022
Why I am not a writer, by American author, copywriter, and musician John Mancini.
Joyce spent twenty-nine thousand hours writing Ulysses. Vonnegut spent twenty-three years writing Slaughterhouse Five. Hemingway rewrote The Sun Also Rises fifty times. "Really great fun," Wodehouse said of his time in a German internment camp.
On one hand it's reassuring — perhaps for writers starting out — to realise that even the giants of literature struggled to write their best known works. On the other hand, maybe it isn't.
THINGS TO DO
Share to Twitter ★ Share to Facebook ★ Buy me a coffee ☕
RELATED CONTENT
29 June 2022
Australian book aficionado Stella Glorie spoke to two thousand plagiarists (cripes, I hope they weren't all Australian…) and asked why they appropriated the work of others. Here, she presents the top ten reasons, presumably meaning there were who knows how many excuses in total.
What's the big deal? No one complains every Sunday when my priest plagiarises his sermons from the bible.
This is enlightening research, no?
THINGS TO DO
Share to Twitter ★ Share to Facebook ★ Buy me a coffee ☕
RELATED CONTENT
29 June 2022
Applications for the 2022 ASA/Varuna Ray Koppe Young Writers Residency are open until Friday 29 July 2022. The residency was established in memory of the late Ray Koppe, by her family. Koppe worked for many years assisting with the administration of the Australian Society of Authors.
Each year, the Australian Society of Authors awards a two-week residential fellowship to a writer under the age of 35 who is as yet unpublished.
Danielle Binks and Hannah Bent, are among past winners.
THINGS TO DO
Share to Twitter ★ Share to Facebook ★ Buy me a coffee ☕
RELATED CONTENT
Australian literature, literature, writing
29 June 2022
The program for the 2022 Melbourne Writers Festival — which runs from 8 to 11 September 2022 — will be unveiled on Wednesday 27 July.
In the meantime festival organisers have announced American actor, comedian, and author Jenny Slate, Scottish actor Brian Cox, British Pakistani novelist Mohsin Hamid, and British musician, and former Pulp front-man Jarvis Cocker, will be part of the show.
These four incredible artists are just the beginning of an extraordinary line-up that we can't wait to bring to Melbourne audiences this year after the pandemic kept us away for so long.
THINGS TO DO
Share to Twitter ★ Share to Facebook ★ Buy me a coffee ☕
RELATED CONTENT
28 June 2022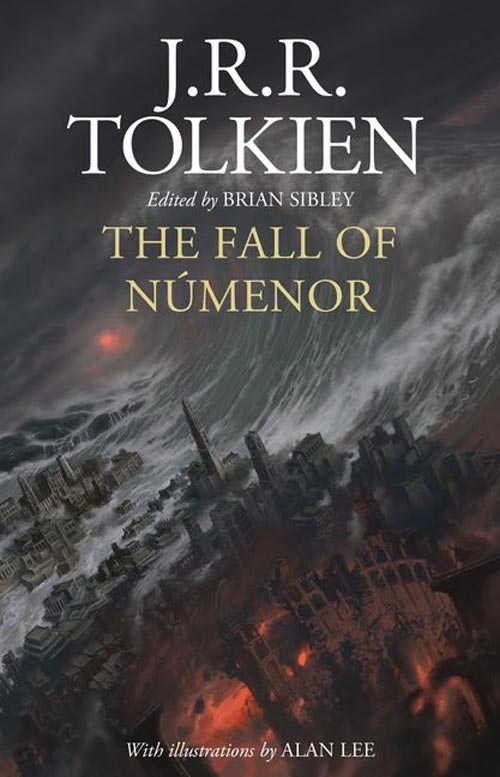 The Fall of Númenor (published by HarperCollins on 10 November 2022), edited by English writer Brian Sibley, explores the Second Age of Middle-earth, based on what J.R.R. Tolkien — author of the The Lord of the Rings, which, incidentally, is set in the Third Age — wrote of the era.
It was not until Christopher Tolkien published The Silmarillion after his father's death that a fuller story could be told. Although much of the book's content concerned the First Age of Middle-earth, there were at its close two key works that revealed the tumultuous events concerning the rise and fall of the island of Númenor. Raised out of the Great Sea and gifted to the Men of Middle-earth as a reward for aiding the angelic Valar and the Elves in the defeat and capture of the Dark Lord Morgoth, the kingdom became a seat of influence and wealth; but as the Númenóreans' power increased, the seed of their downfall would inevitably be sown, culminating in the Last Alliance of Elves and Men.
THINGS TO DO
Share to Twitter ★ Share to Facebook ★ Buy me a coffee ☕
RELATED CONTENT
J. R. R. Tolkien, literature, writing
1 June 2022
Men don't seem to read too many books written by women. Why this should be, who knows. But if I were to take a guess at it, I'd say men are more likely to be given recommendations for books authored by men, from their male friends. Then there's also the point that it may not occur to men to read titles written by women in the first place, which is unfortunate.
Some of my recent reads include novels by Sally Rooney, Sophie Hardcastle, Susanna Clarke, Jane Caro, Holly Wainwright, Katherine Brabon, and Madeleine Watts.
British author and journalist Mary Ann Sieghart, writing for The Guardian, notes "studies show men avoid female authors," while "women read roughly 50:50 books by male and female authors; for men the ratio is 80:20."
To redress the imbalance, Sieghart spoke to male writers including Ian McEwan (who I've read), Salman Rushdie, Richard Curtis, and Lee Child among others, asking them to name their favourite women authors. There's some solid reading ideas here.
THINGS TO DO
Share to Twitter ★ Share to Facebook ★ Buy me a coffee ☕
RELATED CONTENT
27 April 2022
the html review is home to literature made to exist on the web, and is edited by New York City based author and technologist, Maxwell Neely-Cohen.
Every year we will publish works of poetry, fiction, non-fiction, graphic storytelling, and experiments that rely on the web as medium. the html review was started out of a yearning for more outlets comfortable with pieces built for our screens, writing that leverages our computational networked tools, both new and old, for the art of language, narrative, and exploration.
THINGS TO DO
Share to Twitter ★ Share to Facebook ★ Buy me a coffee ☕
RELATED CONTENT
7 April 2022
While there may not be a whole lot of Australian government support for authors in this part of the world, as book readers there are things we can do. Jake Uniacke posted a few #IndieApril suggestions on Twitter, but these are ideas that can be acted upon at anytime of the year.
Review their work. Goodreads, Amazon, and Google are good places to start.
Share their work. Spread the word on your social media channels, Twitter, Facebook, Booktok, and Bookstagram.
Buy their books. Through the author's website if possible, or an indie bookshop, any bookshop really.
Interact with their content. Instagram stories, Twitter polls, and Q&A sessions, are a few suggestions.
Joe Walters, writing for Independent Book Review, also offers a number of suggestions.
THINGS TO DO
Share to Twitter ★ Share to Facebook ★ Buy me a coffee ☕
RELATED CONTENT
5 April 2022
Where the Crawdads Sing, by American novelist Delia Owens, has emerged as the winner of the Dymocks Top 101 books 2022 poll. A film adaptation, directed by Olivia Newman, will show in Australian cinemas from Thursday 14 July 2022, by the looks of things.
Also among the top ten titles voted for in the Australian bookshop's poll, are The Seven Husbands of Evelyn Hugo by Taylor Jenkins Reid, The Dictionary of Lost Words by Pip Williams, and The Happiest Man on Earth, by Eddie Jaku.
THINGS TO DO
Share to Twitter ★ Share to Facebook ★ Buy me a coffee ☕
RELATED CONTENT
4 April 2022
Some meal time reading for sure… twelve of the most unforgettable descriptions of food in literature, curated by Adrienne LaFrance, executive editor of The Atlantic. The writing of Haruki Murakami, Nora Ephron, Marcel Proust, and late American writer and illustrator Louise Fitzhugh, among others, is featured.
THINGS TO DO
Share to Twitter ★ Share to Facebook ★ Buy me a coffee ☕
RELATED CONTENT
30 March 2022
Entries are open for the biennial Barbara Jefferis Award, to commemorate the life of the late Australian author, who died in 2004. The literary prize was established in 2007 through a bequest from Jefferis' husband John Hinde, an Australian broadcaster and film critic, who died in 2006.
The Barbara Jefferis Award is offered biennially for "the best novel written by an Australian author that depicts women and girls in a positive way or otherwise empowers the status of women and girls in society".
With a prize A$50,000 for the winner, and a further A$5,000 shared among those named on the shortlist, the award is one of the richest in Australian literature. Entries close on Monday 9 May 2022, with the shortlist scheduled to be announced in August.
THINGS TO DO
Share to Twitter ★ Share to Facebook ★ Buy me a coffee ☕
RELATED CONTENT
Barbara Jefferis, literary awards, literature
24 March 2022
Writing in response to being removed from the nominations for this year's Lambda Literary Awards, for her collection of essays, Leaving Isn't the Hardest Thing, Berlin based author Lauren Hough highlights something I've been noticing a little recently: bizarrely, a dislike of conflicts in novel plots.
My book won't win a prize because my friend Sandra Newman wrote a book. The premise of her book is "what if all the men disappeared." When she announced the book on twitter, YA twitter saw it. This is the single most terrifying thing that can happen to a writer on twitter. YA twitter, presumably fans of young adult fiction, are somehow unfamiliar with the concept of fiction. YA twitter doesn't do nuance. They don't understand metaphor or thought experiment. They expect fictional characters to be good and moral and just, whether antagonist or protagonist. They expect characters and plot to be free of conflict. They require fiction to portray a world without racism, bigotry, and bullies. And when YA twitter gets wind of a book that doesn't meet their demands, they respond with a beatdown so unrelenting and vicious it would shock William Golding. They call it "call-out culture" because bullying is wrong, unless your target is someone you don't like, for social justice reasons, of course.
The problem of plots free of conflict isn't restricted to "YA Twitter" though. Scanning through a range of book reviews on aggregator websites reveals a similar pattern. Readers will fault a novel if they find a character "unlikable". Never mind said character's unpleasantness is a crucial plot device, creating a challenge of some sort for a protagonist to overcome.
Others have stopped reading a book after learning a character is, say, engaged in an extra-marital affair. Sure, it's behaviour not to be condoned, but it still happens, every day, all over the world, no doubt since people first walked the planet. Refusing to read a book where such an activity is occurring is surely akin to burying one's head in the sand.
THINGS TO DO
Share to Twitter ★ Share to Facebook ★ Buy me a coffee ☕
RELATED CONTENT