Showing all posts tagged:
non-fiction
14 June 2022
The Ninth Life of a Diamond Miner is a memoir by activist, advocate for survivors of sexual assault, and former Australian of the Year, Grace Tame, being published by Pan Macmillan Australia in September 2022.
From a young age, her life was defined by uncertainty – by trauma and strength, sadness and hope, terrible lows and wondrous highs. As a teenager she found the courage to speak up after experiencing awful and ongoing child sexual abuse. This fight to find her voice would not be her last. In 2021 Grace stepped squarely into the public eye as the Australian of the Year, and was the catalyst for a tidal wave of conversation and action. Australians from all walks of life were inspired and moved by her fire and passion. Here she was using her voice, and encouraging others to use theirs too.
Tame is also a talented artist, having illustrated the artwork for the cover of her book, "using a cheapo $1 ballpoint pen from Woolies," and in the past has accepted commissions from John Cleese, and Martin Gore of Depeche Mode.
RELATED CONTENT
Australian literature, Grace Tame, non-fiction
9 June 2022
QUEER: Stories from the NGV Collection, published by the National Gallery of Victoria (NGV), is not only a catalogue for the exhibition of the same name running until Sunday 21 August 2022 in Melbourne, but also a collection of LGBTQIA+ stories and histories, edited by Ted Gott, Angela Hesson, Myles Russell-Cook, Meg Slater, and Pip Wallis.
More than 60 essays from authors with comprehensive knowledge of the historical and contemporary subjects encompassed by the NGV's QUEER project are presented along side stunning reproductions of more than 200 works from the NGV collection, either by queer artists or engaging with queer issues. The essays in QUEER: Stories from the NGV Collection explore the history of LGBTQ+ activism; the creation of queer spaces and communities; queerness as an artistic strategy; the expression of love, desire and sensuality; queer aesthetics; and the concepts of camp and the fantastic.
RELATED CONTENT
Australian literature, culture, history, non-fiction
6 June 2022
Zelensky (published by Wilkinson Publishing, April 2022), is a portrait of Volodymyr Zelensky, the president of Ukraine, written by Australian author and former film critic Andrew L. Urban, and journalist and author Chris McLeod, which examines Zelensky's resilience in the face of the Russian invasion of his country.
No one has been more surprised by Zelensky's power to inspire and mobilise his countrymen and the world than Vladimir Putin, who expected Russia's conquest of its beleaguered neighbour to be the work of an afternoon. Outfoxed and isolated, Putin is not the first person to have underestimated the former comedian with a spine of steel.
RELATED CONTENT
Andrew L. Urban, Australian literature, Chris McLeod, non-fiction, Ukraine
31 May 2022
Speaking of Australian writer Anna Spargo-Ryan, her new book, a memoir this time, titled A Kind of Magic (published by Ultimo Press), which explores her mental health journey, arrives in bookshops in October 2022.
Anna's always had too many feelings. Or not enough feelings – she's never been quite sure. Debilitating panic. Extraordinary melancholy. Paranoia. Ambivalence. Fear. Despair. From anxious child to terrified parent, mental illness has been a constant. A harsh critic in the big moments – teenage pregnancy, divorce, a dream career, falling in love – and a companion in the small ones – getting to the supermarket, feeding all her cats, remembering which child is which. But between therapists' rooms and emergency departments, there's been a feeling even harder to explain … optimism.
RELATED CONTENT
Anna Spargo-Ryan, Australian literature, non-fiction
30 May 2022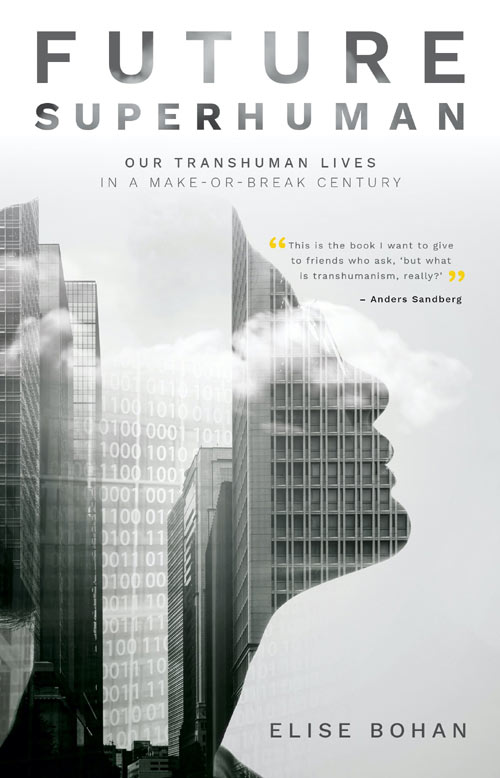 Like it or not, as a species we are eventually going to take control of our evolution. Unless we destroy ourselves first, that is. The early steps towards what some call a transhuman future however will doubtless be mired in difficulty and uncertainty.
Still it's a topic that's always fascinated me, and while I'm not the biggest reader of non-fiction books, Future Superhuman Our transhuman lives in a make-or-break century (published by UNSW Press, May 2022) by Elise Bohan, a senior researcher at the Faculty of Philosophy, at the University of Oxford, is one title I'm looking forward to reading.
We're hurtling towards a superhuman future – or, if we blunder, extinction. The only way out of our existential crises, from global warming to the risks posed by nuclear weapons, novel and bioengineered pathogens and unaligned AI, is up. We'll need more technology to safeguard our future – and we're going to invent and perhaps even merge with some of that technology.

What does that mean for our 20th century life-scripts? Are the robots coming for our jobs? How will human relationships change when AI knows us inside out? Will we still be having human babies by the century's end? Elise Bohan unflinchingly explores possibilities most of us are afraid to imagine: the impacts of automation on our jobs, livelihoods and dating and mating careers, the stretching out of 'the-circle-of-life', the rise of AI friends and lovers, the liberation of women from pregnancy, childbirth and breastfeeding, and the impending global baby-bust – and attendant proliferation of digital minds.
RELATED CONTENT
Elise Bohan, non-fiction, technology
17 January 2022
Applications for the Faber Writing Academy 2022 scholarships are open for authors of non-fiction works. On offer are courses taking writers through the process of planning and writing a manuscript, and pitching their idea to a publisher or literary agent. Applications close on Saturday 29 January 2022.
RELATED CONTENT