Showing all posts tagged:
books
31 January 2023
Seventy books, published in thirty-one countries, have been named on the Dublin Literary Award 2023 longlist. After Story by Sydney based author and filmmaker Larissa Behrendt, Bodies of Light by Jennifer Down, winner of the 2022 Miles Franklin award, and Cold Enough for Snow by Jessica Au, are among Australian titles to be included.
Formerly known as the International IMPAC Dublin Literary Award, before being renamed in 2015, the Dublin Literary Award was established in 1994 to celebrate excellence in world literature. Awarded annually, novels either written in, or translated into English, can be nominated by participating libraries globally. A shortlist of ten book will be announced in March 2023, with the winner being named later this year, in June.
RELATED CONTENT
books, literary awards, literature, novels
31 January 2023
Thirty-six books have been recognised by Goodreads in their unofficial best book title award, for, as the name suggests, books with unique and quirky titles. Winners, who are only accorded the honour and glory of being selected, were drawn from books published between August 2022 and January 2023. Here are a few titles to make the cut:
RELATED CONTENT
27 January 2023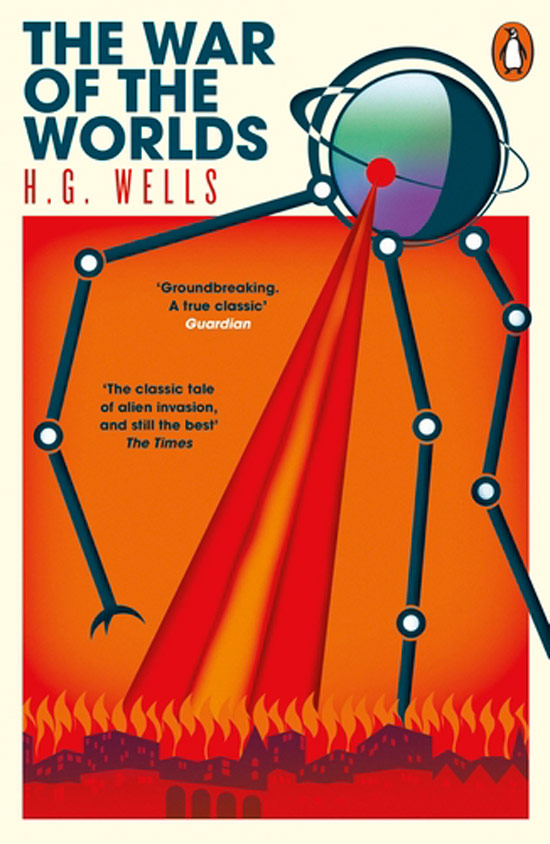 When people think of The War of the Worlds, the novel written by late British author H. G. Wells, and published by William Heinemann in 1898, after being serialised in 1897, they think of science fiction.
Yet the story of the inhabitants of Mars crossing the interplanetary void to invade Earth — incidentally one of the earliest examples of alien invasion in English literature — isn't only sci-fi and/or fantasy, The War of the Worlds is also an instance of invasion literature. Also known as invasion novels, invasion literature was common from the later decades of the nineteenth century — following the publication of The Battle of Dorking, written by George Tomkyns Chesney in 1871 — through until the First World War.
Despite being set in England though, Wells drew inspiration for The War of the Worlds from another hemisphere all together, Tasmania, Australia:
Wells later noted that an inspiration for the plot was the catastrophic effect of European colonisation on the Aboriginal Tasmanians; some historians have argued that Wells wrote the book in part to encourage his readership to question the morality of imperialism.
Invasion literature played a part in influencing public opinion in Britain, and other then imperialistic European nations, through their unsettling premises. Stories such as The War of the Worlds, depicting a ruthless invasion of England by a technologically superior enemy, hopefully helped bring home the horrors of colonisation that were being inflicted upon other cultures.
RELATED CONTENT
books, H G Wells, literature, novels, science fiction
27 January 2023
All Quiet on the Western Front, written in 1928 by Erich Maria Remarque, and Women Talking, written in 2018 by Miriam Toews, are the only two book to film adaptations to be nominated in the best picture category for the 2023 Oscars. This is a far cry from the substantial number of best picture nominations in earlier years, including 1956, 1959, 1972, 1980, 1991, and 1995, when all best picture contenders were adaptation of books.
In accounting for this dearth of nominations, Eliza Smith, writing for Literary Hub, suggests more books are being made into TV shows, film producers chose the wrong books to adapt, and — perhaps unsurprisingly — many of the book to film productions were plain bad:
…and then there were the bad adaptations. See: Spiderhead, The Gray Man, Three Thousand Years of Longing, Persuasion, White Noise (reviews are mixed on this one — I'm firmly a thumbs down), Firestarter (which got a whopping 10% on Rotten Tomatoes), Death on the Nile, and Deep Water (though my colleague Dan insists this one is so bad it's good). To be fair, some were good and just not Oscars material (see: Bodies Bodies Bodies, Bullet Train, and Confess Fletch).
RELATED CONTENT
26 January 2023
Usually a novel's success hangs in a solid storyline, great characterisation, tension, originality, the list goes on. But as Australian writer and editor Fleur Morrison points out, novels in audiobook format face an additional hurdle when it comes to doing well: their narrator.
In other words, if a reader/listener doesn't like the delivery or style of the narrator, that will affect their experience of the book. Comments about the audiobook narrator often feature in book reviews I see on Goodreads, and while most thoughts I've read have been positive, there's undoubtedly one or two titles that have scored poorly on account of the narration.
Selecting an audiobook narrator certainly isn't a matter to be treated lightly.
RELATED CONTENT
audiobooks, books, literature, novels
25 January 2023
Amazon Kindle recently quizzed just over one thousand Australians about their reading habits. Here are some of the findings that caught my eye:
Almost half those surveyed read fewer than five books in the past twelve months
Meanwhile just over five percent said they'd read fifty or more books in the same time frame. That's almost a book a week, maybe more, for some in that five percent band
Sixty-eight percent of respondents read physical books, compared to twenty-two percent who favoured electronic formats
Mystery, true crime, and romance, where among the most popular fiction genres. Sadly, poetry barely rated a mention. Literary fiction, apparently, was not assessed
About twenty-five percent of people said they read to experience escapism and alternate realities, while not quite forty percent read for relaxation
On the other hand, about one percent of respondents said they did not enjoy reading at all. Hmm, ok, I see.
RELATED CONTENT
23 January 2023
Adam Vitcavage, whose podcast Debutiful explores the work of debut authors, offers a blunt observation to aspiring writers, in a recent interview with Los Angeles based novelist Ruth Madievsky:
I think aspiring writers need to realize that your dream first book might not be what you actually publish. So many writers have said they had to shelve books they were working on for years for one reason or another. Or that they had to take what was working and reshape it altogether.
The dream book may be a story the writer likes, but no one else, unfortunately.
RELATED CONTENT
21 January 2023
Australian bookseller Readings released a list of their top one hundred bestselling titles for 2022, yesterday. Bodies of Light by Jennifer Down, winner of the 2022 Miles Franklin award, Dropbear by Evelyn Araluen, winner of the 2022 Stella Prize, and the aforementioned Cold Enough for Snow by Jessica Au, are among Australian written titles to feature in the top-ten segment.
But Japanese author Toshikazu Kawaguchi's 2019 novel, Before the Coffee Gets Cold, came in as the number one seller last year. I'm a fan of time travel stories, not to mention cafes and coffee, but am surprised to have missed this one until now:
In a small back alley in Tokyo, there is a café which has been serving carefully brewed coffee for more than one hundred years. But this coffee shop offers its customers a unique experience: the chance to travel back in time.

In Before the Coffee Gets Cold, we meet four visitors, each of whom is hoping to make use of the café's time-travelling offer, in order to: confront the man who left them, receive a letter from their husband whose memory has been taken by early onset Alzheimer's, to see their sister one last time, and to meet the daughter they never got the chance to know.

But the journey into the past does not come without risks: customers must sit in a particular seat, they cannot leave the café, and finally, they must return to the present before the coffee gets cold…
RELATED CONTENT
books, bookshops, Toshikazu Kawaguchi
13 January 2023
Publishing novels by serialisation, or regular instalment, used to be a widespread practice. At one time it was the only way to read the latest works of authors such as Charles Dickens, Elizabeth Gaskell, Jules Verne, Leo Tolstoy, H. G. Wells, and Arthur Conan Doyle. Usually authors would later publish their serialised work as a complete edition, or whole book.
But book serialisation is a model some writers are again embracing. As an experiment, American journalist and author Bill McKibben published his latest book, The Other Cheek, on email newsletter platform Substack. Long story, short, the idea seemed to go down well with readers, says McKibben, writing for Literary Hub:
Still, despite all that, readers seemed to enjoy it, and for just the reasons I had hoped: the story lingered in people's minds from one Friday to the next, and they wondered what turn it would take. As it spun out across the span of a year I got letters (well, emails) from people regularly suggesting possible plot twists or bemoaning the demise of favorite characters. I didn't consciously adjust the story to fit their requests (and I'd written much of it in advance) but I did take note of what people were responding to.
Reader interaction and feedback during the publishing of a book, instead of as a review, or reaction, to a whole work, now there's something.
RELATED CONTENT
Bill McKibben, books, publishing, writing
13 January 2023
The Great Gatsby, To Kill a Mockingbird, Lord of the Flies, Catcher in the Rye, and Vanity Fair, are among books commonly studied in high school. Despite their undoubted literary merit, many of these titles were published decades — and in some cases — centuries, ago. But things are changing, and now books written in the nineteen-nineties are beginning to make an appearance.
In the U.S. at least, according to research by The Pudding. The Things They Carried, written by Tim O'Brien in 1990, Woman Hollering Creek, by Sandra Cisneros from 1991, and Harry Potter and the Sorcerer's Stone (also known as Harry Potter and the Philosopher's Stone), by J.K. Rowling, and published in 1997, are among relatively recent additions to some school reading lists.
Despite the presence of Harry Potter books though, not all inclusions were particularly popular commercially. Jhumpa Lahiri's Interpreter of Maladies, a collection of short stories published in 1999, did not chart on the New York Times Best Seller list, and barely makes the top ten-thousand frequently read books list on Goodreads. Lahiri's work did however win a number of literary awards, including the Pulitzer Prize for Fiction in 2000.
RELATED CONTENT
books, education, literature, novels
13 January 2023
Voting is open for Australian book retailer Dymocks annual Top 101 books poll. Eligible titles span seven categories being bestsellers, fiction, fantasy and science-fiction, crime, romance, non-fiction, and young adult, and voters have the unenviable task of selecting just ten books for inclusion.
Good luck, and get voting.
RELATED CONTENT
13 January 2023
Reading Kazuo Ishiguro's 1988 novel, The Remains of the Day, twenty-years ago, changed the way British freelance writer Max Liu saw England. When Liu re-read the novel last year, he changed the way he saw the central protagonist James Stevens, the stoic butler of Darlington Hall, where much of the story is set.
It was one of the most profound reading experiences of my life. Partly, this was down to geography and timing. I grew up in Cornwall and, living hundreds of miles from home for the first time, I was ready to think about England and its meanings. This quietly subversive novel showed how the English obsession with class colours our emotions, speech and interactions. It changed the way I saw the country I thought I knew.
If you haven't had the chance yet, check out the brilliant 1993 Merchant Ivory produced screen adaptation of the novel, starring Anthony Hopkins and Emma Thompson.
Seriously though, what of Ishiguro's work isn't thought provoking, or somehow transformative?
RELATED CONTENT
books, Kazuo Ishiguro, literature, novels
10 January 2023
The Netflix produced adaptation of Italian author's Elena Ferrante's 2019 coming-of-age novel The Lying Life of Adults, about a teenage girl named Giovanna, living in Naples, is now streaming.
Giovanna's pretty face is changing, turning ugly, at least so her father thinks. Giovanna, he says, looks more like her Aunt Vittoria every day. But can it be true? Is she really changing? Is she turning into her Aunt Vittoria, a woman she hardly knows but whom her mother and father clearly despise? Surely there is a mirror somewhere in which she can see herself as she truly is.

Giovanna is searching for her reflection in two kindred cities that fear and detest one another: Naples of the heights, which assumes a mask of refinement, and Naples of the depths, a place of excess and vulgarity. She moves from one to the other in search of the truth, but neither city seems to offer answers or escape.
Somehow the adaptation, based on the trailer at least, is different to how I saw the story when I read it, while a teaser, released in March 2022, only briefly outlined the TV series to follow.
But yeah, so what.
RELATED CONTENT
books, Elena Ferrante, entertainment, television, trailer, video
9 January 2023
Italian manuscript thief Filippo Bernardini, who was alleged to have stolen more than one thousand book drafts, has pleaded guilty, a year after his arrest.
Filippo Bernardini impersonated figures from the publishing industry to trick people into handing over their works. He used his inside industry knowledge, having been employed by the publishing giant Simon & Schuster in London. Bernardini, 30, pleaded guilty in New York to wire fraud, but his motive has never been clear.
Bernardini's targets included Irish novelist Sally Rooney, Canadian writer Margaret Atwood, and British author and screenwriter Ian McEwan.
RELATED CONTENT
8 January 2023
Text-to-speech AIs have begun narrating select romance and fiction audiobooks available from Apple Books. Audiobook listeners electing an AI… entity (is that how I should refer to them?) to recite their title can choose between two digital voices, named Madison and Jackson. An additional two AI narrators, Helena and Mitchell, will soon be reading out non-fiction titles. Apple says the move will reduce costs, making it easier for independent authors and publishers to produce audiobooks:
The feature represents a big shift from the current audiobook model, which often involves authors narrating their own books in a process that can take weeks and cost thousands for a publisher. Digital narration has the potential to allow smaller publishers and authors to put out an audiobook at a much lower cost.
I don't know what professional book narrators will think — though I can guess — but the move also makes sense for those authors who currently chose to narrate their own work. They can save several weeks of recording time, leaving them to focus on what they do best: write. While it could be said AI narrators were inevitable, that will be cold comfort for their human counterparts.
RELATED CONTENT
artificial intelligence, books, technology, trends
8 January 2023
Fans of Taylor Jenkins Reid's 2018 novel, The Seven Husbands of Evelyn Hugo, would like to see American actor Jessica Chastain cast in the role of Celia St. James, in the upcoming Netflix screen adaptation of the book. I couldn't agree more with such a choice. Chastain often came to mind as I read Seven Husbands, and not solely because both Chastain and St. James are redheads. In fact, I can't help wondering whether Reid drew a certain degree of inspiration for St. James from Chastain.
While I believe the role of St. James officially remains to be cast, Chastain has expressed interest. "Send me a script", she said, when asked recently about the possibility, by American TV show host Andy Cohen.
RELATED CONTENT
books, Jessica Chastain, novels, screen adaptations, Taylor Jenkins Reid
4 January 2023
I'm not sure how often books with parts of their text blacked-out — rendering paragraphs, possibly entire pages, unreadable — are ever published, but README.txt, a memoir by former American solider, turned whistle blower and activist, Chelsea Manning, published by Penguin Books Australia in October 2022, is an example.
In 2010, Manning leaked hundreds of thousands of classified U.S. military documents to WikiLeaks, and a number of media outlets. She was later incarcerated for her actions, but only served several years of a thirty-five year sentence the court imposed on her.
In her book, Manning wrote about releasing the classified documents, and her pre-trial jail time, among other things, but a number of pages have been redacted by the publisher, at least in Australia:
Manning feared being sent to Guantanamo as a terrorist. Her publishers simply feared lawyers: three sections of the book, which would appear to describe documents she uploaded, are blacked out.
It seems only a small portion of the book cannot be read as a result, but I wonder if blacking out pages in books in this way, has any effect on their long term value. In the same way, for instance, mint made errors can sometimes make a coin featuring some sort production flaw, more valuable.
Blacked out text would make Manning's memoir unique in a certain way, possibly making it collectible for that reason. Time will tell.
RELATED CONTENT
books, Chelsea Manning, writing
2 January 2023
In a move that must have surprised many people, American bookseller Barnes & Noble (B&N) recently announced plans to open thirty new bookshops. This in an age where bookshops are considered old hat, passé. It's an incredible turnaround for a company once on the verge of collapse, but the B&N revival is something not only other booksellers can learn from, but also a host of other media, including music, newspapers, and film, writes American author Ted Gioia:
All the cool and up-to-date technologies are in financial trouble. Tesla share price has collapsed. Crypto is in decline. Netflix stock has dropped more than 50% in the last year. Facebook is in freefall. Even TikTok might be in trouble. But Barnes & Noble is flourishing. After a long decline, the company is profitable and growing again — and last week announced plans to open 30 new stores. In some instances, they are taking over locations where Amazon tried (and failed) to operate bookstores.
This is great news for people who still like to buy print books in a shop. I don't think any B&N stores are slated to open in Australia any time soon, but nonetheless this is surely music to the ears of authors and book readers.
RELATED CONTENT
28 December 2022
American author Fran Lebowitz says she owns twelve-thousand books. Twelve-thousand. With so many books in circulation, I couldn't ever foresee the possibility of being able to re-read any book I've already read. Even the absolute favourites.
I want to finish one title and go straight to the next one, as there are more queued up behind that on my to-be-read list. But for many, it seems to be a case of read and retain, despite there being little chance of an opportunity to ever re-read.
Book lovers are known to practice semi-hoardish and anthropomorphic tendencies. They keep too many books for too long, despite dust, dirt, mold, cracked spines, torn dust jackets, warped pages, coffee stains and the daunting reality that most will never be reread. Age rarely enriches a book.
I dare say possessing a book collection would convey the impression I am well read and cultured, and even a small home library would be a conversation starter among guests, were they to site said books. But… nah. On the flip side, I can readily answer the question: what was the last novel you read. That'll do me.
RELATED CONTENT
27 December 2022
AI technologies may make better writers, artists, and illustrators than people. They could well be able to produce stunning works of art, literature, and whatever else, but there is one downside: the Artificial Intelligence creators may not be able to copyright their work.
The United States Copyright Office (USCO) has initiated a proceeding to reverse an earlier decision to grant a copyright to a comic book that was created using "A.I. art," and announced that while the copyright will still be in effect until the proceeding is completed (and the filer for the copyright has a chance to respond to the proceeding), copyrighted works must be created by humans to gain official copyright protection.
While the USCO is yet to make a final ruling on the matter, I can't see this small hiccup interfering with AI creators plans for world dominance.
RELATED CONTENT