Showing all posts tagged:
literary awards
21 August 2023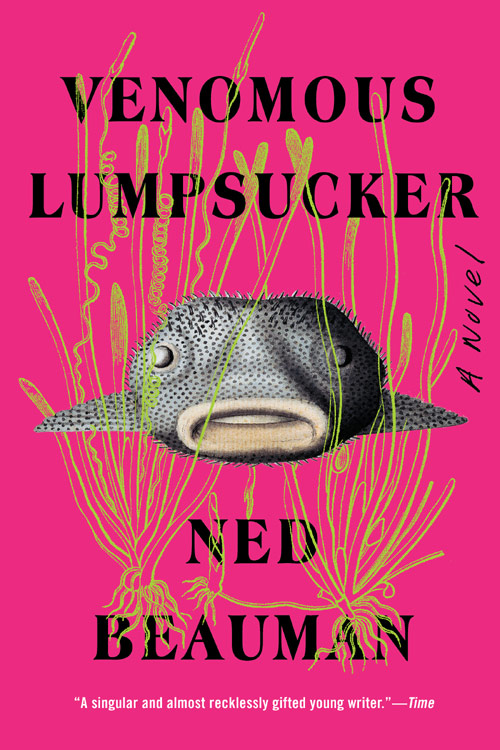 Book cover of Venomous Lumpsucker, written by Ned Beauman.
British novelist and screenwriter Ned Beauman has been named winner of the 2023 Arthur C. Clarke Award science fiction book of the year, with his fifth novel, Venomous Lumpsucker, which was published by Penguin Random House.
Going by the publisher's outline, Venomous Lumpsucker has the lot. A cli-fi, sci-fi dystopian chiller-thriller set in the near future, in a world possibly irreparably damaged by climate change:
The near future. Tens of thousands of species are going extinct every year. And a whole industry has sprung up around their extinctions, to help us preserve the remnants, or perhaps just assuage our guilt. For instance, the biobanks: secure archives of DNA samples, from which lost organisms might someday be resurrected . . . But then, one day, it's all gone. A mysterious cyber-attack hits every biobank simultaneously, wiping out the last traces of the perished species. Now we're never getting them back.

Karin Resaint and Mark Halyard are concerned with one species in particular: the venomous lumpsucker, a small, ugly bottom-feeder that happens to be the most intelligent fish on the planet. Resaint is an animal cognition scientist consumed with existential grief over what humans have done to nature. Halyard is an exec from the extinction industry, complicit in the mining operation that destroyed the lumpsucker's last-known habitat.

Across the dystopian landscapes of the 2030s — a nature reserve full of toxic waste; a floating city on the ocean; the hinterlands of a totalitarian state — Resaint and Halyard hunt for a surviving lumpsucker. And the further they go, the deeper they're drawn into the mystery of the attack on the biobanks. Who was really behind it? And why would anyone do such a thing?
The prize, awarded since 1987, is presented annually to the best science fiction novel first published in the United Kingdom in the previous calendar year, and is named after British author and futurist, Arthur C. Clarke, who died in 2008.
RELATED CONTENT
Arthur C Clarke, climate fiction, literary awards, Ned Beauman, science fiction
18 August 2023
Melbourne based Australian author Rowan Heath was named winner of the 2023 ABR Elizabeth Jolley Short Story Prize at an online ceremony held last night, with a fiction work titled The Mannequin. The prize was created in 2010 to honour the memory of late British born Australian writer Elizabeth Jolley, and is presented annually by the Australian Book Review (ABR).
RELATED CONTENT
Elizabeth Jolley, literary awards, literature
28 July 2023
The 2023 Write It Fellowship shortlist was announced earlier this month, and is made up of eleven Australian writers with works of fiction spanning historical, autobiographical, crime, psychological horror, fantasy, memoir, and poetry genres.
The Write It Fellowship was established by book publisher Penguin Random House Australia in 2018. The Fellowship is intended to support unpublished writers from under-represented sections of the community, including those with disabilities, and LGBTQIA+ and First Nations backgrounds.
The winner of the Fellowship will be named on Monday 9 October 2023.
RELATED CONTENT
Australian literature, books, literary awards
25 July 2023
Sydney based author and Australian Tamil lawyer, Shankari Chandran, has been named winner of the 2023 Miles Franklin literary award, with her novel, Chai Time at Cinnamon Gardens, published by Ultimo Press in 2022.
Chai Time at Cinnamon Gardens is Chandran's third work of fiction, and is set in a nursing home in a suburb of Sydney called Westgrove:
Cinnamon Gardens Nursing Home is nestled in the quiet suburb of Westgrove, Sydney – populated with residents with colourful histories, each with their own secrets, triumphs and failings. This is their safe place, an oasis of familiar delights — a beautiful garden, a busy kitchen and a bountiful recreation schedule.

But this ordinary neighbourhood is not without its prejudices. The serenity of Cinnamon Gardens is threatened by malignant forces more interested in what makes this refuge different rather than embracing the calm companionship that makes this place home to so many. As those who challenge the residents' existence make their stand against the nursing home with devastating consequences, our characters are forced to reckon with a country divided.
To call the field in the 2023 Miles Franklin tight, would be an understatement, and Chai Time at Cinnamon Gardens was up against a number of acclaimed Australian novels, including Limberlost by Robbie Arnott, and Cold Enough for Snow by Jessica Au.
RELATED CONTENT
Australian literature, books, literary awards, Miles Franklin, Shankari Chandran
24 July 2023
Last month the winners of the Lyttle Lytton Contest were announced. The Lyttle Lytton is a literary prize, but not of the usual variety. Instead of celebrating the good or excellent, Lyttle Lytton honours the worst of the worst. In this case bad, or terrible, would-be opening sentences from novels that will likewise turn out to be awful. The lines are not taken from actual published works though, instead they are devised by contest participants vying to write the best bad sentence they can think of.
RELATED CONTENT
humour, literary awards, literature, writing
17 July 2023
The winner of the 2023 Miles Franklin literary award will be announced in just over a week, on Tuesday 25 July 2023. Ahead of the presentation, The Bookshelf and Book Show have recorded interviews with all six shortlisted Australian authors. View the shortlist here.
RELATED CONTENT
Australian literature, books, literary awards, Miles Franklin, podcasts
14 July 2023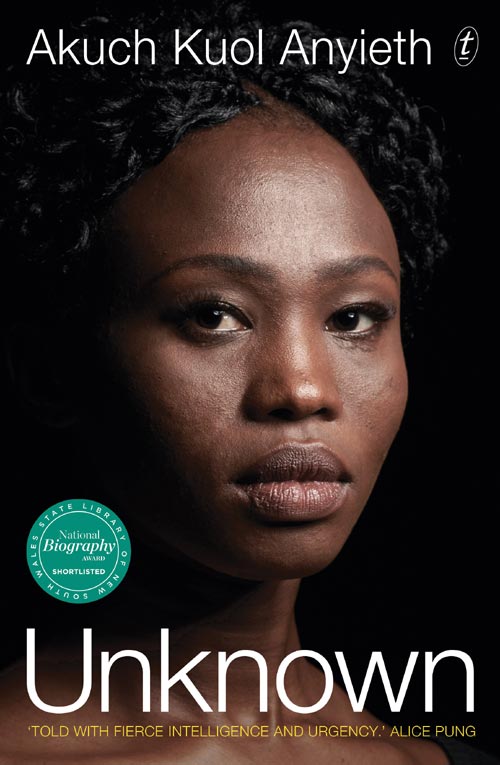 Book cover for Unknown: A Refugee's Story, by Akuch Kuol Anyieth.
Some late news to hand… the National Biography Award 2023 shortlist was announced yesterday, Thursday 13 July 2023, and includes the following six titles:
Established in 1996, and presented annually since 2002, the award honours the best published work of biographical or autobiographical writing by an Australian writer, and is administered by the State Library of New South Wales. The winner will be named in early August 2023.
RELATED CONTENT
Australian literature, literary awards
27 June 2023
The awards span six categories fiction, non-fiction, young adult literature, children's literature, poetry, and Australian history, with prizes of up to one hundred thousand dollars awarded per category. Entries are open to citizens or permanent residents of Australia, for titles published or released in 2022, and close on the afternoon of Tuesday 25 July 2023.
Winners will be announced later in the year. Read more here.
RELATED CONTENT
Australian literature, books, literary awards
20 June 2023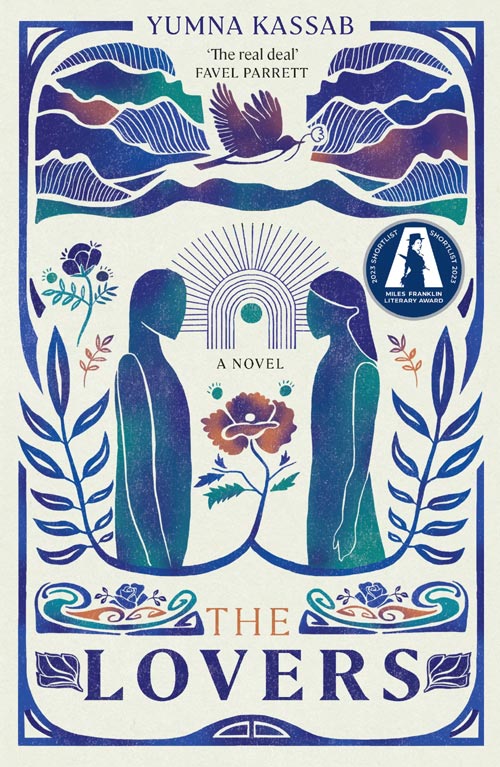 Book cover of The Lovers, by Yumna Kassab, named on the 2023 Miles Franklin shortlist.
The shortlist of the 2023 Miles Franklin literary award was announced this morning. The following six books have advanced to the next stage of the prestigious Australian literary award:
More good news for Jessica Au and Robbie Arnott who continue to not only win literary awards, but be nominated for them. And good to see some not so often seen writers make the shortlist. In a statement, the judges said the shortlisted titles all represent fresh and bold fiction writing:
The 2023 Miles shortlist celebrates six works that delve deeply into archives and memory, play confidently with style and structure and strike new grounds in language and form. From deeply immersive tales to polished jewels of craft, from lyrical mappings of land to convention-breaking chronicles, this is novel-writing at its freshest and boldest.
The winner will be named on Tuesday 25 July 2023.
RELATED CONTENT
Australian literature, books, literary awards, Miles Franklin
19 June 2023
The winners of the 2023 BookPeople Awards were announced last night, Sunday 18 June, at a ceremony at the Adelaide Convention Centre, in South Australia.
The awards recognise both the efforts of booksellers across Australia, and Australian writers of adult fiction, adult non-fiction, and children's books. Winners are selected every year by members of the Australian Booksellers Association.
Craig Silvey won Children's Book of the Year with Runt, Niki Savva won Non-Fiction Book of the Year with Bulldozed, while Robbie Arnott continued on his winning way, taking out the Fiction Book of the Year, with his 2022 novel Limberlost.
I'm yet to read Limberlost, but rest assured, it's there TBR.
RELATED CONTENT
Australian literature, literary awards, literary fiction, Robbie Arnott