Showing all posts tagged:
Miles Franklin
6 September 2023
Book cover of The Conversion, by Amanda Lohrey.
Tasmanian based Australian author, and winner of the 2021 Miles Franklin Literary Award, Amanda Lohrey, has written a new novel, The Conversion, which will be published by Text Publishing, in October 2023. The story follows a couple, Zoe and Nick, who set about converting a deconsecrated church into a home:
The conversion was Nick's idea, but it's Zoe who's here now, in a valley of old coalmines and new vineyards, working out how to live in a deconsecrated church. What to do with all that vertical space, those oppressive stained-glass windows? Can a church become a home or, even with all its vestiges removed, will it remain forever what it was intended to be?
To date, The Labyrinth, winner of the aforementioned Miles Franklin prize, is the only of Lohrey's books I've read. It was an utterly compelling read though, and I'm looking forward to The Conversion, and possibly even seeing it among nominations for the 2024 Miles Franklin.
RELATED CONTENT
Amanda Lohrey, Australian literature, books, Miles Franklin
25 July 2023
Sydney based author and Australian Tamil lawyer, Shankari Chandran, has been named winner of the 2023 Miles Franklin literary award, with her novel, Chai Time at Cinnamon Gardens, published by Ultimo Press in 2022.
Chai Time at Cinnamon Gardens is Chandran's third work of fiction, and is set in a nursing home in a suburb of Sydney called Westgrove:
Cinnamon Gardens Nursing Home is nestled in the quiet suburb of Westgrove, Sydney – populated with residents with colourful histories, each with their own secrets, triumphs and failings. This is their safe place, an oasis of familiar delights — a beautiful garden, a busy kitchen and a bountiful recreation schedule.

But this ordinary neighbourhood is not without its prejudices. The serenity of Cinnamon Gardens is threatened by malignant forces more interested in what makes this refuge different rather than embracing the calm companionship that makes this place home to so many. As those who challenge the residents' existence make their stand against the nursing home with devastating consequences, our characters are forced to reckon with a country divided.
To call the field in the 2023 Miles Franklin tight, would be an understatement, and Chai Time at Cinnamon Gardens was up against a number of acclaimed Australian novels, including Limberlost by Robbie Arnott, and Cold Enough for Snow by Jessica Au.
RELATED CONTENT
Australian literature, books, literary awards, Miles Franklin, Shankari Chandran
17 July 2023
The winner of the 2023 Miles Franklin literary award will be announced in just over a week, on Tuesday 25 July 2023. Ahead of the presentation, The Bookshelf and Book Show have recorded interviews with all six shortlisted Australian authors. View the shortlist here.
RELATED CONTENT
Australian literature, books, literary awards, Miles Franklin, podcasts
20 June 2023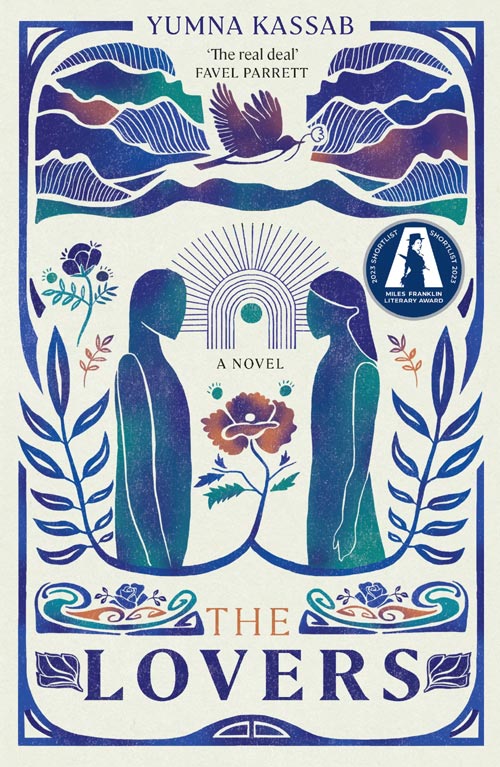 Book cover of The Lovers, by Yumna Kassab, named on the 2023 Miles Franklin shortlist.
The shortlist of the 2023 Miles Franklin literary award was announced this morning. The following six books have advanced to the next stage of the prestigious Australian literary award:
More good news for Jessica Au and Robbie Arnott who continue to not only win literary awards, but be nominated for them. And good to see some not so often seen writers make the shortlist. In a statement, the judges said the shortlisted titles all represent fresh and bold fiction writing:
The 2023 Miles shortlist celebrates six works that delve deeply into archives and memory, play confidently with style and structure and strike new grounds in language and form. From deeply immersive tales to polished jewels of craft, from lyrical mappings of land to convention-breaking chronicles, this is novel-writing at its freshest and boldest.
The winner will be named on Tuesday 25 July 2023.
RELATED CONTENT
Australian literature, books, literary awards, Miles Franklin
18 May 2023
The 2023 Miles Franklin longlist was unveiled yesterday. Considered to be one of Australia's most prestigious literary awards, the Miles Franklin honours works of fiction by Australian writers, and is made up of the following eleven titles:
In being included on this year's longlist, Melbourne based author Jesscia Au continues on her upward trajectory, while Tasmanian writer Robbie Arnott is possibly only two steps away from garnering another accolade. But there's also a number of not so familiar authors present, which is positive. This is looking like a wide open contest at the moment.
It's also been another good year for independent publishers, particularly Sydney based Ultimo Press, who have three titles in the 2023 longlist. On the other hand, Allen & Unwin, one of Australia's biggest publishing houses, is conspicuous by absence. In the past, being published by Allen & Unwin was considered a precursor of success in Australian literary awards.
The Miles Franklin shortlist will be announced on Tuesday 20 June 2023.
RELATED CONTENT
Australian literature, fiction, literary awards, Miles Franklin
12 March 2023
Image courtesy of Eli Digital Creative.
To mark its twenty-fifth anniversary, Britain's Baillie Gifford literary prize, which recognises excellence in non-fiction writing, is holding a Winner of Winners Award to select the best title — the best of the best, if you like — among the past twenty-four winners of the prize.
Riffing on this idea, Jason Steger, literary editor for Australian newspapers The Age, and The Sydney Morning Herald, suggests the Miles Franklin Literary Award could do likewise to commemorate its seventieth anniversary in 2027. The Booker Prize also did something similar in 2008, for their fortieth anniversary, with the Best of the Booker.
Steger put forward the proposal in his weekly newsletter The Booklist last week. A special panel of judges could create a shortlist of perhaps a dozen past Miles Franklin winners, with a public vote to determine an overall victor:
Like the Booker, choosing a shortlist and a public vote would seem the optimum way to go if the Miles were to do it. A panel of judges would have to be chosen and they could pick perhaps a 10- or 12-book shortlist. And then the likes of you and me would have our say.
Selecting a crème de la crème winner would be a big ask, as would drawing up any shortlist, but anything that boosts interest and excitement in Australian literature can only be a good idea.
RELATED CONTENT
Australian literature, fiction, literary awards, Miles Franklin
20 July 2022
It's a red letter day in Australian literature, with Bodies of Light, by Jennifer Down being named winner of the 2022 Miles Franklin Literary Award.
Here's the book trailer for Bodies of Light:
And here is an outline of Bodies of Light's premise:
So by the grace of a photograph that had inexplicably gone viral, Tony had found me. Or: he'd found Maggie. I had no way of knowing whether he was nuts or not; whether he might go to the cops. Maybe that sounds paranoid, but I don't think it's so ridiculous. People have gone to prison for much lesser things than accusations of child-killing.A quiet, small-town existence. An unexpected Facebook message, jolting her back to the past. A history she's reluctant to revisit: dark memories and unspoken trauma, warning knocks on bedroom walls, unfathomable loss. She became a new person a long time ago. What happens when buried stories are dragged into the light?
RELATED CONTENT
Australian literature, books, literary awards, Miles Franklin
18 July 2022
The winner of the 2022 Miles Franklin literary prize will be announced on Wednesday 20 July 2022, and to mark the momentous occasion I've remixed the disassociated logo with the Miles Franklin hues of blue for this week.
I'm a big fan of literary awards, as they're great places to find quality reading suggestions. Of the six titles on the 2021 shortlist, I've so far read The Labyrinth by Amanda Lohrey, the 2021 winner, plus Lucky's by Andrew Pippos, The Inland Sea by Madeleine Watts, and The Rain Heron by Robbie Arnott.
To date I've not been disappointed. But for more recent reading ideas, check out the 2022 Miles Franklin longlist, announced in May, and the shortlist from last month.
RELATED CONTENT
Australian literature, books, literary awards, Miles Franklin
23 June 2022
The 2022 Miles Franklin Literary Award shortlist was unveiled this evening, with the following five novels making the cut:
Awesome to see Grimmish by Michael Winkler, on the list, now the first self-published novel to reach the Miles Franklin shortlist.
The winner will be named on Wednesday 20 July 2022.
RELATED CONTENT
Australian literature, books, literary awards, Miles Franklin
22 June 2022
Grimmish by Michael Winkler — along with the other books on this year's Miles Franklin longlist — has somewhat found itself in the shadows as a consequence of the plagiarism controversy surrounding John Hughes' novel The Dogs, which has since been removed from the longlist.
This could have been unfortunate as the 2021 title by the Melbourne based Australian author has an historic claim to fame. Grimmish is the first ever self-published novel to be included on the longlist of the long running Australian literary prize.
Variously described as "exploded nonfiction", and an "experimental historical novel", Grimmish recounts the story of Italian American boxer Joe Grim, and his tour of Australia in 1908 and 1909. Grim who fought in over one-hundred-and-fifty bouts, only prevailed on twenty-four occasions. That didn't prevent him from developing a reputation for his showmanship and extraordinary physical resilience, and earning the moniker of the "the human punching bag" in the process.
But Grim isn't the only player in this story with tenacity. Like many authors, Winkler struggled to find a publisher interested in looking at his manuscript. But that was only the beginning. He was also subjected to numerous taunts and sneers, being told Grimmish, with its unconventional format, was "wearisome", and "repellent." Publishing houses, it seemed, did not want to take a punt on a book they felt certain would not sell.
At that point Winkler decided to self-publish. But self-publishing is not for the faint-hearted. In addition to writing a novel, an author is required to take on all the functions of a publishing house, editing, printing, marketing, and distribution, among them. An abundance of resolve and stamina — matching that, I dare say, of a champion boxer — is required.
The Miles Franklin shortlist will be announced tomorrow, Thursday 23 June 2022, and Grimmish has more than a few fans gunning for its inclusion. Rave reviews aside — the novel has garnered a respectable 4.25 out of five rating on Goodreads, Grimmish is almost deserving of a shortlist place purely on account of Winkler's drive and determination in getting his book published.
RELATED CONTENT
Australian literature, literary awards, Michael Winkler, Miles Franklin