Showing all posts tagged:
Michael Caine
8 June 2023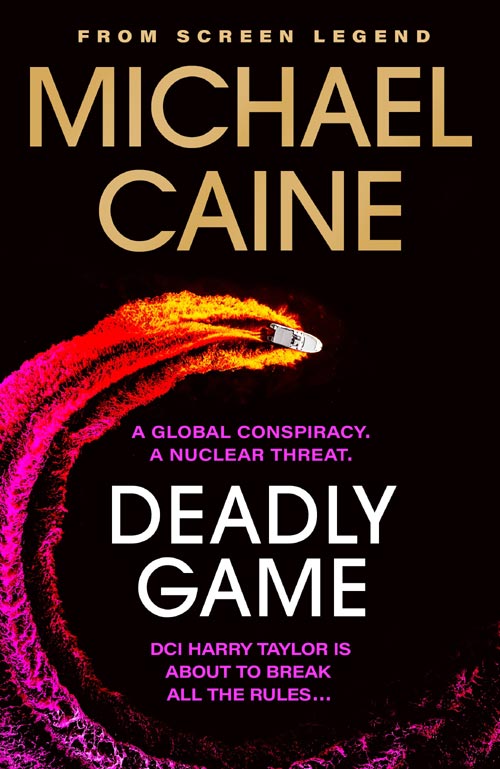 Book cover of Deadly Game, written by Michael Caine.
At the age of ninety, British actor Michael Caine has turned his hand to novel writing. His debut title, Deadly Game — set to be published in Australia by Hachette on Tuesday 28 November 2023 — quite possibly draws a certain amount of inspiration from some of Caine's acting roles:
DCI Harry Taylor has no respect for red tape or political reputations — but he's great at catching criminals. And all his unorthodox skills will be needed as an extraordinary situation unfolds on his doorstep: a metal box of radioactive material is found at a dump in Stepney, East London, but before the police can arrive it is stolen in a violent raid.

With security agencies across the world on red alert, it's Harry and his unconventional team from the Met who must hit the streets in search of a lead. They soon have two wildly different suspects, aristocratic art dealer Julian Smythe in London and oligarch Vladimir Voldrev in Barbados. But the pressure is on. How much time does Harry have, and how many more players will join the action, before the missing uranium is lighting up the sky?
Copy on the Hachette page describes Deadly Game as hero Harry Taylor's "first adventure"… does this mean more thrillers written by Caine are in the works?
RELATED CONTENT
books, fiction, Michael Caine, writing
30 November 2006
First an aside, I wonder if The Prestige was the team behind 2005's Batman Begins deciding to apply their collective acting and producing talents to a completely different story? We have Christian Bale, Michael Caine, and director Christopher Nolan, all from Batman Begins, present here.
The Prestige traces the unhealthy obsession (is any obsession healthy though?) friends turned rivals, Alfred Borden (Bale) and Robert Angier (Hugh Jackman), have with each other's magic acts, and the ends one will go to, so as to out do the other.
Caught up in this rivalry is Scarlett Johansson as stage assistant, Olivia, who becomes romantically involved with both men during the course of proceedings. And though I knew David Bowie was also in the movie, I didn't recognise him as Tesla, an American inventor competing with Thomas Edison.
Originally published Thursday 30 November 2006.
RELATED CONTENT
Christian Bale, Christopher Nolan, film, Hugh Jackman, legacy, Michael Caine, Scarlett Johansson