Showing all posts tagged:
nature
4 February 2023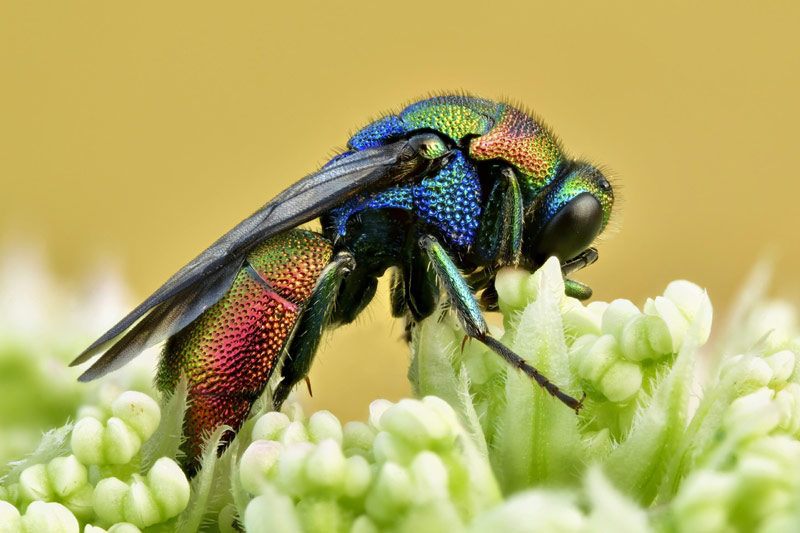 Photo by Sven Damerow. Attribution-ShareAlike 4.0 International.
Check out the stunning entries in the 2022 Wiki Loves Earth photographic competition. This image, by Sven Damerow, of a cuckoo wasp, was created by blending several photos together. A larger version of the photo can be seen here.
Wiki Loves Earth was established in 2013, and initially took place in Ukraine, before becoming an international contest in 2014.
RELATED CONTENT
31 October 2022
Researchers at London's Queen Mary University have found bumble bees like to play, and accordingly, experience positive feelings. Despite there being no purpose to the activity, groups of bees rolled small wooden balls, sometimes repeatedly, around a chamber, for what researchers could only determine was fun.
Study first-author, Samadi Galpayage, Ph.D. student at Queen Mary University of London says that "it is certainly mind-blowing, at times amusing, to watch bumble bees show something like play. They approach and manipulate these 'toys' again and again. It goes to show, once more, that despite their little size and tiny brains, they are more than small robotic beings."
This is reportedly the first instance of playful activity being observed in any insect species.
RELATED CONTENT
17 October 2022
Washington, DC. based American photographer Karine Aigner has been named Wildlife Photographer of the Year for 2022, with a stunning image of male bees tussling it out to mate with a female bee.
Convened by the British Natural History Museum, the Wildlife Photographer of the Year award celebrates the best in nature photography, and is considered one of the world's most prestigious photography competitions. A selection of other entries can be seen here.
RELATED CONTENT
31 August 2022
We're passed the time for warnings… a significant increase in sea levels is unavoidable, with the melting of the Greenland ice cap expected to add twenty-seven centimetres to global ocean tidemarks. It could be a whole lot more if (or when) other ice masses melt:
Major sea-level rise from the melting of the Greenland ice cap is now inevitable, scientists have found, even if the fossil fuel burning that is driving the climate crisis were to end overnight. The research shows the global heating to date will cause an absolute minimum sea-level rise of 27cm (10.6in) from Greenland alone as 110tn tonnes of ice melt. With continued carbon emissions, the melting of other ice caps and thermal expansion of the ocean, a multi-metre sea-level rise appears likely.
RELATED CONTENT
climate change, environment, nature
22 August 2022
How did electric eels become… electric? It's an intriguing question. After all, the seabed isn't littered with the recharge stations electric vehicles use, so what's the deal? Israel Ramirez, a retired biopsychologist, explains:
It isn't hard to produce slight electric currents. Most animal cells keep sodium out and potassium in. Regulating the flow of these substances across the membranes of their cells produces a slight electric current because sodium and potassium have a positive charge. Each cell produces only a slight current, but you can get many volts by stacking cells in the same way people stack low voltage batteries to get a higher voltage.
RELATED CONTENT
22 August 2022
While a group of scientists believe they could revive Tasmanian Tigers — the species has been extinct since 1936 — and have the creatures roaming forests within a decade, not all scientists are convinced. In fact some believe the notion of bringing back the thylacine, is little more than a publicity stunt:
"De-extinction is a fairytale science," Associate Professor Jeremy Austin from the Australian Centre for Ancient DNA told the Sydney Morning Herald, adding that the project is "more about media attention for the scientists and less about doing serious science".
Time will tell.
RELATED CONTENT
nature, science, Tasmania, Tasmanian tiger
25 July 2022
Incredible time lapse video footage of the growth of a mango tree, from being planted as a seed, to a year later, from the people at Boxlapse.
I once lived in house that had a mature mango tree in the back yard. It was sizeable, three metres, maybe a little higher, planted on the fence line. Now I know what I missed earlier on.
RELATED CONTENT
22 July 2022
In the distant past, forests and trees covered large parts of Iceland, about forty percent of the country. But when permanent settlers arrived over a thousand years ago, much of this growth was cleared to make way for agriculture and grazing, and firewood. Efforts to replant trees since the 1990s though have seen forest areas return to two percent of the country today.
That number may not seem like much, but since 1990, the surface area covered by forest or shrubs in Iceland has increased more than six times over – from 7,000 hectares to 45,000. In 20 years, the number is expected to be 2.6%.
Every little bit helps. It's a hopeful reminder that it's not too late to take steps of any sort to deal with climate change.
RELATED CONTENT
climate change, environment, Iceland, nature
15 July 2022
Image courtesy of 二 盧/uniquedesign52.
Planting trees is one way of mitigating the impact of climate change, but planting mini-forests is a more effective alternative, says American nature and conservation writer Hannah Lewis.
Mini-forests are more likely to nurture ecosystems, rather than single trees planted here and there, and, as a result, live longer. And better still, mini-forests can be established anywhere, even in densely populated urban areas, where there's even a few spare square metres of land available.
A mini-forest is a small ecologically robust forest that can be planted by communities in parks and cities, in schoolyards and churchyards, and beside busy roads. It's flipped traditional landscaping on its head. You get more biodiversity and a different appearance. It's a dense band of multi-layer trees as opposed to the elegant but less ecologically useful line of single species down the side of the street.
Lewis' call is based on the work of late Japanese botanist Akira Miyawaki, who advocated the planting of small forests with native species, as a way of fostering the emergence of ecosystems.
RELATED CONTENT
climate change, environment, nature
4 July 2022
A total of twenty-one books, in four categories, including the inaugural Karijia Award, have been named on the 2022 Environment Award for Children's Literature shortlist, a literary award which is hosted by the Wilderness Society.
Notable among those included on the shortlist is retired Australian Football League player Adam Goodes, whose book, Somebody's Land: Welcome to Our Country, co-written with Ellie Laing, has been named on the Karijia Award shortlist, a prize which recognises the best in First Nations storytelling for children.
Picture Fiction:
The Accidental Penguin Hotel, by Andrew Kelly, illustrated by Dean Jones
9 things to remember (and one to forget), written and illustrated by Alison Binks
Sharing, by Aunty Fay Muir and Sue Lawson, illustrated by Leanne Mulgo Watson
One Potoroo: A Story of Survival, by Penny Jaye, illustrated by Alicia Rogerson
The River, by Sally Morgan, illustrated by Johnny Warrkatja Malibirr
Saving Seal. The Plastic Predicament, by Diane Jackson Hill, illustrated by Craig Smith
Non-fiction:
The Illustrated Encyclopaedia of Peculiar Pairs in Nature, by Sami Bayly
The Australian Climate Change Book, by Polly Marsden, illustrated by Chris Nixon
The Way of the Weedy Seadragon, by Anne Morgan, illustrated by Lois Bury
The Gentle Genius of Trees, written and illustrated by Philip Bunting
Fiction:
Fish Kid and the Turtle Torpedo, written and illustrated by Kylie Howarth
Bailey Finch Takes a Stand, by Ingrid Laguna
The Good Times of Pelican Rise: Save the Joeys, by Samone Amba
The Karijia Award for Children's Literature:
Sea Country, by Aunty Patsy Cameron, illustrated by Lisa Kennedy
Sharing, by Aunty Fay Muir and Sue Lawson, illustrated by Leanne Mulgo Watson
Warna-Manda Baby Earth Walk, by Susan Betts, illustrated by Mandy Foot and Susan Betts
Wiradjuri Country, by Larry Brandy
Somebody's Land: Welcome to Our Country, by Adam Goodes and Ellie Laing, illustrated by David Hardy
The Story Doctors, by Boori Monty Pryor, illustrated by Rita Sinclair
The River, by Sally Morgan, illustrated by Johnny Warrkatja Malibirr
Walking in Gagudju Country: Exploring the Monsoon Forest, by Diane Lucas and Ben Tyler, illustrated by Emma Long
The winners will announced during Nature Book Week, which takes place from Monday 5 September 2022 through to Sunday 11 September.
RELATED CONTENT
Adam Goodes, Australian literature, Indigenous literature, literary awards, nature