Showing all posts tagged:
Emily Bitto
1 February 2023
Australian author, and co-founder of the Stella Prize, Sophie Cunningham, discusses her latest novel, This Devastating Fever (published by Ultimo Press, September 2022), with Melbourne based author Emily Bitto, in a podcast recorded by the Wheeler Centre.
This Devastating Fever, Cunningham's ninth book, tells the story of an author writing about the life of Leonard Woolf, the husband of British writer Virginia Woolf, and features a curious tie in with the once notorious Y2K bug:
Alice had not expected to spend most of the twenty-first century writing about Leonard Woolf. When she stood on Morell Bridge watching fireworks explode from the rooftops of Melbourne at the start of a new millennium, she had only two thoughts. One was: the fireworks are better in Sydney. The other was: is Y2K going to be a thing? Y2K was not a thing. But there were worse disasters to come. Environmental collapse. The return of fascism. Wars. A sexual reckoning. A plague.

Uncertain of what to do she picks up an unfinished project and finds herself trapped with the ghosts of writers past. What began as a novel about a member of the Bloomsbury set, colonial administrator, publisher and husband of one the most famous English writers of the twentieth century becomes something else altogether.
RELATED CONTENT
Australian literature, books, Emily Bitto, novels, Sophie Cunningham
3 November 2022
Melbourne based Australian author Emily Bitto has been named winner of the 2022 Roderick Literary Award, with her 2021 novel Wild Abandon.
Two hundred and thirty entries — a record number — were received for the 2022 award. All were of a high standard, which made selecting a shortlist, let alone a winner, difficult, according to Emeritus Professor Alan Lawson, who headed up the judging panel.
A lot of very good books just didn't make the shortlist. But in the end Emily Bitto's extremely well-crafted account of a young Australian man's 'escape' to New York and then into the US heartlands after the breakdown of his first serious relationship — a coming of age and into self-knowledge story set against a richly symbolic and allusive account of the decline of civilisations — won the prize.
RELATED CONTENT
Australian literature, Emily Bitto, literary awards
13 September 2022
Melbourne based Australian authors Emily Bitto and Miles Allinson discuss their recent novels, Wild Abandon and In Moonland respectively, with Michaela Kalowski, in an interview recorded at this year's Sydney Writers' Festival.
Having penned two of the past year's most acclaimed novels, Miles Allinson and Emily Bitto come together to discuss their stories of characters searching for identity and meaning within fractured realities. Miles talks about In Moonland, a family portrait of three generations that stretches from the wild idealism of the 70s to the fragile hopes for the future. Emily sheds light on Wild Abandon, her tale of a lonely outsider who travels from Australia to America's heartland trying to find his place in a late-capitalist world.
RELATED CONTENT
Australian literature, books, Emily Bitto, Miles Allinson
13 December 2021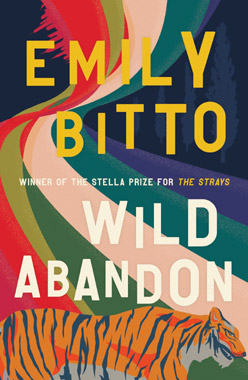 The year is 2011, and Will, a young Australian, heart-broken after his girlfriend Laura left him, buys a cheap flight to America. His plan is to spend a few months in New York City, partying and meeting people, hoping he can put the break-up behind him. But not long after arriving in the city that never sleeps, an unsettling incident sees Will pack his bags and travel to a small town in Ohio. Here an old school friend introduces him to Wayne, a former soldier, and Vietnam veteran.
Wild Abandon (published by Allen & Unwin, September 2021), the second novel of Melbourne based Australian author Emily Bitto, tells a familiar story. A displaced person, struggling to find direction at home, sets off into the wide blue yonder, on the belief travel to places new and exciting will be a panacea for their ills.
Once he reaches Ohio, Will begins working for Wayne, who owns a private zoo where he keeps exotic animals. What better way to heal, you might ask, than caring for the beasts inhabiting a menagerie. Better, surely, that the drug infused parties of the big city. But Wayne is man with deep problems, and before long Will is lurching towards another calamity.
RELATED CONTENT
Emily Bitto, fiction, TBR list, writing