Showing all posts tagged:
science
29 March 2023
It's been ten years since Philipp Dettmer founded educational science portal Kurzgesagt. To mark the milestone, their latest video looks at Kurzgesagt's inner workings, and explores how the operation is financed. There may not be too much for science enthusiasts to take away, but this is invaluable learning for content producers.
Kurzgesagt charges nothing for people to access their content. Rather than imposing a paywall, they have developed other revenue streams, including a shop and sponsorships. Readers/viewers are not assailed with ads, or thoroughly annoying popup prompts to subscribe to newsletters, instead leaving the content to be enjoyed at leisure. This is the way to do it.
Thank you Kurzgesagt for the first ten years, and here's to the next decade.
RELATED CONTENT
content production, education, science, video
3 February 2023
Now if Australia had a poet laureate, which it will by 2025, perhaps their work would be winging its way through interplanetary space towards Jupiter. Instead, verse composed by American poet laureate Ada Limón, will be engraved on Europa Clipper, a NASA space probe scheduled for launch in October 2024, to study Europa, one of the giant planet's largest moons.
The spacecraft is set to launch from NASA's Kennedy Space Center in October 2024 and by 2030, it will be in orbit around the gas giant. It will conduct multiple flybys of Jupiter's icy moon Europa, to gather detailed measurements and determine if the moon has conditions suitable for life. Europa is thought to contain a massive internal ocean and is considered one of the most promising habitable environments in our solar system, beyond Earth.
RELATED CONTENT
28 January 2023
The United States Copyright Office (USCO) recently declared it only wants to grant copyright protection to artworks created by people, not AI technologies.
Now Springer Nature, one of the world's largest publisher of scientific journals, says hot AI technology of the moment, ChatGPT, along with other large language models (LLM) tools, cannot be credited as the author of any academic papers they publish. The OpenAI engineered chatbot can however assist with research writing, but their use must be disclosed:
First, no LLM tool will be accepted as a credited author on a research paper. That is because any attribution of authorship carries with it accountability for the work, and AI tools cannot take such responsibility. Second, researchers using LLM tools should document this use in the methods or acknowledgements sections. If a paper does not include these sections, the introduction or another appropriate section can be used to document the use of the LLM.
RELATED CONTENT
artificial intelligence, science, technology, trends, writing
18 December 2022
Black hole stars, sometimes called quasi-stars, were a hypothetical star that may have existed in the earliest days of the universe, up to about half a billion years after the Big Bang.
They were larger — far larger — than any star known to be present in the universe today, and were capable of outshining entire galaxies. And, as the name suggests, they were part black hole. We know some stars become black holes at the end of their lives, but for the two to somehow co-exist, star and black hole, without one destroying the other? How can such a thing even happen?
In 1927, British-Indian scientist J. B. S. Haldane, in an essay titled Possible Worlds wrote the oft quoted sentence: "now, my own suspicion is that the universe is not only queerer than we suppose, but queerer than we can suppose." It was Haldane's way of saying we're unlikely to ever make sense of the universe, no matter how much we learn about it. Black hole stars, in their bizarre weirdness, only add to the wonder.
And, as a bonus, American rock/grunge act Soundgarden's 1994 track, Black Hole Sun, written by the late Chris Cornell, takes on a whole (er, no pun intended) new meaning in this context.
RELATED CONTENT
astronomy, music, science, video
18 December 2022
It pays to follow Australian scientist and writer Dr Karl Kruszelnicki (aka Dr Karl) on Twitter (as long as Twitter continues to permit such behaviour), especially if you are writing a novel.
The other day he posted a link to an article published in 2014, about a literary algorithm that is apparently capable of quickly assessing the quality of an unpublished novel manuscript. The article expounds upon research conducted (PDF) by Stony Brook University into the matter:
Regarding lexical choices, less successful books rely on verbs that are explicitly descriptive of actions and emotions (e.g., "wanted", "took", "promised", "cried", "cheered", etc.), while more successful books favor verbs that describe thought-processing (e.g., "recognized", "remembered"), and verbs that serve the purpose of quotes and reports (e.g,. "say"). Also, more successful books use discourse connectives and prepositions more frequently, while less successful books rely more on topical words that could be almost cliche, e.g., "love", typical locations, and involve more extreme (e.g., "breathless") and negative words (e.g., "risk").
Fascinating, no? Remember though, don't let the algorithm write the book, let it guide you in writing the book. But if you wish to avoid algorithms all together, look at the way Irish author Sally Rooney — for one — does things.
RELATED CONTENT
publishing, science, technology, writing
11 December 2022
It may be possible to construct deep space vessels capable of (eventually) reaching speeds equal to two percent of the speed of light:
Scientists have proposed a dazzling new mission to travel to the stars that is inspired by the elegant flights of seabirds, such as albatrosses, reports a new study. The interstellar concept mission would harness shifting winds generated by the Sun in order to accelerate a spacecraft to as much as 2 percent the speed of light within two years, allowing it to soar into the vast expanse beyond our solar system.
But two percent the speed of light, a velocity that would take some time to attain anyway, isn't all that speedy considering the vast distances between celestial objects, such as the Sun, and the nearest star to us, Proxima Centauri.
If we round off the speed of light at 300,000 kilometres (km) per second, two percent of that is six thousand km per second. That's 360,000 km per minute, and 21,600,000 km per hour. 518,400,000 km per day. If my maths is on spec — not always guaranteed — the journey to Proxima Centauri, some 40,208,000,000,000 km distant, would take 77,561 days, or about 213 years.
On the other hand, if Pluto is an average of 5,300,000,000 km from Earth — sometimes it is closer, sometimes more distant — it would take about ten days to travel there. Assuming such speeds could be attained at relatively close proximity to the Sun, that is. This method of deep space travel seems reasonable for reaching points in and near the solar system, but might be out of the question for interstellar voyages carrying people.
RELATED CONTENT
4 December 2022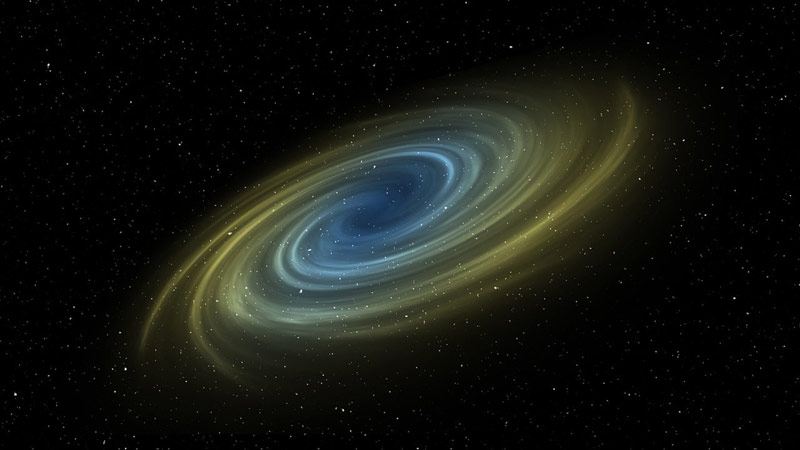 Image courtesy of A Owen.
Alcyoneus, a galaxy located some three and a half billion light years from Earth, at over sixteen million light years in length, is — without putting too finer a point on it — staggeringly huge. Our home galaxy, the Milky Way, at a mere one hundred thousand light years long, is positively minuscule in comparison.
But Alcyoneus isn't a sixteen million light year long container of stars and whatever else fills a galaxy. Alcyoneus is what's known as a radio galaxy, and the bulk of its length comes from radio lobes, which are a little like jets of radio energy, that fire out from opposite sides, into the surrounding space.
At its starry core Alcyoneus, which is likely an elliptical galaxy (unlike the image of the spiral type galaxy I've featured above), may not be all that much larger than the Milky Way. And that's probably a relief for members of Alcyoneus' galactic council, who only have to travel several hundred thousand light years to visit their constituents, rather than multiple millions.
If radio galaxies intrigue you though, Universe Guide has put together this explainer.
RELATED CONTENT
25 November 2022
In five billion years, hopefully long after a, hopefully, still extant humanity have departed the solar system for a new home somewhere among the stars, the Sun will become a red giant star. In this late phase of its life, the Sun will expand in size to engulf all the solar system's inner planets.
While this part of the Sun's lifecycle will be relatively short-lived — some estimates suggest a mere one billion years — our home planet will have well and truly been obliterated, by the time the Sun shrinks in size again. Unless of course any of our descendants, who stayed home, succeeded in moving Earth further out into the solar system.
The idea has been mooted previously. Even before the Sun becomes a red giant, its gradually increasing heat output, or luminosity, will, in time, make living on Earth ever more uncomfortable.
Such as undertaking will be quite the feat of astronomical engineering. Being able to move the planet will be an achievement in itself, to say nothing of navigating to a suitable spot elsewhere, clear of the larger outer planets. But what happens when the Sun shrinks and cools off again? Do we try and send Earth sunwards again? Perhaps our efforts would be better served finding a Earth-twin planet to live on, orbiting a younger star. And, while we're at it, figuring out a way of reaching said location in a reasonable timeframe.
At least it's not something we need concern ourselves with right this minute though. Likewise, the prospect of the Sun exploding as a supernova. It's something that cannot happen. But what about another star — one in the approximate proximity of the solar system — going supernova? That could be a whole another story.
That's the question the people at Kurzgesagt explore this month, in their latest video presentation. Again the prospect of a relatively nearby star exploding is not something that will occur any time soon. At present, IK Pegasi, a binary star some one hundred and fifty four light years away, is the nearest possibility, though by the time it is projected to explode, it will be more like five hundred light years distant.
Still as Kurzgesagt explains, risks remain, and even supernovas occurring at some distance could have an impact, no matter how minor, on Earth.
RELATED CONTENT
21 November 2022
If you're still using an aerial (is that still a thing?) instead of cable (is that still a thing?) or internet, to watch TV, and — presumably — still possess an old school (think rabbit ears) TV, you may be able to pickup remnants of the Big Bang, the force of cosmic nature, that brought the universe into being.
Like COBE, WMAP scans the sky over and over again, soaking up the ancient light from the Big Bang known as the cosmic microwave background. Microwaves are a low-energy form of radiation but higher in energy than radio waves. The cosmic microwave background blankets the universe and is responsible for a sizeable amount of static on your television set–well, before the days of cable. Turn your television to an "in between" channel, and part of the static you'll see is the afterglow of the big bang.
All you'd see is static, some of which may be post Big Bang microwaves bouncing around the cosmos, but it might be more interesting than some of what is broadcast on the terrestrial channels.
RELATED CONTENT
astronomy, history, science, technology
12 November 2022
Do you often recall events from your past? Things that happened days ago, or decades earlier? Do you frequently visualise your future? This could involve thinking about where you'll be living in five years, or where you might be working in twenty years time.
It's a phenomenon known as mental time travel, and if your mind wanders back and forth through time, you wouldn't be the only one. While mental time travel may seem like a waste of time, mere daydreaming, there can be an upside. For instance, if enough people had a positive outlook on the future, the future may well become the place we hope it will be.
RELATED CONTENT