Showing all posts tagged:
trends
8 February 2023
Microsoft today announced the launch of a turbo-charged version of its Bing search engine. In short, it promises to everything ChatGPT can do, and more. And on paper, at least, it sounds impressive:
We've updated the Edge browser with new AI capabilities and a new look, and we've added two new functionalities: Chat and compose. With the Edge Sidebar, you can ask for a summary of a lengthy financial report to get the key takeaways — and then use the chat function to ask for a comparison to a competing company's financials and automatically put it in a table. You can also ask Edge to help you compose content, such as a LinkedIn post, by giving it a few prompts to get you started. After that, you can ask it to help you update the tone, format and length of the post. Edge can understand the web page you're on and adapts accordingly.
But you'll need to use Edge, the browser Microsoft has been relentless foisting onto Windows users, for the copilot to function. A cunning way if ever there was one to boost market share of the Edge browser. Now did someone at Microsoft think of coupling the AI powered version of Bing with Edge, or did ChatGPT make that suggestion?
RELATED CONTENT
artificial intelligence, technology, trends
4 February 2023
Krystal Hu, writing for Reuters:
"In 20 years following the internet space, we cannot recall a faster ramp in a consumer internet app," UBS analysts wrote in the note. It took TikTok about nine months after its global launch to reach 100 million users and Instagram 2-1/2 years, according to data from Sensor Tower.
ChatGPT is going to change the world, and everyone wants a piece of the action.
RELATED CONTENT
artificial intelligence, technology, trends
3 February 2023
Information is Beautiful looks at the different of assessing a film's success.
By worldwide box office gross takings, Avatar, made in 2010, by James Cameron, tops the list. But adjust the takings for inflation, and the picture changes. Sort of. Avatar still tops the stack, but Titanic, also directed by Cameron, comes in at number two, with 1977's Star Wars close behind.
And then, using the not so great return on investment metric — which favours productions with smaller budgets — films like My Big Fat Greek Wedding, and Australia's own ocker hit Crocodile Dundee, rate highly.
RELATED CONTENT
3 February 2023
Kevin Systrom and Mike Krieger, creators of the original Instagram, who sold the photo-sharing to Facebook for one billion dollars in 2018, have launched a new app called Artifact. Rather than curating photos though, Artifact serves up popular news articles and blog posts:
The simplest way to understand Artifact is as a kind of TikTok for text, though you might also call it Google Reader reborn as a mobile app or maybe even a surprise attack on Twitter. The app opens to a feed of popular articles chosen from a curated list of publishers ranging from leading news organizations like The New York Times to small-scale blogs about niche topics.
Artifact sounds like the sort app I could make use of, but ads appearing on the news pages the app displays, don't make for a smooth reading experience, according to John Gruber, writing at Daring Fireball, who has been trialling Artifact:
I'll give it some time, but at the moment, it's a disappointment. The articles they show come directly from publishers' websites, but because Artifact isn't a web browser, per se, there's no ad filtering. It's just ads ads ads, interrupting seemingly every single article, every couple of paragraphs. This same "man, I miss ad blockers" feeling strikes me when I use Apple News too, but Apple News articles have way fewer ads, and better ads, than what I'm seeing so far in articles I read in Artifact.
RELATED CONTENT
current affairs, technology, trends
30 January 2023
Jobs in education, finance, software engineering, journalism, and graphic design, are among some of the occupations under threat from OpenAI chatbot ChatGPT, writes Alex Mitchell for the New York Post. That's a wide gamut of work. But ChatGPT will also play a part in creating new work opportunities:
From the financial sector to health care to publishing, a number of industries are vulnerable, [Pengcheng] Shi said. But as AI continues its mind-blowing advancements, he maintains that humans will learn how to harness the technology.
RELATED CONTENT
artificial intelligence, technology, trends
28 January 2023
The United States Copyright Office (USCO) recently declared it only wants to grant copyright protection to artworks created by people, not AI technologies.
Now Springer Nature, one of the world's largest publisher of scientific journals, says hot AI technology of the moment, ChatGPT, along with other large language models (LLM) tools, cannot be credited as the author of any academic papers they publish. The OpenAI engineered chatbot can however assist with research writing, but their use must be disclosed:
First, no LLM tool will be accepted as a credited author on a research paper. That is because any attribution of authorship carries with it accountability for the work, and AI tools cannot take such responsibility. Second, researchers using LLM tools should document this use in the methods or acknowledgements sections. If a paper does not include these sections, the introduction or another appropriate section can be used to document the use of the LLM.
RELATED CONTENT
artificial intelligence, science, technology, trends, writing
25 January 2023
Amazon Kindle recently quizzed just over one thousand Australians about their reading habits. Here are some of the findings that caught my eye:
Almost half those surveyed read fewer than five books in the past twelve months
Meanwhile just over five percent said they'd read fifty or more books in the same time frame. That's almost a book a week, maybe more, for some in that five percent band
Sixty-eight percent of respondents read physical books, compared to twenty-two percent who favoured electronic formats
Mystery, true crime, and romance, where among the most popular fiction genres. Sadly, poetry barely rated a mention. Literary fiction, apparently, was not assessed
About twenty-five percent of people said they read to experience escapism and alternate realities, while not quite forty percent read for relaxation
On the other hand, about one percent of respondents said they did not enjoy reading at all. Hmm, ok, I see.
RELATED CONTENT
23 January 2023
The layoffs in the tech sector continue, with Microsoft and Google among companies announcing mass redundancies across their operations last week. Ten thousand people are impacted at Microsoft, and twelve thousand workers at Google have been sacked. Although both company CEOs struck a contrite tone in breaking the news, that will be cold comfort to workers who have lost jobs when higher inflation, and rising interest rates, are already posing challenges for many people.
But why are so many employers in the tech sector announcing layoffs, almost one after the other? A few weeks ago I read an article by Professor Jeffrey Pfeffer, of the Stanford Graduate School of Businese, who suggested the redundancies were a form of social contagion. One company sacks some workers, other feel they have to do the same.
John Gruber, meanwhile, writing at Daring Fireball, sees another possible reason for the job losses. He thinks many of the companies announcing layoffs had spent the last few years over recruiting:
There are numerous reasons the tech industry wound up at this layoffpalooza, but I think the main reason is that the biggest companies got caught up in a game where they tried to hire everyone, whether they needed them or not, to keep talent away from competitors and keep talent away from small upstarts (or from founding their own small upstarts). These big companies were just hiring to hire, and now the jig is up.
RELATED CONTENT
14 January 2023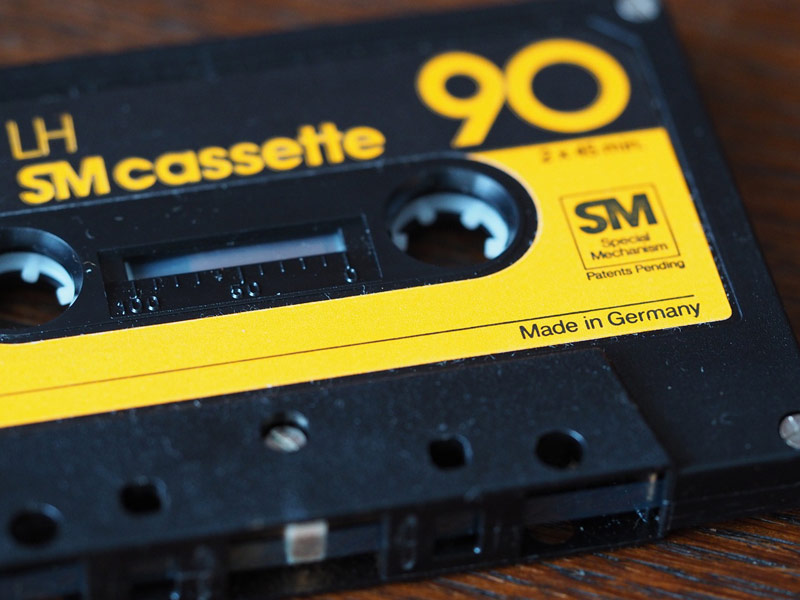 Image courtesy of Ratfink1973.
Taylor Swift and Harry Styles are among musicians to recently release material on… cassette. As in cassette tape, or compact cassette. But at least eighty percent of both performers' target audience must be under the age of thirty-five. How many of these people would have even heard of cassettes, let alone have access to a cassette player?
Australian writer and radio presenter Richard Glover is on the money in saying cassettes, along with rotary dial telephones, VHS tapes, camera film, and typewriters, having had their day, belong in the past:
But not every piece of old technology was a boon. The typewriter, for instance, was a menace. The sliding carriage seemed designed to knock over any coffee cup momentarily perched on your desk, while vigorous typing would produce tiny portholes on the page every time you hit the "o" or the "p".
Music in digital formats might have its naysayers — high compression, reduced quality — but it has eliminated the need to haul cumbersome players, speakers, and storage cabinets for all those cassettes, around with us. Call me a philistine, but I'll take the convenience of carrying my music collection, and my books come to that, in my pocket, any day of the week.
RELATED CONTENT
13 January 2023
Are you ready for some word play?
-ussy, which, in this context, is actually considered a suffix — but, in this case, is still a word — has been chosen as the American Dialect Society's (ADS) word of the year for 2022:
"The selection of the suffix -ussy highlights how creativity in new word formation has been embraced online in venues like TikTok," Zimmer said. "The playful suffix builds off the word pussy to generate new slang terms. The process has been so productive lately on social media sites and elsewhere that it has been dubbed -ussification."
Remember the word e-mail, before it simply became email? The e- suffix was selected as the ADS word of the year in 1998. Somehow e- felt more like a word of the year than -ussy, but then I guess that's what someone who doesn't use TikTok would say.
RELATED CONTENT