Showing all posts tagged:
design
29 June 2022
Ian Mansfield has posted axonometric diagrams of every station on the London tube, or underground rail network, which were released by Transport for London.
Axonometric diagrams?
They are technically axonometric diagrams, which is 3D-like, but not to scale, which becomes obvious when you see some of the vertiginous descents offered on some stairs and escalators.
Balham station is exactly as I remember it, as is Brixton.
Share on Twitter | Share on Facebook
RELATED CONTENT
27 June 2022
The Enclave lock, designed by Andrew Magill, comes with the claim that it cannot be picked. This might be the news the security conscious have been waiting for.
Some locks are more difficult to pick than others. Some have more perfect tolerances, or more positions, or keyways that are more difficult to fit tools into, or parts that move in unusual ways, or parts designed to mislead pickers, and so on. But these are only incremental improvements, and don't address the fundamental flaw. The solution is to make it so that the two steps- accepting input, and testing that input- can never happen at the same time. When those two steps cannot interact with each other, a well-designed lock will never reveal information about the correct positions of its individual parts, nor can they be made to 'fall into' their unlocked positions through manipulation.
Watch the video clip for the Enclave lock though. As well as demonstrating Magill's new lock, it also shows how conventional locks work. Quite fascinating.
Share on Twitter | Share on Facebook
RELATED CONTENT
design, security, technology, trivia
7 June 2022
The winners in the 2022 Australian Book Design Awards (ABDA), which recognise outstanding book cover design, were announced on Friday 3 June 2022.
In Moonland (published by Scribe Publications, August 2021), by Melbourne based Australian author Miles Allinson won the Best Designed Literary Fiction Cover, while Catch Us the Foxes (published by Simon & Schuster, July 2021), by Sydney based Nicola West, took out the award for Best Designed Commercial Fiction Cover.
Cover designs in twenty categories were nominated, and all winners can be seen on the ABDA Instagram page.
Share on Twitter | Share on Facebook
RELATED CONTENT
Australian literature, awards, design, Miles Allinson, Nicola West
16 May 2022
American photographer, filmmaker, and writer David Friedman has launched a campaign to have keming, a word he devised in 2008, added to the Merriam-Webster dictionary.
I coined the word "keming" in 2008, defining it as "the result of improper kerning." It's a bit of visual wordplay because kerning is the adjustment of space between letters and if you kern the word kerning improperly, the r and n can merge to form an m. "Kerning" becomes "keming."
Share on Twitter | Share on Facebook
RELATED CONTENT
19 April 2022
The 2022 Australian Book Design Awards shortlist, which can be viewed here (PDF), was announced last week. The awards celebrate the best of Australian book design, and the winners will be named at a ceremony taking place at The Craft & Co in Melbourne, on Friday 3 June 2022.
Share on Twitter | Share on Facebook
RELATED CONTENT
Australian literature, awards, design
11 April 2022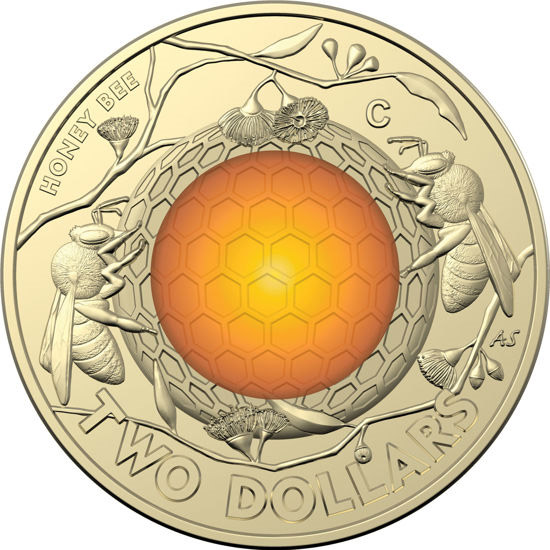 Australia's honey bee industry is officially two hundred years old this year. To mark the milestone, the Royal Australian Mint will soon be making available a commemorative two-dollar coin adorned with two honey bees, and feature a distinct honey-coloured honeycomb centre.
Since its introduction in 1988, the Australian two dollar coin has featured a number of colourfully designed centres, making certain pieces particularly collectible, and in some cases, worth somewhat more than their two-dollar face value. It might be an idea to check through the loose change in your coin jar…
Share on Twitter | Share on Facebook
RELATED CONTENT
29 March 2022
American computer scientist Stephen E. Wilhite who invented the GIF, being Graphics Interchange Format, in 1987, has died aged seventy-four.
Although GIFs are synonymous with animated internet memes these days, that wasn't the reason Wilhite created the format. CompuServe introduced them in the late 1980s as a way to distribute "high-quality, high-resolution graphics" in color at a time when internet speeds were glacial compared to what they are today.
GIFs weren't just used for animations, they were also an image format, similar to the more familiar JPEG or PNG formats in use today. Hunt around on Oblong Obsession and you'll find one or two. You can't go passed a classic. Thank you Mr Wilhite.
Share on Twitter | Share on Facebook
RELATED CONTENT
18 March 2022
Especially for those who enjoy judging books by their covers, the 2022 Australian Book Design Awards longlist has been announced. There are over one hundred and sixty titles vying for recognition across twenty categories, plus the Deb Brash Emerging Designer of the Year award.
Fiction titles are essentially separated into four groups, children's, young adult, commercial, and literary. The Other Side of Beautiful, by South Australian author Kim Lock, The Younger Wife, by Melbourne novelist Sally Hepworth, are among candidates in the commercial fiction category, while In Moonland, by Miles Allinson, is one of the nominations in the literary fiction segment.
Over four-hundred-and-ninety titles were considered in this year's award, before the longlist was unveiled. The shortlist will be made public in early April, with the winners in each category being named on Friday 3 June 2022, in Melbourne.
Share on Twitter | Share on Facebook
RELATED CONTENT
6 December 2010
Since I can't get enough of minimal design and illustration… graphic designer Eric Slager's Minimalist Muppets illustration series.
No Cookie Monster then?
(Thanks Jessica)
Originally published Monday 6 December 2010.
Share on Twitter | Share on Facebook
RELATED CONTENT
design, illustration, legacy, minimalism