Showing all posts tagged:
trends
28 October 2022
Instead of buying the things she wanted to, Toronto based Canadian writer, illustrator, and artist, Sarah Lazarovic decided to paint the objects of her retail desire instead. A year later she gathered the works together in her new book, A Bunch of Pretty Things I Did Not Buy, which is being published this month by Penguin Random House:
Based on a visual essay that was first published on The Hairpin, A Bunch of Pretty Things I Did Not Buy is a beautiful and witty take on the growing "slow shopping" movement. Sarah is a well-known blogger and illustrator, and she writes brilliantly without preaching or guilt-tripping. Whether she's trying to justify the purchase of yet another particleboard IKEA home furnishing, debating the pros and cons of leg warmers or calculating the per-day usage cost of big-ticket items, Sarah's poignant musings will resonate with any reader who's ever been susceptible to an impulse buy.
If you're looking for an introduction to the low shopping movement, A Bunch of Pretty Things I Did Not Buy sounds like the book for you.
RELATED CONTENT
art, books, Sarah Lazarovic, trends
24 October 2022
In a study published in 2019 by Cambridge University Press, researchers found the lyrics of pop songs have become increasingly negative in the last thirty years. They reached this conclusion after analysing the emotional content of more than 160,000 songs released between 1965 and 2015.
One major trend in popular music, as well as other cultural products such as literary fiction, is an increase over time in negatively valenced emotional content, and a decrease in positively valenced emotional content.
RELATED CONTENT
24 October 2022
On the subject of Substack, Sydney based Australian writer Bri Lee is another author who has turned to Substack. Asking subscribers for money can be a thorny matter, especially as readers have no compulsion to pay: Substack remains free for anyone to access.
But it comes down to the individual reader. They like a writer's work, and wish to support them. As simple as that. No one is being forced to do anything.
People who do pay will often be paying to 'support you and your work' rather than necessarily paying because they perceive the value of what they get in their inbox is equal to the dollar figure you charge. When I launched the paid section in January 2021 I explicitly told people that I wanted to keep the vast majority of the content freely available, and that anyone who did pay was essentially subsidising the access of the non-paying subscribers.
RELATED CONTENT
24 October 2022
British author Tim Lott writes about starting a Substack page, and how the publishing platform can help writers generate income from their work. In Lott's case it's so far, so good:
What do my subscribers get in return for signing up? Anything I want to give them. I have total freedom. There are no editors or advertisers telling me what to do. Independence isn't without its downsides. You have to learn to sell yourself, you have to understand how online media works and you have to be self-disciplined and dedicated. No editors, no agents, no marketing department. You're on your own. But we novelists know how to be on our own. Now we have the chance to be multi-media publishers as well.
Profile is key here. Anyone with sufficient followers on the platform of their choosing can make money. While there are plenty of people doing well on Instagram or TikTok, they are what I call visual mediums. But they're not the best for writing, especially long form writing, as they do not function so well as blogging platforms. Substack then may be the solution writers are looking for.
RELATED CONTENT
17 October 2022
During the COVID lockdown of 2020 Melbourne resident Libby Haines swapped jewellery design for painting still-life artworks of food, and hasn't looked back since. And with her works sometimes selling within minutes of being made available for sale, wouldn't you be the same?
"I think after the turbulent past few years people want joy and comfort in their lives, and food and art are the ultimate expression of that," says Haines, on why the genre is so popular. Her paintings feature scenes of homely meals on colourful tablecloths. Perhaps a glass of wine is accompanied by a used corkscrew, or a lit match sits next to a candle that casts light onto a bowl of pasta.
RELATED CONTENT
15 October 2022
The use of certain emojis is upsetting some people, with the thumbs up, red heart, and tears of joy, among pictograms causing the most offense.
Sending a thumbs-up can be seen as passive aggressive and even confrontational, according to Gen Z who claim they feel attacked whenever it is used. Whether the chat is informal, between friends or at work the icon appears to have a very different, 'rude' meaning for the younger generation. A 24-year-old on Reddit summed up the Gen Z argument, saying it is best 'never used in any situation' as it is 'hurtful'.
From what I can tell though, this is more a conversation about the use of emojis in professional or workplace settings, where I would have thought their use in general would be limited.
I've never used a heart emoji in anything other than personal communications, but I do use thumbs up from time to time. Here its usage is intended as a sign-off, a way of saying "all good, understood", as the finer points of whatever was being discussed have already been hashed out.
I'll stick to "all good, good bye, now go get lost and leave me alone" from now on…
RELATED CONTENT
22 September 2022
Image courtesy of Antonbe.
Why is Meta so intent on mutating photo-sharing app Instagram (IG) into their answer to riotously popular video-sharing service TikTok, when that obviously is not the answer?
Instagram and TikTok are fundamentally different, but Meta doesn't seem to know that.
Why doesn't Meta opt to reinvent the wheel instead? Why not simply build their own version of TikTok? With the design talent and engineering resources Mata have at their disposal, they could do so instantly. And by leveraging their almost three billion Facebook members, and over one billion IG users, it wouldn't take long for a clone to achieve critical mass.
But Meta appears to be reluctant to foist another app on users. They are apparently already overloaded with the likes of Facebook, Messenger, WhatsApp, and of course, IG. Their only choice then is to butcher IG beyond recognition. Even if the reaction of IG users suggests that's a bad idea.
How long will it take Meta to see the light here? Build your own standalone video-sharing service app which we can choose, or not choose, to use, and leave IG the way it was.
RELATED CONTENT
social media, social networks, trends
14 September 2022
When someone famous dies, visits to their Wikipedia page usually surge, as this visualisation by The Pudding shows. Sometimes the count goes off the scale. A case in point is late musician Prince. When he died in 2016, his Wikipedia page was viewed over eleven millon times in the two days afterwards.
More than 1,300 notable people died in the past three years, according to Wikipedia. Here are 84 who got over half a million pageviews in the first 48 hours after their deaths. Although no one grabbed our attention quite like Prince, the spike in pageviews after a celebrity's death can often overshadow that of other major events, even a presidential inauguration.
One can only imagine what the pageview numbers will be for British monarch Queen Elizabeth II, who died last week. Incredibly, or perhaps not, her death was noted on her Wikipedia page within seconds. Editors of the online encyclopaedia were also swift to change the page of then Prince Charles, to King Charles III, this before his regnal name had been officially confirmed.
RELATED CONTENT
current affairs, history, trends
1 August 2022
Image courtesy of Pexels.
Has Instagram (IG) jumped the shark? You'd be forgiven for thinking as much, following the stir-up caused by the latest (in a long of line of) changes to the popular Facebook owned photo and video sharing service. Long story short, IG wants to become more like TikTok. Whether their users like it or not. If you're a content creator, this might be good news. If you're a user, maybe not so much, especially perhaps if you've been using IG since the early days.
The IG of 2011, when I joined, and the IG of 2022, are worlds apart. Checking my IG feed the other week, I couldn't see a single photo from the people — many of whom I know personally — I follow. Instead the feed was littered with "recommendations", content IG seems to think I "might like". But reposted memes? Footage of some influencer I've never heard of walking into an elevator? Cats and dogs doing funny things? I wouldn't mind, if I wanted to see that sort of "content". Otherwise, no thanks.
After pressing many x buttons, and silencing one recommendation after another, some normality was restored to my IG feed. But to keep up with the people I choose to follow, I often need to go directly to their IG page to see their latest posts. In doing this, I've found photos I'd not seen earlier, when previously they'd appeared in the main feed.
But recommendations, intended to "help you discover new and interesting things on Instagram that you may not know exist", are here to stay, says Adam Mosseri, Head of Instagram, at Facebook/Meta. Recommendations "help creators reach more people", and making them part of the IG feed, rather than lurking behind the explore tab, is necessary as IG "needs to evolve because the world is changing quickly."
Mosseri is correct. The world is changing quickly. Video sharing app TikTok is encroaching on IG's market share. Quickly, I might add. And this calls for drastic action. The solution appears to be, if you can't beat 'em, join 'em. Even if that means dragging a whole heap of IG users with no interest in TikTok, into a TikTok-like realm.
Accordingly, more video can be expected to feature in IG feeds, and precedence is now being given to creators, over users who just want to share photos with their friends. Like it or not, more content, in the form of recommendations, and other "interesting things", you neither know nor care about, are coming your way.
That's all well and good for the creators. Strictly speaking, I'm a creator. You wouldn't be reading this if I wasn't. But if you're not an IG creator, and not interested in content from people you don't know, what options do you have? If you're looking elsewhere for an alternative free-of-cost, ease of use, IG copy, you'll be disappointed. Even if an IG clone rose to prominence, it would likely follow IG's path sooner or later. We might find a desert oasis far from the dark shadow IG casts, but not for long, alas.
Image courtesy of Yuliya Harbachova.
One possibility though may be Flickr, but there are a number of caveats.
Founded in 2004 by Stewart Butterfield and Caterina Fake, Flickr shared a trajectory similar to IG, being bought by a much larger company, Yahoo!, about a year after launching. One of the earliest online photo-sharing services, Flickr's been around so long it pre-dates smartphones (as we know them) and smartphone apps. Like IG, the photos and videos you post to Flickr appear in a feed, which friends and followers can like and comment on. Unlike IG, you only see content from the people you chose to follow.
After early success though, Flickr suffered a near death experience several years ago. They were saved, virtually at the last minute, when California based image sharing company, SmugMug, bought them. Since then Flickr's fortunes have been on the up. But does that make Flickr right for you?
For one thing, Flickr comes at a cost. While a free, ad supported tier, is available, members can only post two hundred photos or videos. To take advantage of Flickr's full features, including, among other things, unlimited media uploads, you need a paid membership. A one-year plan costs about US$80. If you buy a two-year membership, the annual cost comes in at about US$72 per year. This works out to about US$1.45 a week, not even the price of a decent cup of coffee.
It's worth noting the membership fee is not as expensive as it might seem. In a way, paid subscriptions can protect members. Should the company take a direction that upsets subscribers, they risk many leaving, and taking their money with them. Subscription free IG users meanwhile have no such leverage. You're unlikely then to hear Flickr declaring the world is changing quickly, and they therefore must push tacky memes, and surely scintillating video clips of some self-indulgent influencer, upon you.
In that sense, Flickr is less a social network, and, while everyone is of course welcome, more a community of professional, and semi-serious amateur, photographers. Another difference is the size of the Flickr community compared to Instagram's. IG is said to boast over a billion users. Short wonder content creators have an interest in the platform, and IG wishes to aggressively promote their work. Flickr, meanwhile, according to Photutorial, presently has 112 million members.
Chances are many people you know won't be existing Flickr members, so you'd need to get your friends onboard, if you want to escape IG's clutches. But if you're looking for a place where you'll only see content from people you chose, then Flickr might be worth taking a closer look at. Another option to consider is 500px. Like Flickr, it offers a free membership plan, allowing seven photos a week to be uploaded, to a maximum of two-thousand per account.
RELATED CONTENT
photography, social media, social networks, trends
25 July 2022
Out of fifty-three cities across the world, Sydney, Australia's most populated city, ranks as just about the worst when it comes making friends — particularly if you were born outside of Australia — and hooking up, say the results of the Time Out 2022 Index.
When it comes to making friends, if you're not born in Sydney, forget about befriending Sydneysiders. I'm sure that's not the experience of every last new-comer, but somehow the finding doesn't surprise me. Some years ago I read a guide for students coming from India — I think it was, I cannot track down the webpage right now — for degree courses in Australia. Long story short, they were told to expect the going to be tough when seeking out Australian born friends.
The guide explained Australians have "posses" of friends that seldom, it seems, mix. Old friends, school friends, uni friends, work friends, sports team friends, the list goes on. Aussies apparently go from one such group to another, but members of each group rarely meet anyone from other groups. Short wonder people from elsewhere have a hard time ingratiating themselves with the locals. If you work with an Australian, you might see them at Friday night drinks, but that's about it.
The difficulty of befriending locally born Sydneysiders is something Kim Solomon, who moved to Sydney from South Africa in 2004, recently related to Sydney Morning Herald writer Michael Koziol:
A well-travelled 41-year-old who has also lived in London and spent time in the United States, Solomon finds Sydneysiders difficult to engage with on a personal level, whether they be strangers on the train or parents in her daughter's school community. 'It's very hard to break into established groups of people who were born and raised in Sydney," she says. "I've developed a good group of friends, but they're all from South Africa and the UK."
I don't see too many people randomly striking up conversations on the trains in Sydney, so expecting to make friends on public transport might be hoping for a bit much. But the parents of her kids' classmates? Sydney, what have you become?
When it comes to being more than friends though, people also felt frustrated, with seventy-one percent of Time Out 2022 Index respondents describing Sydney as a hard place to hook-up.
Sydneysiders are also starved for more intimate connections, it seems, with 71 per cent of those surveyed saying Sydney was a hard place to hook up, although Singapore, Stockholm and Porto, Portugal's second city, all ranked lower when it came to Netflix but no chill.
Here's a situation where place of birth doesn't weigh so much I suspect though. If you click, you click. I get the feeling if people spent less time inside, and more time looking at what was going around them when outdoors, instead being focussed on the screen of their smartphone, they might not find hooking-up quite so difficult.
RELATED CONTENT
20 July 2022
Recent Gallup research reveals forty percent of Americans believe humanity and the universe were created by a divine act, in the last ten-thousand years. About a third believe we have evolved over millions of years, with divine guidance, while not quite a quarter of Americans do not think a divine being plays any part in our existence.
Forty percent of U.S. adults ascribe to a strictly creationist view of human origins, believing that God created them in their present form within roughly the past 10,000 years. However, more Americans continue to think that humans evolved over millions of years — either with God's guidance (33%) or, increasingly, without God's involvement at all (22%).
While these numbers are similar to polling carried out about five years ago, a gradual increase in Americans who do not believe in a god has been observed since the late 1940s. This trend mirrors data from the last Australian Census, conducted in 2021, which found about forty percent of Australians have no religious affiliation, up from thirty percent in 2016.
RELATED CONTENT
America, Australia, religion, trends
18 July 2022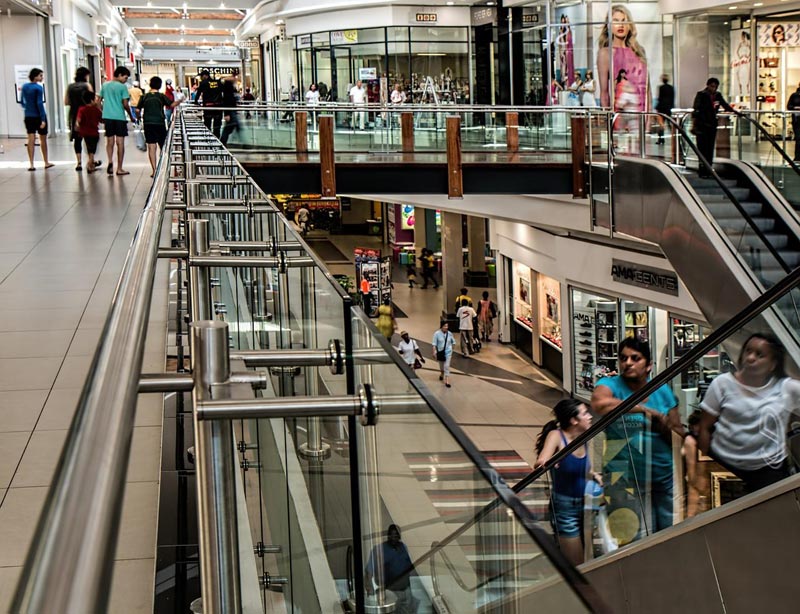 Image courtesy of Steve Buissinne.
Say what you will about large shopping centres, those monuments to consumer greed with maze-like floorplans (quite deliberate by the way), but they have their adherents. And not just those hoping to be spotted in the queue as they await admittance to one of the centre's luxury retailers either.
For a time in the 1980's and 90's large shopping centres were hugely popular among people looking for safe, sheltered, places to exercise, relax, and socialise, says Alexandra Lange, writing for Bloomberg.
It's not hard to see why either, especially for avid walkers. The size of larger centres — where walkable floor space, split across multiple levels, can potentially amount to several kilometres — make for ideal all-weather exercise circuits, for those calling themselves mall walkers. Back in the 80's and 90's when the popularity of mall walking was at its peak, organised groups of walkers would descend on the malls daily, usually soon after opening time.
The mall, in its quiet early hours, provides affordances most cities and suburbs cannot: even, open walkways, consistent weather, bathrooms and benches. The mall is also "safe," as Genevieve Bogdan told The New York Times in 1985; the Connecticut school nurse was "apprehensive about walking alone outdoors early in the morning before work."
This is something I partake of during lunchbreaks, when I'm in Sydney, and working from the food court of a shopping mall in the city's east. It takes about twenty-five minutes to complete a circuit, and on a quiet day I might go around twice. By my estimations, I might cover close to five kilometres.
While I'm not there so much post pandemic, I used to notice others clearly doing the same thing. I'd regularly see the same people, pacing the walkways, during what I supposed was their lunchbreak. I've also seen one or two people posting on Twitter, saying something to the effect of "I'm doing a lap or two of the centre." I'm not sure if organised walking groups are present though, as I'm usually there later in the day, and it sounds like they're active earlier on.
But the future doesn't look hopeful for latter-day mall walkers, at least in the United States. In 2020, CNBC reported up to twenty-five percent of malls in America face closure over the next few years. I'm not sure what the outlook is for shopping centres in Australia. I would say we'll see some closures, as American trends tend to copy over here, even if there's a lag of several years.
RELATED CONTENT
28 June 2022
The Australian Bureau of Statistics has begun releasing Census data which was collected in August 2021. Items catching my eye included the revelation there are now as many Millennials, people generally aged 25 to 39, as there are Baby boomers, who are aged 55-74.
There's also been a significant increase in people stating they have no religious affiliation, with the figure up almost ten percent on the previous Census in 2016. Here's a rundown of these, plus other, highlights:
Sydney is Australia's largest city by population, with 5.2 million inhabitants
NSW is Australia's largest state by population, with almost 8.1 million inhabitants
Australia's total population is 25.5 million. It has doubled since 1971, when there were 12.4 million inhabitants
Australians have a median age of 38 years
There are now almost as many Millennials, 5.4 million people, as there are Baby Boomers
Aboriginal and Torres Strait Islander people make up 3.2% of the population
English, Australian, Irish, Scottish, and Chinese, make up the top five ancestries of Australians today
Mandarin, Arabic, Vietnamese, and Cantonese are the top languages spoken after English
Almost 39% of Australians have no religious affiliation, up from 30% in 2016
About 44% identify as Christian, down from about 52% in 2016
Islam, Hinduism, Buddhism, Sikhism, and Judaism are the top religions after Christianity
There are over one million single parent families in Australia
There are almost 25,000 same sex marriages
About 31% of Australians either live in rental accommodation, or outright own their dwelling
RELATED CONTENT
24 March 2022
Elamin Abdelmahmoud writing for BuzzFeed News, about what he refers to as "that funny feeling." New normal was a term bandied about at the beginning of the COVID pandemic two years ago. At that point many of us took "new normal" to be a temporary state of affairs. But in light of other recent events, the Russian invasion of Ukraine for one, new normal is going to be ever changing, and far more permanent than some of us thought.
We are undergoing a colossal vibe shift that extends beyond taste, aesthetics, politics, fashion, or policy. The world as we knew it is not coming back, and it's entirely reasonable that we may find ourselves plagued with a general restlessness, a vague notion of disorder. It's that funny feeling.
RELATED CONTENT
11 October 2021
Life in this part of Australia, New South Wales, begins to return to some semblance of normal today. After months of lockdowns many residents will no longer be subjected to the restrictions they've become accustomed to recently. Cafes, bars, and cinemas are among a slew of businesses re-opening, which will be welcome news to many people.
While getting out to a cafe, and maybe a bar, is something I've been looking forward to, I'm not so sure about going back to the movies. And it's not because of the possible risks of being seated in a confined space with several hundred people for two to three hours. If the past eighteen months has shown me anything, it is how convenient streaming films online is.
Home streaming films may not offer the big screen experience of a cinema, or the enjoyment of being out with other people, but it's still going to be hard to walk away from. For one thing, you're not bound to a schedule. If say you're streaming the latest James Bond movie, the show starts exactly when it suits you, not someone else.
There's also advantages I'd never thought of until we started streaming regularly. Unlimited pauses are one. Anything goes; there's time to grab a snack, take a phone call, text someone, google a point of interest in the film that's on, or tap in a few notes for the article I need to write for work tomorrow. And then there's the in your own home comfort of the whole thing.
Imagine no inconsiderate fellow patrons, talking loudly, texting incessantly, scrolling their socials (with the screen set to maximum brightness of course), or making or taking phone calls mid-session without leaving the auditorium (I've seen it happen). And let's not get started on noisy food wrappings, or people who don't understand allocated seating.
Of course the comforts of our would-be home cinema causes me to feel some guilt. Staying home could have an impact on a cinema's viability. Staff may have to be let go. Their bottom-line is still being affected even though I may be paying to watch films from said cinema's stream service, but they're missing out on my vital for them coffee and pop-corn purchases.
But who knows what might happen? In six months we may have traded the simple joys of watching movies at home for the big-screen, cinema auditorium extravaganza. Regardless, I think the post pandemic lockdown period will be pivotal for the cinema industry. And if the worst comes to the worst, it could be the home cinema will become a permanent feature after all.
RELATED CONTENT
1 October 2021
Soon another thirty-seven new emojis will be available for use on your favourite oblong shaped device, says the Unicode Consortium. One, the melting face emoji, a representation of climate change, has quickly become a crowd favourite.
RELATED CONTENT