Showing all posts tagged:
Australian literature
26 February 2023
Tommy is desperate to create a legacy for himself. But he can't wait until he reaches old age. Tommy needs people to remember who he is sooner than that. Before his birthday, to be precise. For, come the conclusion of each lap of his around the Sun, all memory of his existence is erased from the minds of everyone in the world. No one at all remembers him.
This includes his parents, his friends, and even the girl he has a crush on. As far they're concerned, he was never there. Every trace of his life is obliterated. Memories. Photos. Shared experiences. Every last thing, including, presumably, a criminal record if he has one. Each and every detail gone, as if it were never there. And you thought you were having a bad day.
But not everything dissolves when the clock ticks over into his birthday. Anything Tommy is in direct contact with, such as his clothes, stays with him. The phenomenon is some sort of enigmatic cosmic occurrence that Tommy has dubbed "the Reset", and it began the day he turned one.
On his first birthday, his parents woke to find an unknown baby in the house. They had no recollection whatsoever of having a son. Clueless as to who the infant was, they called the police, who sent Tommy to a foster home. And so it went. Every year all traces of Tommy are wiped from the world's slate, leaving him to spend the following twelve months rebuilding his life.
How to Be Remembered (published by Allen & Unwin, February 2023), by Sydney based Australian journalist and podcast producer Michael Thompson, straight away had me thinking of Harold Ramis' 1993 film Groundhog Day. Like Ramis' hapless protagonist Phil, portrayed by American actor Bill Murray, Tommy is aware of his predicament, albeit one that plays out annually instead of daily.
He remembers everything from before his birthday. To him, his life is continuous. He still knows those around him, although they don't have the faintest idea who he is. Accordingly, Tommy has devised strategies to re-establish himself in the lives of those he was with before the Reset.
But Thompson's debut work of fiction is not only reminiscent of the likes of Groundhog Day. Parallels have also been drawn with The Curious Case of Benjamin Button, and even Forrest Gump. The Reset, meanwhile, is another matter. It is a sadistic abnormality that perhaps a serial speedster — seeking only to have an unblemished driving record restored every year — might appreciate.
But it is for that reason I see How to Be Remembered being a story that will excite readers. So much so, that I wouldn't be surprised to see a screen adaptation in the not too distant future.
RELATED CONTENT
Australian literature, fiction, Michael Thompson, novels
24 February 2023
Here's a selection of Australian written books, either recently published, or in the pipeline, that I've spotted in the last week, for the consideration of your TBR list.
RELATED CONTENT
Anne Buist, Australian literature, books, Lisa Hannett, Megan Rogers, Nina Wan, Sarah Malik
23 February 2023
Twenty-something Sydneysider Rory is ready for a prolonged period of isolation. Her job, writing reports for a private investigator, means she doesn't need to leave her apartment building for work. She has a pet dog to keep her company, and the roof area of the building is a fine place to exercise and walk the dog. Rory is also possessed of a vivid imagination. She has even given backstories, of her own making, to some homeless people, whom she never spoken to, camping over the road.
Lockdown is going to be kind to Rory. But there's only one thing. The COVID-19 lockdowns are no more. Rory's confinement is self-imposed. Her fear of the outside world is so intense, she even goes all out to avoid her neighbours. Rory is a woman with a troubled past, and the gilded cage she has created is her only tonic. But the future is about to add to her woes, in Apartment 303, published by HarperCollins Australia, in March 2023, by Newcastle based Australian author, Kelli Hawkins.
When one of the homeless people across the street is murdered, Rory is forced to adjust her relationship with the outside world. She has frequent contact with police investigating the death, and also makes the acquaintance of neighbours for the first time. But not all of the knocks at the door are welcome. And when a chapter of her past, one that Rory would rather forget, comes calling, she begins to feel unsafe in her previously protective home.
Apartment 303 is Hawkins' third novel, and like her protagonist Rory, Hawkins' likewise writes reports for a private investigator, between working on manuscripts. And as with many writers of fiction, Hawkins' own experiences shape her stories. Her debut novel, Other People's Houses, published in 2021, tells the story of a woman, Kate, who spends her Saturdays inspecting houses listed for sale.
In the same way Rory finds solace by locking herself away from the world, seeing the homes of other families bring comfort to Kate, whose son who died ten years earlier. Hawkins is no stranger to viewing properties either. Between living in Australia, and stints in the United Kingdom, and America, she has been a frequent house hunter, including more recently, in tragic circumstances, following the death of her husband.
Early reviews on Goodreads have described Apartment 303 as "a slower burn thriller", "a stirring, suburban tale of mystery, suspense and daring", and "a page-turner".
Having penned three novels in as many years, Hawkins' output could be described as prolific, and another novel is probably already in progress. Hawkins has also worked as a graphic designer, political journalist, mystery shopper, and a role as a "staple remover", in the past. I see plenty of inspiration for more stories in amongst those occupations.
RELATED CONTENT
Australian literature, Kelli Hawkins, novels
22 February 2023
Less than three weeks after winning the unpublished manuscript award in the 2023 Victorian Premiers Literary Awards, former Melbourne based social worker and screenwriter Mick Cummins has been offered a publishing deal by Affirm Press for his novel One Divine Night:
We're elated to announce that Affirm Press has acquired world rights to One Divine Night by Mick Cummins, who recently won the prestigious Victorian Premier's Unpublished Manuscript Award, in a deal brokered by Jane Novak Literary Agency. One Divine Nightis a gritty and compelling novel exploring homelessness, independence and the ties that bind. The story follows protagonist Aaron Peters as he becomes estranged from his family, addicted to heroin, and ends up living on the streets of Melbourne but yearning for a different life.
It is anticipated One Divine Night will be in bookshops by late 2023.
RELATED CONTENT
Australian literature, books, Mick Cummins, novels
19 February 2023
Yagoona is a suburb in the southwest of Sydney, located about twenty kilometres from the city's CBD. An Aboriginal word meaning "now" or "today", Yagoona was accorded a unique claim to fame in 1971, when it became host to the first McDonald's hamburger restaurant in Australia.
At this stage I could not tell you whether said hamburger restaurant features in any way in Funny Ethnics (published by Affirm Press in February 2023), the debut novel of Sydney based Australian author Shirley Le, which is also set in Yagoona.
It is possible though, as the story follows the fortunes, and misfortunes, of Sylvia Nguyen, a second generation Vietnamese-Australian, from childhood through to adulthood. Surely it is not unreasonable to assume Sylvia would have hung out at her local Macca's with friends after school, as was a rite of passage for many Australian teenagers.
But even if Sylvia spent all her school days in the Yagoona McDonald's, it seems doubtful she would have had much interest in the restaurant's significance in Australian fast food history. That's because Sylvia had lofty goals. She aspired to move out of her childhood home, leave Yagoona and Western Sydney behind, and move into a share house, in a world far removed in Sydney's inner west.
But hardships run in tandem with the dreams. The city is not always welcoming of immigrants. Racism is rife. Sylvia struggles to balance her Vietnamese heritage with her Australian identity.
Whether Sylvia's experiences mirror Le's, also a second generation Vietnamese-Australian, is another matter though. The question of how much of her life goes into her writing is something Le says she is often asked. Speaking to Stephen Pham of Liminal magazine in 2018 however, Le said she considered herself a writer of literary fiction rather than autobiography. And in Funny Ethnics, Le seems more interested in taking the ordinary, the apparent hum-drum of day-to-day life, and transforming it into something extraordinary.
While Funny Ethnics is Le's first novel, her name will be familiar to anyone with an interest in Australian literature. A member of Western Sydney literacy movement Sweatshop, Le's short stories and essays have been published locally in Meanjin, Kill Your Darlings, Overland, SBS Voices, and The Lifted Brow, among others. Le was also the inaugural recipient of the Affirm Press Mentorship for Sweatshop Writers, together with Arab-Australian human rights activist Sara Saleh.
RELATED CONTENT
Australian literature, novels, Shirley Le
17 February 2023
Here's a selection of recent or upcoming Australian published books to add to your TBR list, that have caught my eye this week.
RELATED CONTENT
Australian literature, books, Dianne Yarwood, Megan Norris, Paul Dalgarno, Pip Williams, Sasha Kutabah Sarago
15 February 2023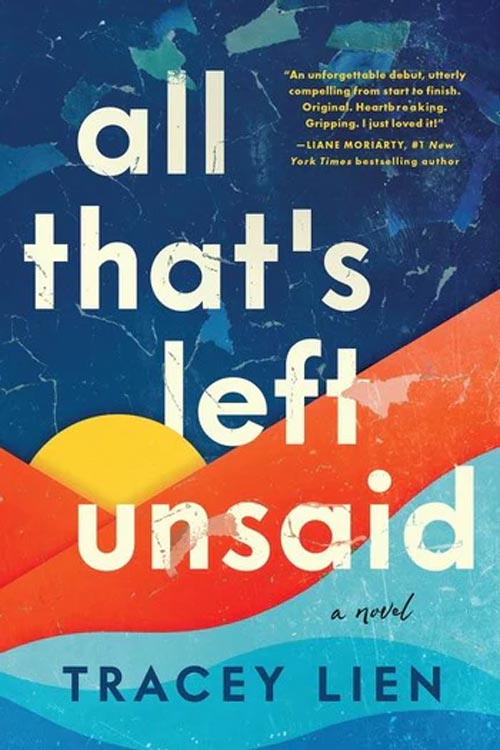 There are ways to begin a writing career, and there are ways to begin a writing career. Your first novel being the subject of a manuscript bidding contest, and then making the shortlist of a major literary award once published, would probably rate as a pretty good start in the eyes of most pundits.
This is what happened to Sydney based Australian journalist and author Tracey Lien, and her novel All That's Left Unsaid, published in September 2022 by HarperCollins Australia. So intense was enthusiasm for Lien's manuscript, it was reported no fewer than nine publishing houses slugged it out for the publishing rights.
Frantic auctions for manuscripts are not uncommon, but they're not exactly every day occurrences either. In 2021, American author Olivie Blake also found herself, and the manuscript of her book The Atlas Six — which she had already self-published — at the centre of a lucrative bidding contest that was sparked on TikTok.
But Lien's story continues. Soon after being published, All That's Left Unsaid was shortlisted in the debut fiction category of the 2023 Indie Book Awards. Needless to say, this is a novel that packs a punch. Ky Tran, a young woman is forced to return to Australia after her younger brother, Denny, is murdered in a busy restaurant, in the Sydney suburb of Cabramatta.
Despite the presence of numerous bystanders though, no one seems to know anything about how Denny died. With local police seemingly uninterested in the case, Ky sets about contacting, and talking to, each of the witnesses present when Denny was killed. But All That's Left Unsaid is more than a murder story.
Lien's novel lifts the lid on a troubled area of Sydney — also home to a large refugee population — during a difficult chapter in its history. The streets were awash with drugs and violence. Cabramatta is also where Australia's first political assassination took place, when John Newman, a New South Wales State parliamentarian was killed outside his home in 1994.
Emma Finn, of London based literary agency C&W Agency described Lien's manuscript as "electrifying and compulsive", at the time the publishing rights were acquired. One can only wonder what might be next for Lien, and All That's Left Unsaid. Blake's novel The Atlas Six is in the process of being adapted for TV, and given interest thus far in Lien's debut, a screen adaptation hardly seems like a surprise. Time will tell.
The winners of the Indie Book Awards will be announced on Monday 20 March 2023.
RELATED CONTENT
Australian literature, books, literature, novels, Tracey Lien
14 February 2023
Image courtesy of Evgeni Tcherkasski.
"Aboriginal and Torres Strait Islander people are the oldest scientists in human history."
Learning this may come as a surprise to readers of Astronomy, Sky Country, written by Karlie Alinta Noon and Krystal De Napoli, and published by Thames & Hudson, winner of the People's Choice Award in the 2023 Victorian Premier's Literary Awards.
Because, for instance, were not the Assyro-Babylonians, in Mesopotamia, in south west Asia, documenting their scientific and astronomical research, over three thousand years ago? They were, but Indigenous peoples living in Australia had been making, and recording, astronomical observations tens of thousands of year earlier.
Unlike the Assyro-Babylonians though, who inscribed their knowledge onto tablets and the walls of temples, First Nations Australians recorded information, including astronomical knowledge, differently. Knowledge and stories was passed from generation to generation through word of mouth, cultural rituals, and Songlines.
Songlines were memorised descriptions of pathways or tracks used by Indigenous Australians to guide them from one place to another across country, and included instructions on how to travel, and landmarks to guide their journey. Songlines also contained protocols to observe when crossing other Indigenous peoples' lands, or country.
But far longer journeys, to destinations a great distance from country, and, on occasions, beyond the Australian continent, required different means of navigation. This is where Indigenous Australians looked to the sky and the stars. This meant travelling overnight when the stars were visible, and when it was also a little more comfortable than trekking through the heat of day.
Torres Strait Islanders, for instance, navigated by a large constellation named Tagai, one of the creator beings. The Tagai group of stars embodies the constellations of Scorpius, the Southern Cross, and Corvus. These three star groups can be seen in the lower left hand quadrant of this constellation map at Nature Noon.
But Tagai was not solely a navigation guide, the constellation also played a role as a timekeeper. Tagai's movement across the sky as the year progressed, marked the passing of seasons, and acted as a calendar of sorts, indicating times to hunt for food, or harvest crops.
Planets also assisted some Indigenous Australians with navigation, including Venus. Venus was also a part of some Songlines containing cultural lessons and protocols.
Through Astronomy, Sky Country, Karlie Noon, a Gamilaraay astronomer and science communicator, and Krystal De Napoli, a Kamilaroi astrophysicist and educator, bring, through the lens of the cultures of Indigenous Australians, a new understanding to the science of astronomy.
Contemporary astronomical knowledge, for its importance, value, and indeed fascination, is analytical and systematic. Scientists and astronomers of recent centuries have been more concerned with comprehending, and classifying stars as mere stellar objects. Red giant star or red dwarf? What distance are they from Earth, and each other?
But stars are not mere points of light in the night sky. They are also entities that guide, teach, and tell stories. While Indigenous Australians are not the only early cultures to embed legends, stories, and knowledge, in the planets, stars, and constellations, they are among the first.
RELATED CONTENT
astronomy, Australian literature, books, Indigenous literature, Karlie Noon, Krystal De Napoli
12 February 2023
Image courtesy of Valerio Errani.
The winner of the 2022 Novel Prize is due to be announced any day now. The award is a collaboration between Australian publishing house Giramondo, and international counterparts Fitzcarraldo Editions in Britain, and New Directions in the United States. Celebrating works of literary fiction that "are innovative and imaginative in style," the Novel Prize is presented every two years, for unpublished manuscripts, regardless of whether the author has prior published work or not.
The inaugural prize was won by Melbourne based Australian author Jessica Au for her second book, Cold Enough for Snow, in 2020, which also won this year's Victorian Prize for Literature.
But in 2023 the big question is, can another Australian writer take out the award, and make it two in a row for Australian literature? While that may be wishful thinking, the odds are the same as in 2020, with only one Australian author, Florina Enache, on the 2022 shortlist, for her manuscript Palimpsest. As a coincidence though, another of the Novel Prize 2020 shortlisted writers, Glenn Diaz, a Manila based Pilipino writer, happened to be studying in Australia at the time.
Enache, who like Au calls Melbourne home, was born in Romania, and immigrated to Australia in 2005. Her first book, An-Tan-Tiri Mogodan, published by Adelaide Books in August 2019, is a collection of twelve short stories, depicting ordinary life in a totalitarian regime. An-Tan-Tiri Mogodan went on to be shortlisted in the 2020 NSW Premier's Literary Awards for new writing.
Totalitarian regimes seem to be a recurring theme in Enache's work. Palimpsest is set in the days prior to the observance of a holiday called National Day. Participation is mandated by the nation's oppressive government, and citizens are required to attend observances, referred to as "the great spectacle", in the capital city.
Should Enache follow in Au's footsteps and be named winner of the Novel Prize, her manuscript will be published by the three Novel Prize collaborating book publishers. In addition, Enache — or whoever the winner is — will receive US$10,000 in the form of an advance against royalties.
RELATED CONTENT
Australian literature, Florina Enache, literary awards, literature, novels
11 February 2023
Australian author Hazel Edwards, writing for the Sydney Morning Herald:
I'm not Indigenous. I'm not Muslim. I'm not a refugee. I'm not transgender. I'm not disabled. And I'm not a hippopotamus who eats cake. But as a professional author of more than 200 books across 50 years, I've always used diverse characters from varied backgrounds and ages in all my stories. And as a 70-ish, white grandmother, I find this diversity is increasingly being challenged. It seems to me the prevailing literary attitude is that I must not write of other cultures in which I was not raised. The term "cultural appropriation" is being used to silence potential writers.
Not sure how popular I'll be for saying this, but I think any respectful author who has thoroughly researched their subject matter, and takes a respectful tone, should be able to write on any topic.
RELATED CONTENT
Australian literature, Hazel Edwards, writing
11 February 2023
Image courtesy of Todabasura.
Last week, former part-time social worker Mick Cummins was named winner of the unpublished manuscript prize in this year's Victorian Premier's Literary Awards.
While the prize comes with a handy fifteen thousand dollars in cash, the real payoff is the profile the win generates. After One Divine Night was included on the Victorian Premier's shortlist in December 2022, Melbourne based Cummins says a number of publishers contacted him, asking to see the manuscript.
An approach from a publisher expressing interest in their work is a dream come true for any aspiring writer. More usually, a novice author might spend years trying to get a publisher or literary agent to take an interest in their idea.
The value of recognition like this cannot be overstated. In fact, I'd be willing to bet an unpublished writer, given the choice, would simply prefer to be named winner of an unpublished manuscript award — especially one of the Victorian Premier's standing — and forego the prize money.
That's because the majority of past prize winners have eventually seen their work published. Anam, by André Dao, winner of the unpublished manuscript prize in 2021, will be published by Penguin Books Australia in May 2023. Hovering, by Rhett Davis, the 2020 winner, was published by Hachette Australia in 2022.
Cummins' odds of seeing One Divine Night in print have shortened considerably. Of his manuscript, Victorian Premier's judges hailed Cummins' writing as a gritty portrayal of homelessness and substance dependency on the streets of Melbourne:
The manuscript depicts drug abuse, overdose, soliciting and physical violence without relying on stereotypes or cliché. The experience of homelessness in inner city Melbourne — long overdue — is explored with nuance and depth, with elements of the storytelling recalling Mark Brandis The Rip. The relationship between Aaron and his mother is particularly memorable — unexpected yet realistic — providing emotional complexity to the narrative. The character of The Man introduces a dark, almost-crime fiction feel, driving the plot and enabling Cummins to critique (although not quite satire) the predatory nature of established male power.
Despite winning the unpublished manuscript prize, Cummins is no stranger to writing. He has written two plays previously, Window without a View, was staged at Hobart's now closed Theatre Royal Backspace, and Perfect Madness, which showed at the Carlton Court House in Melbourne.
Cummins has also written number of Australian produced documentary screenplays. These include Thomson of Arnhem Land, The Woodcutter's Son, and Portrait of a Distant Land. He also wrote screenplays for two docudramas, Monash: The Forgotten Anzac, and Menzies and Churchill at War, which both aired in 2008. Presently, another of Cummins' scripts, for a film called The Hut, is in pre-production.
In a sense, Cummins' writing career is the reverse trajectory of many other authors. They will write a book and, perhaps later, see the work adapted to other mediums, usually screen or stage.
When it comes to writing, Cummins started out with stage and screen work, and has now turned to book writing. With the praise One Divine Night has been accorded though, I wouldn't be surprised to one day see the story as a film or play adaptation. After it has been published a book first of course.
RELATED CONTENT
Australian literature, literary awards, Mick Cummins
8 February 2023
The Australian/Vogel's Award for Young Writers has launched the career of many an Australian author, including Emma Batchelor, Katherine Brabon, and Murray Middleton. Entries are open for the 2023 award, to Australian citizens or permanent residents, who are under the age of thirty-five as of 31 May 2023, the date entries close. To be eligible, manuscripts must contain between fifty-thousand and eighty-thousand words.
RELATED CONTENT
Australian literature, Emma Batchelor, Katherine Brabon, literary awards
8 February 2023
Entries are open for the 2023 Val Vallis Award for an unpublished poem, until Sunday 26 February 2023. Named in honour of late Queensland poet, lecturer, and opera critic Valentine Vallis, who died in 2009, the award recognises unpublished works, by Australian poets, of no more than eighty lines.
Dan Hogan, a poet based on the NSW Central Coast, won the 2022 award with a work titled Aduantas.
RELATED CONTENT
Australian literature, literary awards, literature, poetry
7 February 2023
Tasmania based Australian author Robbie Arnott, has been longlisted in the 2023 Dylan Thomas Prize, for his 2022 novel, Limberlost. Established in 2006, the Dylan Thomas Prize recognises the best published English language literary work, written by an author aged 39 or under, globally.
The shortlist will be announced on Thursday 23 March 2023, with the winner being named at the awards ceremony on Thursday 11 May 2023.
Another reason to add Limberlost to your TBR list.
RELATED CONTENT
Australian literature, literary awards, Robbie Arnott
7 February 2023
Queensland based Australian author Lystra Rose won the Indigenous Writing Award for her debut novel The Upwelling, at the 2023 Victorian Premier's Literary Awards, which were presented last week in Melbourne. Take a few minutes to listen to her acceptance speech:
I was the first person in my Indigenous family to be counted as human under Australian law. Let me say that again. When I was born I was the first person in my Indigenous family to be counted human under Australian law.
Remarkable words. Read them again.
RELATED CONTENT
Australian literature, Indigenous literature, literary awards, Lystra Rose
4 February 2023
By 2025 Australia will have a poet laureate, who will presumably be selected and appointed by the proposed Writers Australia peak body. As with many aspects of the National Culture Policy which was unveiled last Monday though, details remain thin on the ground for now.
For instance, how long would an incumbent serve, and what exactly would their role be? Poetry, certainly in Australia, is a niche form of literature, given less than five percent of the population chooses to partake of written rhyme, so one of the mandates of an Australian poet laureate would be to bolster interest in local poetry.
This is something Sarah Holland-Batt, professor of creative writing and literary studies at Queensland University of Technology, advocated for when making submissions to the National Cultural Policy:
"An Australian poet laureate would elevate the status of Australian poetry domestically and internationally," Holland-Batt says. "Australian literature can struggle on the world stage so there would be a soft diplomacy element to it." She said the laureate would be an advocate for Australia and Australian writing and the benefits would be beyond only poetry. "It would be a big boost for Australian literature to have someone with that authority invested by the state."
RELATED CONTENT
Australia, Australian literature, poetry, politics, writing
3 February 2023
Writers Australia is a new peak body to be established as part of the National Cultural Policy, which was released by the Australian federal government last Monday. While the exact functions of Writers Australia — which comes into being in 2025 — are yet to be fully detailed, its stated mandate is to provide direct support to the Australian literature sector.
While hopes are high the proposed new entity will improve the lot of local writers, Writers Australia is by no means the first attempt to establish an Australian peak literature body. There have been several attempts to do similar in the past, with some being anything but successful, as Adelaide, South Australia, based author Jessica Alice, writing for Meanjin, explains:
There are two years until the body will come into operation and those working in the field will remember past attempts to create a national literature body. There was Writing Australia, the unsuccessful attempt to create a peak body for writers centres that was defunct within two years, and more recently the Book Council of Australia debacle that heralded the Brandis era.

In that instance, a national body was established to represent the interests of publishers, agents and booksellers, with $6 million in funds taken from the Australia Council's operating budget. It faced pushback from the broader literary sector culminating in an open letter signed by high profile figures like Nick Cave and JM Coetzee arguing it was a rush-job initiated without proper sector consultation and a limited terms of reference. The body was ultimately abandoned.
RELATED CONTENT
Australia, Australian literature, politics, writing
2 February 2023
The Victorian Premier's Literary Award 2023 winners were announced at an awards ceremony held at Melbourne's Wheeler Centre this evening. Twenty-seven titles were included on the shortlist last December, across seven categories. Winners in each category, together with the People's Choice Award, and Victorian Prize for Literature, are as follows:
The Victorian Prize for Literature is the centrepiece of the Victorian Premier's Literary Awards, and is valued at A$100,000 making it Australia's single richest literary prize.
RELATED CONTENT
Australian literature, literary awards
1 February 2023
Among initiatives announced this week in the Australian federal government's National Cultural Policy, is the formation of Writers Australia, a body that will, according to the policy document, "provide direct support to the literature sector from 2025." Writers Australia will be part of a new peak arts investment and advisory body to be called Creative Australia, which will represent an overhaul of the current Australia Council for the Arts.
While the finer details are still to be made public, it is known Writers Australia will, among other things, administer the Prime Minister's Literary Awards, and make appointments to the (kind of) newly formed role of Australian poet laureate.
It can also be presumed Writers Australia will work to address remuneration for Australian authors, who according to recent research earn about A$18,000 per annum for their work. Australian workers need to earn at least A$25,675 per annum to be living above the poverty line. The income of local writers is a point underlined by Sophie Cunningham, Chair of the Australian Society of Authors (ASA):
"We're thrilled to see the Government's affirmation that artists and authors should be paid fairly for their work. This is fundamental to a fair and sustainable arts sector. As I and many other authors made clear in our submissions to Government, authors do not fall under the protection of awards or industrial agreements and, as freelancers, have to negotiate on a case by case basis to be paid fairly. We welcome the recognition of the ASA's recommended minimum rates of pay in cultural policy."
While supporting writers and literary organisations through funding, Writers Australia will take a proactive role in boosting incomes for writers and book illustrators, by raising their profile, and growing local and international audiences for their books. One way of achieving this could be to encourage broader promotion of Australian literary awards, in the same way the British publishing industry enthusiastically backs the Booker Prize.
In the meantime poetry can look forward to more prominence in Australia, through the creation of a poet laureate, an appointment Writers Australia will make. There has not been an Australian poet laureate since 1818, when Michael Massey Robinson, a British convict, held the role for about two years.
Poetry is a poorly appreciated form of literature in Australia, with just three and a half percent of local book readers indicating they are inclined to read works of poetry, according to recent research by Amazon Kindle.
Dropbear, a collection of poetry by Melbourne based author Evelyn Araluen, and winner of the 2022 Stella Prize, had sold in the order of fifteen thousand copies as of August 2022. In comparison, Apples Never Fall, by Sydney based novelist Liane Moriarty, was the bestselling book in Australia, with sales of just under two-hundred thousand copies, in 2021.
RELATED CONTENT
Australia, Australian literature, poetry, politics, writing
1 February 2023
Australian author, and co-founder of the Stella Prize, Sophie Cunningham, discusses her latest novel, This Devastating Fever (published by Ultimo Press, September 2022), with Melbourne based author Emily Bitto, in a podcast recorded by the Wheeler Centre.
This Devastating Fever, Cunningham's ninth book, tells the story of an author writing about the life of Leonard Woolf, the husband of British writer Virginia Woolf, and features a curious tie in with the once notorious Y2K bug:
Alice had not expected to spend most of the twenty-first century writing about Leonard Woolf. When she stood on Morell Bridge watching fireworks explode from the rooftops of Melbourne at the start of a new millennium, she had only two thoughts. One was: the fireworks are better in Sydney. The other was: is Y2K going to be a thing? Y2K was not a thing. But there were worse disasters to come. Environmental collapse. The return of fascism. Wars. A sexual reckoning. A plague.

Uncertain of what to do she picks up an unfinished project and finds herself trapped with the ghosts of writers past. What began as a novel about a member of the Bloomsbury set, colonial administrator, publisher and husband of one the most famous English writers of the twentieth century becomes something else altogether.
RELATED CONTENT
Australian literature, books, Emily Bitto, novels, Sophie Cunningham