Showing all posts tagged:
Sally Rooney
14 June 2023
The Literature Map charts the literary connection between writers. The closer writers are in literary style, the more likely a reader will have read the work of other authors in a writer's "neighbourhood". For instance, literary neighbours of Irish author Sally Rooney include Margaret Atwood, Taylor Jenkins Reid, Elena Ferrante, and Dolly Alderton. These are all writers whose books I have read.
RELATED CONTENT
books, literature, Sally Rooney, writers
3 May 2023
The Wife and the Widow by Christian White, and The Dictionary of Lost Words by Pip Williams, are among Australian titles I've read that make the 2023 Better Reading Top 100 list.
Other books by authors outside of Australia I've finished, include Normal People by Sally Rooney, and The Seven Husbands of Evelyn Hugo by Taylor Jenkins Reid.
A full list of all one hundred titles in PDF format can be found here. For those not in the know, Better Reading is a Sydney based Australian community of engaged book readers. Just the sort we like…
RELATED CONTENT
books, Christian White, literature, novels, Pip Williams, Sally Rooney, Taylor Jenkins Reid
25 March 2023
Irish author Sally Rooney, writing for The Irish Times, about the end of an eviction moratorium that may render many people homeless:
The wave of evictions expected to begin from the end of this month is not merely theoretical: we already know that during the period of the ban, tenants in the State sought advice on roughly 1,500 new eviction notices. In a few weeks' time, if the Government does not reverse course, these evictions will be eligible to proceed. Minister for Housing Darragh O'Brien has even publicly accepted that homelessness will "very possibly" increase when the moratorium comes to an end.
While the situation is different, the outlook for residential renters in Australia is likewise challenging. In January 2023, vacancy rates nationwide were just 0.8 percent. In some centres — Perth and Adelaide — vacancy rates were 0.3 percent, which might as well mean there are next to no residential properties available to rent.
RELATED CONTENT
Australia, economics, Sally Rooney
21 May 2022
That appears to be the case for the Irish author's 2018 book Conversations with Friends, writes Robert Moran for Stuff:
All the forensic psychological nuance that Rooney feeds us through Frances – her neurotic overthinking, her spiky self-loathing, her overworked efforts to affect nonchalant charm – those chaotic moments that lend Frances her skewed humanity, are dulled, if not lost, on screen. What you're left with is lingering shots of Frances staring out a rain-streaked window, presumably deep in existential thought, but who knows?
Disappointing. I know I just about always look forward the screen adaptation of the novels I like, despite an innate weariness to the book to film thing…
RELATED CONTENT
novels, Sally Rooney, screen adaptations
14 April 2022
A trailer for Conversations with Friends, a television series produced by BBC Three and Hulu, based on the 2017 novel of the same name, by Irish author Sally Rooney.
Conversations with Friends follows Frances, a 21 year old college student, as she navigates a series of relationships that force her to confront her own vulnerabilities for the first time. Frances is observant, cerebral and sharp. Her ex-girlfriend, now best friend, Bobbi is self-assured, outspoken and compelling.

Though they broke up three years ago, Frances and Bobbi are virtually inseparable and perform spoken word poetry together in Dublin. It's at one of their shows that they meet Melissa, an older writer, who is fascinated by the pair. Bobbi and Frances start to spend time with Melissa and her husband, Nick, a handsome but reserved actor.

While Melissa and Bobbi flirt with each other openly, Nick and Frances embark on an intense secret affair that is surprising to them both. Soon the affair begins to test the bond between Frances and Bobbi, forcing Frances to reconsider her sense of self, and the friendship she holds so dear.
It won't be news to fans of Sally Rooney, but the series goes to air on Sunday 15 May 2022.
RELATED CONTENT
11 December 2021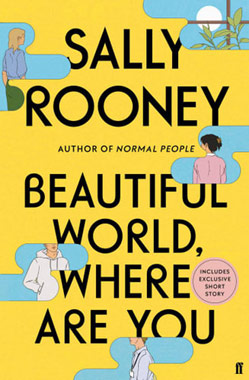 Beautiful World, Where Are You, by Sally Rooney, has been voted the best fiction title for 2021 by Goodreads members, who voted for books across seventeen categories in the annual Goodreads Choice Awards. Congratulations to all authors whose works were nominated this year.
RELATED CONTENT
books, literature, novels, Sally Rooney
8 November 2021
Two major bookstores in Israel have taken Sally Rooney's latest novel, Beautiful World, Where Are You, off its shelves following the Irish author's recent decision not to permit the book to be translated into Hebrew.
Rooney's novels were previously available from Steimatzky and Tzomet Sefarim, but the books have now been removed from their websites, and will be pulled from physical shops too. The retailers have more than 200 branches between them.
RELATED CONTENT
15 October 2021
From a statement issued by the author of Beautiful World, Where Are You, Rooney's most recent novel:
"I understand that not everyone will agree with my decision, but I simply do not feel it would be right for me under the present circumstances to accept a new contract with an Israeli company that does not publicly distance itself from apartheid and support the UN-stipulated rights of the Palestinian people."
RELATED CONTENT
9 September 2021
Beautiful World, Where Are You (published by Faber/Allen & Unwin) is the third novel by Irish author Sally Rooney. Alice and Eileen are old friends who are young, but not that young. They often exchange long emails as they attempt to put the world to rights, and make sense of their love lives. Alice, a famous novelist, asks Felix, a warehouse worker, to accompany her on a holiday to Rome.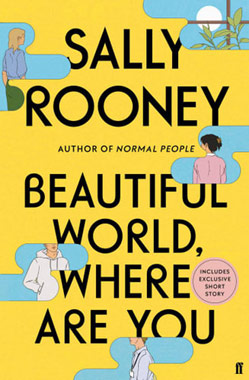 Eileen, a literary assistant, who lives in Dublin, has recently ended a relationship and has begun flirting with Simon, an old childhood friend. The two women haven't seen each other in many years, so when they eventually meet face to face, they find their perceptions of each other – impressions generated by way of their email correspondences – are in sharp contrast to reality.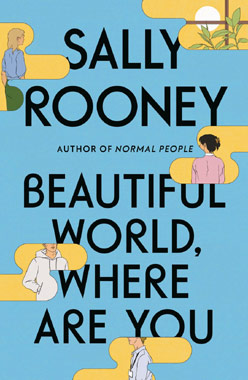 Oh to be a fly on the wall witnessing that meeting. Beautiful World, Where Are You has been published in two editions. The regular edition sports a blur cover, while the yellow cover book is a special edition hardback with a bonus short story. Another addition to the to-be-read list I think.
RELATED CONTENT
books, fiction, literature, novels, Sally Rooney, TBR list