Showing all posts tagged:
music
27 January 2023
The countdown of Triple J's Hottest 100 songs of 2022 kicks off at midday tomorrow, Saturday 28 January 2023, AEDT. To ramp up anticipation, the powers that be at the Jays have offered a few tantalising clues as to what can be expected this year:
Twenty-three acts will be making their Hottest 100 debut
Fifty-seven songs are by Australian artists
Six songs were posted to Triple J Unearthed this year
AND, at least two massive Hottest 100 records will be broken
There's nothing like a few surprises to round out a Hottest 100 countdown.
RELATED CONTENT
26 January 2023
The countdown of the Hottest 100, a poll of Australian radio station Triple J's listeners, goes to air from midday (AEDT) on Saturday 28 January 2023. Billie Eder and Lachlan Abbott, writing for the Sydney Morning Herald, analysed past winners of the countdown, and worked out what it takes to get to the top. In short being male — either as a solo act, or in a group — and being based in either Sydney or Melbourne, makes a big difference:
Firstly, you'll want to be either a solo male artist or in an all-male band – this will significantly increase your chance of winning. In the countdown's three-decade long history, there has only ever been one solo female winner: Billie Eilish. Eilish took out the number one spot for her song Bad Guy in 2019. The win also made Eilish the youngest ever winner of the award, at just 18 years old.
I've been listening to the Hottest 100 for some time now, but reading that American musician Billie Eilish is the only solo female act to be voted number one, in the whole history of the countdown, came as quite the surprise. I'm not sure why this would be. The Triple J playlist is diverse and varied, so it's not as if the music of female artists isn't presented to listeners. This is a puzzle.
RELATED CONTENT
18 January 2023
A fan of Australian musician Nick Cave, named Mark, asked ChatGPT to write the lyrics to a song "in the style of Nick Cave", and sent the resulting output to Cave to look at.
Despite disliking the lyrics, Cave, who described the song as "bullshit", and "a grotesque mockery", wrote Mark a gracious, informative response, noting this was not the first time someone had asked the AI powered chatbot to perform such a task:
What ChatGPT is, in this instance, is replication as travesty. ChatGPT may be able to write a speech or an essay or a sermon or an obituary but it cannot create a genuine song. It could perhaps in time create a song that is, on the surface, indistinguishable from an original, but it will always be a replication, a kind of burlesque.
ChatGPT may be capable of a good many things, but being truly artistic is not (yet) one of those things.
RELATED CONTENT
14 January 2023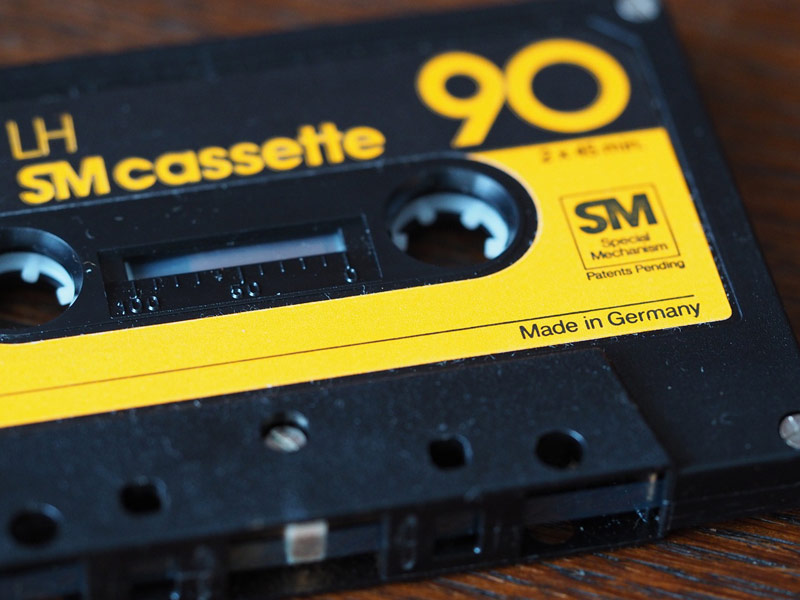 Image courtesy of Ratfink1973.
Taylor Swift and Harry Styles are among musicians to recently release material on… cassette. As in cassette tape, or compact cassette. But at least eighty percent of both performers' target audience must be under the age of thirty-five. How many of these people would have even heard of cassettes, let alone have access to a cassette player?
Australian writer and radio presenter Richard Glover is on the money in saying cassettes, along with rotary dial telephones, VHS tapes, camera film, and typewriters, having had their day, belong in the past:
But not every piece of old technology was a boon. The typewriter, for instance, was a menace. The sliding carriage seemed designed to knock over any coffee cup momentarily perched on your desk, while vigorous typing would produce tiny portholes on the page every time you hit the "o" or the "p".
Music in digital formats might have its naysayers — high compression, reduced quality — but it has eliminated the need to haul cumbersome players, speakers, and storage cabinets for all those cassettes, around with us. Call me a philistine, but I'll take the convenience of carrying my music collection, and my books come to that, in my pocket, any day of the week.
RELATED CONTENT
2 January 2023
The Social Network, the 2010 dramatization of the creation of Facebook, directed by American filmmaker David Fincher, was one of my favourite films of that year, even though I may not be the biggest fan of the Facebook itself. But the audacity, the arrogance, the energy, the self-belief, and the growing realisation Mark Zuckerberg (as portrayed in deadpan fashion by Jesse Eisenberg) was onto something, was infectious.
The Playlist, trailer, a Netflix produced docu-drama dramatization about the founding of music streaming service Spotify, released in October 2022, is another start-up show I'm looking forward to seeing, as the Spotify story has some similarities to Facebook.
In 2006, Spotify co-founders Daniel Ek and Martin Lorentzon, set about building the "best music player in the world". One that was both free to use, and legal. To succeed they said, "we just need to get hold of the music rights." What could be simpler? But, the rest — as they say — is history.
Led by Daniel Ek, a group of passionate young entrepreneurs come together in what seems to be the impossible task to change the music industry — and the world. They set out to create a legal streaming service for music.
RELATED CONTENT
music, technology, trailer, video
21 December 2022
Should they form government at the state election in March 2023, the NSW state Labor party will mandate a minimum payment of A$250 for musicians performing at any event or show in NSW that has received public, or government, funding.
The $250 flat fee will be a condition of a contract by a business or other entity that accepts a government grant for a show or event. While there is currently no guarantee that artists will receive a minimum fee for performing at events funded by public money in New South Wales, a Chris Minns-led government aims to change things.
This is a step in the right direction. A$250 may not be much, once musicians have deducted their various overheads, but it's something. And worth far more than the trite line that artists doubtless hear often: "but performing (gratis) at our event will give you some great exposure."
Heck, it's even a line that's been spun on me sometimes here at disassociated. Do I need/want exposure? Sure. But I also need income, to, you know, make a living.
RELATED CONTENT
artists, arts, Australian music, music
18 December 2022
Black hole stars, sometimes called quasi-stars, were a hypothetical star that may have existed in the earliest days of the universe, up to about half a billion years after the Big Bang.
They were larger — far larger — than any star known to be present in the universe today, and were capable of outshining entire galaxies. And, as the name suggests, they were part black hole. We know some stars become black holes at the end of their lives, but for the two to somehow co-exist, star and black hole, without one destroying the other? How can such a thing even happen?
In 1927, British-Indian scientist J. B. S. Haldane, in an essay titled "Possible Worlds" wrote the oft quoted sentence: "now, my own suspicion is that the universe is not only queerer than we suppose, but queerer than we can suppose." It was Haldane's way of saying we're unlikely to ever make sense of the universe, no matter how much we learn about it. Black hole stars, in their bizarre weirdness, only add to the wonder.
And, as a bonus, American rock/grunge act Soundgarden's 1994 track, Black Hole Sun, written by the late Chris Cornell, takes on a whole (er, no pun intended) new meaning in this context.
RELATED CONTENT
astronomy, music, science, video
1 December 2022
Spotify Wrapped for 2022 has dropped, and once again the music streaming service is bamboozling listeners with custom genre definitions and statistics that apparently place some listeners into what appear to be elite music listening categories. And it also looks like we have listening personalities.
One of my top genres — in what Spotify now call the genre-verse, a nod to Mastodon's fediverse perhaps — is a genre dubbed Aussietronica. To spare scrolling pages and pages of search engine results, I'm going to take a punt here, because it seems quite self-explanatory, and state the obvious: this is Australian made electronica. I'd simply call it electronica, but have to admit Aussietronica is kind of cute, and maybe saves us from having to say "Australian made electronica" all the time.
And for a moment I thought I was kind of special when Wrapped informed me I was among the top five percent of listeners of Sydney based, yeah, Aussietronica act RÜFÜS DU SOL. I played their 2021 track Alive on loop earlier this year as I was re-booting disassociated. But a glance at Twitter trending revealed I was anything but special. Some people are finding themselves in even more exclusive bands, such as, but not limited to, point zero five percent.
I also learned I have a listening personality. To be precise I have a listening personality type, just like you (allegedly) have a Myers–Briggs type. My listening personality type, according to Spotify is F T L U, being Familiarity Timelessness Loyalty Uniqueness. The Replayer, they call me. The F and the L are doubtless a result of the aforementioned looping of Alive.
Listening personalities, all be they a gimmick, are kind of cool though. In fact I'll go out on a limb and declare the Spotify listening personalities might just be a little more scientific than the other type indicator. But Wrapped is, according the Wikipedia page, a viral marketing campaign, so it is doing its job, getting the interwebs excited, once again, about our music listening preferences and habits.
RELATED CONTENT
28 November 2022
And before another Ausmusic month, and November for that matter, falls behind us… Western Sydney based Korean rap act 1300 have won the music video of the year for 2022, with their clip Oldboy in the 2022 J Awards. The video was directed by long-time collaborator Raghav Rampal.
RELATED CONTENT
1300, Australian music, music, video
24 November 2022
Melbourne based Australian indie pop musician Vance Joy has won the Best Video award for his 2022 single Every Side of You, which was directed by William Bleakley, at Australian music's night of nights, the ARIAs.
Meanwhile fellow Melbourne music act Baker Boy also known as Danzal Baker, picked up five ARIA awards, being Album of the Year, Best Hip Hop/Rap release, Best Solo Artist, Best Cover Art, and Best Mixed Album.
Other winners included Amyl and the Sniffers, who collected the Best Group and Best Rock Album, while late Indigenous singer and songwriter Archie Roach won the Best Independent Release award. A full list of winners is here .
Update: not sure how I missed this, but the Australian Chamber Orchestra also had an ARIAs win, being awarded Best Original Soundtrack, for their work on Australian made documentary River.
RELATED CONTENT
Archie Roach, Australian music, Baker Boy, music, Vance Joy, video
24 October 2022
In a study published in 2019 by Cambridge University Press, researchers found the lyrics of pop songs have become increasingly negative in the last thirty years. They reached this conclusion after analysing the emotional content of more than 160,000 songs released between 1965 and 2015.
One major trend in popular music, as well as other cultural products such as literary fiction, is an increase over time in negatively valenced emotional content, and a decrease in positively valenced emotional content.
RELATED CONTENT
19 September 2022
A timeline of electric guitar invention and innovation, by Dutch guitarist and tutor Paul Davids. Starting from 1950, when the Fender Telecaster guitar arrived — originally called Broadcaster — followed soon after of course by the Gibson Les Paul, and then right on through.
Almost all guitars currently on the market are either a direct descendant of, or very similar to, a handful of instruments that came to life during the span of one decade: the fifties.
RELATED CONTENT
14 September 2022
The Daft Punk cafe, by Ukrainian developer, and fan of the erstwhile French electronic music duo, Vadim Demedes.
With daftpunk.cafe, I wanted to create a fun corner on the internet for Daft Punk fans around the world. Listen to the radio, play some tetris or test your knowledge of track names and just have a good time!
RELATED CONTENT
3 September 2022
Fans of defunct French electronic music act Daft Punk will love this… Sample Breakdown, by Tracklib, shows how Thomas Bangalter and Guy-Manuel de Homem-Christo composed some of their signature tracks.
Oh to have a job that required listening to just about every recorded musical composition since the 1970s (it seems) in order to compose original material. And then to hone on just the right samples from a song, and create something else from it: amazing.
RELATED CONTENT
29 August 2022
Just what the doctor ordered on a Monday morning, Holiday, the new single from Perth, Australia, three-piece alternative dance act Crooked Colours.
Take me away…
RELATED CONTENT
26 August 2022
Last time I wrote about listener survey ratings for local and alternative music Australian radio station, Triple J, the news was not good for the broadcaster. Results of survey four for 2022, conducted between Sunday 22 May and Saturday 25 June, and released on Tuesday 5 July, showed a sharp fall in the number of people tuning in.
The findings of survey five though, where radio listeners were polled between Sunday 10 July and Saturday 13 August, revealed a jump in audience numbers, among Sydneysiders aged 18 to 24.
Australia's national youth broadcaster Triple J has seen a noticeable bump in its key 18-24 demographic in the fifth radio survey of the year, after struggling with its core audience in Sydney for most of 2022. The latest survey has seen the broadcaster more than double its 18-24 audience share, leaping from 4.4 per cent to 9.6 per cent of all listeners in that age group.
Despite the overall increase of listeners in the 18-24 demographic, Triple J's breakfast and morning shows saw a decrease in audience numbers.
RELATED CONTENT
12 August 2022
Talking of Triple J… Emerging Melbourne based Australian soul and pop singer Jacoténe has won the radio station's Unearthed High for 2022, with her demo single I Need Therapy. Those vocals though…
RELATED CONTENT
12 August 2022
Government funded, alternative music Australian radio station, Triple J has been losing listeners for sometime among their target demographic of 18 to 24 year olds, but recent surveys show the decline has picked up pace, as Tim Burrows at Unmade writes:
However, the fall for average listening to Triple J is much worse. Now, a much bigger proportion of that young listening audience is choosing commercial radio. In 2014, there were an average of 22,000 members of Triple J's target audience listening at any given time. In the most recent survey in 2022, that had fallen to 10,000 – a fall of 55%.
What puzzles me is the migration to commercial radio though. Listeners haven't gone to TikTok to discover and listen to music — at least not all of them — instead they're tuning into commercial radio stations. Surely the ads that choke commercial radio broadcasts don't have some sort of hitherto unrealised appeal to Generation Z?
I'm somewhat outside Triple J's target audience, but one reason I still tune in (stream in) is precisely because there are no cheesy commercial jingles. There are ads of sorts on Triple J, but usually for other shows, and music related events and happenings. Certainly not the kind you encounter on commercial channels though.
And surely 18 to 24 year olds aren't being turned off by Triple J's focus on new Australian music? Interestingly, radio listenership in general is down some seventeen percent among those aged 18 to 24, so while the jays are losing audience share, they're not the only ones.
RELATED CONTENT
8 August 2022
Judith Durham, lead singer of Australian folk/pop band the Seekers died last Friday, 5 August 2022, aged 79. Formed in 1962, the Seekers, along with Durham, who joined the group a year later, were among the first Australian music acts to achieve international success.
RELATED CONTENT
Australian music, Judith Durham, music
6 August 2022
Because music is so accessible today we're drowning in it, says Michael Spitzer, professor of music at the University of Liverpool. That's a far cry from a few hundred years ago when people attended, at best, two recitals in their lifetime, and music went unrecorded until 1877 when Thomas Edison invented the phonograph.
But the arrival of the phonograph is only a small part in the story of music. Changes in the way music was performed, and the instruments created to make that possible, evolved as we moved away from our hunter-gatherer roots, and eventually began living in towns. Spitzer's recounting of forty-thousand years of musical development, in the space of eight minutes, is fascinating.
If you're looking at the broad picture of the evolution of sapiens, then the epochs are hunter-gatherer, farming community, and then the founding of cities and city-states. Each of these epochs is associated with mentalities. So, hunter-gatherers tended to be nomadic. And if you're essentially journeying through a landscape, what you don't do is carry heavy instruments. Music has to be portable, ideally, just a voice or if not, a very light flute or a small percussive instrument. And if you look at the music that is played by the Cameroon Pygmies, every time they play a piece, it sounds different. It's very much music of the moment.

Now, what changes when you invent farming? You settle down. And your whole mindset becomes fixed on the circle of the seasons, the circle of life. And you invent repeatable work. And the structure of the work becomes as cyclical as life itself. You invent a circle in music, invent musical rituals. And once music migrates from the farm to the town, certain changes happen. Instruments can become heavy because you start to set quite permanent roots into the town. You create heavy instruments like bells and gongs, but also very delicate ones like harps and lutes which would be damaged over a journey.
RELATED CONTENT