Showing all posts tagged:
music
23 May 2022
Last Saturday, 21 May 2022, marked twenty five years since British band Radiohead released their third studio album Ok Computer, in 1997. To mark the occasion Ed O'Brien, the group's guitarist, took to Instagram to share insights into the way the band thought and worked.
Wow… feels like an age away.. 1997 belonged to a different era .. we were just kids.. with unswerving focus and drive .. no partying just the desire to make better and better work.. it was fucking exciting .. people seemed to get what we were doing and the gigs were getting more powerful.
"1997 belonged to a different era"… I copy that.
TAGS •
19 May 2022
Like many festival and award ceremonies, the National Indigenous Music Awards (NIMAs) have been forced to proceed with virtual/online events in the last couple of years. In 2022 however the NIMAs return in an in-person format, and will be held in Darwin on Saturday 6 August 2022.
The National Indigenous Music Awards (NIMAs) are recognised as one of Australia's most prominent Indigenous music awards and have been celebrating Australian music for 16 years. The NIMAs showcase the rich musical landscape of Australia and highlight the music coming from all corners of the country. The Awards bring together acts who are yet to make their mark on the world alongside those who have achieved international acclaim, such as Gurrumul & Jessica Mauboy.
Nominations for the awards are currently open.
TAGS •
Australian music, Indigenous music, music
17 May 2022
Excerpts of a surprise performance given by Bono and Edge of Irish rock band U2, accompanied by Ukrainian band Antytila, whose members are also assisting in defending their country from the Russian invasion. Bono told those gathered in the Kyiv metro station that is doubling as a bomb shelter, their people fight not just for their freedom, but for all who cherish liberty:
Your presence leads the world in the cause of freedom right now. The people of Ukraine are not just fighting for your own freedom, you are fighting for all of us who love freedom.
Bono's on point as per usual.
TAGS •
13 May 2022
A mind-blowing cover of Chuck Berry's 1958 rock-and-roll classic Johnny B. Goode, performed by Indigenous Australian musician and didgeridoo player William Barton.
TAGS •
Australian music, music, William Barton
13 May 2022
Charli XCX: Alone Together, trailer, a documentary by Los Angeles based director duo Bradley Bell and Pablo Jones-Soler, follows British singer and songwriter Charli XCX, as she goes about recording her fourth studio album How I'm Feeling Now, during the height of the COVID-19 pandemic.
It's early 2020 and the world is thrust into lockdown, grinding everything to a halt – including pop superstar Charli XCX's North American stadium tour. Stuck at home in LA and not working for the first time in her adult life, instead of bingeing both Netflix and junk food, Charli decides to push herself to her creative and physical limits by recording and releasing an entirely new record in just 40 days.

Armed with a producer sending her beats remotely, speedy Amazon deliveries of recording and filming equipment, a reluctant and utterly charming boyfriend and her legions of fans offering suggestions, video clips and adoration, Charli XCX embarks on both an introspective and deeply collaborative journey into the creation her widely celebrated album How I'm Feeling Now.
Charli XCX: Alone Together will screen in selected Australian cinemas, for a few days only, over the first weekend of June 2022.
TAGS •
Bradley Bell, Charli XCX, film, music, Pablo Jones-Soler, trailer
9 May 2022
I don't know how many songs end up being adapted to film, but Australian musician Paul Kelly's 1996 composition How to Make Gravy, looks like it'll join their ranks, after Australian film production company Speech & Drama Pictures acquired the song's film rights.
Written from the perspective of a prisoner named Joe writing home to his brother Dan at Christmas time, the song has gathered momentum year on year as more people discover the plainspoken but emotionally profound work.
But will it be a case of the song is better than the movie? Let's hope not…
TAGS •
8 May 2022
Wowser, you guys are good. How ever did you figure out I was bringing dis back?
As a reward, go listen to Alive by Sydney based electronica act RÜFÜS DU SOL. They won a grammy with it this year, and it's been the soundtrack of disassociated's re-boot. I posted thousands of links here between 2007 and 2017, a great quantity of which were dead, so instead of trying to edit all those posts, I decided to start over.
I've been trying to read more books these last few years — contemporary Australian fiction where possible — so there's a definite bookish bent here at the moment. Anyway there's a few kinks to iron out here, and what not, so I'll be back later.
TAGS •
Australian music, electronica, music
26 April 2022
Reclaim Your Heart is a track on FutureNever, the new solo album from Daniel Johns, former guitarist and songwriter of defunct Australian indie rock act Silverchair.
TAGS •
26 April 2022
What's the worst thing that could happen to a rock star? It might be waking up one day and discovering they're no longer as famous as they once were. For some, the awakening can be rude, as was the case for American musician Suzanne Vega.
Accustomed to her record company supplying a limousine to convey her between airport and home, Vega was forced to hail a taxi on returning from an ill-fated tour in 1990, after realising she no longer qualified for the perk.
Similar fates, it seems, have befallen other who were once household names, such as Kevin Rowland, of Dexys Midnight Runners, Terence Trent D'Arby, now known as Sananda Maitreya, and Bill Drummond of The KLF.
What's interesting though, encouraging even, is most of these musicians, and likely many others who fell out of the limelight decades ago, are still recording and performing. Carrying on, sans the hype.
If being a musician is in someone's DNA, what need is there for mass adulation? It's all about the music, isn't it?
TAGS •
9 April 2022
Ken West, co-founder of Australian music festival, the Big Day Out, died on Thurday 7 April 2022, aged 64. West established the festival in 1992 with Vivian Lees. The first event was a one show only affair, held at the iconic Hordern Pavilion in inner Sydney, and included Nirvana on the lineup. The event went onto play in other Australian capital cities, and Auckland, New Zealand, becoming an annual summer fixture.
The last Big Day Out took place in 2014. Soon after, American concert promoter and events management company C3 Presents took full ownership of the event, and cancelled the scheduled 2015 shows. While they intended to bring the Big Day Out back at some point, so far there has been no word as to when this might happen.
Update: Yeah, actually I put the bloody thing on… former Triple J host, writer, and TV producer, Marieke Hardy recounts a meeting with Ken West after one of the Melbourne Big Day Out shows in the late-nineties.
TAGS •
5 April 2022
Sydney based dance/electronic act RÜFÜS DU SOL won the Best Dance/Electronic Recording award for their track Alive at the 2022 Grammy Awards, held yesterday at the MGM Grand Garden Arena in Las Vagas.
Other Australian musicians, and their work, nominated this year were The Kid LAROI for Best New Artist, Shot In The Dark by AC/DC for Best Rock Performance, Power Up by AC/DC for Best Rock Album, Mood Valiant by Hiatus Kaiyote for Best Progressive R&B Album, and Shot In the Dark by AC/DC for Best Music Video. Good to see AC/DC, who have been working for nearly fifty years, feature so prominently.
TAGS •
11 March 2022
Nine bands including Brisbane based act Regurgitator, and The Fauves from Melbourne, perform this evening, Friday 11 March, at The Brightside to help raise funds for flood relief efforts for the north-eastern NSW town of Lismore.
Regurgitator, Phil Jamieson, and The Fauves are among the artists banding together for a special fundraiser show in Brisbane this Friday night, raising money for the city of Lismore which has been so badly impacted by recent floods.
TAGS •
9 March 2022
Heardle takes the Wordle experience, and translates it to music. You have six attempts to guess the title of a snippet of music, which you can hear anywhere from five to thirty seconds of, to help you figure it out.
Heardle is one of several variations of Josh Wardle's word game (I'm not talking about outright duplicates here), that have spawned since October 2021.
It's the latest in a string of Wordle-inspired online games to have popped up recently, including Worldle, which tests users' geography knowledge, Dungleon, featuring fantasy characters over words, and the battle royale version, Squabble, where up to 99 players can race to figure out the word correctly, losing health points if they guess wrong.
If you're familiar with music released in the last ten years, then you should have little difficulty winning Heardle. But will it be the next big thing, behind Wordle? Possibly. According to its creators "Heardle was made for a small group of friends, then somehow gained millions of players overnight."
TAGS •
8 February 2022
Africa, recorded by American rock band Toto in 1982, which against the odds surely, became an anthem for millennials three or four years ago, has been covered by Sydney based Australian DJ and producer Dave Winnel, for Triple J's Like A Version. Hurry boy, she's waiting there for you…
TAGS •
31 January 2022
Veteran singer-songwriter Joni Mitchell has joined Neil Young in asking Spotify to remove her catalogue from the music streaming service, in response to concerns the company is playing a part in spreading misinformation about COVID-19 and vaccines to combat the virus, through some of the podcasts they host, including The Joe Rogan Experience.
On Friday, the singer-songwriter posted a statement, titled "I Stand With Neil Young!", to her website announcing the decision. "I've decided to remove all my music from Spotify. Irresponsible people are spreading lies that are costing people their lives," Mitchell wrote. "I stand in solidarity with Neil Young and the global scientific and medical communities on this issue."
TAGS •
Joni Mitchell, music, Neil Young
24 January 2022
Australian children's pop group and entertainers The Wiggles have taken out the number one spot in Australian radio station Triple J's annual Hottest 100 countdown, with a cover of Perth based act Tame Impala's 2012 song Elephant. Topping the coveted listener's poll is notable for two reasons this year, it is the first time a children's act has been voted number one, likewise a Like A Version cover song.
TAGS •
21 January 2022
Is it possible to create something, be it music, literature, painting, an app, well, anything that can be created really, that is uniquely yours, that doesn't contain even an iota of an idea from a person, or a thought, you consider influential? Probably not, says Australian musician Nick Cave:
Nothing you create is ultimately your own, yet all of it is you. Your imagination, it seems to me, is mostly an accidental dance between collected memory and influence, and is not intrinsic to you, rather it is a construction that awaits spiritual ignition.
TAGS •
15 December 2021
Voting is open for Australian radio station Triple J's annual Hottest 100 listener's poll. I don't hear too much radio format and have come to regard the Hottest 100 in the same way I do the long and short lists of literary awards, a great place to seek out quality music listening inspiration. Voting closes on 17 January 2022, and the countdown can be heard a few days later on 22 January.
TAGS •
10 December 2021
Keeping it all Australian today, not the plan, just the way it turned out: Rolling Stone's list of the top two hundred albums of all time. While the top twenty titles include household names, only the work of two artists, Tame Impala, and 5 Seconds of Summer, is less than ten years old. Many of the top albums were released in the latter part of last century, and I'll be curious to see how they've fared in terms of chart position, in say twenty years' time.
TAGS •
4 December 2021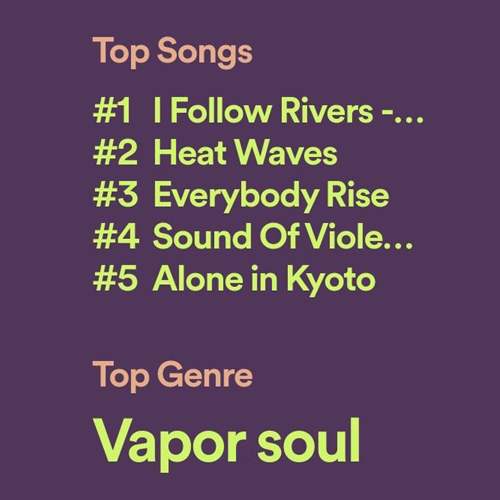 I've spent the last few days, since my Spotify Wrapped compilation for 2021 landed earlier this week, finding out what I can about a music genre called vapor soul; or, as I prefer to spell it: vapour soul. According to Spotify Wrapped, vapour soul was the genre I listened to the most over the last twelve months.
That's fascinating because I had no idea the majority of the music I consumed during 2021 was vapour soul. In point of fact, I didn't even know vapour soul existed until this week. Yet when I went looking, I found references to vapour soul that were almost four years old. Brilliant. Vapour soul has been a thing for years, but I only find out about it in the closing days of 2021.
But while vapour soul has a history, I still didn't have a definition. To that end I went straight to the source, Spotify, or more precisely, the Spotify Community Blog. A search yielded a few results for vapour soul, but they were mainly the playlists of members, whose selections included vapour soul tracks. So I cast the net a little further out, where I found an in-depth article at Phases which summarises vapour soul thusly:
From what I can tell, vapor + soul = mellow-sounding/ear-pleasing music featuring fluid sounds, life-giving production and lyrics based in an uncertain or somewhat sad state of mind.
That might describe some of the music I listen to, but glancing at my top five listened-to tracks of 2021, which include The Sound of Violence by Dennis De Laat, I Follow Rivers by Lykke Li, and Everybody Rise by Amy Shark, I couldn't say they are tracks "based in an uncertain or somewhat sad state of mind." I decided to keep searching. That took me to an article by Cara Houlton at The Focus, where I discovered there is an apparently related genre known as vapour twitch:
Whilst some Spotify users might only just be seeing the genre vapor twitch for the first time on their Wrapped in 2021, the genre has been appearing since 2019. A micro-genre of electronic music, 'vapor' can be best described as having a foggy, ethereal sound, whilst 'twitch' adds post-futuristic EDM beats.
There's another useful definition of vapour. If twitch refers more to post-futuristic EDM beats, then the soul in vapour soul derives – maybe – from soul music, defined here by dictionary.com:
A fervent type of popular music developed in the late 1950s by Black Americans as a secularized form of gospel music, with rhythm-and-blues influences, and distinctive for its earthy expressiveness, variously plaintive or raucous vocals, and often passionate romanticism or sensuality.
I guess I could see a "passionate romanticism or sensuality" in some of the music I've listened to in the last year. So far though, I've not found a simple, five to ten word, definition of vapour soul that gives me the succinct clarify I crave. Next I tried that veritable favourite stand-by of many, Urban Dictionary:
BS edgy genre made up by an international media services provider of Swedish origin. Artists: unknown.
"Artists unknown" sounds about right, as does BS. I'll defer to Wikipedia again, where Spotify Wrapped is described as "a viral marketing campaign." If the goal is to get people talking, then the marketing campaign succeeded. In the end then I still may not fully understand what vapour soul is, but it is kind of cool to be listening to a genre of music that seems to flummox even its adherents.
TAGS •