Showing all posts tagged:
technology
30 January 2023
Jobs in education, finance, software engineering, journalism, and graphic design, are among some of the occupations under threat from OpenAI chatbot ChatGPT, writes Alex Mitchell for the New York Post. That's a wide gamut of work. But ChatGPT will also play a part in creating new work opportunities:
From the financial sector to health care to publishing, a number of industries are vulnerable, [Pengcheng] Shi said. But as AI continues its mind-blowing advancements, he maintains that humans will learn how to harness the technology.
RELATED CONTENT
artificial intelligence, technology, trends
28 January 2023
The United States Copyright Office (USCO) recently declared it only wants to grant copyright protection to artworks created by people, not AI technologies.
Now Springer Nature, one of the world's largest publisher of scientific journals, says hot AI technology of the moment, ChatGPT, along with other large language models (LLM) tools, cannot be credited as the author of any academic papers they publish. The OpenAI engineered chatbot can however assist with research writing, but their use must be disclosed:
First, no LLM tool will be accepted as a credited author on a research paper. That is because any attribution of authorship carries with it accountability for the work, and AI tools cannot take such responsibility. Second, researchers using LLM tools should document this use in the methods or acknowledgements sections. If a paper does not include these sections, the introduction or another appropriate section can be used to document the use of the LLM.
RELATED CONTENT
artificial intelligence, science, technology, trends, writing
23 January 2023
Websites designed in the late 1990's, especially personal sites, like the in-your-face Geocities pages, might have been inaccessible, difficult to navigate, devoid of standards, and completely lacking in latter day best practice methodology, but they were fun. Bold. Colourful. Non-generic.
Professional web designers of the time may have hated them, but I dare say they loved to hate them. And they might be about to again. British web engineer Sophie Koonin — who built her first Geocities page at age ten — is on a mission to bring the flamboyant and weird back to the web.
This time though without the HTML markup hacks, and proprietary code, of twenty-five years ago:
I'd love to see this spirit return today – the experimental and fun side of the web. My goal is to show you how we can be just as creative today but using modern and accessible methods. Because, as fun as they were, old websites were a nightmare for accessibility. We didn't really use semantic HTML, we used tables for layouts (instead of, y'know, tabular data), everything was constantly flashing and moving. Luckily for us, the modern web allows us to be just as creative while still considering the user at the other end of the browser.
Talking of websites built during the nineties, I found out the other day that entropy8 (screenshot above), an example of beautiful website design from the era, built by Rome, Italy, based American digital artist and sculptor, Auriea Harvey, is still online. I used to visit entropy8 a bit, back in the day. Websites designed by artists are also what the web needs more of.
RELATED CONTENT
23 January 2023
The layoffs in the tech sector continue, with Microsoft and Google among companies announcing mass redundancies across their operations last week. Ten thousand people are impacted at Microsoft, and twelve thousand workers at Google have been sacked. Although both company CEOs struck a contrite tone in breaking the news, that will be cold comfort to workers who have lost jobs when higher inflation, and rising interest rates, are already posing challenges for many people.
But why are so many employers in the tech sector announcing layoffs, almost one after the other? A few weeks ago I read an article by Professor Jeffrey Pfeffer, of the Stanford Graduate School of Businese, who suggested the redundancies were a form of social contagion. One company sacks some workers, other feel they have to do the same.
John Gruber, meanwhile, writing at Daring Fireball, sees another possible reason for the job losses. He thinks many of the companies announcing layoffs had spent the last few years over recruiting:
There are numerous reasons the tech industry wound up at this layoffpalooza, but I think the main reason is that the biggest companies got caught up in a game where they tried to hire everyone, whether they needed them or not, to keep talent away from competitors and keep talent away from small upstarts (or from founding their own small upstarts). These big companies were just hiring to hire, and now the jig is up.
RELATED CONTENT
18 January 2023
A fan of Australian musician Nick Cave, named Mark, asked ChatGPT to write the lyrics to a song "in the style of Nick Cave", and sent the resulting output to Cave to look at.
Despite disliking the lyrics, Cave, who described the song as "bullshit", and "a grotesque mockery", wrote Mark a gracious, informative response, noting this was not the first time someone had asked the AI powered chatbot to perform such a task:
What ChatGPT is, in this instance, is replication as travesty. ChatGPT may be able to write a speech or an essay or a sermon or an obituary but it cannot create a genuine song. It could perhaps in time create a song that is, on the surface, indistinguishable from an original, but it will always be a replication, a kind of burlesque.
ChatGPT may be capable of a good many things, but being truly artistic is not (yet) one of those things.
RELATED CONTENT
artificial intelligence, music, Nick Cave, technology
14 January 2023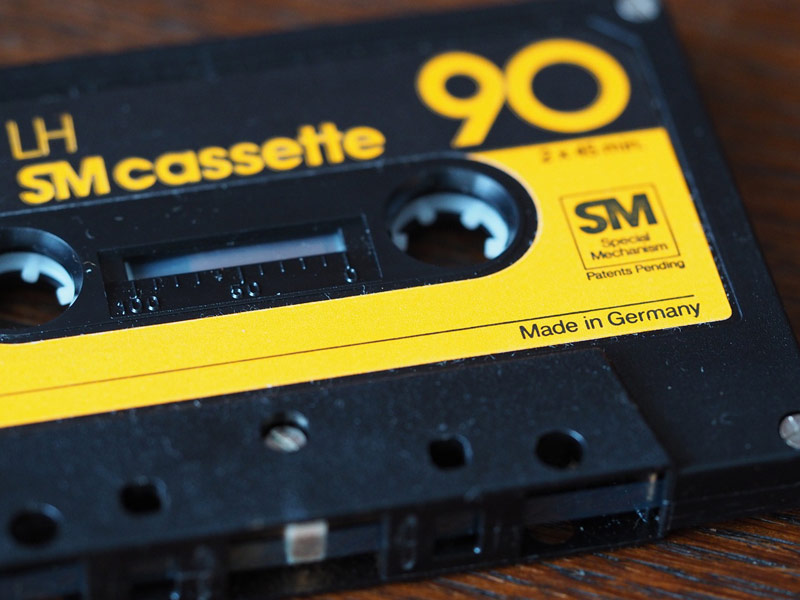 Image courtesy of Ratfink1973.
Taylor Swift and Harry Styles are among musicians to recently release material on… cassette. As in cassette tape, or compact cassette. But at least eighty percent of both performers' target audience must be under the age of thirty-five. How many of these people would have even heard of cassettes, let alone have access to a cassette player?
Australian writer and radio presenter Richard Glover is on the money in saying cassettes, along with rotary dial telephones, VHS tapes, camera film, and typewriters, having had their day, belong in the past:
But not every piece of old technology was a boon. The typewriter, for instance, was a menace. The sliding carriage seemed designed to knock over any coffee cup momentarily perched on your desk, while vigorous typing would produce tiny portholes on the page every time you hit the "o" or the "p".
Music in digital formats might have its naysayers — high compression, reduced quality — but it has eliminated the need to haul cumbersome players, speakers, and storage cabinets for all those cassettes, around with us. Call me a philistine, but I'll take the convenience of carrying my music collection, and my books come to that, in my pocket, any day of the week.
RELATED CONTENT
12 January 2023
I've worked in a number of organisations in the past that have been subject to rounds of staff layoffs or redundancies. In most cases the prime motivation was cost cutting, and the decision to proceed was usually made by a senior executive who would not have to deal directly with the subsequent fallout. For anyone not familiar with the process, it was not pleasant. Stress, anxiety, baseless rumours, and misinformation, were all in abundance.
Despite noises made to the contrary by management, the negative impact on workers — both those departing, and those staying behind — was seldom given thought. In one situation, a former colleague made what is probably a common observation: there'll still be the same amount of work to do. New work processes and technologies might reduce some of the load, but likely not markedly.
Like many people, the recent wave of layoffs in the tech sector has puzzled me. One company announced a round of redundancies, and the next thing other tech companies are following suit. But why? Surely all these companies, Meta (the Facebook owner), Linkedin, Twitter, Tesla, Netflix, and Salesforce — who are but a handful of organisations to send employees home in recent months — cannot all be struggling financially.
This make the staff cuts all the more baffling. But as Jeffrey Pfeffer, a professor at the Stanford Graduate School of Business explains, the layoffs are a case of social contagion. In other words, because one or two tech companies have been shedding staff, everyone else feels they must do the same. Long story short, there is no real reason for the redundancies, and the turmoil they create for workers, and the organisations themselves:
The tech industry layoffs are basically an instance of social contagion, in which companies imitate what others are doing. If you look for reasons for why companies do layoffs, the reason is that everybody else is doing it. Layoffs are the result of imitative behavior and are not particularly evidence-based.
RELATED CONTENT
9 January 2023
Josh Nicholas, writing for The Guardian, about a recent decline in active members on social network Mastodon:
The number of active users on the Mastodon social network has dropped more than 30% since the peak and is continuing a slow decline, according to the latest data posted on its website. There were about 1.8 million active users in the first week of January, down from over 2.5 million in early December.
Aside from grumbles about Mastodon being difficult to use, I think a lot of people are wary of having to start over again somewhere else. If Twitter had ceased to exist, gone off-line, members who wished to remain active on a micro-blogging service would have no choice but to find a new platform, but that hasn't (yet) been the case.
I joined Twitter in 2007, as did many of the people who follow me. Today some of those people have tens of thousands of followers, something that would've entailed considerable time and effort to achieve. The prospect of leaving that behind, and rebuilding their following on another service, would be daunting.
Despite Mastodon experiencing a growth surge in recent months, and making headlines in the process, membership peaked at about two and a half million accounts in December 2022. This compared to Twitter's 368 million monthly active users at the same time. Some people moved on, but plenty stayed back.
Anyone then looking to start again would have found barely any of their Twitter followers on Mastodon, rendering a move questionable. So much for the Twitter members who threatened to depart, to "move to Canada" so to speak, after Elon Musk assumed ownership. In the same way some Americans, unhappy with the prospect of Donald Trump becoming U.S. President, declared they would migrate to Canada, in the event he won office. Ultimately few, if any, made the move.
While some Twitter users might have gone to Mastodon, or another micro-blogging service, or left social media behind all together, their numbers were limited by the looks of it. Staying on, rather than starting from scratch, turned out to be more appealing. Twitter had a way of retaining members, sitting — out of sight — up its sleeve, all along.
RELATED CONTENT
Mastodon, social media, social networks, technology, twitter
8 January 2023
Text-to-speech AIs have begun narrating select romance and fiction audiobooks available from Apple Books. Audiobook listeners electing an AI… entity (is that how I should refer to them?) to recite their title can choose between two digital voices, named Madison and Jackson. An additional two AI narrators, Helena and Mitchell, will soon be reading out non-fiction titles. Apple says the move will reduce costs, making it easier for independent authors and publishers to produce audiobooks:
The feature represents a big shift from the current audiobook model, which often involves authors narrating their own books in a process that can take weeks and cost thousands for a publisher. Digital narration has the potential to allow smaller publishers and authors to put out an audiobook at a much lower cost.
I don't know what professional book narrators will think — though I can guess — but the move also makes sense for those authors who currently chose to narrate their own work. They can save several weeks of recording time, leaving them to focus on what they do best: write. While it could be said AI narrators were inevitable, that will be cold comfort for their human counterparts.
RELATED CONTENT
artificial intelligence, books, technology, trends
2 January 2023
The Social Network, the 2010 dramatization of the creation of Facebook, directed by American filmmaker David Fincher, was one of my favourite films of that year, even though I may not be the biggest fan of the Facebook itself. But the audacity, the arrogance, the energy, the self-belief, and the growing realisation Mark Zuckerberg (as portrayed in deadpan fashion by Jesse Eisenberg) was onto something, was infectious.
The Playlist, trailer, a Netflix produced docu-drama dramatization about the founding of music streaming service Spotify, released in October 2022, is another start-up show I'm looking forward to seeing, as the Spotify story has some similarities to Facebook.
In 2006, Spotify co-founders Daniel Ek and Martin Lorentzon, set about building the "best music player in the world". One that was both free to use, and legal. To succeed they said, "we just need to get hold of the music rights." What could be simpler? But, the rest — as they say — is history.
Led by Daniel Ek, a group of passionate young entrepreneurs come together in what seems to be the impossible task to change the music industry — and the world. They set out to create a legal streaming service for music.
RELATED CONTENT