Showing all posts tagged:
events
22 March 2023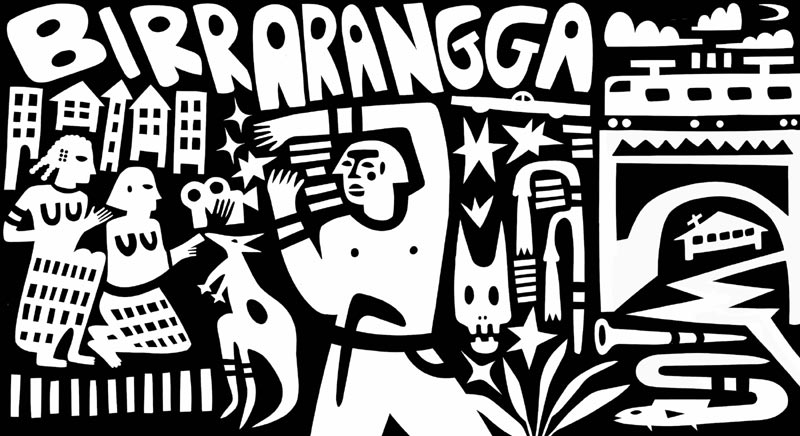 Artwork by Aretha Brown.
The biennial Birrarangga Film Festival runs from Thursday 23 March, through to Tuesday 28 March 2023, in Melbourne:
BIRRARANGGA Film Festival celebrates Global Indigenous Films that explore the curatorial themes of 'strength, resilience and the environment'. First Nations relationships to the image as a form of expression, particularly in Australia, is connected to thousands of years of cultural practices. This festival honours that history and acknowledges the contemporary currency of the moving image, of film, as an expression of the human experience in relation to our natural surroundings.
The festival opens with a screening of Bones of Crows, directed by Canadian screenwriter and filmmaker Marie Clements.
RELATED CONTENT
Australia, events, film, Indigenous film
19 March 2023
Fleur Morrison, writing at Readability:
I have a love/hate relationship with politics. I love that we have a stable form of politics in Australia, even though sometimes it can get a little heated and it certainly isn't without its problems. But I hate that it has taken over writers festivals to the degree that it is hard to find a session that isn't overtly political. These festivals have moved from being celebrations of books to become fixated on politics and ideology.
If you argue everything that happens in the world is political to some degree, then keeping politics out of writers' festivals isn't going to be easy. Personally though, I'd rather see more talk focus on books, and fiction, at festivals.
RELATED CONTENT
16 March 2023
The Sydney Writers Festival 2023 program was published this evening, and features a star studded line-up of Australian and international speakers. Among them are former Australian Prime Minister Julia Gillard, Sydney author Tracey Lien, Tasmasian writer Robbie Arnott, and Fiona McFarlane.
Overseas speakers include Sri Lankan writer Shehan Karunatilaka, winner of the 2022 Booker Prize, and British author Bernardine Evaristo, who will be one of the opening night address speakers. Australian author Richard Flanagan meanwhile will deliver the closing night address.
The festival — which runs from Monday 22 May, to Sunday 28 May 2023 — will take place at a number of locations around Sydney, including Carriageworks, the State Library of NSW, Penrith City Library, Sydney Town Hall, and PHIVE, Parramatta, to name a handful.
RELATED CONTENT
Australian literature, events, Sydney
22 February 2023
Three Ukrainian authors, Kateryna Babkina, Olesya Khromeychuk, and Maria Tumarkin, who were scheduled to speak at Adelaide Writers Week in March 2023, are no longer participating in the event:
The event's director, Louise Adler, confirmed Kateryna Babkina and Olesya Khromeychuk, who were scheduled to speak at a session on the impact of Russia's invasion on Ukrainian civilians, had decided not to appear. She said the move was prompted by comments of another guest, Palestinian-American author Susan Abulhawa, who has described Ukrainian President Volodymyr Zelenskyy as a "Nazi-promoting Zionist" and accused him of dragging "the whole world into the inferno of WWIII".
On Tuesday, Australian law firm MinterEllison withdrew their support for the festival, in the wake of the same comments made by Susan Abulhawa, a Palestinian-American author.
RELATED CONTENT
Australia, events, literature, writing
11 February 2023
The program for Adelaide Writers' Week 2023, which runs from Saturday 4 March though to Thursday 9 March 2023, in the capital of South Australia, has been published. This year's theme is Truth Be Told, always a subjective, nuanced matter, as festival director Louise Adler notes:
The thread that weaves through the 2023 program of literary luminaries, writers on their way and novitiates is the notion of truth — truths we acknowledge, truths we feel are debatable and those beyond debate. Do we want truthfulness in fiction or does it only matter in nonfiction? Do novelists owe us the truth? Is the biographer's task to tell nothing but the truth about their subject? Is my truth The Truth and yours simply your truth and therefore partial, imprecise or even suspect? Is any truth incontestable, universal? Does truth matter and if so, how should it be upheld in a world crammed with falsehoods, lies, misinformation and inaccuracies? If all ideas are reimagined or appropriated, if originality is a fallacious delusion nurtured in an artist's garret, does truth even matter anymore?
Catriona Menzies-Pike, J.M. Coetzee, Sarah Holland-Batt, and Raina MacIntyre are among Australian writers who will be in attendance.
RELATED CONTENT
Australia, events, literature, writing
7 December 2022
British journalist and writer Tim Jonze on participating in NaNoWriMo 2021, meeting the fifty-thousand word target in the requisite thirty days of November, and then… reading the work — for the first time — a year later:
Well, it's been a year since NaNoWriMo. Could this book really be as bad as I imagined? Amazingly, the answer is no.

It is much, much worse.
Aside from the fact I could not meet the average 1,667 daily word requirement, to successfully complete NaNoWriMo, reading what I'd written, would be the other reason why I'd not take part.
RELATED CONTENT
books, events, literature, writing
7 November 2022
It's November and that means it is NaNoWriMo (National Novel Writing Month) time. Writers, whether new or established, have thirty days to pen a fifty-thousand word manuscript. That works out to about seventeen hundred words a day. A daunting task for sure, but it wouldn't be much of a challenge if it were easy.
NaNoWriMo doubtless makes for an enjoyable way to while away cool autumn days for northern hemisphere participants. A Camp NaNoWriMo event is also held in April and July, and might suit writers based south of the equator, who'd rather be away from their laptops, enjoying the spring weather in November.
And while the vast majority of works produced during NaNoWriMo seldom sees the light of day, the event has launched the careers of several authors. But it's not for everyone, and some writers are critical of NaNoWriMo. They say the tight deadline encourages bad writing, as people scramble to reach the fifty-thousand word target.
It's one reason science fiction author and game developer, and past participant, Dale Thomas gave up on NaNoWriMo. But Thomas goes further than describing some NaNoWriMo output as "bad writing". To his mind, vomit texts make for a more apt metaphor:
You see, the big problem I have with the challenge is that it forces me to write fast. Too fast for my liking. I end up vomiting all over my writing application. And because only wordcount matters and the clock is ticking, there is no time to wipe the drool from my mouth, no time to find a damp cloth to clean up the mess. The vomit just sits there, drying out, and day after day I vomit afresh. Layer upon layer of disgusting, half-digested ideas, dripping all over the once pristine white page.
RELATED CONTENT
22 October 2022
The 2023 Melbourne Writers Festival (MWF) will take place from Thursday 4 May 2022 until Sunday 7 May. Mark it on your calender. The 2023 event will be held a few months earlier than the 2022 which ran during September.
Update: the decision by MWF organisers to move the event to early May 2023 has upset the convenors of a number of other literary events taking place at, or around, the same time. Most noteably organisers of the nearby Bendigo Writers Festival are particularly concerned, as their event takes place at exactly the same time.
It seems to me the MWF move could have been better thought out. To say the least.
RELATED CONTENT
events, literature, Melbourne, writing
26 September 2022
With a number of planets, particularly Jupiter, dominating the eastern night sky of Australia at the moment, what better time to make mention that the 2025 International Astronautical Congress (IAC) will be held in the NSW capital, Sydney.
Founded in 1951, the International Astronautical Federation (IAF) is the world's leading space advocacy body with around 460 members in 72 countries, including all leading space agencies, companies, research institutions, universities, societies, associations, institutes and museums worldwide. The Federation advances knowledge about space, supporting the development and application of space assets by promoting global cooperation.
The last time Australia hosted an IAC event was in 2017, when the International Astronautical Federation conference took place in Adelaide, South Australia.
On the subject of astronomical matters, check out If the Moon were only one pixel, by American interactive art director and designer Josh Worth. Now we can see why they call it space…
RELATED CONTENT
astronomy, events, science, Sydney
23 September 2022
The 2022 National Young Writers' Festival (NYWF) runs from Thursday 29 September, through to Sunday 2 October, both in Newcastle, Australia (about one hundred and sixty kilometres north of Sydney), and online.
NYWF is so-called Australia's largest gathering of young writers, with artists bringing their craft from all around (cities, regional, rural and our beloved regular cohort from Aotearoa). We showcase work in both new and traditional forms including zines, comics, blogging, screenwriting, poetry, spoken word, hip hop, music, journalism, autobiography, comedy and prose.
RELATED CONTENT
Australia, events, literature, writing
1 August 2022
Ann Mossop has been appointed as the new artistic director of the Sydney Writers' Festival. Mossop, who has been behind a string of events in Sydney, has a long association with the writers' festival:
Festival Chair Mark Scott said, "Ann Mossop comes to Sydney Writers' Festival with a career programing cutting-edge public conversations at the Sydney Opera House for the Ideas at the House series, Festival of Dangerous Ideas, All About Women and recently as the Director of the Centre for Ideas at UNSW Sydney. Ann also has a long association with the Festival, sitting on the board from 1995–2000 and was part of the committee that established Sydney Writers' Festival as an independent entity in 1998."
RELATED CONTENT
29 July 2022
The Festival of Dangerous Ideas (FODI) is on at Carriageworks in Sydney, on Saturday 17 September 2022, and Sunday 18 September. In an age where any idea seems dangerous, FODI is all about having uncomfortable conversations and being unafraid to question the status quo.
FODI holds uncomfortable ideas up to the light and challenges thinking on some of the most persevering and difficult issues of our time, questioning our deepest held beliefs and desires. It presents a lineup of international and local thinkers and culture creators, inviting us all to immerse ourselves in ideas and conversations that encourage debate and critical thinking.
RELATED CONTENT
29 July 2022
The 2022 Melbourne Writers Festival program was unveiled last Tuesday by MWF artistic director Michaela McGuire. Between Thursday 8 September 2022, and Sunday 11 September, over two-hundred-and-fifty storytellers from across the world will gather in Melbourne, Australia, and after several years of COVID imposed lockdowns, this year's event is aptly themed ambition:
Reading is the ultimate act of ambition; the boundless ambition of the curious mind. Ambition to learn, to inhabit another person's life and experience the world from their point of view. To grasp the limitless possibilities that literature affords us, the solace it has given, the joy it still has to offer.
RELATED CONTENT
events, literature, Melbourne, writing
1 July 2022
Long running Austin, Texas, based American music, film, and interactive conference and festival South by Southwest, better known as SXSW, is hosting a week-long event in Sydney, from Saturday 15 October 2022 until Saturday 22 October.
While SXSW has held a number of spin-off events in the past, usually in North America, this is the first time the festival is being replicated outside of the United States. While details are yet to be finalised, most events will be taking place at the International Convention Centre (ICC), in Darling Harbour.
RELATED CONTENT
events, film, music, technology
29 June 2022
The program for the 2022 Melbourne Writers Festival — which runs from 8 to 11 September 2022 — will be unveiled on Wednesday 27 July.
In the meantime festival organisers have announced American actor, comedian, and author Jenny Slate, Scottish actor Brian Cox, British Pakistani novelist Mohsin Hamid, and British musician, and former Pulp front-man Jarvis Cocker, will be part of the show.
These four incredible artists are just the beginning of an extraordinary line-up that we can't wait to bring to Melbourne audiences this year after the pandemic kept us away for so long.
RELATED CONTENT
20 June 2022
Melbourne based Australian author Robert Lukins discusses his latest novel Loveland, with Brisbane based writer and teacher Ben Hobson, on Tuesday 28 June 2022, from 7PM until 9PM.
Robert's critically acclaimed debut novel, The Everlasting Sunday, was shortlisted for a number of awards including NSW Premier's Literary Awards in two categories. His second novel, Loveland, was published in Australia by Allen & Unwin in March 2022. His work has appeared in Crikey, Overland, The Big Issue, Rolling Stone, Broadsheet, Time Off, Inpress, and other odd places.
RELATED CONTENT
Australian literature, Ben Hobson, events, Robert Lukins
6 June 2022
PRIDE on SCREEN is a celebration of Pride Month, taking place at Melbourne's Cinema Nova, from Friday 10 June 2022, until Wednesday 15 June.
Cinema Nova celebrates Pride Month with a curated selection of premiere screenings, new releases and big-screen classics exploring stories from across the LGBTIQ+ experience, screening from Friday June 10.
After Blue, trailer, a science-fiction feature made by French director Bertrand Mandico in 2021, is one of the films showing at the festival. Set on a planet where only women can survive, After Blue tells the story of a hairdresser and her daughter, as they hunt for a notorious killer, named — curiously — Kate Bush.
RELATED CONTENT
Bertrand Mandico, events, film, trailer
6 June 2022
Roanna Gonsalves, creative writing lecturer and author, speaks to Winnie Dunn and Dr Michael Mohammed Ahmad, at Waverley Library, in Bondi Junction, Sydney, on Saturday 11 June, from 11AM until 12PM.
Dunn is the general manager of the Sweatshop Literacy Movement, while Ahmad's third novel The Other Half of You, was published last year. The speaking event is part of an initiative by Waverley municipal council to curb racism in the community.
RELATED CONTENT
Australian literature, events, Michael Mohammed Ahmad, Roanna Gonsalves, Winnie Dunn
30 May 2022
The Melbourne Rare Book Fair returns in 2022 after a COVID enforced break, and takes place at the University of Melbourne, from Thursday 7 July 2022 until Sunday 9 July.
The Melbourne Rare Book Fair is the major annual book fair of ANZAAB and one of only a few rare book fairs in the Southern hemisphere. Now in its 49th edition, and 50th year, the Melbourne Rare Book Fair will again feature rare and wonderful books, manuscripts, ephemera, prints (and much more) from the best rare book and antiquarian dealers across Australia and New Zealand and overseas.
If newer and bountiful aren't your thing, then the Rare Book Fair may be the place for you.
RELATED CONTENT
21 May 2022
Some late news to hand for anyone with an interest in graphic novels, and comics, who's in Sydney tomorrow: the Brazen Comics Festival is on at the East Sydney Community and Arts Centre, in Darlinghurst, Sunday 22 May 2022, from 10AM until 4PM.
Brazen Comics Festival is a one day comics festival. The festival will amplify, highlight, and celebrate the voices of women, non-binary, and gender diverse people in comics, and foster a connected, welcoming, and supportive community of comic fans and creators in Australia. Brazen Comics Festival is accessible and welcoming to all.
RELATED CONTENT