1 July 2022
For Flash Back Friday. Espresso at the sadly long closed Lady J Cafe at Bondi Junction in Sydney, a snap I took several years ago. At the moment I'm using part of the image for the header on my Twitter page.
Lady J was an institution in its day, and I think it's telling that a number of cafes and restaurants that have occupied Lady J's old retail premises since, have struggled to make a go of it. They last a short time and close. The store space is along the bustling Oxford Street, so it's not as if there's a shortage of foot-traffic, or the place is hidden away.
Interesting, I was searching for the Lady J Instagram page, and found another IG page for a cafe with the same name and a similar logo, opening "soon", somewhere in Texas. If it's operated by the same people, and the similar logo certainly seem to suggest that, then Texans are in for a treat.
Share on Twitter | Share on Facebook
RELATED CONTENT
1 July 2022
It sounds like a scene from Adam Brooks' 2008 film Definitely Maybe, where Ryan Reynolds' character trawls through American bookshops, searching for a particular copy of Jane Eyre. But for Launceston, Tasmania, based bookshop owner Toby Wools-Cobb, it is something the self-professed book detective does all the time.
Mr Wools-Cobb uses the investigative skills from his career as a librarian and the archaeological expertise from his studies in Egyptology to find copies of books from his shop, Quixotic Books. Special algorithms help him scan the millions of titles listed in publisher databases, but he also must understand the "life cycle of books to figure out where they may have ended up".
Some of Wools-Cobb's clients are people who sold a little-known book, perhaps at a garage sale, and are trying to locate it years later. And incredibly, he often succeeds in tracking down a copy.
"I managed to find some information that the author had partnered with a book chain to do a promotion," he said. He tracked down the shop and asked the staff if any promotional stock had been left behind in the storeroom. "They were saying, 'Oh, we don't have it in stock on our system', but sure enough, they go out and sheepishly come back and say, 'We've got a whole box of them'.
Share on Twitter | Share on Facebook
RELATED CONTENT
1 July 2022
Long running Austin, Texas, based American music, film, and interactive conference and festival South by Southwest, better known as SXSW, is hosting a week-long event in Sydney, from Saturday 15 October 2022 until Saturday 22 October.
While SXSW has held a number of spin-off events in the past, usually in North America, this is the first time the festival is being replicated outside of the United States. While details are yet to be finalised, most events will be taking place at the International Convention Centre (ICC), in Darling Harbour.
Share on Twitter | Share on Facebook
RELATED CONTENT
events, film, music, technology
29 June 2022
Australian book aficionado Stella Glorie spoke to two thousand plagiarists (cripes, I hope they weren't all Australian…) and asked why they appropriated the work of others. Here, she presents the top ten reasons, presumably meaning there were who knows how many excuses in total.
What's the big deal? No one complains every Sunday when my priest plagiarises his sermons from the bible.
This is enlightening research, no?
Share on Twitter | Share on Facebook
RELATED CONTENT
29 June 2022
Say what you will about the recent Blockade Australia protests (do we not now have a climate-change friendly government?), but the conduct of police in dealing with the protestors they have been detaining has been causing alarm.
According to Digital Rights Watch, an organisation dedicated to protecting the digital rights of Australians, some arresting officers are demanding alleged offenders hand over devices such as smartphones, and also surrender access passcodes.
Digital Rights Watch has also been made aware of an incident where an individual who was simply near a location thought to be connected with Blockade Australia activities has had their phone seized by police. The police made a number of attempts to guess the passcode before handing the phone back.
Posted at Daring Fireball yesterday, and possibly useful: how to temporarily disable face id or touch id, and require a passcode to unlock your iPhone or iPad.
Share on Twitter | Share on Facebook
RELATED CONTENT
security, smartphones, technology
29 June 2022
The recent John Hughes plagiarism fracas is but one of numerous scandals in Australian literature, some more audacious than others, writes Melbourne based Australian journalist and author Thuy On.
In 1990, Mutant Message Down Under by Marlo Morgan was released, purportedly about the journey of a middle-aged, white American woman and her interactions with a group of Indigenous peoples in Australia. Morgan stated the book was inspired by actual experience, however research in central and Western Australia failed to uncover any evidence of her presence in the area or the existence of the tribe in question.
Share on Twitter | Share on Facebook
RELATED CONTENT
Australian literature, writing
29 June 2022
Applications for the 2022 ASA/Varuna Ray Koppe Young Writers Residency are open until Friday 29 July 2022. The residency was established in memory of the late Ray Koppe, by her family. Koppe worked for many years assisting with the administration of the Australian Society of Authors.
Each year, the Australian Society of Authors awards a two-week residential fellowship to a writer under the age of 35 who is as yet unpublished.
Danielle Binks and Hannah Bent, are among past winners.
Share on Twitter | Share on Facebook
RELATED CONTENT
Australian literature, literature, writing
29 June 2022
Ian Mansfield has posted axonometric diagrams of every station on the London tube, or underground rail network, which were released by Transport for London.
Axonometric diagrams?
They are technically axonometric diagrams, which is 3D-like, but not to scale, which becomes obvious when you see some of the vertiginous descents offered on some stairs and escalators.
Balham station is exactly as I remember it, as is Brixton.
Share on Twitter | Share on Facebook
RELATED CONTENT
29 June 2022
The program for the 2022 Melbourne Writers Festival — which runs from 8 to 11 September 2022 — will be unveiled on Wednesday 27 July.
In the meantime festival organisers have announced American actor, comedian, and author Jenny Slate, Scottish actor Brian Cox, British Pakistani novelist Mohsin Hamid, and British musician, and former Pulp front-man Jarvis Cocker, will be part of the show.
These four incredible artists are just the beginning of an extraordinary line-up that we can't wait to bring to Melbourne audiences this year after the pandemic kept us away for so long.
Share on Twitter | Share on Facebook
RELATED CONTENT
28 June 2022
The Australian Bureau of Statistics has begun releasing Census data which was collected in August 2021. Items catching my eye included the revelation there are now as many Millennials, people generally aged 25 to 39, as there are Baby boomers, who are aged 55-74.
There's also been a significant increase in people stating they have no religious affiliation, with the figure up almost ten percent on the previous Census in 2016. Here's a rundown of these, plus other, highlights:
Sydney is Australia's largest city by population, with 5.2 million inhabitants
NSW is Australia's largest state by population, with almost 8.1 million inhabitants
Australia's total population is 25.5 million. It has doubled since 1971, when there were 12.4 million inhabitants
Australians have a median age of 38 years
There are now almost as many Millennials, 5.4 million people, as there are Baby Boomers
Aboriginal and Torres Strait Islander people make up 3.2% of the population
English, Australian, Irish, Scottish, and Chinese, make up the top five ancestries of Australians today
Mandarin, Arabic, Vietnamese, and Cantonese are the top languages spoken after English
Almost 39% of Australians have no religious affiliation, up from 30% in 2016
About 44% identify as Christian, down from about 52% in 2016
Islam, Hinduism, Buddhism, Sikhism, and Judaism are the top religions after Christianity
There are over one million single parent families in Australia
There are almost 25,000 same sex marriages
About 31% of Australians either live in rental accommodation, or outright own their dwelling
Share on Twitter | Share on Facebook
RELATED CONTENT
28 June 2022
Baz Luhrmann's Elvis bio-pic has a lot of talking points. But then again what films by Baz Luhrmann don't? The near three hour runtime (four for the director's cut apparently), and the accent Tom Hanks uses in his portrayal of Colonel Tom Parker, for starters.
Then there's the contemporary remixes of Presley's classic hits, including Edge of Reality, reimagined by Perth based Australian one-person act Tame Impala. Plenty to talk about here.
Share on Twitter | Share on Facebook
RELATED CONTENT
Baz Luhrmann, film, music, Tame Impala
28 June 2022
A specialist medical team at St. Vincent's Hospital in Sydney, Australia, have been monitoring the health of one hundred and twenty-eight people who were infected with the original COVID-19 Alpha strain in the early months of 2020.
Study participants experienced varying degrees of infection, with a small number requiring hospitalisation. But the findings of the study — to date — are unsettling to say the least.
Around one quarter of the ADAPT study's participants were experiencing noticeable cognitive decline a year after getting COVID. And, some sort of cognitive decline was recorded in almost all of the participants, regardless of the severity of the initial infection. "When we look over time, across the 12 months of the study, we see that even the people who have performance within a normal expectation do also have a mild cognitive decline," says neuropsychologist and associate professor Lucette Cysique.
However, Dr Cysique noted that in most cases cognitive decline was mild, and few people would notice, unless they found themselves in a "very cognitively demanding situation."
I'm not sure I find that particularly reassuring. COVID strikes me as being a disease best avoided. If that is at all possible.
Share on Twitter | Share on Facebook
RELATED CONTENT
28 June 2022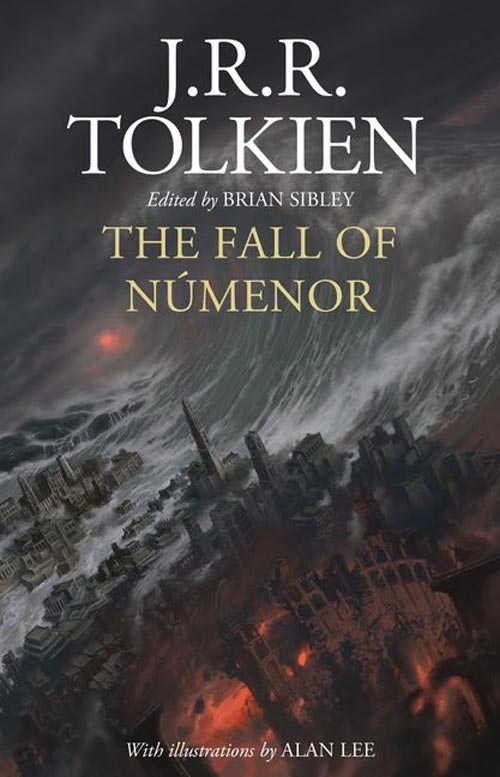 The Fall of Númenor (published by HarperCollins on 10 November 2022), edited by English writer Brian Sibley, explores the Second Age of Middle-earth, based on what J.R.R. Tolkien — author of the The Lord of the Rings, which, incidentally, is set in the Third Age — wrote of the era.
It was not until Christopher Tolkien published The Silmarillion after his father's death that a fuller story could be told. Although much of the book's content concerned the First Age of Middle-earth, there were at its close two key works that revealed the tumultuous events concerning the rise and fall of the island of Númenor. Raised out of the Great Sea and gifted to the Men of Middle-earth as a reward for aiding the angelic Valar and the Elves in the defeat and capture of the Dark Lord Morgoth, the kingdom became a seat of influence and wealth; but as the Númenóreans' power increased, the seed of their downfall would inevitably be sown, culminating in the Last Alliance of Elves and Men.
Share on Twitter | Share on Facebook
RELATED CONTENT
J. R. R. Tolkien, literature, writing
28 June 2022
One for fans of the Beatles, and in particular, the drumming of Ringo Starr, here's their 1966 track She Said, She Said, with isolated bass and drum lines. Compared to the likes of John Bonham, Hannah Welton, Charlie Watts, or Dave Grohl, Starr may not have been a master keeper of time, but he could sure play a fill.
Via Far Out Magazine.
And on a related note, footage of Paul McCartney performing at the Glastonbury Festival last week with John Lennon. Yes, indeed.
Share on Twitter | Share on Facebook
RELATED CONTENT
27 June 2022
A collection of incredible photos of the Sydney Opera House, taken during its construction. Today the Opera House is one of the most recognisable buildings in the world, but it seems Sydneysiders were not enamoured by the iconic structure while it was being built.
Today the building is loved, yet while it was under construction attitudes were very different. The local press continually attacked its cost, its delays, and its architect; headline writers gave the now familiar white shell roof nicknames such as 'the concrete camel', 'copulating terrapins' and 'the hunchback of Bennelong Point'.
What's also compelling about these photos is both how much has changed, and how much has remained the same, when looking at the areas surrounding the land the Opera House stands on.
Via Things Magazine.
Share on Twitter | Share on Facebook
RELATED CONTENT
Australia, history, photos, Sydney
27 June 2022
Social networking service Twitter looks set to make the transition from microblogging platform to content creation platform, with the trailing of a new notes feature. Twitter notes — currently being tested by users in Canada, Ghana, Britain, and America — allows posts of up to two thousand five hundred words at a time to be written.
It reminds me a little of the notes feature Facebook used to offer, that I used early on, when I still used Facebook. It's a smart move on Twitter's part, as it stands to significantly increase engagement on the platform. Presently users need to direct followers to external resources, such as their blog, if they want them to read posts exceeding two hundred and eighty characters.
Writers who do not have a website of their own look to particularly benefit from the notes feature, should Twitter decide to roll it out.
Share on Twitter | Share on Facebook
RELATED CONTENT
content production, social media, twitter
27 June 2022
The Enclave lock, designed by Andrew Magill, comes with the claim that it cannot be picked. This might be the news the security conscious have been waiting for.
Some locks are more difficult to pick than others. Some have more perfect tolerances, or more positions, or keyways that are more difficult to fit tools into, or parts that move in unusual ways, or parts designed to mislead pickers, and so on. But these are only incremental improvements, and don't address the fundamental flaw. The solution is to make it so that the two steps- accepting input, and testing that input- can never happen at the same time. When those two steps cannot interact with each other, a well-designed lock will never reveal information about the correct positions of its individual parts, nor can they be made to 'fall into' their unlocked positions through manipulation.
Watch the video clip for the Enclave lock though. As well as demonstrating Magill's new lock, it also shows how conventional locks work. Quite fascinating.
Share on Twitter | Share on Facebook
RELATED CONTENT
design, security, technology, trivia
25 June 2022
Luke Casey, reporting for the BBC, discusses the impact of word processors on the workplace, and how they stand to make working from home possible. In 1979.
Share on Twitter | Share on Facebook
RELATED CONTENT
25 June 2022
Jeremy Maluta, speaking to Australian political commentator and You Tube host Jordan Shanks-Markovina, has identified himself as the owner of the PRGuy17 Twitter account.
The moves comes as a result of legal action by Avi Yemini, a conservative journalist, and a recent application to the Australian Federal Court, asking Twitter to reveal details of who was operating the previously anonymous account.
Yemini believed PRGuy17 was in the employ of Dan Andrews, the premier of Victoria, on account of tweets supporting Andrews, and his handling of the COVID-19 enforced lockdowns, but Maluta has denied the claim:
"I'm just a normal everyday person. I don't want to be a celebrity," he said. "This has meant being really careful about what I put online." "I'm OK with putting my name out there, but I just … want to have a bit of privacy too." "I can confirm I don't work for [Premier] Dan Andrews or any political thing whatsoever. Those theories are completely cooked."
Share on Twitter | Share on Facebook
RELATED CONTENT
politics, social media, twitter
23 June 2022
The 2022 Miles Franklin Literary Award shortlist was unveiled this evening, with the following five novels making the cut:
Awesome to see Grimmish by Michael Winkler, on the list, now the first self-published novel to reach the Miles Franklin shortlist.
The winner will be named on Wednesday 20 July 2022.
Share on Twitter | Share on Facebook
RELATED CONTENT
Australian literature, books, literary awards, Miles Franklin