Showing all posts tagged:
science fiction
2 April 2023
After an asteroid buzzed uncomfortably close to Earth several days ago, the trailer for American filmmaker Wes Anderson's new film, Asteroid City, landed, if you'll excuse the pun. Does this mean Anderson is psychic, or does he have a knack for — if you'll excuse another pun — hitting the mark? One thing's certain though, Anderson has a knack for getting it right with cinema-goers, and Asteroid City, billed as science fiction romantic comedy drama, his eleventh feature, looks to be no exception.
What's Asteroid City about then?
A widower (Jason Schwartzman) is driving his son Woodrow (Jake Ryan), and three daughters, across the United States to see their grandfather (Tom Hanks), during the summer of 1955. Their car breaks down in a town called Asteroid City, situated in the middle of the Arizona desert. They happen to arrive in time for a stargazers' convention, held on Asteroid Day, which commemorates the day the Arid Plains Meteorite is said to have struck the area, on 23 September 3007 BCE.
Woodrow is intrigued by the event that draws people from across the world, and wants to stay for it. With their car undergoing repairs, Woodrow's father calls his grandfather, who reluctantly agrees to come and collect his sisters. The widower and his children are not the only visitors to Asteroid City though. Midge Campbell (Scarlett Johansson), a movie star is also in town. But then strange things begin happening. Loud bangs are heard, and earthquakes rock the town.
Locals begin reporting the presence of extra-terrestrials, and the authorities decide to seal off Asteroid City, until they can figure out what's going on. Woodrow and his family, along with the other visitors in town, are forced to stay put. It may not be all bad for the reserved, awkward Woodrow though. He's met a girl, also in town for the stargazers' convention, and the two seem to feel they share a connection…
For those who in late, Wes Anderson is…
A filmmaker who hails from Houston, Texas. Although Anderson wanted to be a writer, he was always making films. Growing up, Anderson often made homemade films, with his siblings and friends. He also worked as a cinema projectionist while at university. He made his first full length feature Bottle Rocket in 1996, which was based on an earlier short film he'd made with the same name. Three of his works feature on the BBC's 100 Greatest Films of the 21st Century.
There are many ways to describe Anderson's films. Quirky. Eccentric. Whimsical. Vintage. Nostalgic. With an abundance of rich pastel colours, his stories hark back to a world where life was a little simpler, though a dark streak is often ever present. Stylistically, Asteroid City looks to be no different, but if the trailer is anything to go by, Anderson has ramped up the colour saturation, imbuing the story with a truly fairy tale like quality.
As such Asteroid City is par for the Anderson course, and is his first foray into science fiction, with the possible exception of 2018's Isle of Dogs.
A sci-fi potpourri perhaps?
While the trailer only offers a glimpse of what's to come, the references to Steven Spielberg's 1977 film Close Encounters of the Third Kind, and 1968's 2001: A Space Odyssey, by Stanley Kubrick, are pretty clear. And after all, how could any Wes Anderson movie with an outer space tack not have a nod to 2001? It remains to be seen whether there are any Star Wars and Star Trek imprints though, but I have a feeling they'll be in there somewhere.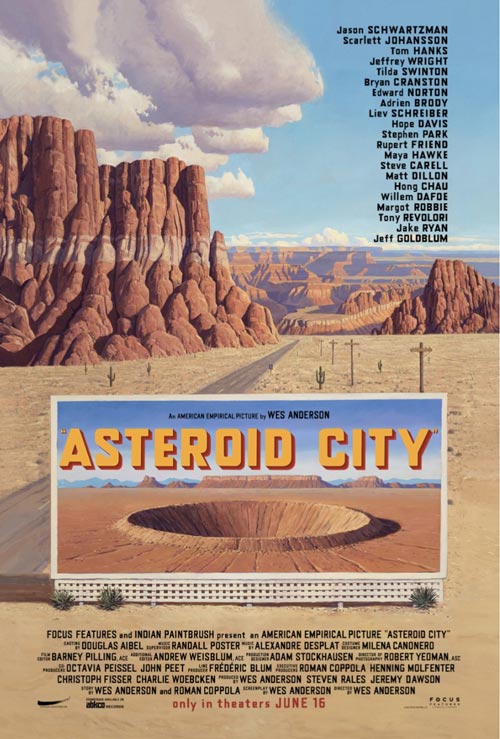 The gang's all here
On top of his distinct film and storytelling style, Anderson usually works with the same writers and actors. He often co-writes screenplays with Jason Schwartzman, who stars in Asteroid City, along with frequently collaborating with Noah Baumbach and Roman Coppola. On screen, regular Anderson standbys include Willem Dafoe, Tilda Swinton, Jeff Goldblum, Adrien Brody, Edward Norton, Liev Schreiber, and the aforementioned Scarlett Johansson.
But the large cast features more than just Anderson regulars. Hong Chau, Margot Robbie, Bryan Cranston, Jarvis Cocker, and Sonia Gascón, are also among this ensemble cast of astronomical proportions. Conspicuous by absence though is Bill Murray, who has featured in every Anderson feature except Bottle Rocket. Murray was unable to participate after being diagnosed with Covid, shortly before production commenced. Steve Carell was cast to take Murray's place instead.
Asteroid City meanwhile is the first Wes Anderson film that Tom Hanks has appeared in.
That's a wrap, almost…
Despite being set in the Arizona desert, Asteroid City was mostly filmed in Spain, in Chinchón, a town about fifty kilometres to the south east of Madrid. From what I can tell, the Arizona desert sure looks like the Arizona desert, though I'm not sure why Anderson didn't go for the real thing. Maybe Covid restrictions applying at the time ruled out other locations. Or it could be a matter of convenience, as Anderson lives not too far away in Paris.
I'm also wondering if there's any significance to the date of Asteroid Day, being 23 September. What's up with 23 September? It's probably a totally random date, but I checked for notable past events occurring on 23 September anyway. Encyclopædia Britannica reports American musician John Coltrane was born on that day in 1926, while actor, choreographer, and film director John Fosse died on 23 September, in 1987.
Austrian neurologist Sigmund Freud, who devised psychoanalysis, also died that day, in 1939. Perhaps the momentousness of Asteroid Day's date, if there is one, will come to light at a later time.
Asteroid City is set to premiere at the Cannes Film Festival in May 2023, and open in Australian cinemas on Thursday 22 June 2023.
RELATED CONTENT
film, science fiction, trailer, video, Wes Anderson
5 March 2023
Finding someone to publish science fiction in Australia is difficult but not wholly impossible. A number of Australian authors report difficulty in having works of anything other than contemporary or literary fiction published locally, forcing them to take their work to overseas publishers.
Under these circumstances it would seem Melbourne based Australian author Grace Chan was fortunate. Her debut novel Every Version of You, published by Affirm Press in July 2022, is categorised as speculative fiction after all. Speculative fiction may not be another name for science fiction per se, but speculative fiction is often considered an umbrella term for a number of non-realist fiction genres, including horror, fantasy, and sci-fi.
Every Version of You is set in the late twenty-first century in a world where inhabitants spend most of their time within what is described as a hyper-immersive, hyper-consumerist virtual reality called Gaia. They live almost every aspect of their lives in this digital realm without ever leaving the house. But wait a minute, doesn't that describe the way many of us already live? Are we not so immersed by the domain on the screen in the palm of our hands that we don't even blink sideways at the person standing next to us?
Social media gave rise to socialising online, while the COVID-19 lockdowns of recent years made working from home the norm, deepening our engagement with the virtual dimension.
Gaia then sounds very much like an actual place, rather than the product of a speculative fiction writer's mind. Might these details have somehow escaped the publisher of Every Version of You, who believed the book to be a work of a genre other than speculative fiction? This is surely a hopeful sign for writers of speculative and science fiction in Australia, as their work often explores contemporary, and relevant matters, through a lens other than that of contemporary or literary fiction.
The prospect of uploading one's consciousness, in a digital format, to the internet, sometimes called mind uploading, is by no means a fanciful notion either. And in the world Tao-Yi, and her boyfriend Navin inhabit, this is something they find themselves grappling with. Tao-Yi, who has reservations about the Gaia concept in any case, is anything but enthusiastic when a technology that allows people to permanently upload their consciousness completely to Gaia, emerges. Navin, in contrast, is all for the idea.
Tao-Yi is confronted with a choice. Follow her boyfriend into this perpetual digital realm, or, like her mother, remain in the real world, but one ravaged by climate change and poverty. Those who reside in the world Chan has created seem to be damned if they do, damned if they don't.
Chan, who also works a psychiatrist, is a prolific writer of short fiction, with a keen interest in neuroscience, consciousness, empathy, ethics, and the mind-body relationship. One of her short works, He Leaps for the Stars, He Leaps for the Stars, was shortlisted in the Aurealis Awards, a literary prize celebrating the work of Australian speculative fiction writers.
Every Version of You meanwhile has been longlisted for the 2023 Stella Prize. Recognition of a work of speculative fiction by a literary award as highly regarded as the Stellar is certainly positive for writers of the genre in Australia.
RELATED CONTENT
Australian literature, fiction, Grace Chan, novels, science fiction
27 February 2023
Melissa Clark-Reynolds and Beth Barany talk about writing science fiction on the Writer's Fun Zone podcast. One point that emerges is science fiction's relevance to contemporary matters on planet Earth. This at a time when some Australian publishers have no interest in looking at science fiction and fantasy manuscripts, possibly because they deem it irrelevant.
I've seen so many different stories use science fiction to explore where we are today. And, there's something always very surprising about them. I just really enjoy them.
A great point. A lot of sci-fi pertains to the here and now. It's not all a long time ago, in a galaxy far, far, away. Literary agents and publishers take note.
RELATED CONTENT
20 February 2023
Australian author Alice Boer-Endacott, writing for the Australian Young Adult Literature Alliance (#LoveOzYA) blog:
However, despite the growing mainstream appreciation of fantasy (and science fiction) texts, especially within YA, Will [Kostakis] notes, "it's as if we're conditioned to see something as less worthy just because it is unabashedly fun. The implications of this? We talk less about fantasy books' craft, we omit some of our finest YA writers from awards conversations, they're not studied in schools … That last bit is very important in the Australian landscape, where sales are (unfortunately) quite small." This final point was echoed by an industry insider with whom I had a passing conversation on this subject (they declined to be named). They told me, "the success of YA texts are dependent on whether or not schools pick up class sets, and they are much less inclined to do that with fantasy."
Some Australian publishers explicitly state they will not accept science fiction and fantasy manuscripts. Some Australian authors meanwhile have reported local agents and publishers will only accept literary fiction manuscripts, and nothing else. Scoring any publishing deal is difficult, but the odds are especially stacked against sci-fi and fantasy writers in Australia.
RELATED CONTENT
books, literature, novels, science fiction
4 February 2023
Stanley Kubrick's 1968 sci-fi classic 2001: A Space Odyssey is remixed with George Lucas' 1977 space opera Star Wars, by YouTuber Poakwoods, and this is the result.
Truly awesome.
Also, it seems hard to believe from the third decade of the twenty-first century that less than ten years separate 2001: A Space Odyssey and the first Star Wars film.
RELATED CONTENT
2001: A Space Odyssey, film, humour, science fiction, video
27 January 2023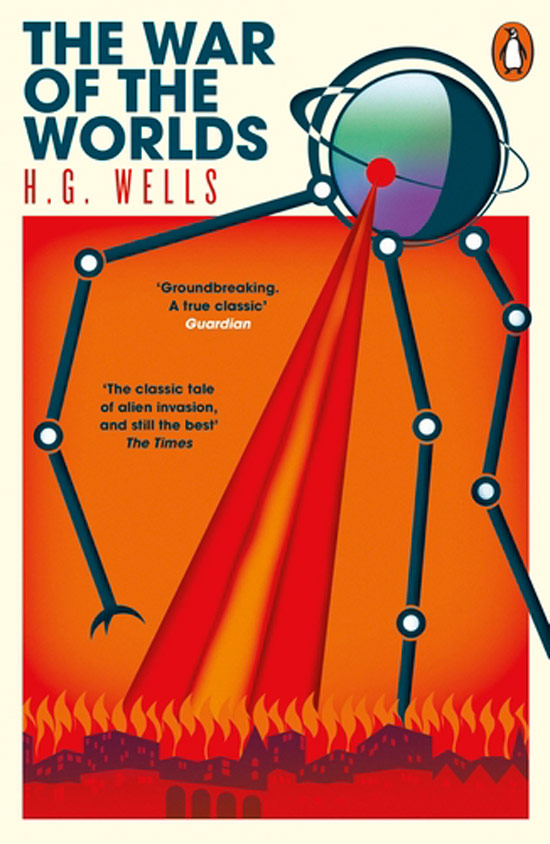 When people think of The War of the Worlds, the novel written by late British author H. G. Wells, and published by William Heinemann in 1898, after being serialised in 1897, they think of science fiction.
Yet the story of the inhabitants of Mars crossing the interplanetary void to invade Earth — incidentally one of the earliest examples of alien invasion in English literature — isn't only sci-fi and/or fantasy, The War of the Worlds is also an instance of invasion literature. Also known as invasion novels, invasion literature was common from the later decades of the nineteenth century — following the publication of The Battle of Dorking, written by George Tomkyns Chesney in 1871 — through until the First World War.
Despite being set in England though, Wells drew inspiration for The War of the Worlds from another hemisphere all together, Tasmania, Australia:
Wells later noted that an inspiration for the plot was the catastrophic effect of European colonisation on the Aboriginal Tasmanians; some historians have argued that Wells wrote the book in part to encourage his readership to question the morality of imperialism.
Invasion literature played a part in influencing public opinion in Britain, and other then imperialistic European nations, through their unsettling premises. Stories such as The War of the Worlds, depicting a ruthless invasion of England by a technologically superior enemy, hopefully helped bring home the horrors of colonisation that were being inflicted upon other cultures.
RELATED CONTENT
books, H G Wells, literature, novels, science fiction
28 December 2022
American filmmaker Rian Johnson, who directed the 2017 Star Wars film The Last Jedi, the second instalment of the sequel trilogy, has defended his use of humour in the film, something fans of the long running space opera, have berated him for.
Humour, and a spattering of comedic scenes, says Johnson, are part and parcel of the Star Wars experience, considering the intent of the series was not serious:
"For me, everything in the movie is 'Star Wars,' and everything in the movie I can trace back to deeply, in a deep way, what 'Star Wars' is for me," Johnson told GQ. "Everyone has a different take. I know there are 'Star Wars' fans who somehow think that 'Star Wars' was a serious thing, like the Batman movies or something. I was so young that when I watched 'Empire Strikes Back,' it had this deep, profound impact on me, because it was terrifying, because I was just young enough to not experience it as watching a 'Star Wars' movie, but to have it feel like too real.
If The Empire Strikes Back was anyone's introduction to the franchise, I doubt they'd walk away from the film saying it wasn't serious. Sure, the whole construct is science-fiction and fantasy, but Empire Strikes Back struck me as being nothing but serious. A New Hope, on the other hand, seemed like a more balanced film, even though a number of dark themes were present.
It was really Return of the Jedi, the concluding episode of the original trilogy, that introduced (at times) a less serious intent to the sci-fi saga. Ewoks, anyone?
Personally, of the sequel series movies, Last Jedi was the one I liked the most. The best of what was really a bad batch of films, to be precise. Even the prequel series, which had plenty of naysayers, held more allure.
Interestingly the Metascores — being an aggregate of ratings accorded, in this case, by film reviewers — give Last Jedi a score of 84. The first title in the sequel series, The Force Awakens received a rating of 80, while the truly awful (sorry) Rise of Skywalker scored a paltry 53.
In comparison, Empire Strikes Back — which many people consider to be the best of the Star Wars films — has a Metascore of 82. If we use Metascore as our go to metric to assess the Star Wars franchise, then Last Jedi outranks Empire Strikes Back. What's happening there, then?
I know not everyone sees eye to eye with film critics, but if Last Jedi was as bad as people make it out to be, surely the title's Metascore would have been far lower than that of Empire Strikes Back. And for anyone who's curious, A New Hope — the first Star Wars movie screened in 1977 — scores a 90. Exactly right, if I may say so.
RELATED CONTENT
film, Rian Johnson, science fiction, Star Wars
15 October 2022
The third series of Picard, another of the Star Trek franchise stories, goes to air in February 2023.
It seems to me the Star Trek stories get better as they go, if the trailer is an accurate indication of what to expect. Most of the original Next Generation cast are also set to appear alongside Patrick Stewart, who now portrays Admiral Picard, as they confront a mysterious enemy intent on destroying them, and the United Federation of Planets.
Stewart officially announced the season soon after, with filming ending in March 2022. The return of other Next Generation cast members was confirmed a month later, and [series showrunner Terry] Matalas hoped to make the season a satisfying ending for Picard's story and the whole Next Generation cast.
RELATED CONTENT
science fiction, Star Trek, trailer, video
24 September 2022
The trailer makes Andor, the latest Star Wars streaming series by Disney, look fascinating, but as we all know, trailers sometimes over-sell the story they're promoting.
Set in the five year period prior to Rouge One, Andor however promises to take us back to the Star Wars we grew up with, says Michael Idato, writing for The Sydney Morning Herald.
At the centre of the series is Cassian Andor, and his involvement with the then fledgling rebellion against the Galactic Empire:
The "Andor" series will explore a new perspective from the Star Wars galaxy, focusing on Cassian Andor's journey to discover the difference he can make. The series brings forward the tale of the burgeoning rebellion against the Empire and how people and planets became involved. It's an era filled with danger, deception and intrigue where Cassian will embark on the path that is destined to turn him into a rebel hero.
Andor has been screening since Wednesday 21 September 2022. Jack Seale, writing for The Guardian, describes it as the best Star Wars show since The Mandalorian… once it gets going:
In its third instalment, Andor finally becomes the gritty, kinetic spy thriller it has been billed as, after a surfeit of thoughtful world-building. Thankfully, somebody at Disney+ has their head screwed on, because Andor has debuted with a triple bill. Make it through that opening marathon and you have what's shaping up to be the best Star Wars show since The Mandalorian.
RELATED CONTENT
film, science fiction, Star Wars, trailer, video
13 August 2022
The world is full of writers and the stories they'd like to write. American author Joseph Epstein, writing for the New York Times, quotes research suggesting eighty-one percent of Americans think they "have a book in them". That's a lot. Unfortunately, aspiring writers vastly outnumber book publishers, meaning many manuscripts stand to go unnoticed and unpublished.
It might not seem like much help, but Strange Horizons — a magazine publishing speculative fiction — once put together a list of the types of sci-fi stories that they've seen submitted too often, and subsequently did not feature. I suspect they're not the only publishers seeing such ideas either. Knowing what might be rejected then, might help you write something that won't be.
RELATED CONTENT