12 September 2023
Kagi Search is a pay-to-use subscription search engine founded in 2022, that promises to deliver relevant search results free of extraneous clutter and adverts. Another plus is Kagi's undertaking not to track users, or collect their data.
But Kagi isn't only about locating pertinent information and protecting the privacy of users. Last week they launched Kagi Small Web, an initiative highlighting the writing of independent publishers and bloggers whose work is often cast aside by the prevailing algorithms, and omnipresent influencers:
Initially inspired by a vibrant discussion on Hacker News, we began our experiment in late July, highlighting blog posts from HN users within our search results. The positive feedback propelled the initiative forward. Today, our evolving concept boasts a curated list of nearly 6,000 genuine websites featuring people with a wide variety of interests.
I'm chuffed to say disassociated is one of the websites to be included. I've spent the last few days clicking through a fraction of the six thousand or so publishers they've linked to, and am pleased to see one or two familiar faces. What a great idea this is. Thank you Kagi.
RELATED CONTENT
blogs, self publishing, technology
12 September 2023
The Mozilla Foundation, which is part of the same organisation that produces the Firefox web browser, and the Thunderbird email client, recently examined twenty-five car brands, and found consumer privacy left — to put it mildly — much to be desired. In fact, the foundation discovered cars to be in the "official worst category of products for privacy" that they had ever seen:
Car makers have been bragging about their cars being "computers on wheels" for years to promote their advanced features. However, the conversation about what driving a computer means for its occupants' privacy hasn't really caught up. While we worried that our doorbells and watches that connect to the internet might be spying on us, car brands quietly entered the data business by turning their vehicles into powerful data-gobbling machines. Machines that, because of their all those brag-worthy bells and whistles, have an unmatched power to watch, listen, and collect information about what you do and where you go in your car.
Not only did the majority of car brands that were studied collect large quantities of personal data, they were also highly inclined to on-sell that information. But there's more. Some car brands were found to be gathering information about the "sexual activity" of customers. In other words, if you're thinking about having sex in your vehicle, think again. Your car may be monitoring, and recording…
RELATED CONTENT
11 September 2023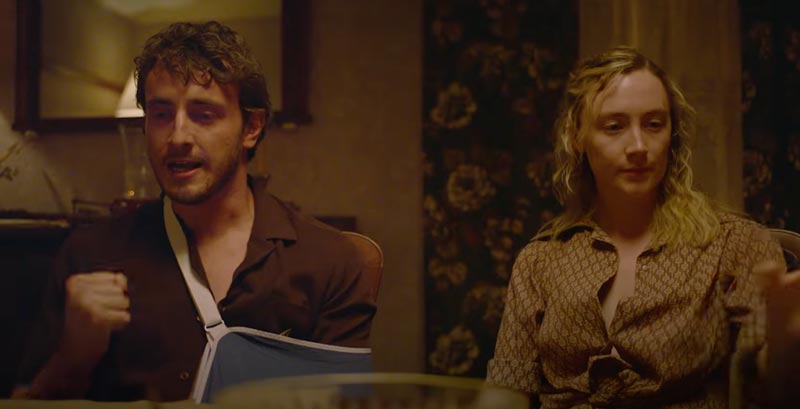 Still from Foe, a film by Garth Davis.
Foe, trailer, a science fiction psychological thriller, is the third feature of Australian filmmaker Garth Davis. Based on the 2018 novel of the same name, by Canadian author Iain Reid, and set in 2065, Foe tells the story of a married couple Hen (Saoirse Ronan), and Junior (Paul Mescal), who work on a secluded farm. Their lives, and happy marriage, are thrown into turmoil though when a stranger, Terrance (Aaron Pierre), arrives unannounced one day and informs them that Junior is to be sent to a space station for a year.
Hen however will not be left alone, a robot will be sent to keep her company during Junior's absence. Terrance's proposal, and the prospect of a human-like robot living with Hen for a year, quickly places a strain on the couple's relationship. Foe, which opens in Australian cinemas on Thursday 2 November 2023, is certainly an intriguing conceit. What is behind Terrance turning up at the farm in the first place, and why is Junior required to spend a year living in space?
Ronan's work speaks for itself, while Mescal's recent performances include starring in Aftersun, and Normal People, a TV mini-series adaptation of Sally Rooney's novel of the same name.
Update: Transmission Films advises that Foe opens in Australian cinemas on Thursday 2 November 2023.
RELATED CONTENT
film, Garth Davis, Iain Reid, Paul Mescal, Saoirse Ronan
11 September 2023
The ten-day weather forecast for some parts of NSW are currently predicting several days with maximum temperatures in the vicinity of thirty degrees centigrade. This, at the moment, for Saturday and Sunday, 16 and 17 September, and Tuesday 19 September. These temperature ranges come close to the official definition of a heatwave:
A heatwave occurs when the maximum and the minimum temperatures are unusually hot over a three-day period in a specific location. This is considered in relation to the local climate and past weather at that place.
Such a forecast may not be entirely surprising if not for the fact Australia is only into the first few weeks of spring. Technically though, were the spring equinox — which falls on Saturday 23 September this year — to be observed as the beginning of spring (as is the case in parts of the world), then it would still be winter in Australia. A heatwave in winter, fancy that.
Long range forecasts are not always accurate though, and conditions may change between now and the weekend. Still, such warm temperatures in the middle of September are alarming to say the least.
And for anyone wondering, each season in Australia commence on the first days of March, June, September, and December, because Australia adheres to the meteorological seasonal system. Many northern hemisphere nations however observe the astronomical season convention, meaning seasons change on about the beginning of the third week in March, June, September, and December.
RELATED CONTENT
Australia, climate, environment, weather
8 September 2023
When it comes to quickly gauging whether a movie is worth watching (since life is too short for bad films), I glance at its Metascore, a rating of a film which is calculated by Metacritic. This score is based on, as their FAQ page explains, a weighted average of reviews from top critics and publications.
Take note of that definition, its significance will become apparent shortly. In terms of Metascores though, I find ratings of sixty-five or more usually means a feature is worth watching, and in most cases — though there are exceptions — the higher the score, the better film will be. Particularly films with scores going up into the eighties and nineties. And no doubt, it is every filmmaker's dream to attain the perfect score of one hundred.
The other major player in the film rating business is Rotten Tomatoes. Despite probably being a more recognised brand than Metacritic, I've never really bothered much with the Rotten Tomatoes scores.
This stems partly from my initial misunderstanding of how Rotten Tomatoes worked, and the way I used to (mis)read a Rotten Tomatoes score, combined with the site's name. To my then warped way of thinking, a score of, say, one hundred, suggested to me, until I eventually saw the error of my ways, that the title was one hundred percent rotten.
Yeah, right, whatever. But there's always been something about the Rotten Tomatoes metric that has never quite felt right to me. For instance, only moments, it seemed, after being released in March 2022, Tom Gormican's 2022 feature The Unbearable Weight of Massive Talent, had attained a Rotten Tomatoes score of one hundred. I remember thinking to myself, how could that be? Surely a film needed to be widely acclaimed, by numerous critics, and audiences — something that would take time — to earn such an accolade.
That early score of one hundred was likely an incongruity, based on a low number of positive reviews. Today the title has a slightly more modest Rotten Tomatoes score of eighty seven, while Metacritic rates it a sixty eight. I haven't yet seen The Unbearable Weight of Massive Talent but a score of sixty eight sounds to me like it's closer to the mark.
But the one hundred score garnered, albeit temporarily, by The Unbearable Weight of Massive Talent says a lot about the weaknesses of the Rotten Tomatoes scoring system, and in particular, how the ratings can be exploited, as Lane Brown and Luke Winkie, writing for Vulture, point out:
But despite Rotten Tomatoes' reputed importance, it's worth a reminder: Its math stinks. Scores are calculated by classifying each review as either positive or negative and then dividing the number of positives by the total. That's the whole formula. Every review carries the same weight whether it runs in a major newspaper or a Substack with a dozen subscribers.
In the course of their investigation into Rotten Tomatoes, Brown and Winkie discovered evidence that some publicity companies were paying little known film critics, who were often bloggers, to write, for an incentive, a positive review of a film that had not been faring well at the hands of other critics. To reverse a poor Rotten Tomatoes score, it is, or was, merely a matter of publishing a sufficient number of positive reviews — regardless of the integrity of the publication — to offset the negative write-ups.
Trying to manipulate a Metascore in the same way, would be somewhat more difficult — though doubtless not wholly impossible — given Metacritic draws only on the reviews of established film critics and publications. This is an unfortunate outcome for film-goers, who felt they could rely on the accuracy of a film's Rotten Tomatoes score, when deciding what to pay to see.
And to be clear, I have no problem with little known bloggers writing about film. I do so myself. But I think an assessment model more akin to Metacritic — where only the reviews of writers and publications with a certain reputation are considered — needs to be adopted by Rotten Tomatoes.
RELATED CONTENT
film, film production, filmmaking
8 September 2023
Book cover of Looking After Country With Fire, by Victor Steffensen.
Looking After Country With Fire, published by Hardie Grant in 2022, written by Indigenous Australian writer and filmmaker Victor Steffensen, and illustrated by Far North Queensland based visual arts teacher Sandra Steffensen, has won the 2023 Karajira Award for Children's Literature.
Presented by the Wilderness Society, the Karajira Award celebrates excellence in children's literature by Aboriginal or Torres Strait Island authors and/or illustrators, who honour connection to Country and tell stories exploring land, community, culture, and language.
Looking After Country With Fire explores methods and systems of fire management used by Indigenous Australians, over thousands of years, to manage, and regenerate the land:
Mother Nature has a language. If we listen, and read the signs in the land, we can understand it. For thousands of years, First Nations people have listened and responded to the land and made friends with fire, using this knowledge to encourage plants and seeds to flourish, and creating beautiful places for both animals and people to live.
RELATED CONTENT
Australian literature, Indigenous literature, literary awards, Sandra Steffensen, Victor Steffensen
7 September 2023
The Boy and the Heron, trailer, is the latest animated feature by Japanese filmmaker and manga artist, Hayao Miyazaki. Released in Japan under the name Kimitachi wa Do Ikiruka, Miyazaki's latest film is said to be partly autobiographical:
Through encounters with his friends and uncle, The Boy and the Heron follows a teenage boy's psychological development. He enters a magical world with a talking grey heron after finding an abandoned tower in his new town.
Miyazaki's previous titles include Spirited Away, Howl's Moving Castle, and The Wind Rises. There's no word yet of an Australian cinematic run, but The Boy and the Heron is scheduled for release in the United States this December, so perhaps it will come our way then.
RELATED CONTENT
animation, film, Hayao Miyazaki, trailer, video
7 September 2023
Dictionary.com has unveiled a new series of updates to its lexicon. Five hundred and sixty six new words have been added (seems a lot) along with three hundred and forty eight new definitions.
The words don't stop coming, so we're updating the dictionary more frequently than ever. And not just with any words: this update includes an incredibly useful concentration of terms for naming the complexities of modern life.
I haven't looked at all five-hundred plus additions, but straight off the bat, I can tell you I like information pollution, and decision fatigue. Neologism, or terms, for the times, if ever they were.
RELATED CONTENT
7 September 2023
The shortlist for the 2023 Banjo Prize, for unpublished Australian fiction, was announced on Tuesday 5 September 2023, and includes the manuscripts of five writers:
Lou and I, by Anna Fursland
Islands of Secrets, by Stefanie Koens
The Shores Between, by A'Mhara McKey
The Sister Tree, by Natasha Neary
Katherine Papadakis is Figuring Things Out, by Christina Pontos
The winner of the prize, which is presented annually by HarperCollins Australia, will have the opportunity to see their work published. The winner will be named on Tuesday 26 September 2023.
RELATED CONTENT
Australian literature, Banjo Prize, books, literary awards
6 September 2023
Book cover of The Conversion, by Amanda Lohrey.
Tasmanian based Australian author, and winner of the 2021 Miles Franklin Literary Award, Amanda Lohrey, has written a new novel, The Conversion, which will be published by Text Publishing, in October 2023. The story follows a couple, Zoe and Nick, who set about converting a deconsecrated church into a home:
The conversion was Nick's idea, but it's Zoe who's here now, in a valley of old coalmines and new vineyards, working out how to live in a deconsecrated church. What to do with all that vertical space, those oppressive stained-glass windows? Can a church become a home or, even with all its vestiges removed, will it remain forever what it was intended to be?
To date, The Labyrinth, winner of the aforementioned Miles Franklin prize, is the only of Lohrey's books I've read. It was an utterly compelling read though, and I'm looking forward to The Conversion, and possibly even seeing it among nominations for the 2024 Miles Franklin.
RELATED CONTENT